Mohegan Sun Restaurant Week: Tuscany Take Two!
Did you catch the Tone It Up Beach Babe DVD giveaway I posted yesterday? You have until tomorrow (Wednesday 1/9) night to enter!
My younger sister Hannah is headed back to school at the University of Tennessee today, and I'm so glad we got to do something special together on Sunday night – hit up Mohegan Sun for Restaurant Week! You may recall that a reader Megan won a $50 gift card to Mohegan Sun in a recent giveaway I did, and the casino was kind enough to offer me the same to help fund a trip to one of their restaurants during the current Restaurant Week (Sunday 1/6-Friday 1/11). It's easiest for me to make the 45 minute drive on a day I don't have work, so Sunday was the obvious choice of time to visit.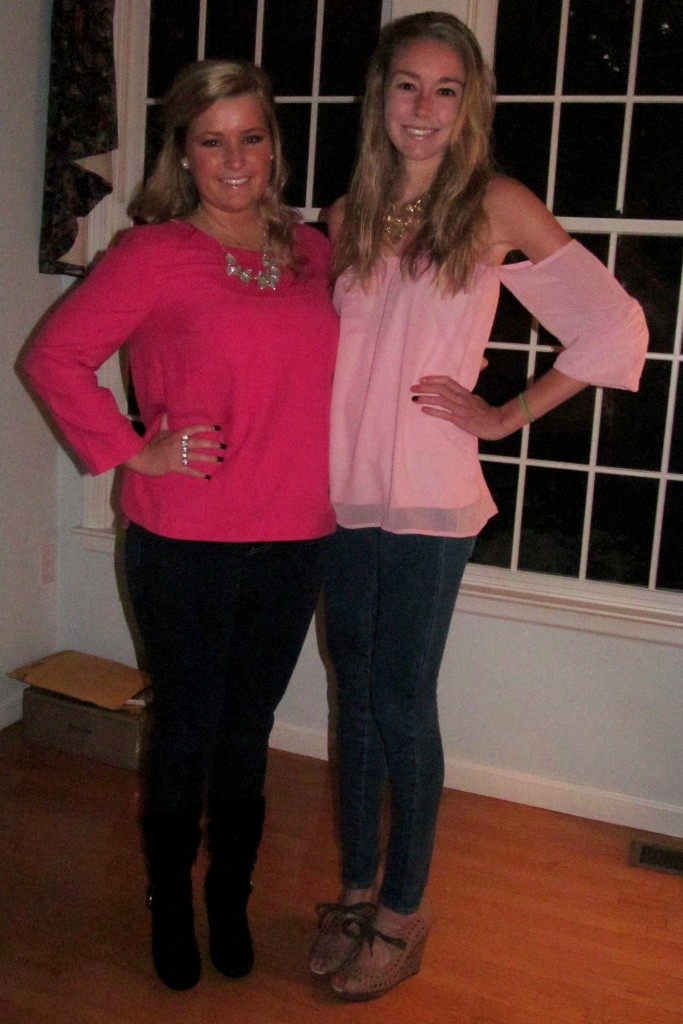 I was supposed to have my Restaurant Week dinner with my beautiful blend Maria, but she unfortunately could not make it. No worries though – I rolled with the punches and asked my sister and her best friend/my friend Abbey to join me. I picked out a more pricey dining destination, Tuscany, because in honor of Restaurant Week they were offering patrons 20% off the entire bill. Plus I had the gift card, so I figured taking advantage of a fancier restaurant was smart given that combination. I also ADORED the tasting I experienced there during Mohegan's Blogger Girls Weekend, and said during my recap that I wanted to go back and eat a "normal" amount of food so I could sit back, relax, and enjoy a more typical dining experience at Tuscany.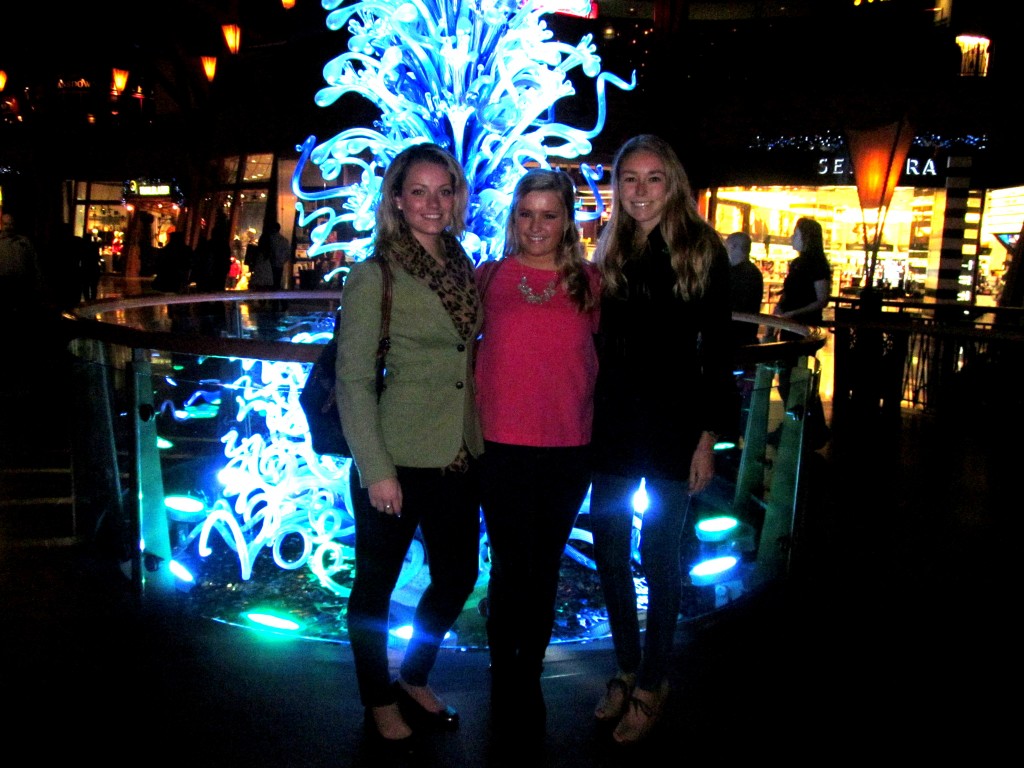 We were seated immediately (I wasn't expecting a wait on a Sunday) by an extremely friendly hostess and were quickly offered ice water. Our waitress also brought over the fabulous crusty Italian bread and special pairing of white bean puree/olive tapenade right away. Love it – waste no time getting that bread in my belly!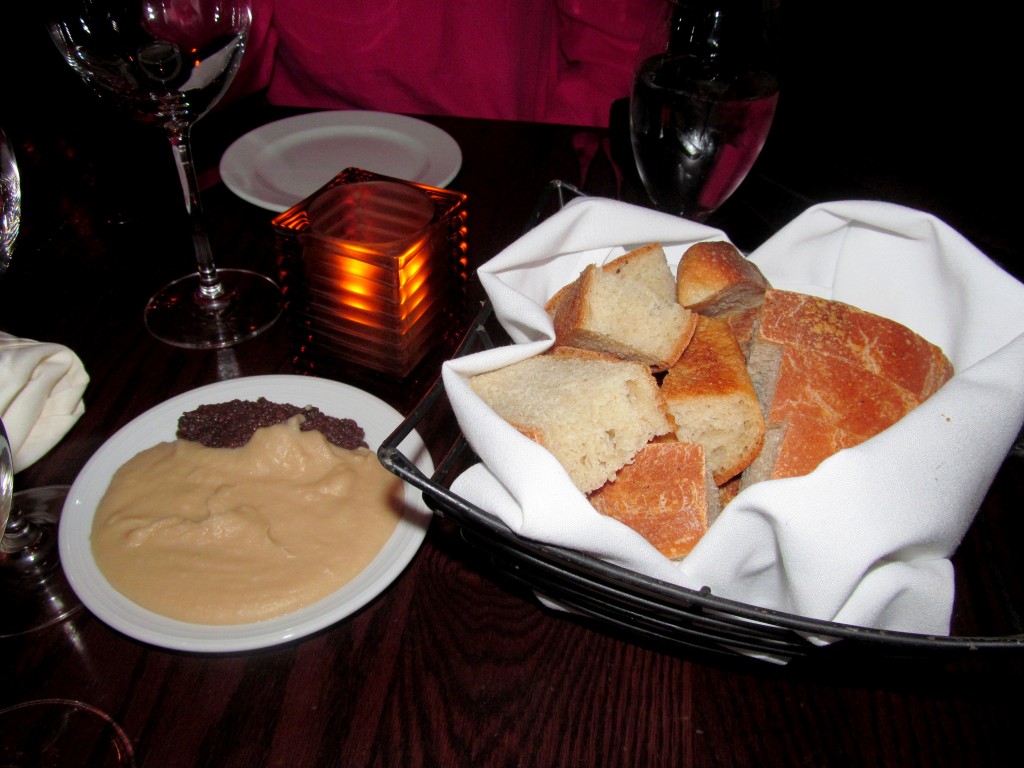 My sister isn't a hummus or olive fan, and was able to get some olive oil sent over too.
I ordered my second-favorite (after the Manhattan) standard cocktail, a Negroni (Beefeater gin, Campari, Sweet Vermouth) served up.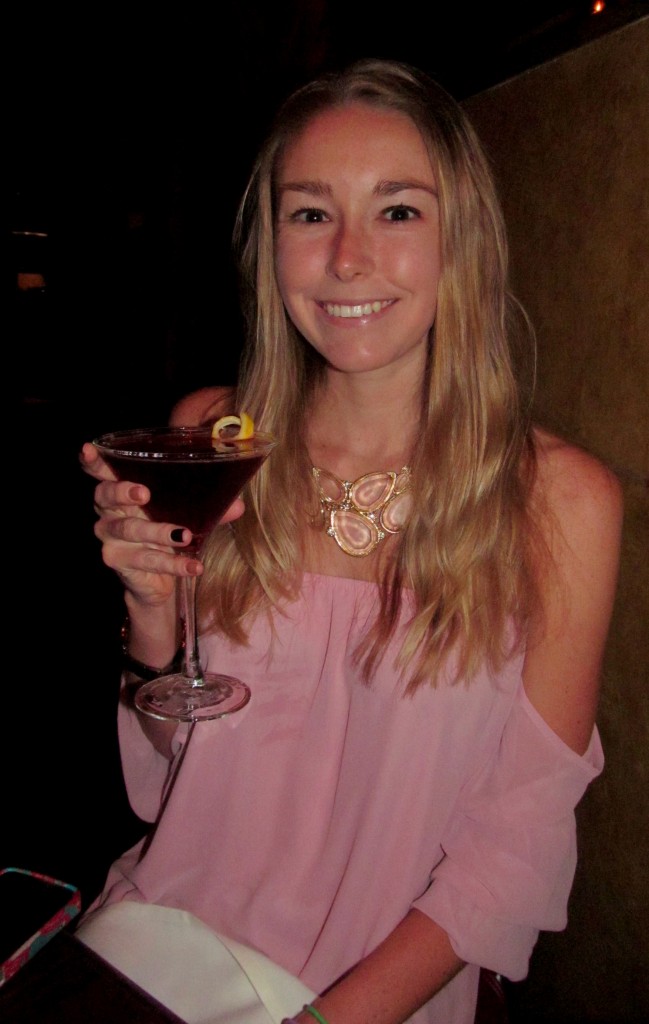 It was fantastic and after I finished I switched to the DaVinci Chianti, which I had during the Girls Weekend tasting and have also enjoyed at one of my favorite chains, Bertucci's.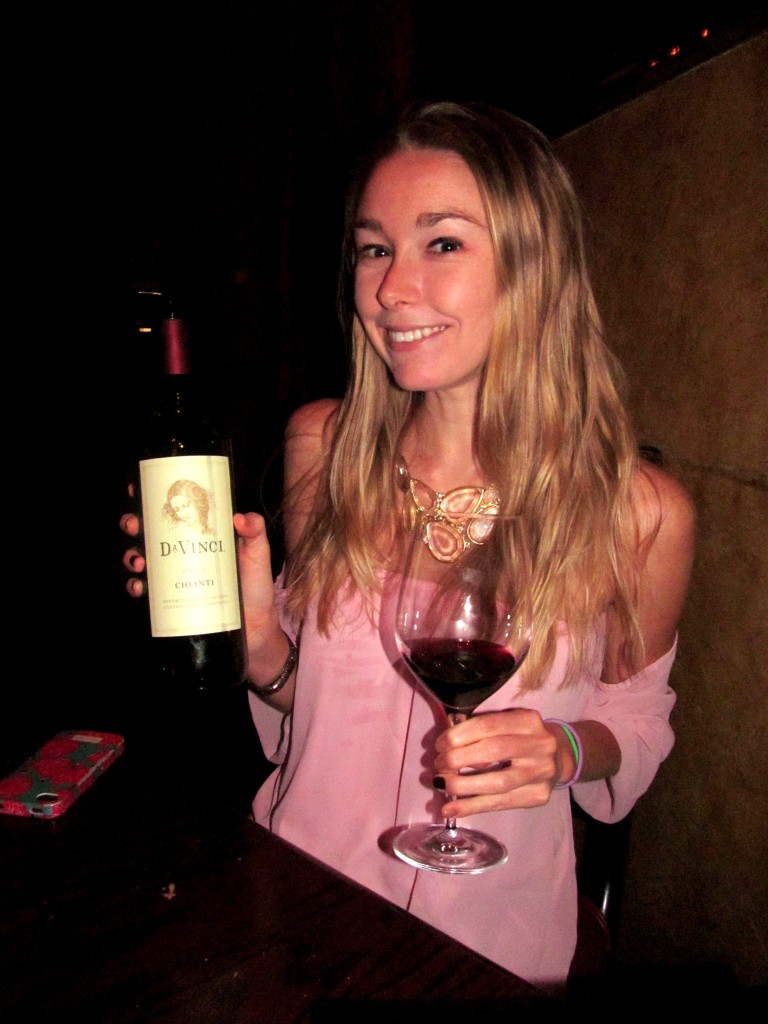 I had a strong hankering for seafood and asked our waitress for her opinion, as well as a ton of questions about multiple dishes. She recommended the Chilean Sea Bass and accommodated my annoying questions and special requests (Brussels sprouts instead of risotto, and no bacon in the Brussels) with a genuine smile.
Our food was served to us quite quickly (I'm a slow-paced diner so a bit too quick for my taste, but I'm also a bit of an anomaly) and my dish's modifications were accurate AND perfect. Sometimes I find substitutions and changes I make to pre-designed entrees take away from what I can imagine the dish would be like if I'd ordered it as the chef intended (I'm fully aware I take on this risk when I menu-modify). But I really think they should consider serving a version of the Chilean Sea Bass just this way – over Brussels sprouts and topped with a fantastic roasted eggplant mezze.
Hannah and Abbey went with the more affordable option on Tuscany's dinner menu – a flatbread! I adored the thin, crispy crust during the tasting and assured the girls they'd feel the same way. The Margherita flatbread didn't disappoint at all – I can personally vouch for that since they donated a piece (and Abbey's crusts, ha) to my plate.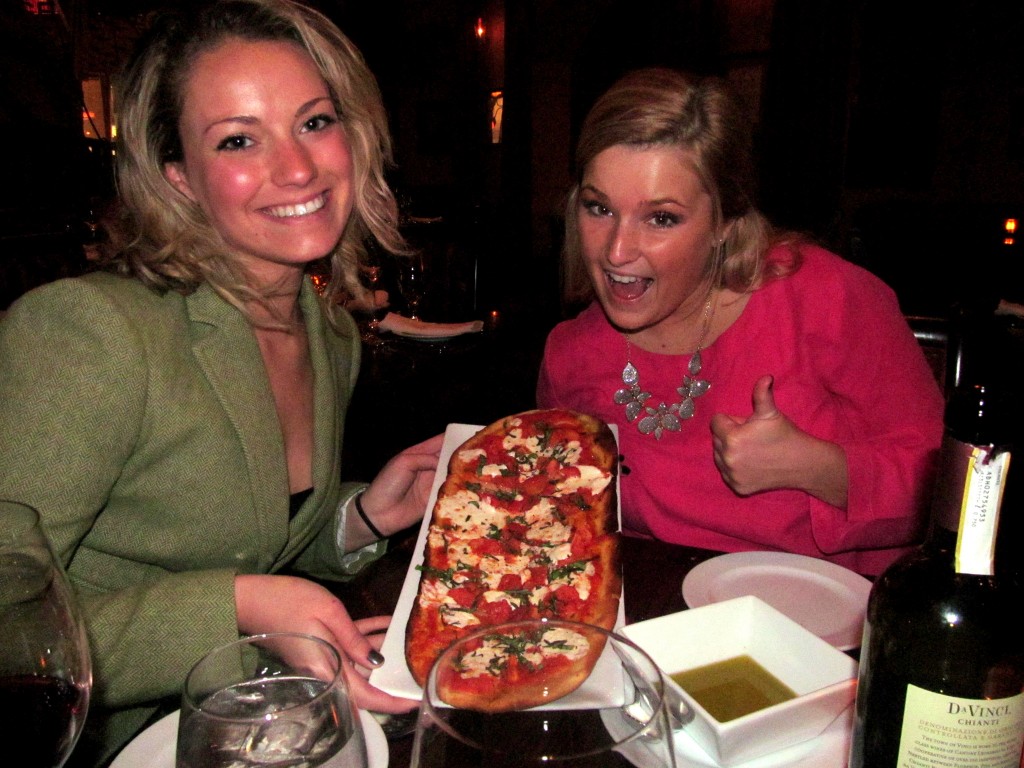 We took our time after finishing our meals and didn't feel rushed at all to get the heck out! But we did so by about 8PM, because SOME of us are grandmas and needed to get to bed and wake up for work in the morning.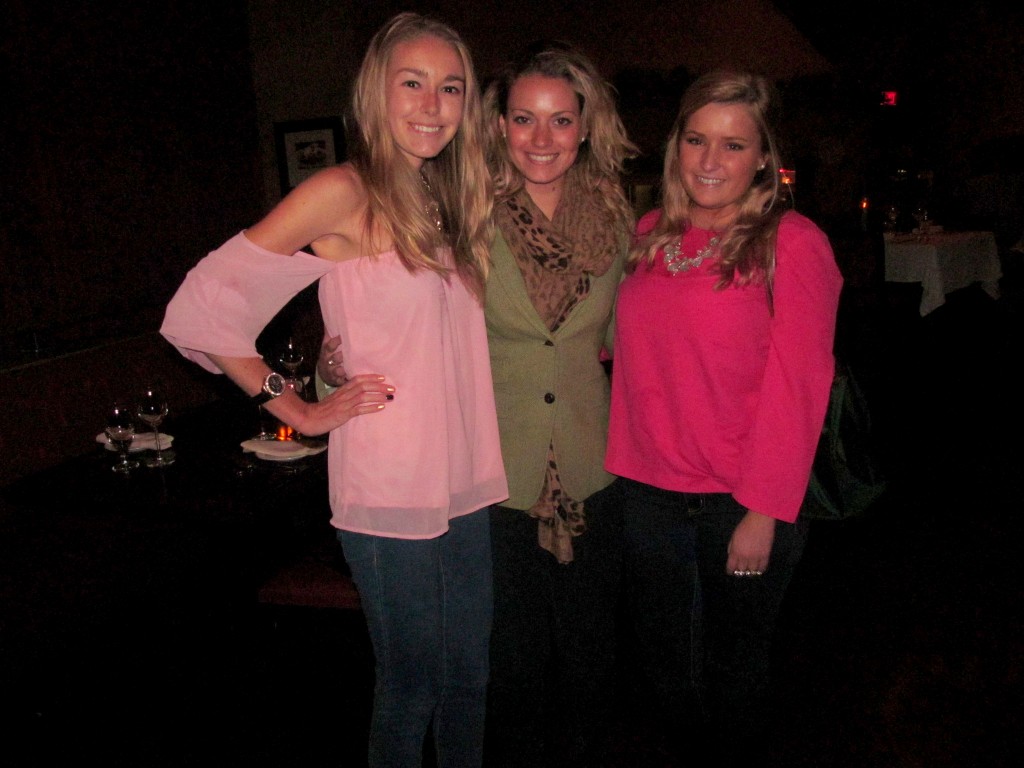 I have to admit, I was quite perturbed when Hannah declared as we walked into the casino that she felt like I was her and Abbey's "mom" taking them on a special outing. I felt like Leslie Mann in "This is 40" (which I'd just watched the day before, and do recommend, though it's more entertaining/cute than funny).
I'm so glad I had the chance to get dolled up with Hannah and Abbey and make one of my sister's last nights home a special one. Thanks to Mohegan Sun for having me out and for a great deal! You guys can take advantage of all the Restaurant Week deals now through this Friday!
Mohegan Sun provided me with a $50 gift card to use during this dining experience, but all choices of restaurant and items ordered, opinions, and thoughts are my own.
What's your go-to type of entree to order at an Italian restaurant?
Do you enjoy taking advantage of local Restaurant Week specials?