M(aria)IMM
You still have until 11:59PM (EST) tonight to enter my giveaway for an Albion Go Long Crew tee! THUMBHOLES my friends!
I've been really lucking out in the blend date department lately. I spent last weekend with Kaitlin, and this past Saturday I hit the road for Stamford in the afternoon to stay with my lovely fellow Connecticut blogger Maria of Pappa Don't Preach! And if there's one word that describes our time together, it's gotta be MARVELOUS! I hereby declare today's MIMM post…M(aria) In My Monday!
Saturday
As blend dates so often begin, we started with a little gift exchange. I brought Maria some of her favorite snack foods (thank goodness she'd done a blog post about them so I could reference it!) as well a little Whole Foods plant to decorate her apartment.
Maria knows me well…two weekends in a row of blends gifting me wine. Should I be concerned about the rep I'm getting?! 😛 Now I can re-live our grand Tuscany tasting dinner at Mohegan Sun because she chose a bottle of Apothic Red, one of the wines we sampled – and loved – at that dinner! In her words, "I wrapped it like an Easter egg!"…and I love her for that.
We got dolled up for dinner – Maria in her trademark glam look: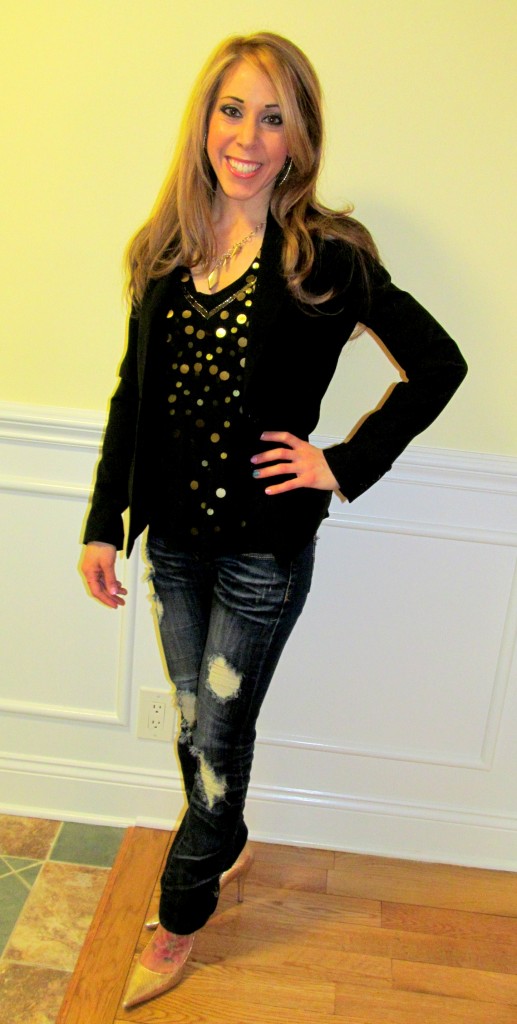 And me in a Maria-inspired look of my own, leopard heels and all!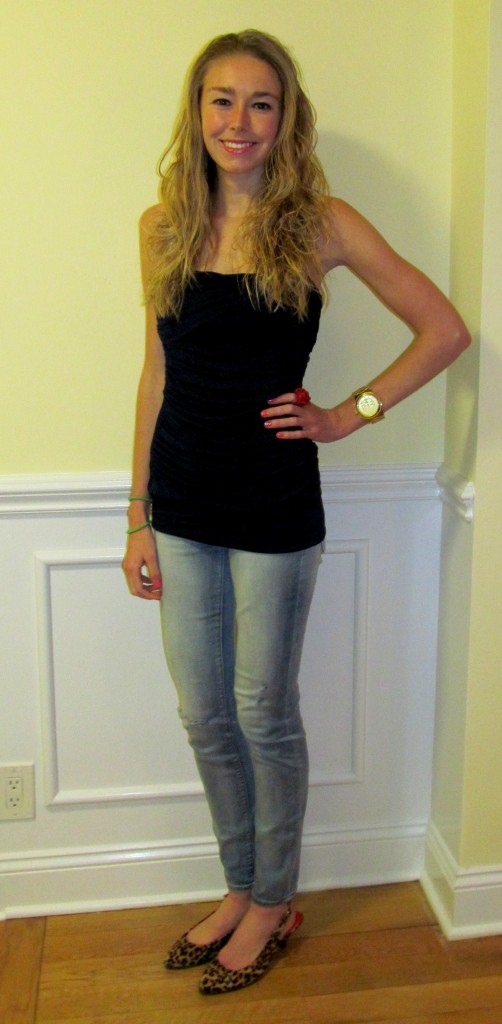 Maria took me to dinner at one of her favorite spots, Mitchell's Fish Market. Yup, just the name told me I'd love it! We decided to chill in the bar and keep things on the casual side.
Unfortunately our bartender was not the best (or maybe I'm just spoiled by Andres). I sent my first drink back because it tasted like grape juice, and had to pay $11 for an extra shot of gin to add to my second cocktail order attempt (a Cucumber Collins) because it also just tasted like juice. I'm not desperate to get drunk, but I like to taste the alcohol in my drinks! If I didn't want to, I'd order fruit juice and save myself a lot of money.
Maria ordered the same cocktail, but on the rocks. Once I added the extra gin, I enjoyed my drink more, but couldn't finish it all in the end.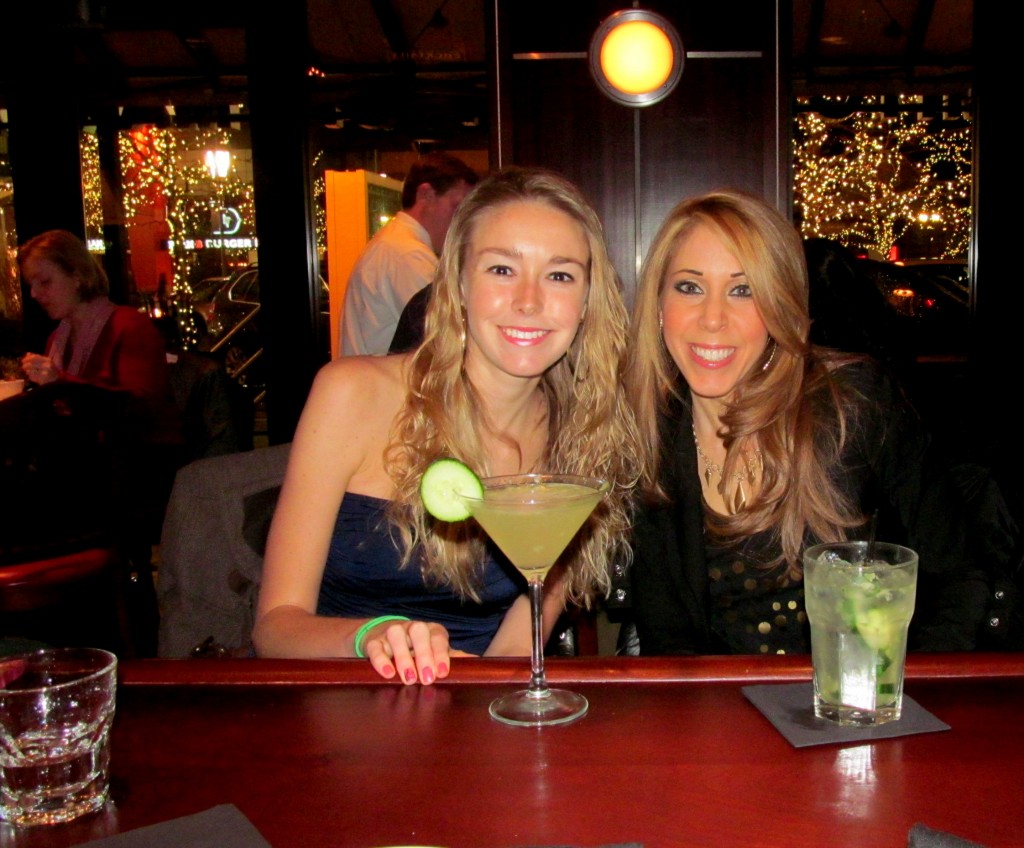 Eventually (the stingy bartender was also a slow order-taker) we placed our orders and promptly devoured this loaf of warm, white, wonderful bread!
I pulled a classic Cait Plus Ate move and ordered a sampler entree so I could try as much different seafood as possible. My Fish Market Trio consisted of blackened tilapia, cedar-plank salmon, Shang Hai sea scallops, red beans, and asparagus. Every last bite was devoured! An incredible meal.
During dinner Maria mentioned frozen yogurt, and a craving was ignited in me! Done deal – I HAD to have froyo for dessert. Luckily she's within walking distance of a 16 Handles! I loaded my cup with a little bit of many flavors and TONS of toppings – the best part of froyo of course.
I just adore how alike we blends are. Maria and I were both totally fine with rocking our froyo, PJs, and The Wedding Planner on ABC Family at 8:30PM on a Saturday night. We were definitely asleep before 11.
Sunday
Not only do blends go to bed early on Saturday nights, they also wake up before 8am (without an alarm) on Sunday mornings to work out! FlyWheel (stadium cycling) recently opened a Stamford location and since Maria and I had never been before, our first class was free.
Though FlyWheel itself is the same to me as spinning – jumps, hills, sprints, pumping music – the studio itself certainly had its perks. Complimentary fruit (bananas were definitely swiped for later), free pin-coded lockers, and clean bathrooms and changing rooms. Those without spin shoes can borrow a pair, and rest-assured they are clean. I had never spun with clips instead of pedals before, and was concerned I'd feel wobbly and unsafe…NOT SO! It was really so much better than sneakers in pedals! However I am way too cheap to buy spin shoes so, on to the next one.
The class itself kicked my ass, and I'm not just saying it because my stomach was really acting up (more on that later). Eve pushed us hard and each bike is equipped with a reader showing torque (resistance), RPM, and power. I have to admit I felt myself getting a bit too pulled in by the numbers, as I often do. But I went into the class expecting that to happen and had already given myself a pep talk about listening to my body and knowing that just because my RPM and/or torque weren't as high as the instructor was advising, all that mattered was that I was working hard at MY level. And as you can tell from the photo above, I definitely was. I was even able to log into my FlyWheel account post-class and see my max-RPM, miles biked, and more. I biked 22.7 miles in the class!
My stomach still felt iffy after class but I was still excited to go to brunch with Maria and…Eva of Committed2Nutrition! She and Maria live very close to each other and even work in the same building, so they've hung out before, but I hadn't yet met her in person. Thankfully we amended that issue over delicious eats at another winning Maria pick, Volta!
I was PUMPED to see that Volta offers fresh juices! The combo of spin and a cranky stomach had given me a craving for one so I picked Maria's recommendation – apple, beet, carrot, and ginger (perfect for the tummy). YUM! Sometimes I crave a brunch cocktail, but I without question was in a juice mood for this meal. I'm sure the juice looked like a Bloody Mary to observers from afar though!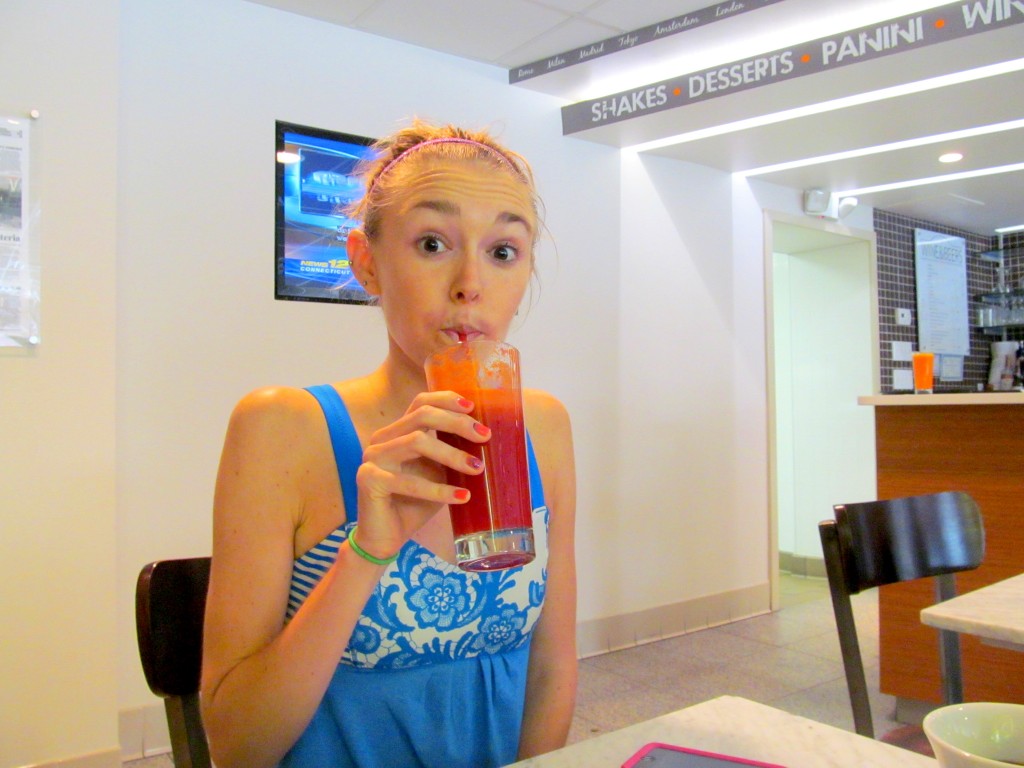 I had MAJOR menu indecision anxiety…so many fantastic choices like savory crepes, buckwheat crust quiches, and bountiful salads. But I went with my brunch standby in the end – an egg white omelette. This guy had salmon and tomatoes, and I asked for the brie and avocado on the side. I'm sure glad I did, because I was able to spread them on my fantastically thin and crispy dry wheat toast – a la Meg!
We had a blast nomming and chatting. I can relate to Maria and Eva on so many levels and am so thankful blogging has brought them to me (you sick of me saying that yet? Too bad.)
I definitely wouldn't mind going back to Volta either…I must try a different juice, a different menu item, and be in the presence of their Nutella tower again.
What an AMAZING weekend. After brunch I hugged my lovely companions goodbye and headed back to Glastonbury to get some much-needed Sunday chores and blog work done. Oh, and just a couple more weeks til my next blend visit…Fairfield to see Kaitlin! I'm a lucky duck.
You can check out Maria's MIMM recap of our weekend here!
Any eats or drinks stand out to you as being particularly fabulous?
What do you like to do on blend dates? If you've never been on one, what WOULD you do?