Judgment Day is April 5 at CT Cookoff!
Ah, the moment I know many of you have been waiting for…the giveaway winner of the Albion Go Long Crew tee! I wore mine again last night to Group Power!
Thank you for your enthusiastic, thumbhole-lovin participation. The winner (chosen by random.org) is…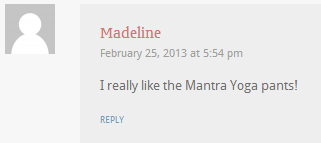 Congrats Madeline, I'll be contacting you for shipping info and your Go Long Crew of choice!
If you like the Cait Plus Ate Facebook page (hint…do so if you don't! :-P) you may have seen me share a very cool event today: the Connecticut Historical Society Community Cook-Off. The event ties in with their recently opened Cooking by the Book exhibit, which I attended on opening day!
I hope you CT readers will attend (or even enter) – the event is just $10 for CHS members and $15 for non-members. For the price of admission, patrons can catch the cooking competition action in the following four categories:
Not-So-Secret Ingredients Challenge: Impress us with your delicious combination of chocolate, poblano peppers AND bacon.
From Grandma's Kitchen: Recipes off the Family Tree
What's in that casserole, anyway?!: Comforting and family friendly casseroles. (I love this category title!)
I didn't know you could do that with Jell-OTM: Has your Jell-OTM dish got what it takes to shake an award out of our judges?
To enter, you must register your dish in advance – click here for the form!
OK so here's the coolest part for me…I GET TO BE A JUDGE!!! I'm honored to share that the Connecticut Historical Society has recruited me to judge the foodie-est category…the Not-So-Secret Ingredient Challenge! I cannot wait to see what competitors cook up for me to try using chocolate, poblano peppers, and bacon! This will be my second judging gig and now I will have a cocktail judging event and a food judging event to put on my foodie resume – I'm pumped! 😀
The fabulous Chion Wolf, the MC at the aforementioned cocktail judging event, will be a fellow judge! I last saw this inspiring WNPR personality at the Hartford Denim Company Pop-Up flea market and each time we meet it's a joy, so to be judging alongside her will be a pinch-me moment. Other judges include Hartford Courant's MaryEllen Filo, magazine writer Krystian von Speidel, and WFSB's Kara Sundlun.
The Cookoff will be held in Hartford at the Connecticut Historical Society on Friday April 5 at 5:30pm. Along with the competition, ticket-holders will also get food from Pond House Grille (where I just recently dined!), local beer from Hooker Brewery, and wine from Diageo distributors! Make sure you bring some canned food too for a food drive that will be going on to benefit Hands on Hartford.
I hope I see you local foodies there, and from the non-local readers, wish me luck as I dine on dishes laced with poblano peppers, and hopefully LOADED with chocolate and bacon! I'm so proud and excited to be a judge!
Which category would you want to judge most? How about enter a dish?
Are YOU coming to the CT Cookoff?!