Love and Bitters at Barcelona
Remember to check out yesterday's post, where I shared a special announcement…
My friend (since high school!) Andrea and I made plans on a Monday this month to go out to a fab dinner in honor of her birthday. I discovered Barcelona in West Hartford was doing one of their fun food and drink pairing events that very night, so we decided to turn that Love & Bitters Cocktail Class into our celebratory meetup!
Each table was already set up with a vermouth and bitters info sheet (my kinda schooling!), place settings, water, and BREAD with olive oil. I was already sold just one minute in.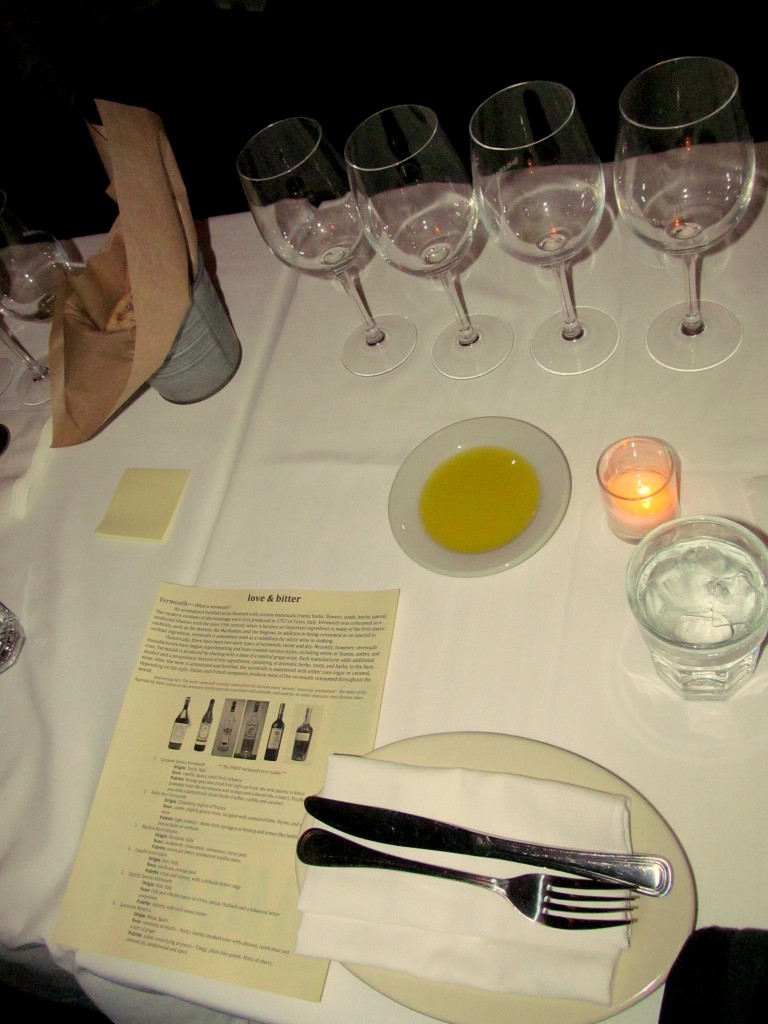 The class was in a part of the restaurant I've never dined in before (I know, what?) with gorgeous, soft overhead lighting. Only bummer is that kind of lighting makes it hard to decide if I want to use flash or not in my photos, so forgive me but I will be switching back and forth between using and not using flash throughout this post's pictures.
The class was just $29 per person plus tax and gratuity. I'm going to say right now this was a FABULOUS value. The instructors (Chef Alex and bartenders Anna, Dan, and and Emily) even threw in a couple of extras for the group. I have never attended a Barcelona event and not felt like I got an INCREDIBLE deal for what I paid for. I already can't wait for the Tequila 101 class at Bartaco West Hartford (owned by the same company) on March 6 – again, totally affordable at $30 per person.
While Chef Alex did his tonic water demo (the gin portion was soon to come), the bartenders passed out the first couple of small plates and poured us five different vermouths. I've already done a mini vermouth tasting with Anna at Barcelona's bar and loved it, so I was psyched to get the chance to try more vermouth! People think of it as a cocktail ingredient, not something that can be drunk on its own, but let me tell you it certainly can – neat or on the rocks (I prefer neat).
 Thanks to the nifty info sheets we were given, I can give you some fun vermouth facts!
Vermouth is actually fortified wine flavored with various botanicals (sometimes up to 30 or 40 different ones!)

Typically vermouth is sweet or dry but new varieties like white, bianco, amber, and rose are hitting the scene.
The most common producers of vermouth are in Italy and France.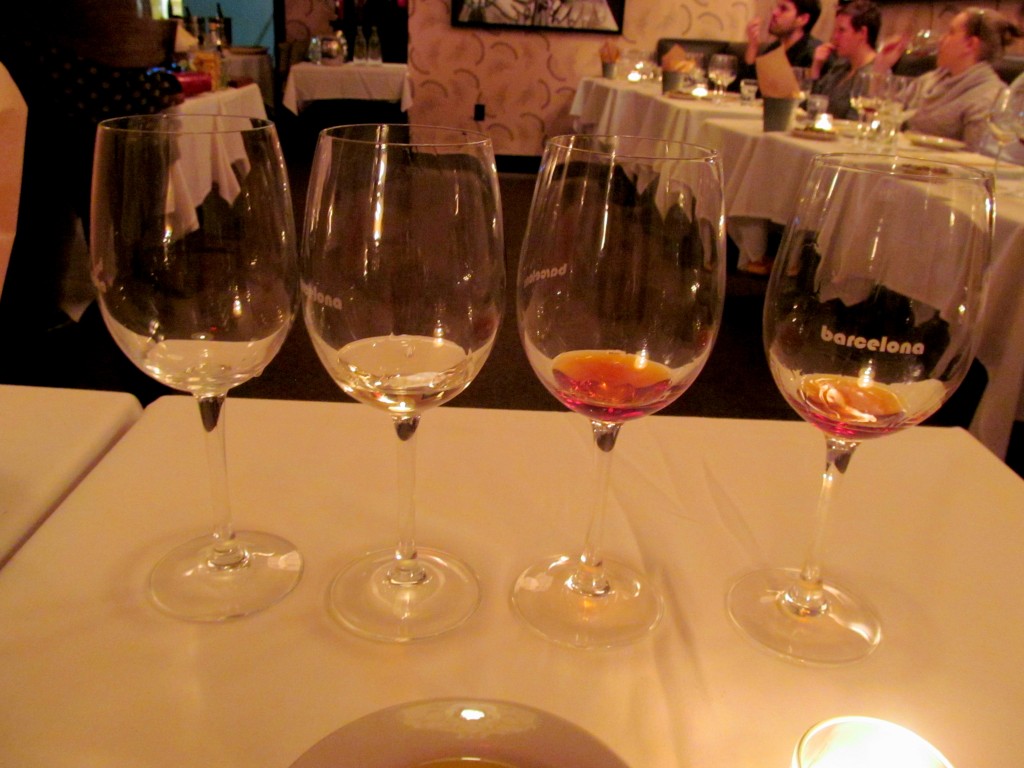 We got to try the first vermouth ever made, Carpano Antica Vermouth, both neat and on the rocks. Andrea and I agreed the Lacuesta Reserva, with its nutty flavor, was one of our favorites. Another fact – vermouth gets its name from the German word "vermut" which means "wormwood". That's the bitter plant associated with absinthe and it's sometimes used in vermouth. Wormwood samples were passed around and we were told to be very afraid of how bitter it'd taste. But..I didn't taste much at all! Maybe this explains why I like my drinks so strong? Tastebuds that can't really taste much bitter?
The two small plates were conventional (olives) and adventurous (anchovies). Andrea wasn't an anchovy fan so I got to eat them all, mua ha ha. The little bones weirded me out a bit but I couldn't feel them so whatever! Between the olives and anchovies though, I was feeling quite parched (salt city!)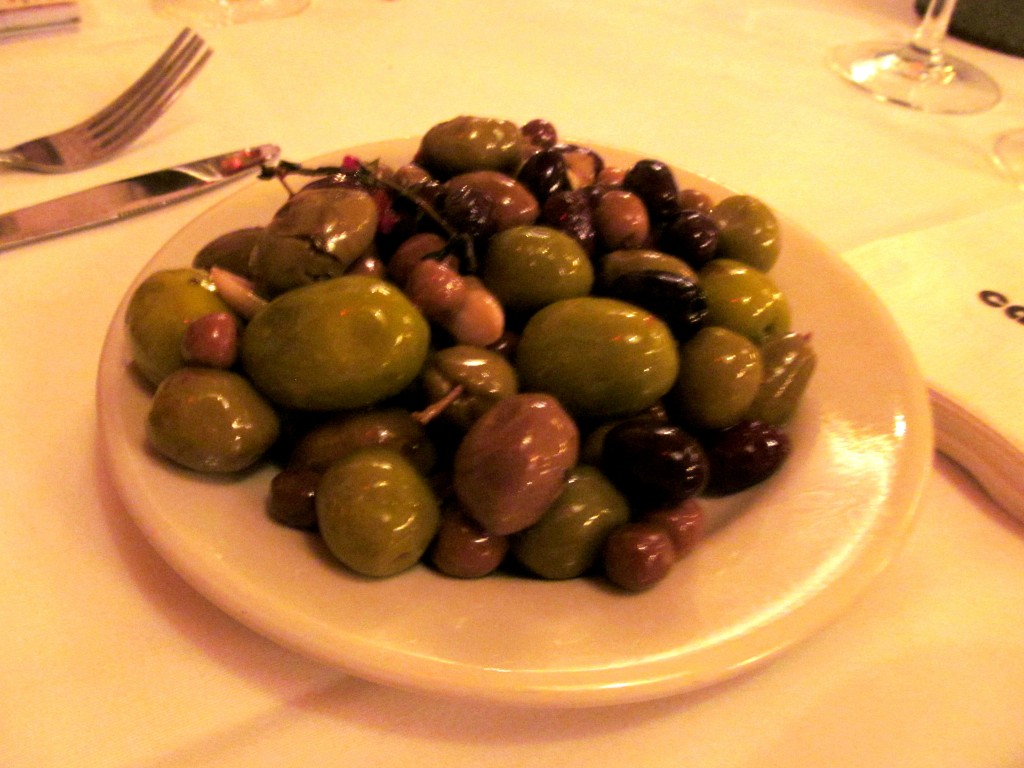 Next up for cocktails we got to try both the white Negroni and the classic Negroni (my second favorite standard cocktail). I was in Negroni heaven, man! I've tried both those versions at Barcelona before but had no problem doing so again.
We got more food to join our double-Negronis…beef tartare and chicken empanadas!!!
Chef Alex finished up his homemade tonic water and Anna whipped up gin and tonics for all of us. Barcelona is home to the best gin and tonic I've EVER had. They serve the full size version with Fever Tree Tonic Water (its quinine, the ingredient that gives tonic water its bitter taste, is from the Congo) on the side so each patron can use as much as he or she wants…um, LOVE THAT.
Next up…time to taste some bitters! The event is Love and Bitters after all! So what are they exactly? They're high-proof spirits and infused, concentrated herbs, fruits, roots, and spices. Our instructors equated them to the salt of cocktails. Just a dash!
Andrea and I got to share the last savory dish of the event, some wonderful steak topped with potato crispies! Actually, it may have been pork. OK, I clearly was having a lot of fun by this portion of the event and was a bad blogger who didn't take notes. Please forgive and gawk instead, or skip if you don't eat meat.
Sadly but thankfully I couldn't finish my last cocktail sampler, which contained whiskey and fresh maple syrup (among other ingredients). A perfect cocktail to wind down with! So cozy for winter too.
The grand finale, the creme de la creme, or shall I say the flan de la flan, was the house-made flan paired with sherry (fortified wine). Sherry is a bit like port but definitely more sweet and syrupy and I LOVE IT. I'm such an old geezer.
OMG, the flan was fab. I wanted it to last forever…along with the sherry. But that wouldn't have been good for the drive home! I cannot wait to sample more Barcelona yummies tonight at Top Nosh in West Hartford (there's still time for you locals to make a reservation, just $50 per person!) and I hope this post made you as hungry and thirsty as it made me as I wrote it. That means I'm doing my job 😉
Which drink sounds best to you? Which food item?
Have you ever been to a cocktail class, or another cooking class?