My Very Own Burger
I used to take issue with Plan B Burger Bar's menu and its lack of good veggie sides or interesting and healthy entrees/burgers. Over this past year as I have made progress in my recovery (though it's definitely still in progress) and become more open to ordering a bit more "adventurously" at restaurants, I've come to realize that the restaurant is actually very good at what it sets out to do – make great burgers, offer delicious beer, and serve tasty bourbon. Plan B is a burger bar and a burger bar does not put focus on vegetable sides – no matter how much I might want them to, it just doesn't fit their image. I've also started noticing that Plan B's burger specials are very fit for a foodie – I have sampled both the PB&J Burger and the Georgia Peach Burger over the last several months and felt that both were life-changing!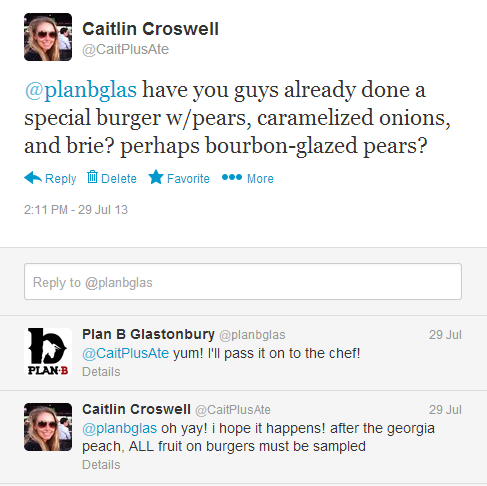 I love how active Plan B is on social media (each location has its own Twitter account) and I suggested to my town's location an idea for a burger special. I am obsessed with the combo of pears, brie, and caramelized onions…so why not on a burger? Then, this happened!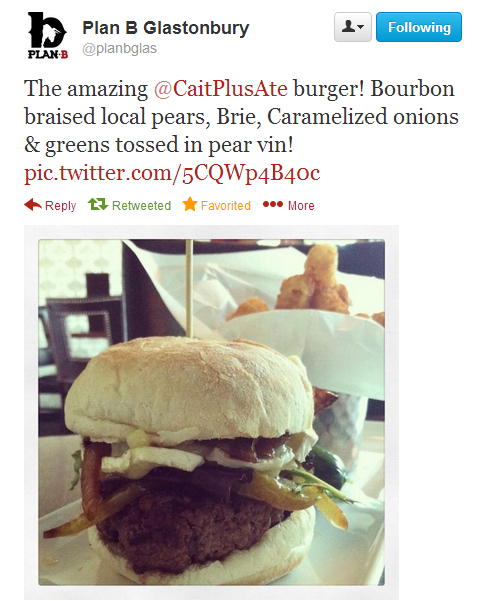 SAY WHAT?! Not only did Plan B make my suggested burger a reality, but they NAMED IT AFTER ME! I freaked out (in a good way) and felt SO honored. I also was very impressed by the addition of greens to my idea – a very FITTING addition!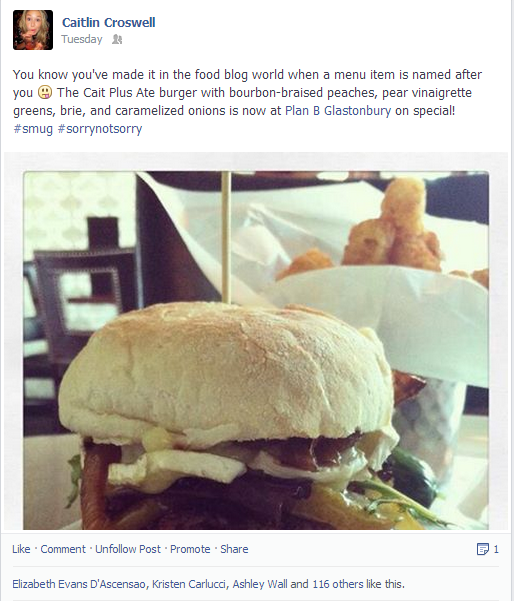 And then…ED voice stepped in and I freaked out (in a bad way). I had two nights eating dinner at home planned for this week, but my burger would only be on special until Sunday. I am out of town (back to Newport!) as of tomorrow, so I knew one of my nights that I planned to stay in would need to become a night out at Plan B to get my burger. I didn't feel obligated to go order it…I WANTED to go order it. Friends suggested that I compromise and get it to go and take it home, but that's lame. I wanted to order my burger IN the restaurant, take a classic photo, enjoy some drinks at the bar. I wanted the full-on special experience. But my anxieties and guilt were clouding my mind and making it hard for me to be thankful and appreciate the honor. My ego was stepping in, in a BIG way.
I made plans with an old friend who'd just moved back to CT, and tried to focus on my excitement about the chance to catch up with him. I tried to tell myself that it is okay to skip a planned meal in, to order a burger named after me. I mean, does that happen a lot? Or…ever? NO! I went to the gym and got in a great cardio workout, and that made me feel better about everything too. I told myself, "Caitlin, you just worked hard. You always work hard. You deserve to enjoy this moment!"
And once I settled into my seat at the bar, I was ready to enjoy, and ordered up the special cocktail – the Four Roses Strawberry Lemonade Martini (Four Roses Yellow, splash of lemonade, muddled strawberries). It was tasty but too sweet…so the bartender added more bourbon. Usually when I mention a drink is too sweet the bartender just offers to add club soda, to which I mentally respond with, "Well, if you want to…" so the offer to add more Four Roses was hastily accepted.
I actually decided to get a pork patty on my burger instead of beef, something that I've already been made fun of for by several people ("You got a substitution on your OWN burger?!"), but my excuse is that Plan B's burger specials always include beef, so if I wanted a pork burger I'd have to substitute! The idea to do pork also came to me right before I got to the restaurant. Last time I ate at Plan B I got a pork burger patty on a salad and ADORED it, so I was anxious to relive it and thought it'd go well with the toppings!
I'd told myself earlier in the day that I'd split the burger with Hong. I told myself I'd ask for half boxed up right away. That I wouldn't eat the bread. That I would try not to finish the meal. But you know what? I loved my burger. It tasted amazing (though could have used more toppings because the thick bun overpowered them a bit, as buns so often do). So I ate every last bite of my entire meal, AND half of Hong's fries. And I still had a snack when I got home. Because I was hungry after my hard workout, and because my body told me it wanted all the food, so I ate all the food. And I savored and appreciated and enjoyed all the food!
Hong and I shared a beer flight as well; at a restaurant with as many interesting beers as Plan B, I try to do flights so I can continue to expand my beer horizons. I picked out all five and though I can honestly say I enjoyed each beer, the two that stood out to me most were the Rogue Black IPA and then Shipyard Blue Fin Stout. I had never had a black IPA before and loved that it was a creamier take on the IPA – so unique. The Shipyard Stout was awesome and not too heavy. Hong is not usually a stout guy but he REALLY enjoyed it and was surprised that he did. I definitely am going to be on the lookout for those beers at restaurants from now on! I like that Plan B writes out what is in any flight, be it beer or bourbon, so that I don't have to try to remember what I'm tasting. That gets harder to do the more I taste…ya feel me? 😉

Our evening came to an end and I headed home. I got in bed in time to get a pretty good night's sleep before waking up for a pre-work morning basement workout. I proved to myself that I can go out on a weeknight and still keep up my healthy habits and get my balance on. I really do hate that my ED voice stepped in during such a proud moment and tried to take my happiness away from me, but I'm so glad that with the help and support of my friends and family (you know who you are!) I went to get my burger before it left as a special, and I ordered it as I wanted it and ate and drank as much as I wanted. This is definitely one of the proudest moments of my blogging life and I am not going to let "shoulds" or "have-tos" ruin it!
What's your favorite topping for a burger?
When was the last time you conquered a "should" thought?