New Haven: A Labor Day Tradition
Every Labor Day my parents do the huge New Haven Road Race, and the last several years I have been joining them to stay overnight at the Omni the night before. We feast and drink in Downtown New Haven (knowing we don't have to drive anywhere), and the 'rents do the race in the morning while I hit the gym (which is pretty darn nice for a hotel). Then I find an interesting cafe for coffee, followed by a unique spot for lunch, while my parents wait in huge post-race-beer lines.
This year my dad was away so my mom and I decided to still visit New Haven for a night, but she joined me in the hotel gym, because we stayed Saturday to Sunday (as opposed to the usual Sunday to Monday) this year. Our getaway couldn't have come at a better time; I had a lot of anxiety and such going on after last Thursday night's A Taste in Simsbury event, and I needed nothing more than a special weekend with my amazing mother.
Our first stop on our own personal Taste of New Haven was…Barcelona! Don't knock me for trying a place whose location near me I've been to a bunch. West Hartford bartender/fashionista Anna told me the bartenders there, BJ and Justin, were awesome. Plus it was literally RIGHT next to our hotel…of course I didn't realize that until I called the restaurant to find out where the heck they were because my phone was telling me we were right on top of the place. Turns out Barcelona New Haven is VERY nondescript…no sign out front!
My mom enjoyed a couple different beers (Barcelona offers a 7oz pour for $3, something we wish more places did) while I sipped on a fabulous Manhattan made with a new-to-me bourbon, Elmer T. Lee. Yum! BJ not only provided great service, but a recommendation that helped us decide that our next stop would be Briq.
My mom ordered a glass of Pinot Noir while I selected a cocktail called the 6 Sided Story – gin, creme de menthe, sour lemon juice, and prosecco (garnished with a blood orange). It was super refreshing, but my first drink hit me harder than I'd have liked so I barely finished any of it. Too bad because it really tasted excellent! I'll have to come back and order it again so that I can fully enjoy it.
We started by devouring some super-satisfying bread and then split a couple of apps – shrimp salsa served over whipped haas avocado with warm corn tortillas, and grilled calamari with oregano, lemon, olive oil, and spinach. Giant tortilla chips weren't what I expected when I read "warm corn tortillas" but they worked well for dipping once broken up. The whipped avocado was so awesome! My very favorite dish was definitely the calamari though; it's SO hard to find restaurants that serve it grilled as opposed to fried and the seasonings combined with the fresh spinach and lemon juice made for a remarkable small plate. I'd certainly order it again!
I don't know if it's because of the way my first drink hit me but at this point I got really grateful that I had my mom with me as it became difficult for me to enjoy myself and each moment. Since I felt drunk, I felt like I'd drank more than I actually had, which made me start to feel guilty. I also don't do well in situations in which I have an appetizer at one place and go somewhere right after for dinner, which sucks since that's exactly what I enjoy and prefer doing so I can try more than one restaurant in an evening. We left Briq and walked a few blocks to our next (and final) stop, and all I could think about was how I shouldn't be going to another place and drinking any more or eating any more, since my mind told me I'd already done enough (even too much) of both.
We decided to go visit my old friend Ed (formerly of Zafra) at his latest bartending location, Heirloom, which is inside The Study at Yale hotel. I hadn't heard of this spot until after I texted him to find out where he was working, but I will have to return because despite how awesome the cocktail list looked, I made the smart decision to opt out of any more hard alcohol for the evening. I can't believe I didn't already know about the fabulous farm-to-table menu, but I'm thankful to be in the know now. My mom, along with some awesome friends who are always there for me when I text them, gave me some good pep talks and I perked up a bit. Ed also did an amazing job, as usual, of making recommendations that culminated in a very special experience.
I wasn't sure how much I wanted to/"should" eat and my mom was super accommodating about taking the evening slow. We started with the falafel (above) and man, it was incredible. This was only her second-ever falafel experience, and she loved it! I'm so proud of her every time she makes a more adventurous food choice. We agreed that the beet really added something special.
I ordered a heirloom tomato caprese salad as my "meal" and my mom ordered a fluke dish. I didn't catch a picture of either because we were chatting with Mike, but tomatoes sure are awesome right now. Ed recommended the salad to me for that very reason and I am glad I took advantage of prime-tomato-time. My mom's fish was delicious and had a great flaky crust. And then this happened.
Ed totally spoiled us with not one, but two free desserts – and some dessert wine for me! I am currently trying not to dwell on the fact that I definitely ate most of both of these, and instead am trying to dwell on how damn delicious they were. That pudding was epic and the toasted marshmallow on top took it to a whole new level.
These bad boys were everything cider donut holes should be and more, because they came with icing on the side…oh yes. Reminds me of my childhood days of Burger King Cini-Minis, and asking for an extra container of the icing, which had so much sugar in it I could literally FEEL the sugar granules in the texture…I digress. Icing is the shit especially when combined with donut holes. Moving on.
I'm so thankful to Ed for making the evening at Heirloom special and I definitely want to come back so that I can try a cocktail next time! My mom totally could have stayed out later but given how early we started our festivities (4:15 or so) and how emotionally tired I was, I needed to turn in. We walked back to the hotel and I absolutely passed out before 10PM. I'm trying not to regret what I ate/drank from a calorie standpoint, but I DO wish that we had either started later or I had nixed cocktails out of my evening. Cocktails do not go well with restaurant-crawling if I want to keep up any sort of endurance!
I felt better the next morning after I headed down to the gym and plowed through 4 miles on the hotel treadmill (1% incline) in just under 37 minutes! I had planned to do a 5K, my standard running distance, but decided that extra .9 miles to make it an even 4 would probably make me feel mentally strong and ready to enjoy the rest of my Labor Day weekend. I was right! I really felt quite kickass as I watched the number on the treadmill hit 4.0. Also, all treadmills should be equipped with their own TVs, especially when said TVs are re-running the VMAs. Never thought I'd find a smile on my face while running, but JT's medley had the power to do that.
Thanks to Yelp I located a gem of a cafe right near my hotel. Green Well Organic Tea & Coffee has been open for about a year now and I hope they remain open for many years to come. In the words of Stefon, this place has everything. Stability ball chairs, plenty of seating, free wifi, and beautiful rustic decor…
…fresh-made fruit and veggie juices (my apple, cucumber, spinach, lime mix rocked), a trail mix and cereal bar (did not partake but will have to come back so I can do so)…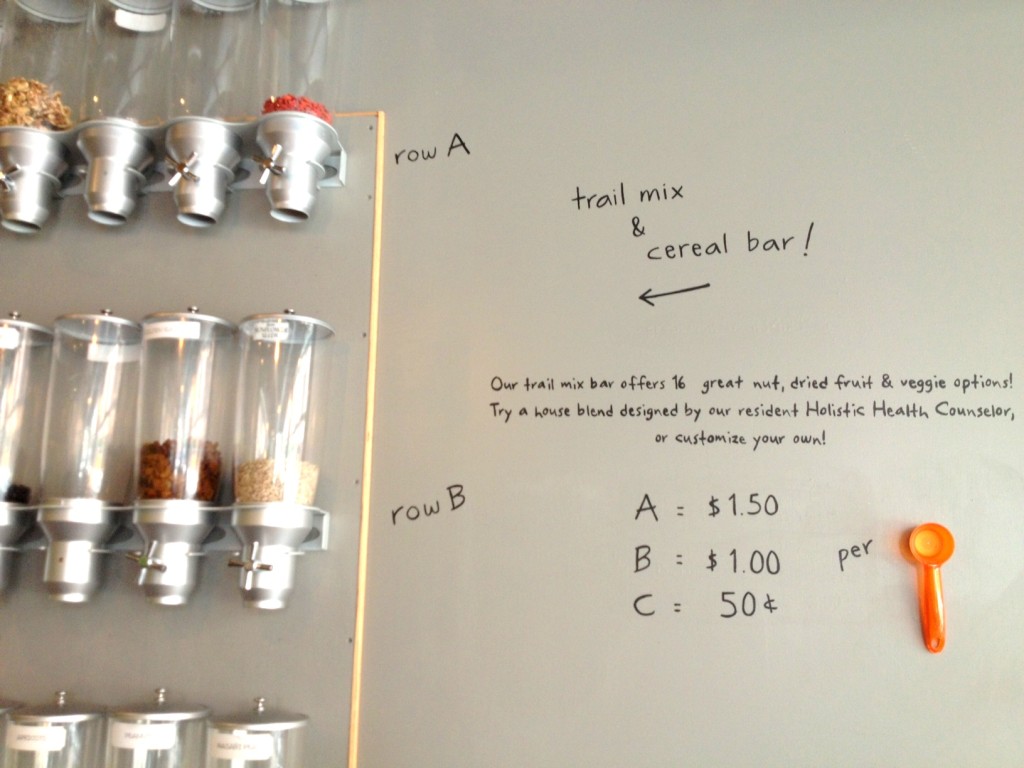 …healthy breakfast and lunch options…
…and of course, yummy coffee (available for sipping in for-here mugs, which come with free refills!)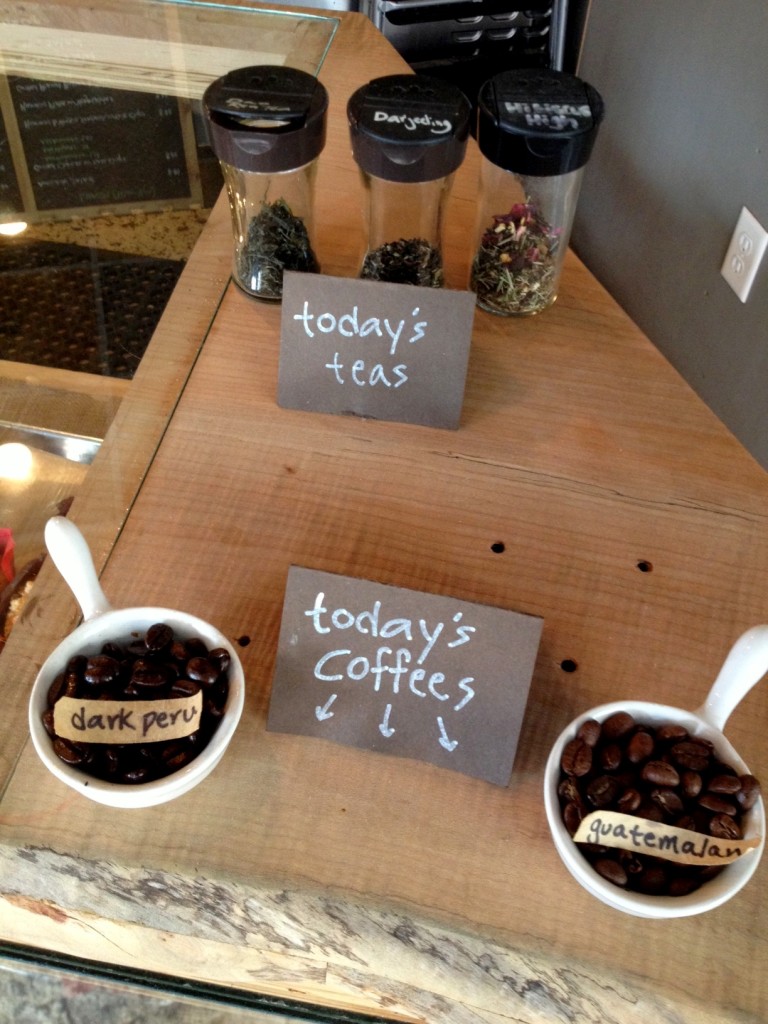 Other charming notes at Green Well include a chalkboard for customers to write what they are grateful for, local artwork on the walls, and a sign in the bathroom requesting the use of just one or two paper towels when drying hands. I can't recommend this place enough and given that New Haven is just 45 minutes from me, I can see myself making a special trip soon to return and re-charge with me time in this special cafe.
I had special plans for Sunday evening but time to kill so I treated myself to a short pour of Greenflash Beer Hop Odyssey, a Symposium IPA, at Prime 16 Tap House. I also ended up deciding to go for it and order a side of sweet potato fries, because drinking on an empty stomach the day before had not been a smart move. I'm proud of myself for not only deciding to order food (not letting the beer calories count as my food calories) but for ordering what I really wanted…something of substance!
A friend and I then took some takeout from Prime 16 – and a bottle of Merlot – over to Schooner Inc to board the Quinnipiack for a BYOB sailboat sunset cruise! Just another fabulous activity brought to me by Groupon!
Schooner is a nonprofit dedicated to promoting "Environmental Literacy and Character Development through Education and Public Access to Long Island Sound and its watershed". They offer not only "booze cruises", but also summer camps, pirate-themed sails, and educational science sails.
Obviously the more wine was consumed, the more Titanic references were made.
If you're wondering whether or not I planned such a nautical outfit for the boat ride…I did.
The staff at Schooner was kind and answered any passengers' questions. My only complaint would be that the bathroom was gross, but hey, it's a sailboat. Just use one before you get on! I also recommend trying to be first in line to check in, so that you can be first in line to board the boat and choose the best spot. We inadvertently did just that and were quite pleased!
The rest of Labor Day weekend was more low key and spent in my area of CT, but I already can't wait to get back to New Haven. I'm even considering a return trip to Green Well this coming weekend, because I have plans in the area already anyway. Though I struggled off and on from Saturday to Sunday with feelings of hesitance over whether or not enjoying myself was the "right thing" to do, I really think I didn't miss out on anything and handled that well without reliance on any dangerous crutches. And for that I should be proud!
What did you do over Labor Day weekend?
Do you have any annual travel traditions?
Have you ever taken a "booze cruise"?