A very special happy birthday to an inspiring friend, Meg! Happy birthday dear, you make me smile and feel stronger every time I read your blog/tweets!
Can you believe I've never done a What I Ate Wednesday (WIAW) post?! I always thought they had to be about a day of eats. In fact, at first I thought it could only be about a Wednesday of eats. But I've seen lots of creative ways to do it, including posts in which people just share yummy things they've been eating all week, not just from one day. Now that's more my style!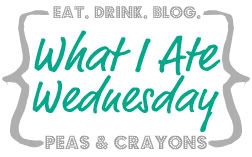 So now thanks to Jen of Peas & Crayons, I give you the first Cait Plus Ate WIAW: The Photo Dump Edition.
That is far from everything, but at least this Caitlin-style WIAW has given me a way to share many days' worth of restaurant trips (with some home eats thrown in). Kinda ended up being a Wordess WIAW!
What looks best to you? I won't make you choose one thing 😉