Last Thursday at Thirty5
If you like what you see in this post, head over to SaveNowCT.com and purchase today's daily deal – $15 for $30 to spend at Thirty5! Talk about timing!
I swear one of these days I will write about a topic for which it is impossible to use alliteration in the post title. Today is not that day…I'm sure it's no coincidence that I chose to visit this restaurant on a Thursday. Last Thursday, to be exact.
My friend Olivia and I made a dinner date at one of West Hartford Center's newer restaurants, Thirty5 Bar & Grille. Located on 35 LaSalle Road (next door to McLaddens, for those who are WeHa-layout-literate), this spot was formerly Reuben's Delicatessen, a popular breakfast and lunch destination. As Thirty5, the restaurant still offers the beloved deli-style breakfasts and lunches of Reuben's, with the addition of a full bar (happy hour!) and a dinner menu featuring apps, small plates, sandwiches, and entrees; some of the dinner menu is available on the late night "bucket list".
Thirty5 is working to become part of the vibrant West Hartford Center nightlife scene with events like trivia on Wednesdays, live music on Thursdays, and the aforementioned full bar serving cocktails, and an impressive variety of beer and wine (some of which is Connecticut-made). If nightlife isn't your game (it isn't mine after about 9pm…), then check out the bottomless mimosa brunch for two, priced at just $35!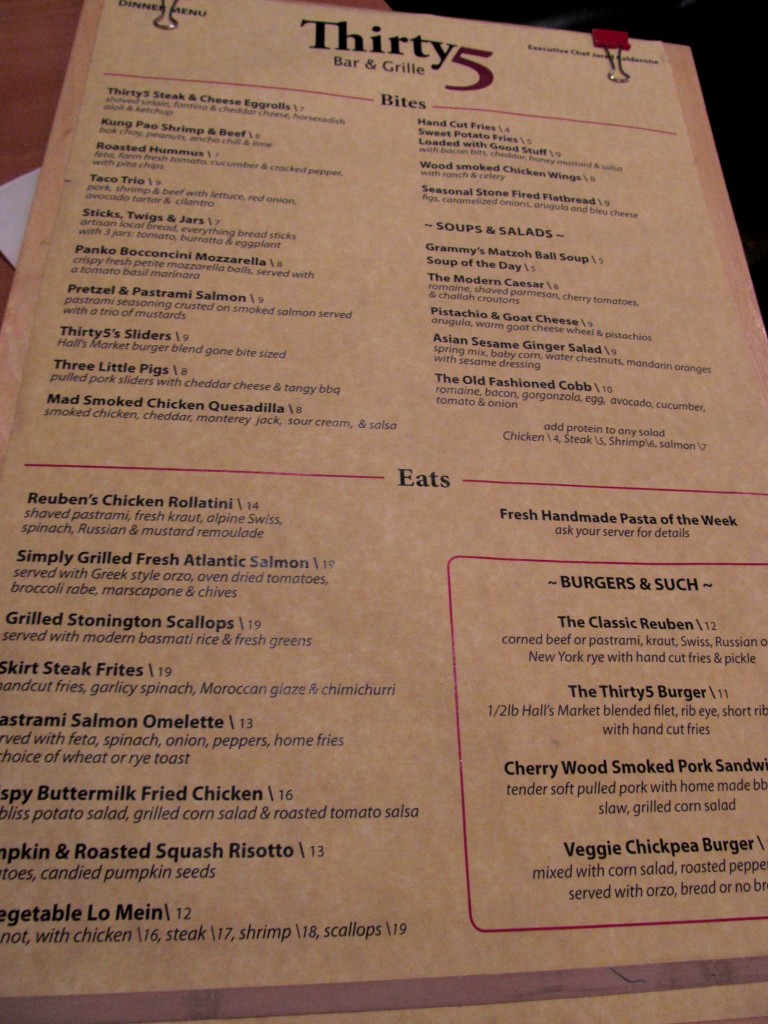 I met Olivia at our table and the owner Brian Hersh came by to introduce himself and welcome us. He offered up some recommendations and I got a kick out of the fact that every item Olivia and I were interested in was an item that wasn't necessarily a "big seller" because each was more on the…unique side. Typical me! The menu does have a nice variety of dishes that would please the traditional eater 😉 (sweet potato fries, wings, pulled pork sliders) and the foodie (pretzel & pastrami salmon, pumpkin & roasted squash risotto, pastrami salmon omelette).
I'm sure you can figure out what I ordered in a second: the Thirty5 Manhattan! I love a subtle twist put on my favorite cocktail, and the maple syrup made the drink a little sweeter than I'm used to, but not in a bad way! The Basil Hayden Bourbon went down veryyyy smoothly. Of course a cherry was included! I prefer them brandied but any cherry on bottom (this ain't a sundae) is still my favorite way to end a Manhattan.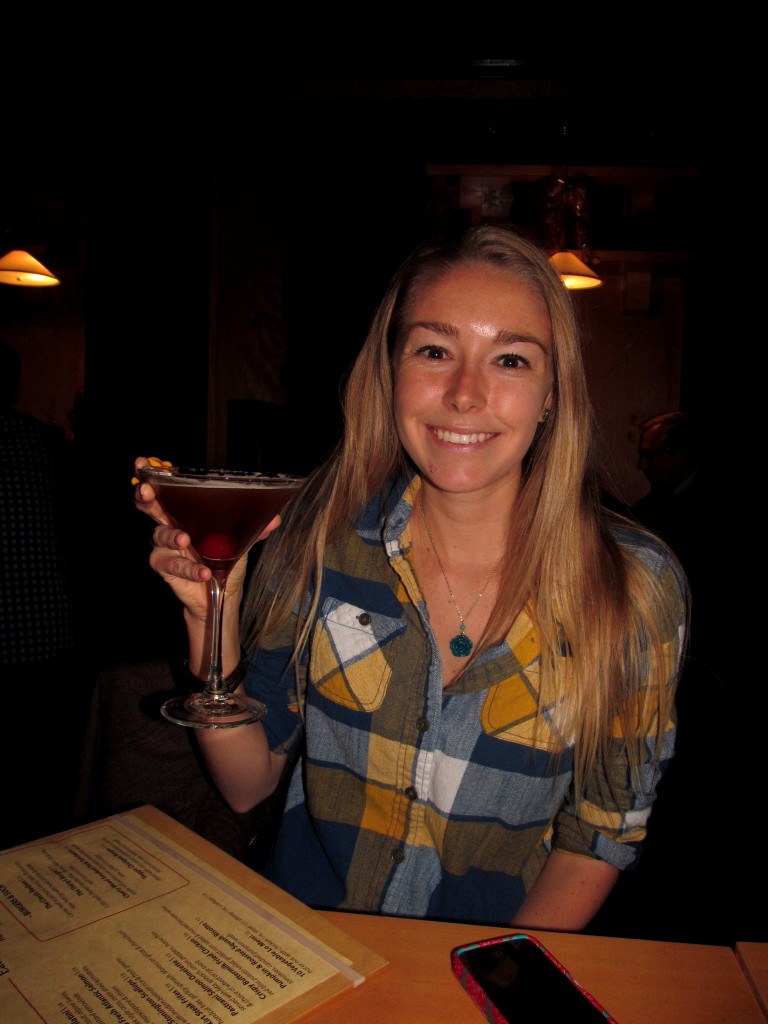 Olivia ordered the simple Peartini – Smirnoff Pear and Riesling. I have to give Thirty5 some credit for giving me such a simple drink recipe that I can keep in my back pocket until I bust it out while in Florida next week 😀 I tried a sip and the combo was incredibly refreshing! Olivia and I both like strong cocktails and at first she thought that it was too heavy on the Riesling, but after a few sips felt the ratio of vodka to wine was pretty close to on-par. I agreed, but she and I also drink like old men. I know that my blend Maria would ADORE the Peartini. When I showed her the Thirty5 cocktail menu before my visit, she sure enough picked that one out right off the bat.
I swear Olivia and I are the same person. Every second of girl talk shared between us that evening made me more and more convinced of that fact! And that means similar tastes, so we make great dining partners and are both all about trying as many different dishes as possible. Splitting three apps seemed perfect!
Plain old eggrolls all taste the same to me – like crispy fried dough. That's tasty and all, but certainly not unique. I appreciated Thirty5's successful effort to put a twist on the eggroll with high-quality cheese and condiments typically included with a burger. The horseradish aioli and ketchup combo was incredible and the steak was so flavorful! This dish was not the prettiest in the world, but the taste more than made up for any presentation flaws.
I really enjoyed the cultural variety of the menu. The eggrolls were Asian-American fusion, and the above dish definitely gave me a Thai vibe. The portion was a bit small, but I felt that way because these shrimpies tasted fabulous and the sauce – YUM. The waitress tried to take the plate away after Olivia and I had polished off the beef and shrimp but I quickly put a stop to that – how could I let a drop of the stuff go to waste?! I really could taste the peanuts in the sauce and that component paired especially well with the beef.
I'm glad I didn't start on the above dish until I'd finished my portions of the other two because it was by far my favorite, as I had expected. The smoky pastrami seasoning totally made the salmon and combined so well with all those different mustards! Mustard > ketchup in my opinion so the chance to try four varieties, none of which were plain old yellow mustard, was awesome. One was pretty darn spicy and had me breathing heat out of my nose! I wish there had been more salmon for so much mustard but no worries, I took the leftover mustard home, because that's how I roll. Oh, and those pretzel sticks were served in a little shot glass with olive oil on the bottom – a perfect touch that made a big difference in taste!
Overall, I was impressed by Thirty5 and purchased the SaveNowCT deal mentioned at the top of this post with zero hesitation, because I want to go back and try the Pastrami Salmon Omelette ASAP! The prices for the appetizers are fairly reasonable, but this is not a place that is going to serve huge apps that will spoil your dinner. However, I read another review (see page 4) by someone who tried a couple of entrees, which she said were MORE than enough! Good to know, because those are nice and moderately priced too. I was not blown out of the water by Thirty5 Bar & Grille, but really enjoyed my meal and definitely consider it a place where I'd like to do some repeat-eating! Who's coming with?!
You can also follow Thirty5 on Twitter, Facebook, and Instagram!
Which of the appetizers would you have enjoyed most?
Do you ever purchase daily deals to use at local restaurants? Do you tend to buy them for places you haven't tried, or places you already know you like?
I received three complimentary appetizers from Thirty 5. This is not a compensated post. All opinions on the experience are my own.