Barefoot Contessa at the Bushnell: Giveaway!
I'm gearing up to leave for vacation this Friday (a week off work, what a perfect birthday present!) so work has been CRAZY. School too. Therefore I'm keeping it light again on the blog today and just popping in to do a giveaway!
Living just outside of Hartford gives me easy access to The Bushnell Center for Performing Arts, where fantastic musicals, plays, panels, and more are held year-round. The Bushnell seriously offers something for everyone! I've seen Wicked there twice, and took my Nana Connie to see The Addams Family Musical in 2011. You may recall that I attended the CT Forum's Vision & Brilliance panel in December as well. I've sat on the floor and in the balcony, and I'm serious – every seat is a good seat. After all, the theater was designed so that every single patron could sit back and enjoy the arts, and that involves actually being able to SEE them!
Bushnell has offerings for foodies too, starting with next week's visit from Ina Garten…aka The Barefoot Contessa! You surely recognize her from Food Network fame! Ina is coming to the Bushnell next Thursday 3/28 at 7:30pm and tickets are still available!
Ina Garten shares her natural approach to food; sharing tips, stories, and maybe even some recipes. Onstage, Ina Garten delivers a charming insider's view of the world of the Barefoot Contessa and the pleasures of good food, cooked with love and passion. Enjoy an interactive Q&A and join Ina after the show when she signs copies of her cookbooks for the audience.
Tickets range from $34.75 (rear balcony – I've sat there and I swear it's fine!) to $55.75 (front orchestra – I have NOT sat here and I'm SURE it's fine). If you have a copy of any of her cookbooks, be sure to bring them – and you can bet they'll have some on sale too.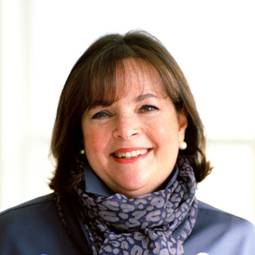 Alas, I cannot attend the show because I'm going to Florida next week (OK not alas, given today's weather, I'm psyched to be going). However, the Bushnell is still keeping Cait Plus Ate in the loop and offering one winner a pair of tickets to the show!
Entries close this Friday 3/22/13 at 11:59PM EST and please be sure to leave a separate comment for each form of entry you do, or multiple entries won't count:
Comment on this post and tell me about an experience you have at The Bushnell. If you've never been, tell me about a performing arts center experience you've had! (mandatory)
Follow @TheBushnell on Twitter and comment here saying you did.
Follow @CaitPlusAte on Twitter and comment here saying you did.
Tweet "I entered to win @InaGarten tickets from @CaitPlusAte – she's coming to @TheBushnell! http://caitplusate.com/?p=8152" and comment here with the link to the tweet.
Good luck to all who enter – and have fun at the show if you decide to go either way!