Paella Partying at Barcelona!
Thank you so much for your comments on Friday's post! I have to admit this weekend and today I have failed at my me-time and less technology goals…but that's no reason to give up. I'm going to keep at it and have a couple relaxing nights in planned tonight and tomorrow! Glad to hear my therapist's definition of an "introvert" was a new and interesting find for some.
The last event I attended at Barcelona Wine Bar in West Hartford (as their event blogger) was a Monday night cooking class appropriately titled "Paella Party". I invited a couple of friends from high school – one of which had come with me to the Foods of Galicia dinner – and we turned the evening into a foodie girls' night of nostalgia!
The cooking class took place in my favorite area of dining at Barcelona – the gorgeous outdoor patio.
My favorite chef – Executive Chef Alex Feldman – taught the class! He was very accommodating, especially to a guest who told him upon her arrival that she was allergic to calamari. He immediately asked the kitchen to prepare for her a non-calamari paella.
Alex gave us so many interesting insights into the world of paella. I took notes on my phone so I could share them with you all!
The first step of paella is soffrito – the sauteeing of whatever you want. Our first paella's soffrito consisted of onion, red and green peppers, garlic, canned tomatoes, wine, and saffron (the most common paella ingredient) simmered for 10-15 minutes.
Our second consisted of carrots and onion sauteed with some sausage as opposed to oil. Alex told us using sausage as the fat instead of the oil is an old school cooking technique.
Never chop onions in a Cuisinart – it leeches all their juice, which is where the flavor comes from!
Garlic should be added to the soffrito at the end because it cooks the fastest. In Spanish paella, the garlic is browned. In Italian paella, the chefs would NEVER brown their garlic.
The 

crust that forms on the bottom

 of the pan of paella is called the soccarat.

Alex recommends use of a Spanish short grain rice such as bario.
"Paella" is the name of the pan in which the dish is cooked/served.
The dish is EXTREMELY regional. in Barcelona, it's most often prepared with seafood and a very complex soffrito. But in southern Spain, paellas are super simple.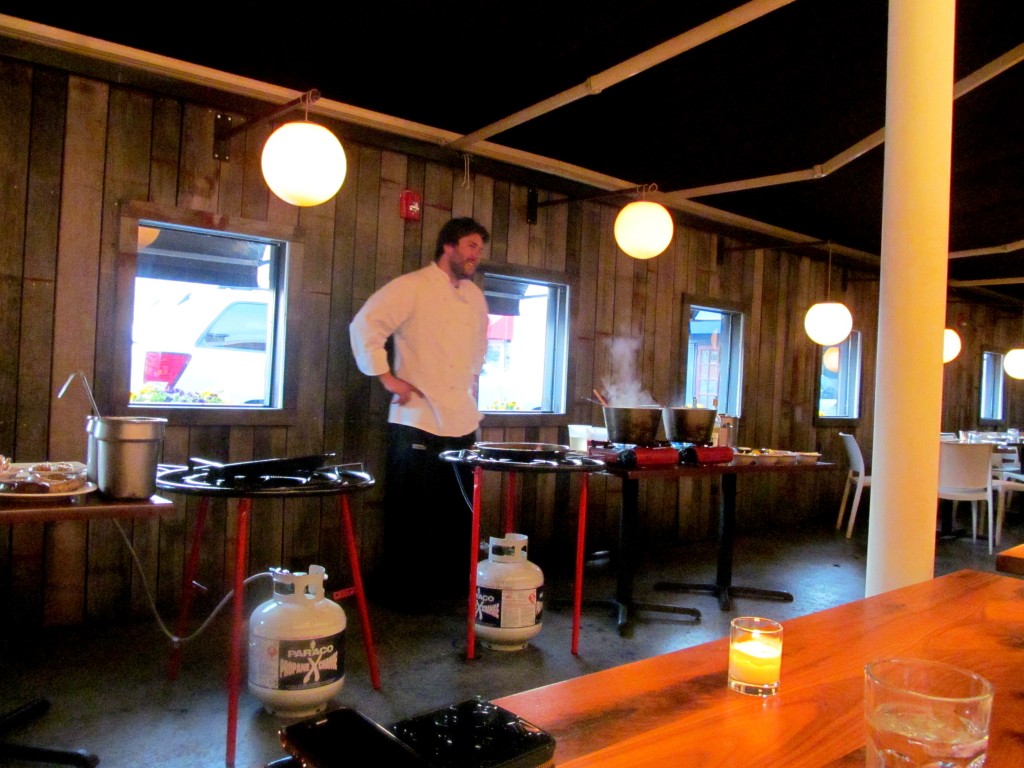 I elected to stick with wine for the evening, since it was a Monday night and I had to wake up for work the next morning.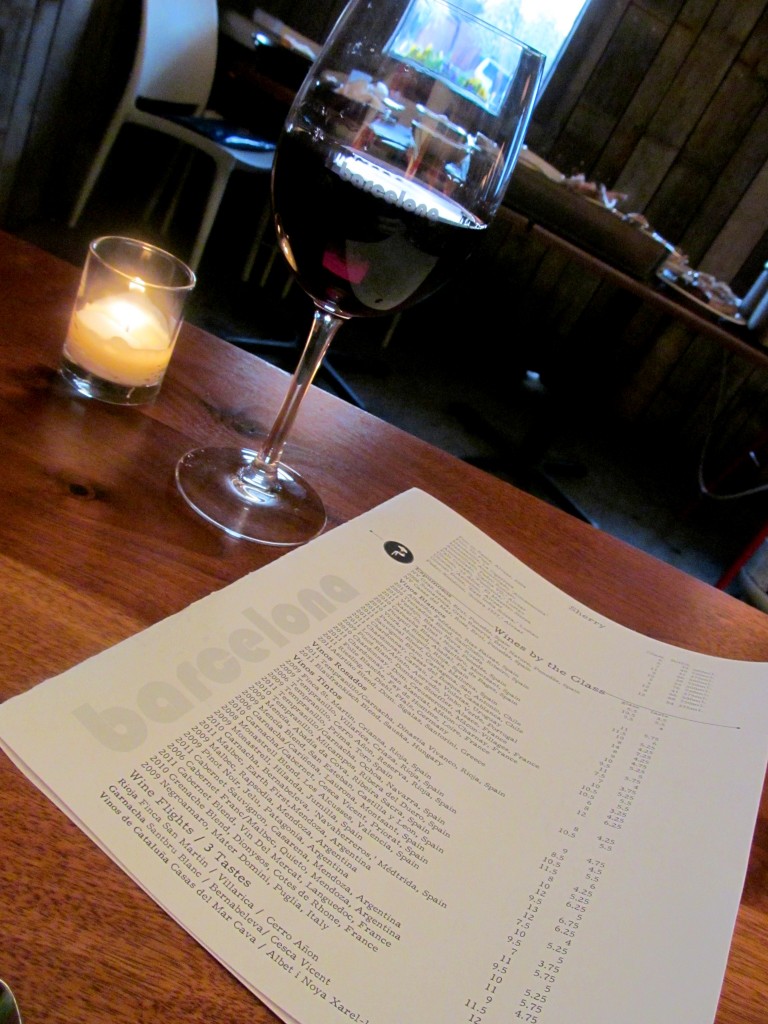 Corri did the same and ordered one of Barcelona's wonderful wine flights!
We as the "audience" were able to ask Alex questions as he worked. Many of his answers included the caveat that we ALL can be chefs – so while he may offer suggestions or favorite techniques, they are not necessarily strict rules that must be followed.
While Alex was cooking and teaching, his students stayed well-fed so that we weren't TOO tortured by the delicious smells of the paella as it was being prepared. A generous amount of tapas came out, as well as BREAD. Oh baby, I could eat Barcelona's bread all day long. In fact this past Friday night I was there at 11pm eating their bread, but that's another story.
Most of the tapas were repeats for me; I try to sample new tapas every time, but since I'm fortunate enough to have an unofficial event-blogger position for Barcelona, I am certainly at their events more than the average attendee! And I wasn't tired of tasting these delicious dishes…I'm not sure what it would even take for me to get sick of any Barcelona tapas!
You've seen tapas and you've listened to me ramble about paella, but have you SEEN paella yet? You've waited long enough, let's drill down to the stars of the party.
While prepping the Mariscos paella, Alex added each seafood ingredient (above) to the paella at different times because they cook at different rates. D'oh, I am sure if I was at home prepping this I'd have just dumped everything right in there. This is why I just eat food and don't cook.
I first tried rabbit at Barcelona's Mendoza dinner and was excited for the chance to sample it again. Now we're going to get into the super unique ingredients…that blood sausage is made with pork blood, oats, flour, and herbs. One of my friends recently told me he has a video of blood sausage being made, which shows the blood being poured into the casing, and I'm not sure if even I would be able to eat it after watching that. So, I probably won't because I ended up adoring its taste. The white sausage was made with garlic and parsley. Can we pause and look at how BEAUTIFUL those garlic bulbs are?! Garlic freak up in here.
The Mariscos and Selvaje paellas both turned out amazing. Though I am a huge lover of seafood, I have to say that the Selvaje was my favorite of those two. Firstly, I am a lazy eater in the sense that I don't usually order seafood that requires me to put in work to eat it. Hence the fact that I rarely order lobster or any kinds of clams/mussels since I have to remove them from some kind of shell. I don't like crab legs and I dislike when cocktail shrimp have tails I cannot for the life of me pull off. The prawns were fun but I felt like by the time I'd removed the shell, I had barely any seafood to actually eat!
The Mariscos paella was delicious enough for me to put in the minimal "work" required to get into the seafood, which indeed was cooked with great skill and tasted so fresh! But the second reason the Selvaje was my favorite was the lineup of its amazing ingredients. The rabbit was tender and the blood sausage had almost a bite to its flavor that really stood out to me. I loved the texture the chickpeas added and how can you go wrong with ALL THAT GARLIC?!
Both are regularly offered on Barcelona's dinner menu (along with a Verduras paella made with BRUSSELS that I have to try immediately). Corri and Lindsey liked them too; Lindsey usually follows a vegetarian diet, but tried a little of the seafood and meats because she also is a foodie who enjoys the experience of a new dish. 'Atta girl!
I saved the best for last – a paella not (yet) offered on the menu, which Alex added to the cooking class after a special request Corri and I made at the Galicia dinner!
I can now proudly proclaim that I've tried squid ink paella! I always pictured squid ink as literally looking like ink, but Alex passed around the above jar and it's actually quite thick (though it is the ink color I expected). The verdict?
Squid ink paella is not just fun and weird, but it tastes good too! Alex correctly warned us the ink would give the paella a briney flavor but it was well balanced by the other ingredients such as fresh lemon zest. The paella contained not just the ink of a squid, but generous chunks of squid itself. I don't know if people who can't get past visuals would enjoy ordering this dish, but if you are an adventurer I'd totally recommend it!
I opted for a second glass of wine instead of a dessert because I was full – we all were, yet there was a ton of leftover paella! So the restaurant portioned it out for us and gave it to any event guests who wanted to take some home. That impressed me – I have never been to an event like this when the extra food (because there usually is some) isn't just taken away without giving the guests an option to take it home.
The options didn't stop there either; our waitresses brought out dessert menus because lo and behold, each event guest was to pick one out! The $35 price tag (food only) was buying more and more food by the minute, but most of our stomachs couldn't possibly hold any more. So, we could either have desserts at the restaurant or take our choices home. I decided to be the best sister in the world and bring home churros for my brother, but I did dive into some of Corri's dessert, which she was generous enough to share.
I wish more restaurants would make their event desserts an eat-here-or-take-home option, because I often am full from the generous amount of food served during the dinner portions but also don't want to miss out on the special sweets! Barcelona continued to accommodate even after dessert was served because Corri, Lindsey, and I were horrified to find in Corri's cake what we thought were little hairs, and sent it back. The manager, Taft, came out with a new cake – and a kind explanation that those were not hairs, but were from the ultra-fresh raspberries used to make the raspberry sauce. I guess that's what Barcelona gets for using really fresh ingredients – silly customers like us sending our food back for no legitimate reason! 😛 Oops – and they still gave us a new cake! Which, by the way, blew my MIND.
If you couldn't tell already, I thought nothing but the best of this event. Though I will fully disclose that I did not pay the $35 fee for the food since I wrote this blog post, I will say that I would have paid it in a second – in fact, I'd have paid more if the price tag was higher. I've been going to Barcelona's events for awhile now and whenever I've paid for one, I've always felt like I got more than I paid for. This paella cooking class, I'm sure, would have been no exception! Corri and Lindsey loved it too and I can't thank Alex, our waitresses, Taft, and the rest of Barcelona enough!
This Wednesday evening, Chef Alex will be at Barcelona in West Hartford preparing a Foods of Catalonia dinner menu! In fact, I will be in attendance with my good friend Kat as well as her sister. The menu is available one night only so be sure to come by and take advantage – call 860-218-2100 to make a reservation. And if you attend, please find me and say hi!
Which of the three paellas – seafood, sausage/chickpea, squid ink – would you want to try most?
Have you ever had paella at a restaurant, or made it yourself?
Which fact about paella cooking did you find most intriguing?