Skirting Around Fashion Friday
Before I dive into this week's Fashion Friday (which obviously has a skirt theme) I'll give a quick update on the missing shoe situation mentioned in last week's Fashion Friday. Short story short – it still has not turned up. And I totally wanted to wear it (and its twin) with today's outfit…oh, first world problems. My shoe addiction ensured I had a backup pair that matched, of course. I'll be sure to keep you all posted on this terribly pressing situation.
I am soooo ready for the weekend and it's sure to be fun. Firstly, the rain is dying down and the weather tomorrow looks great, which will make the beach trip I have planned with my mom downright lovely. Secondly, I have a couple restaurant outings planned (of course) with wonderful people! Tonight my mom and I are going to Barcelona in West Hartford, and I'm SO incredibly excited to bring her there for her first time and show her a restaurant that is so special to me. Tomorrow I'm going to It's Only Natural (YAY) for a friend's birthday dinner – and use of my gift card. As long as the sun stays out for Father's Day, I will make it a wonderful and relaxing Sunday, despite my lack of father in the country (he's going to Paris for a business trip).
Now let's get to the fashion! The two outfits I'm showing today feature a couple of skirts I purchased on sale (of course). The green one I found at Francesca's in Glastonbury on the first day of a big sale, and it was just $12! The black hi-lo skirt was a Black Friday find at American Eagle.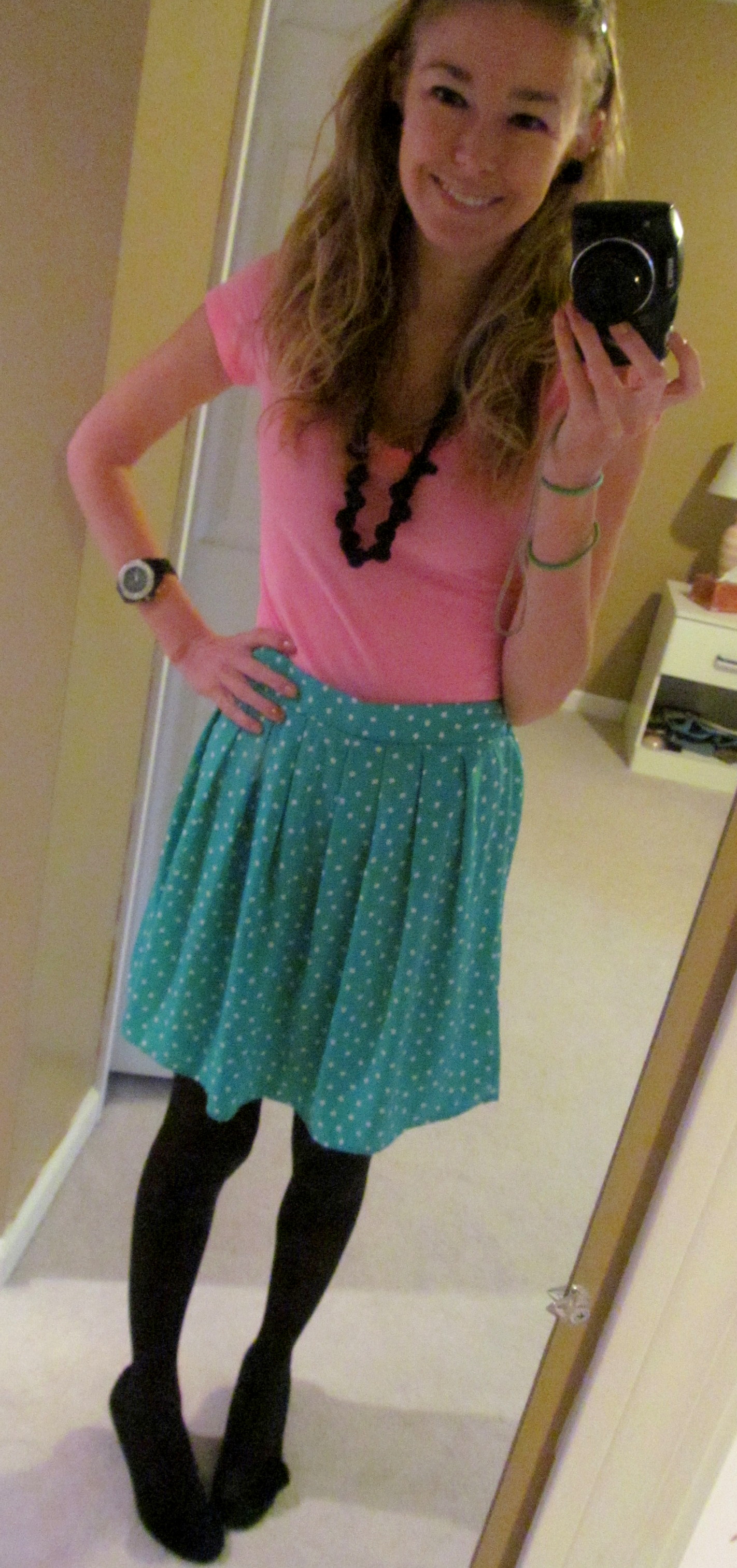 Tee: PacSun
Necklace: J. Crew Outlet
Watch: flea market
Skirt: Francesca's
Tights: No nonsense
Heels: Steve Madden
Coat: H&M
Tee: VS Pink
Necklace: made by my friend Vivian!
Skirt: American Eagle
Watch: Michael Kors
Tights: No nonsense
Heels: Forever 21

I'm off folks. There are a thousand things I should be doing right now instead of writing this post. I hope you all have a fabulous weekend!
Which of the two skirts would you be most likely to wear? Which is your favorite?
Do you have Father's Day plans?