Marvelous Moonshine: The Onyx Gatsby Ball
I received free entry into this event via a press pass. This is not a sponsored post and all opinions of the event and what I sampled there are my own.
Where do I begin?! I mentioned in Friday's post that I'd be attending an event that evening that I was extremely excited for. Well, the Onyx Moonshine Gatsby Ball and Onyx 111 Infusion Challenge lived up to my expectations. The marvelous event was one of the best I've ever attended.
I pulled up to the gorgeous venue, The Wadsworth Mansion at Long Hill (Middletown, CT), and immediately knew why Kaitlin has chosen this as the place she will be married next summer. The entry way is what I can only describe as "grand", and the inside was lovely and perfect for a party meant to transport guests to the past.
Upon check-in each guest received an Onyx mason jar (complete with a lid!) and a gold coin to use when voting for his or her favorite infusion of the evening.
I'd hit the gym before my arrival so I was STARVED. I had planned to make a beeline for the food, catered by Wood-N-Tap, and get some of it in my stomach before I started sampling infusions. Gotta pace myself!
But before I could eat anything I spotted Krust's setup, and I had to run over and say hi to Neil (a bartender) and Kevin (a co-owner). These guys are having a blast at what they do and I love watching – and tasting – the results. Plus they put in the effort to go local; their infusion used locally grown apples and pumpkins, locally produced cider, and of course featured the local company Onyx.
Though Krust did not place in the contest, their creation was one of my favorites of the evening. It contained Virginia Gentleman Bourbon, so this should not be a surprise. But Neil had a great attitude about the event – when I asked him halfway through the evening if he thought they were doing well, he said he had no idea and was just there to learn from the other restaurants. He's always on the lookout for new ideas and is humble enough to recognize when he may want to tweak something Krust is doing.
I did manage to then grab my first of many plates of food that I consumed throughout the evening. I felt like a bottomless pit! But I'm proud of myself for not skipping the food in an effort to save room for the alcohol calories, which is a bad habit I am still guilty of every now and then. I also tried not to keep track of how much or which food groups I was eating. I just decided to trust my cravings – which were for everything but fruits and veggies – and have a good time. I didn't even do any cardio the next day. Yes I felt guilty about the spinach & artichoke dip, pita bread, and mini cupcakes I ate throughout the evening. But does an event as marvelous as this come around often? No.
My partner in crime Kat looked fantastic in a lovely off-white dress. It complimented my off-white jewelry perfectly…just another reason why we are a great team.
Postmodern Jukebox (who recently performed on Good Morning America!) provided music for the evening and the dance floor was occupied most of the time the band was playing. Since I was at the event solo I was bummed that "less couple-y" music wasn't playing. Most of the people on the dance floor seemed to be working some fun swing-style moves with their significant others. But the choice of music kept the evening feeling very authentic.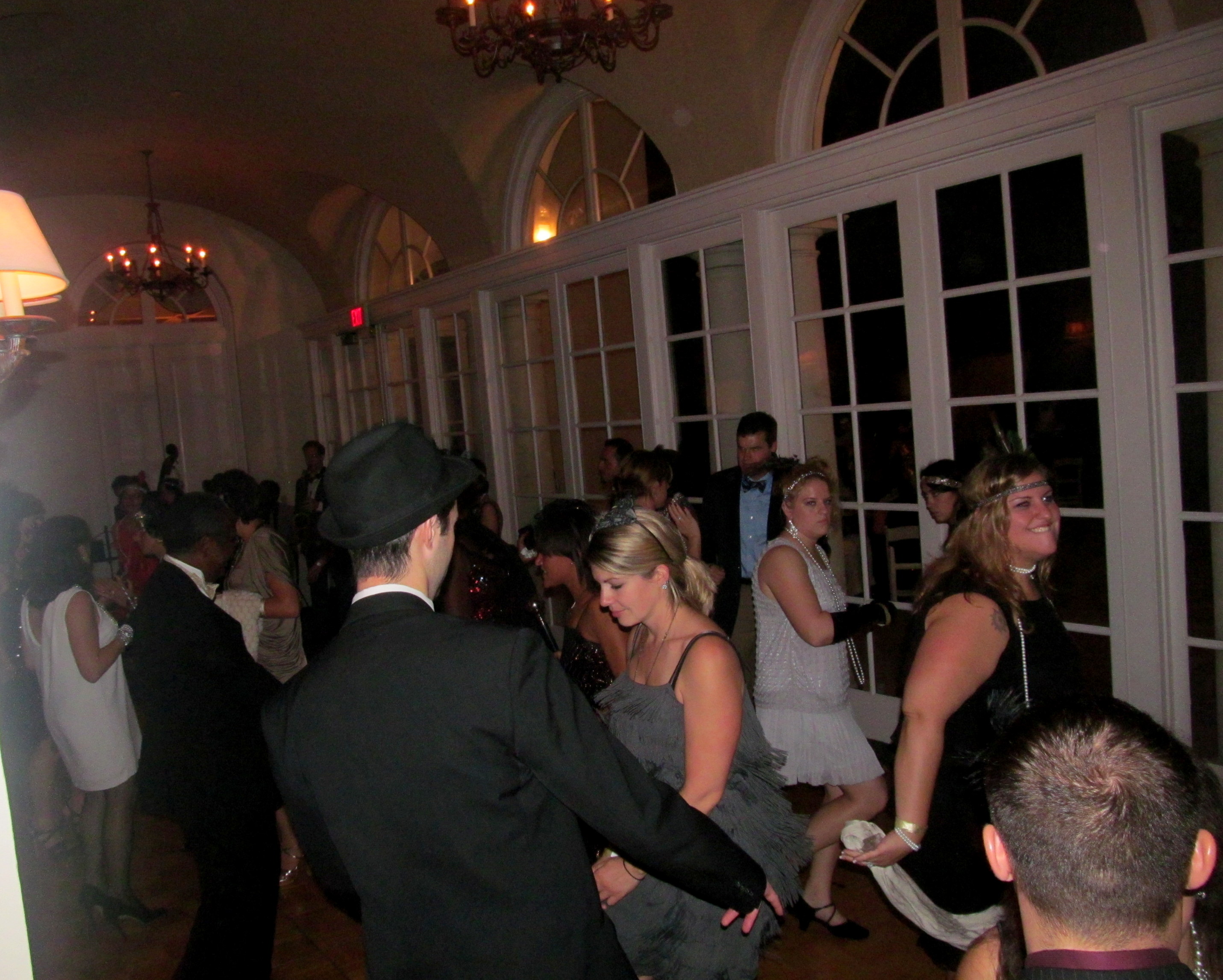 The lovely Carrie and her Nora Cupcake Company provided the evening's dessert…Onyx-infused mini cupcakes!
The offerings, in order of my most to not as most (I can't say least because I loved them all) favorites, were the Spiked Apple (hard apple cider cupcake filled with Onyx-infused apple and topped with cinnamon buttercream), Blackout (fudge cookie bottom chocolate cupcake filled with Onyx-infused chocolate whip cream and topped with chocolate & white chocolate ganache frosting), and Fruit PUNCH (strawberry, cherry, raspberry cupcake brushed with Onyx and topped with fruit punch frosting and candied zests).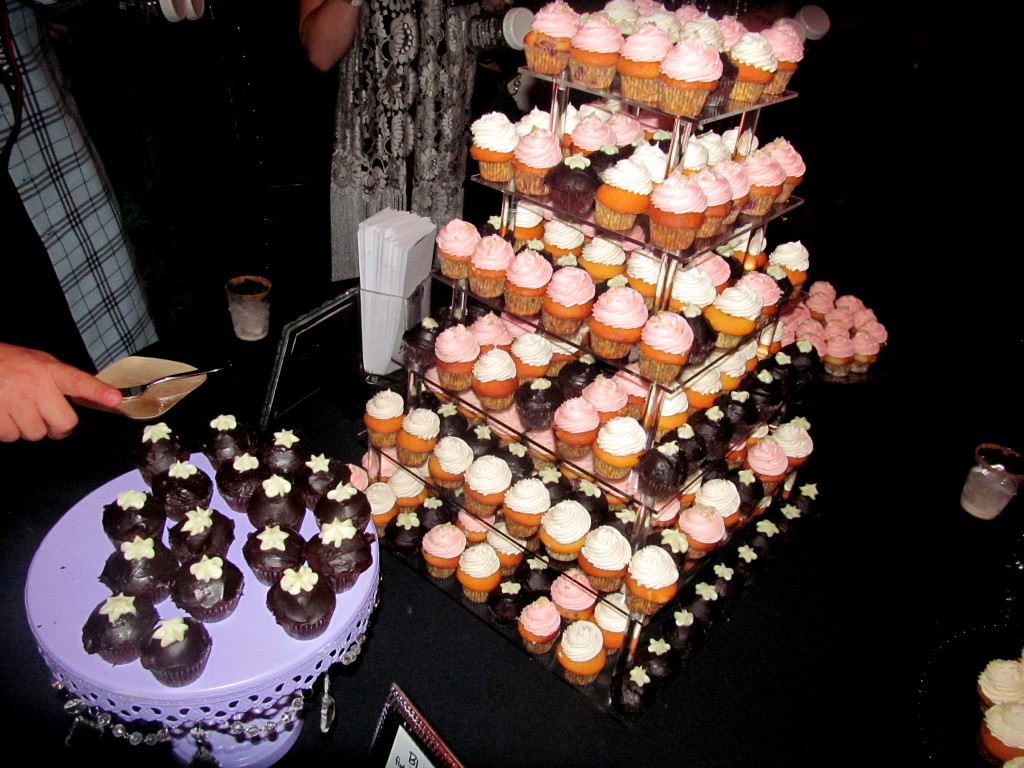 Kat and I really really really enjoyed the Spiked Apple.
As well as candied bacon from Firebox, which alas was the first restaurant to run out of its infusion. Bartender Sonny created the Daisy's Opus – smoked fig & vanilla bean Infused Onyx 111, Ramazzoti Amaro, 1920's style Arabic Gomme Syrup withchocolate, and the candy bacon as garnish.
Thankfully Yelp Hartford's Emily (one of the judges) shared a sip of hers with me and it was actually my favorite of the evening! Very smokey and cozy-tasting (if that makes any sense, which it probably doesn't). It's funny that the only infusion I couldn't enjoy a full sample of ended up being the one to get my gold coin vote.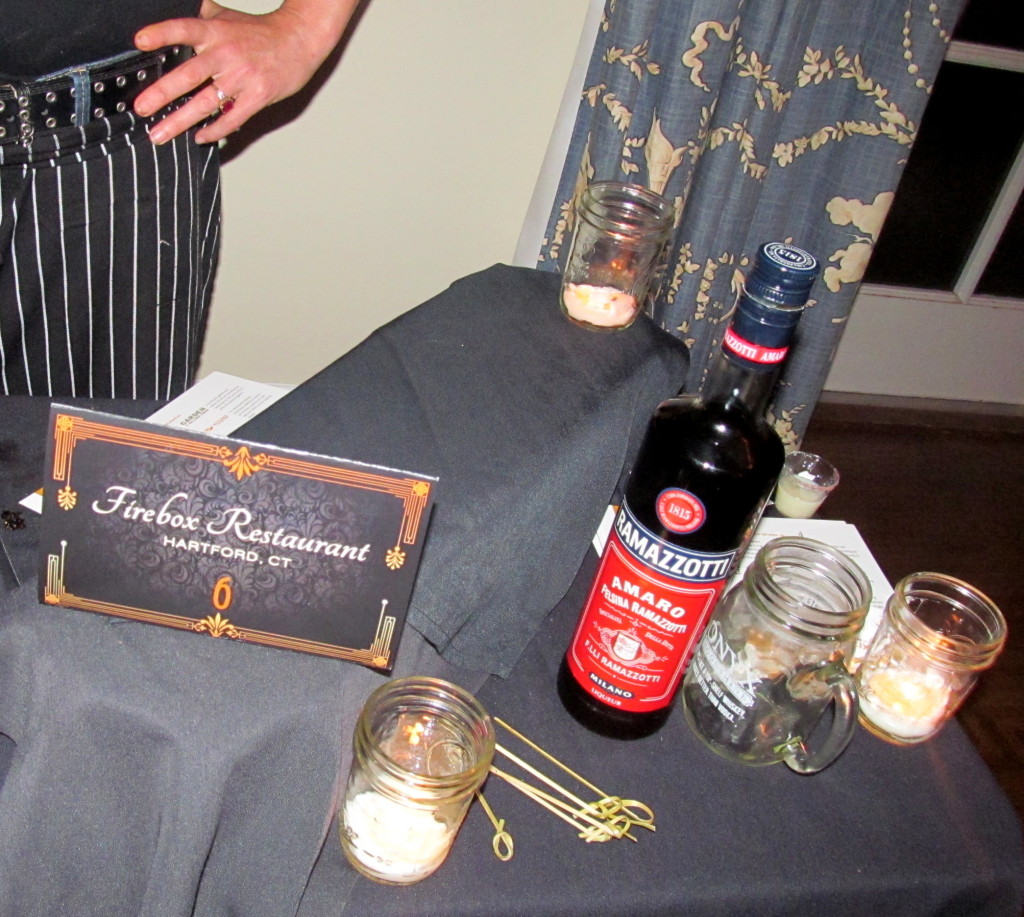 Cavey's of Manchester, a spot that's long been on my list of restaurants to try, also offered a bite with their infusion. Bar manager Jessica Cote paired her Cavey's Kiss creation (spiced pear infusion with elderflower pear purée and poached pear simple syrup) with little spiced meringue drops, and it was a smart match! I also loved the cozy fall table display, and noted that the fireplace certainly made a picturesque backdrop!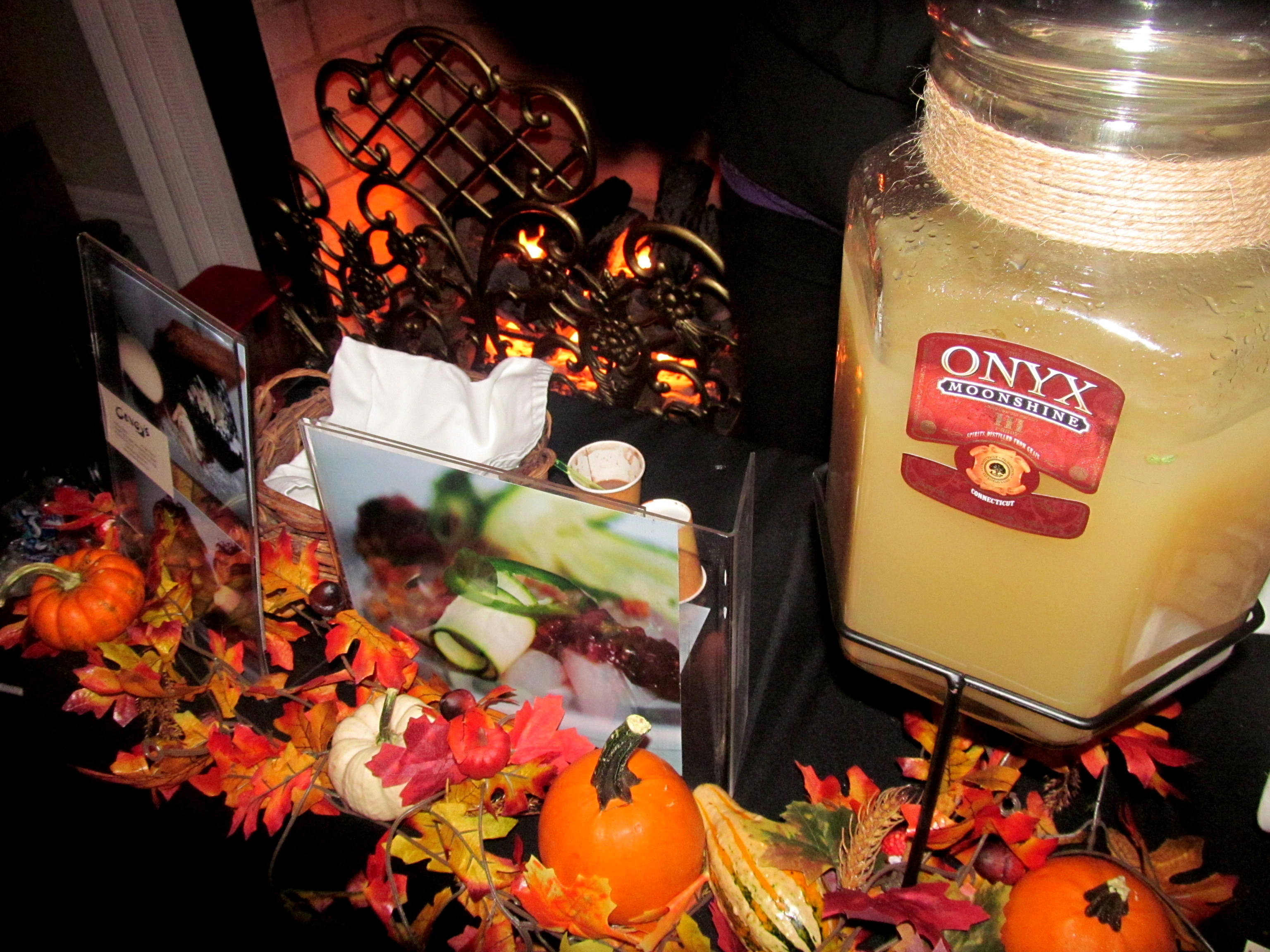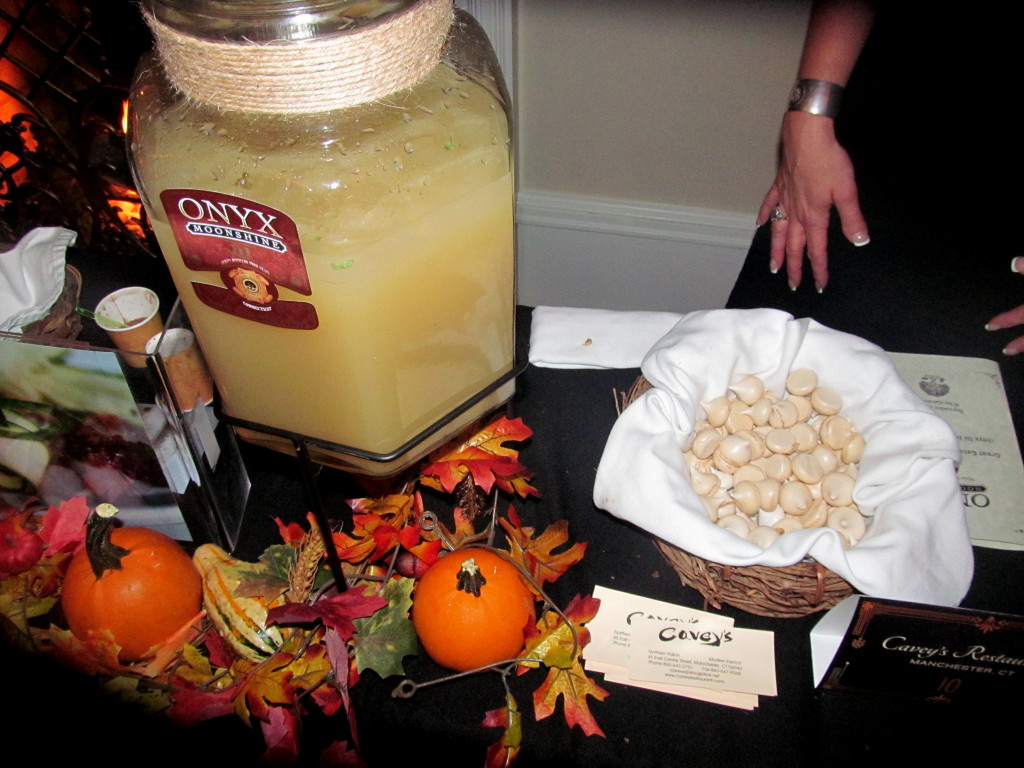 The Eli Cannon's Roasted Toasted FallFest was also seasonally inspired, but by winter (too soon!) AND fall. They infused Onyx 111 with pumpkin, apple, cinnamon, and nutmeg. Then it was mixed with hot chocolate ganache, mini white chocolate chips, and marshmallows. I could always go for less chocolate in my cocktails but that white chocolate was a really great addition!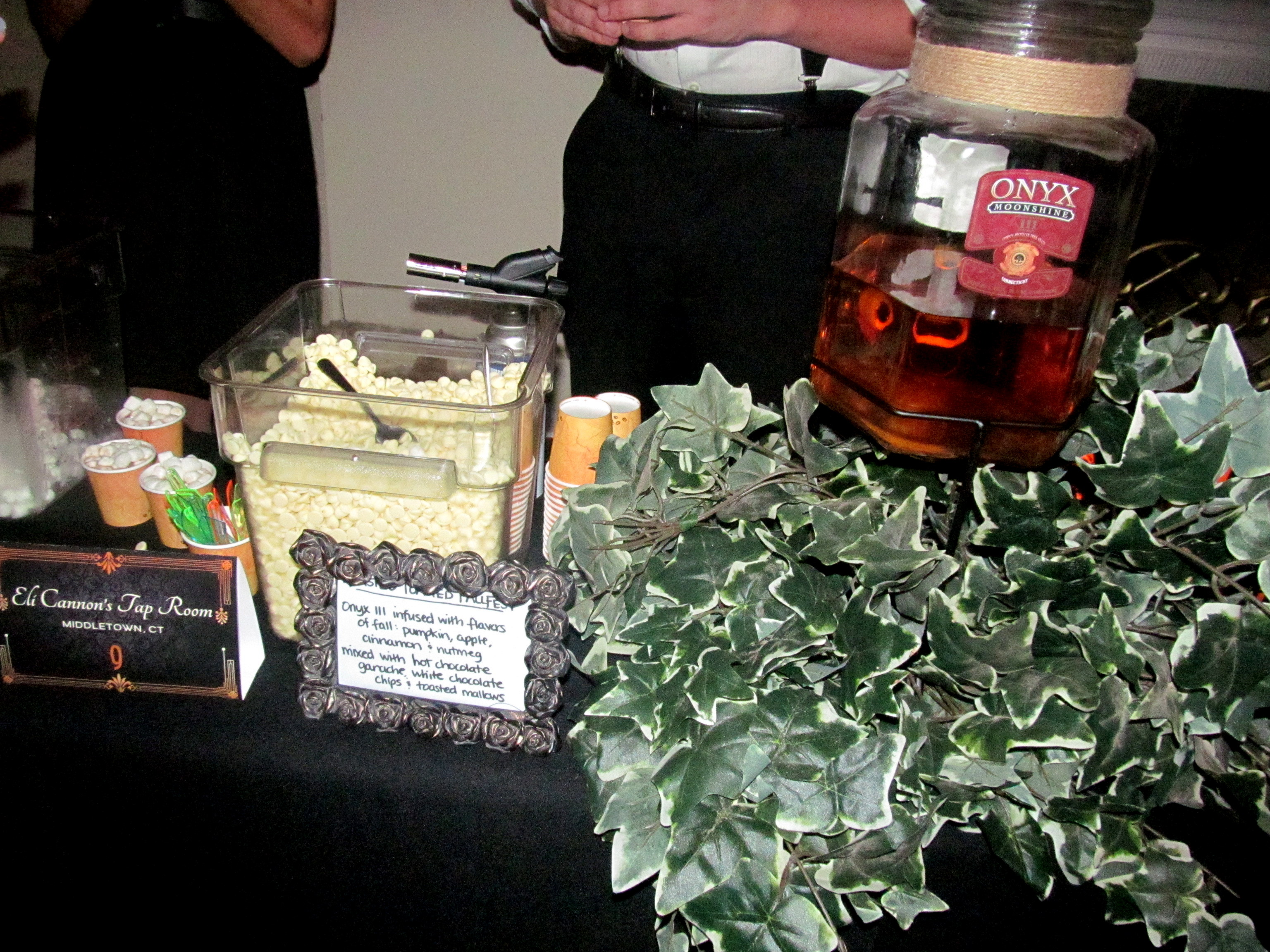 Pond House Grille also poured a sweet infusion, the Almond Joy (toasted almond infusion with half & half, simple syrup, and a cocoa and toasted coconut rim). I've tried this in the restaurant before and was actually a little bummed that they didn't make a new infusion for the contest. I liked the fun little martini glasses though.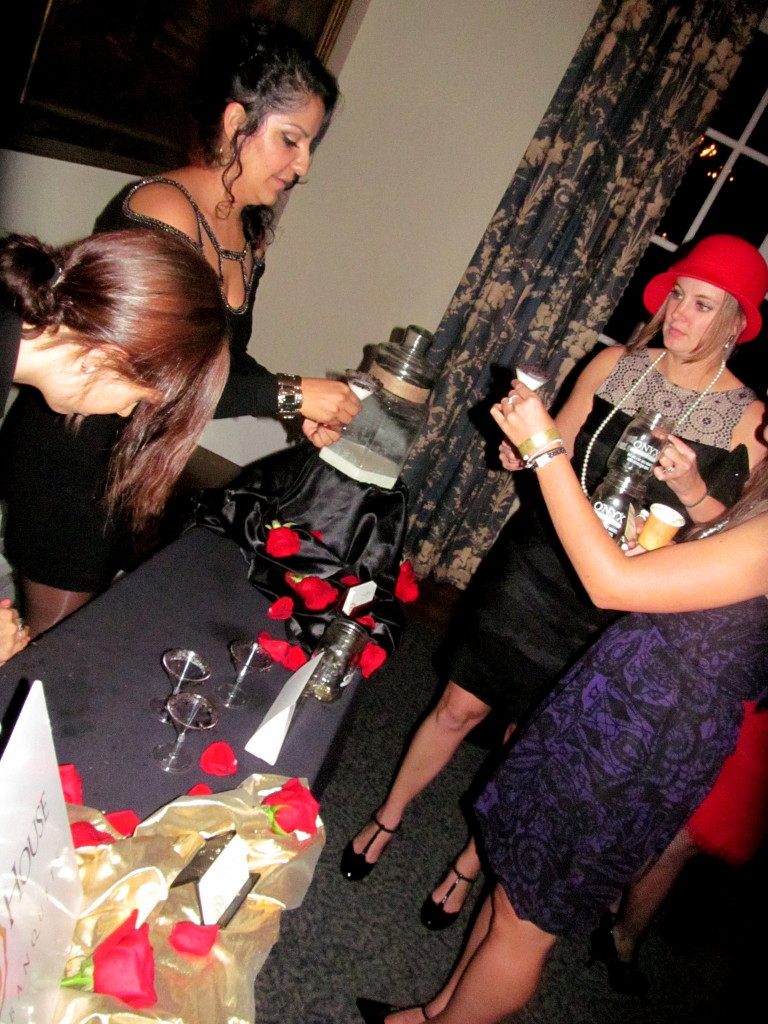 Wood N Tap's station was set up next to the food (also from there) but while the cuisine was savory, the ONYXLY Divine infusion was sweet! Vanilla bean infused Onyx 111 with amaretto, Crown Royal Maple, and homemade Irish cream. Served on the rocks with a sweet-and-salty almond maple syrup rim!
A standout infusion to me (and others, for it placed second) was the fig, quince, and lemongrass infusion from Barley Vine of Bristol, CT. This table offered the infusion served both straight and in the Blue Garden Cobbler cocktail, with lemon rind tincture and local sour pear juice. This place is another that is on my to-visit list!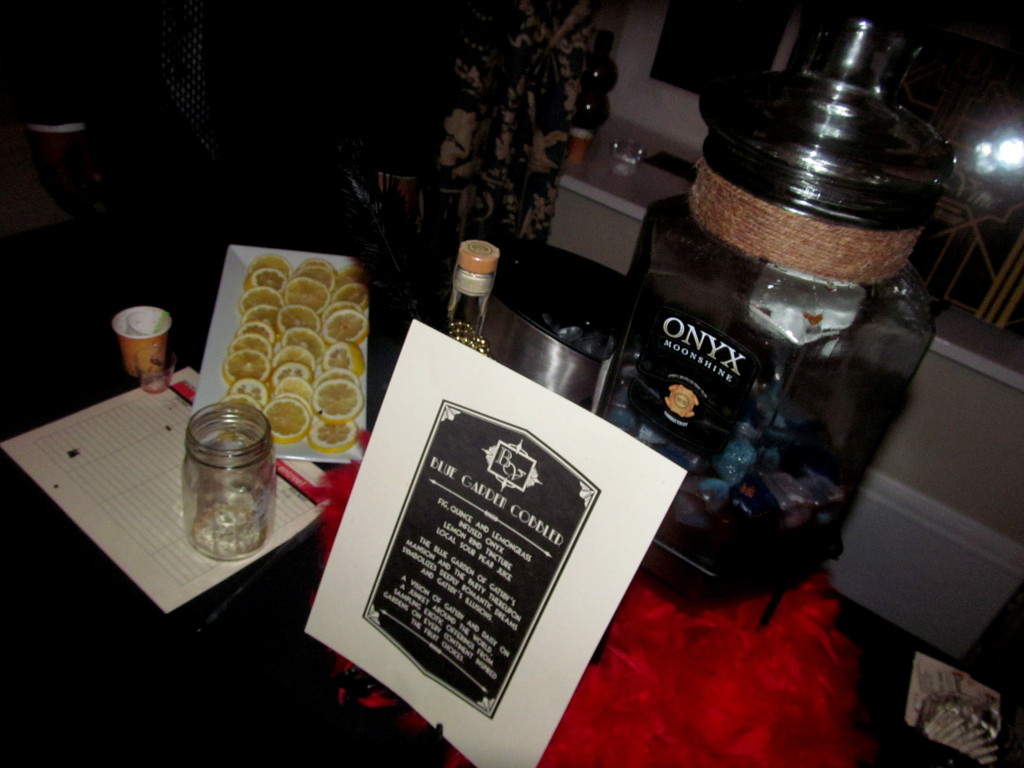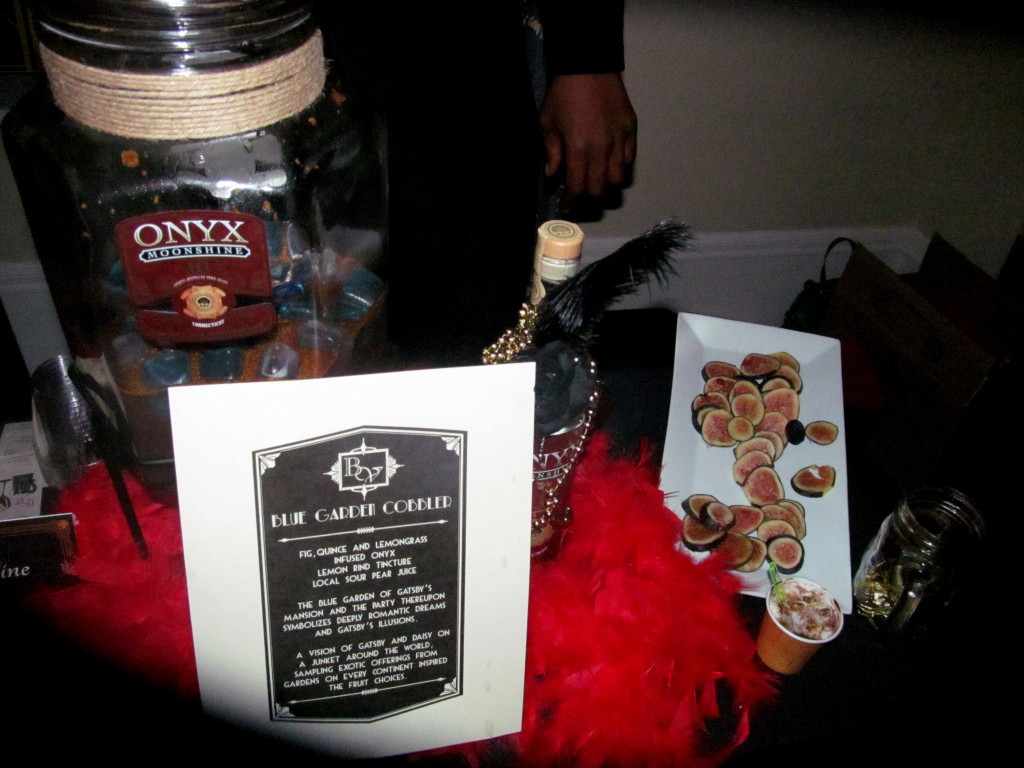 I had never heard of Cugino's of Farmington, CT but thought their infusion was pretty good, though average. It contained ginger beer, cinnamon, raisin, and apples. Kat particularly enjoyed this one.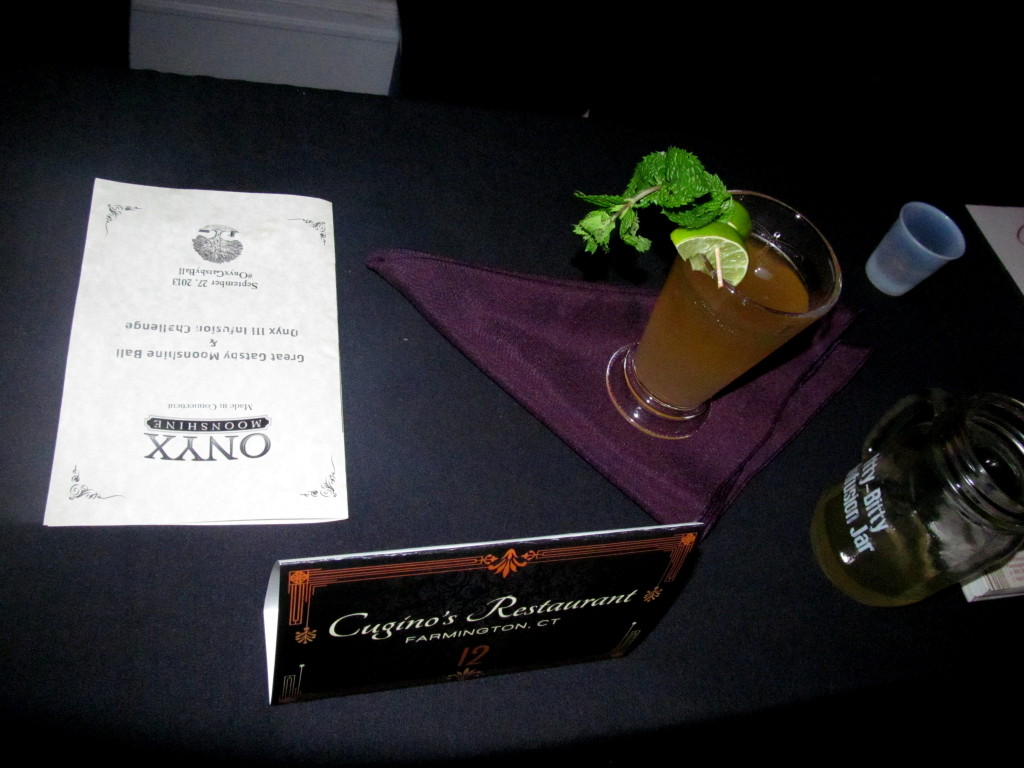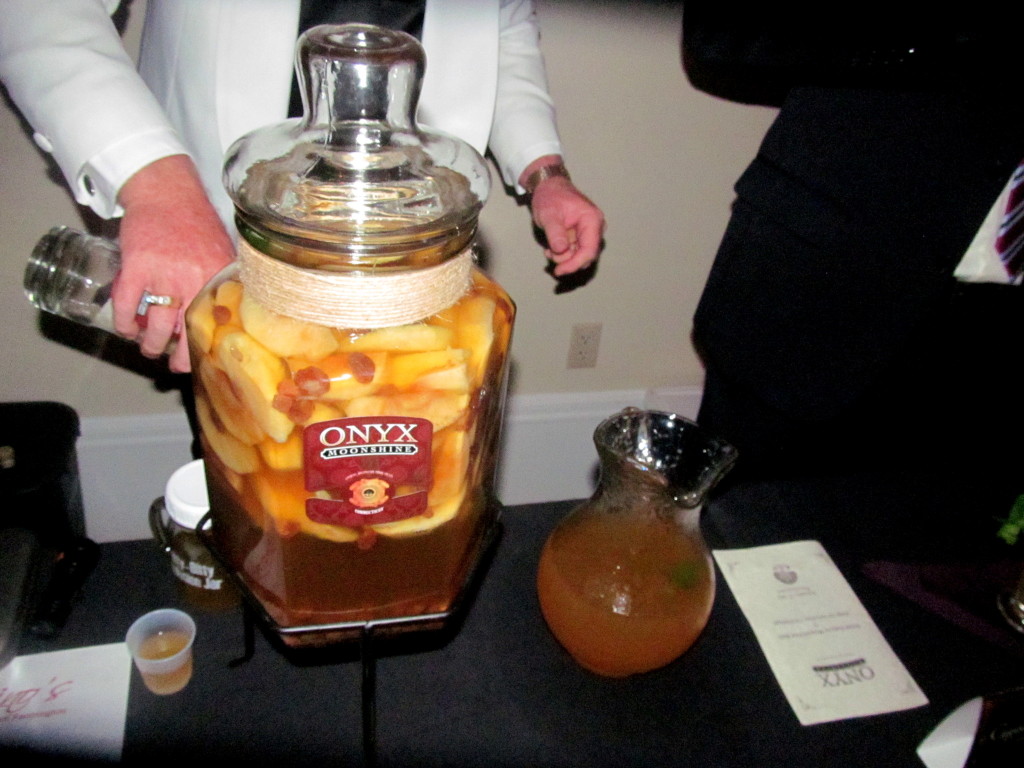 The first place winner, deservedly so, was Tisane! The 111 Degrees of Separation contained caramelized pear and rosemary infused Onyx 111, muddled orange, housemade ginger simple syrup, Meyer lemon juice, Lillet, grapefruit bitters, and a splash of champagne. WOO! A creation that complex definitely deserves the big prize and that splash of champagne stole my heart.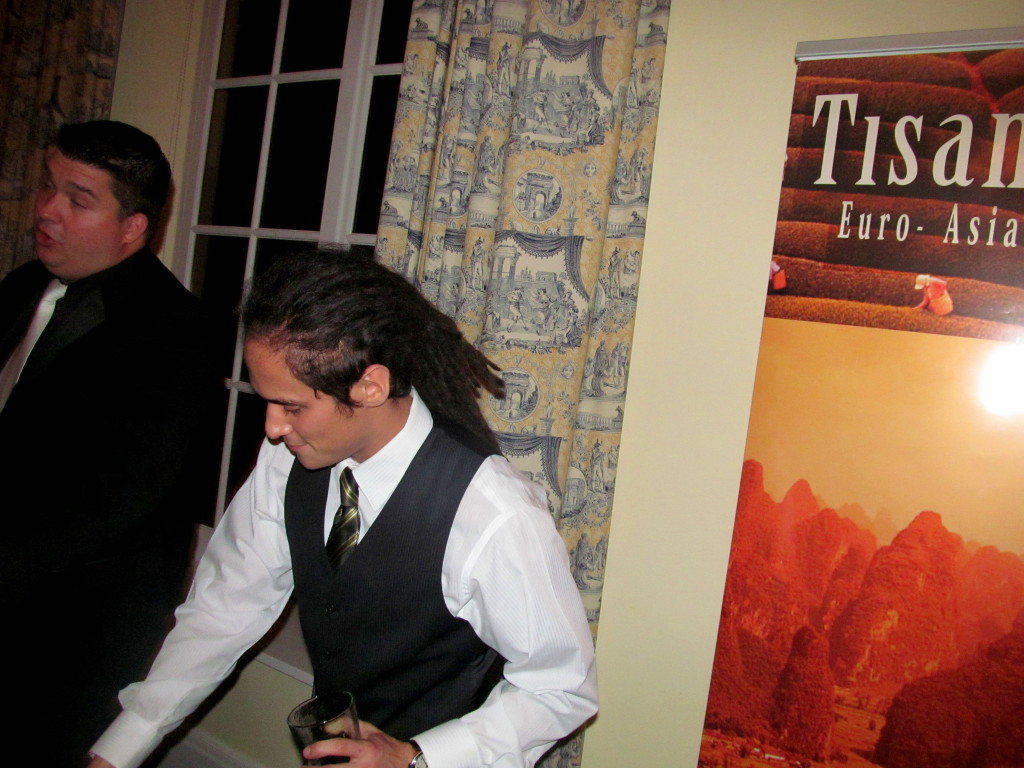 I unashamedly asked for extra pours of this sample!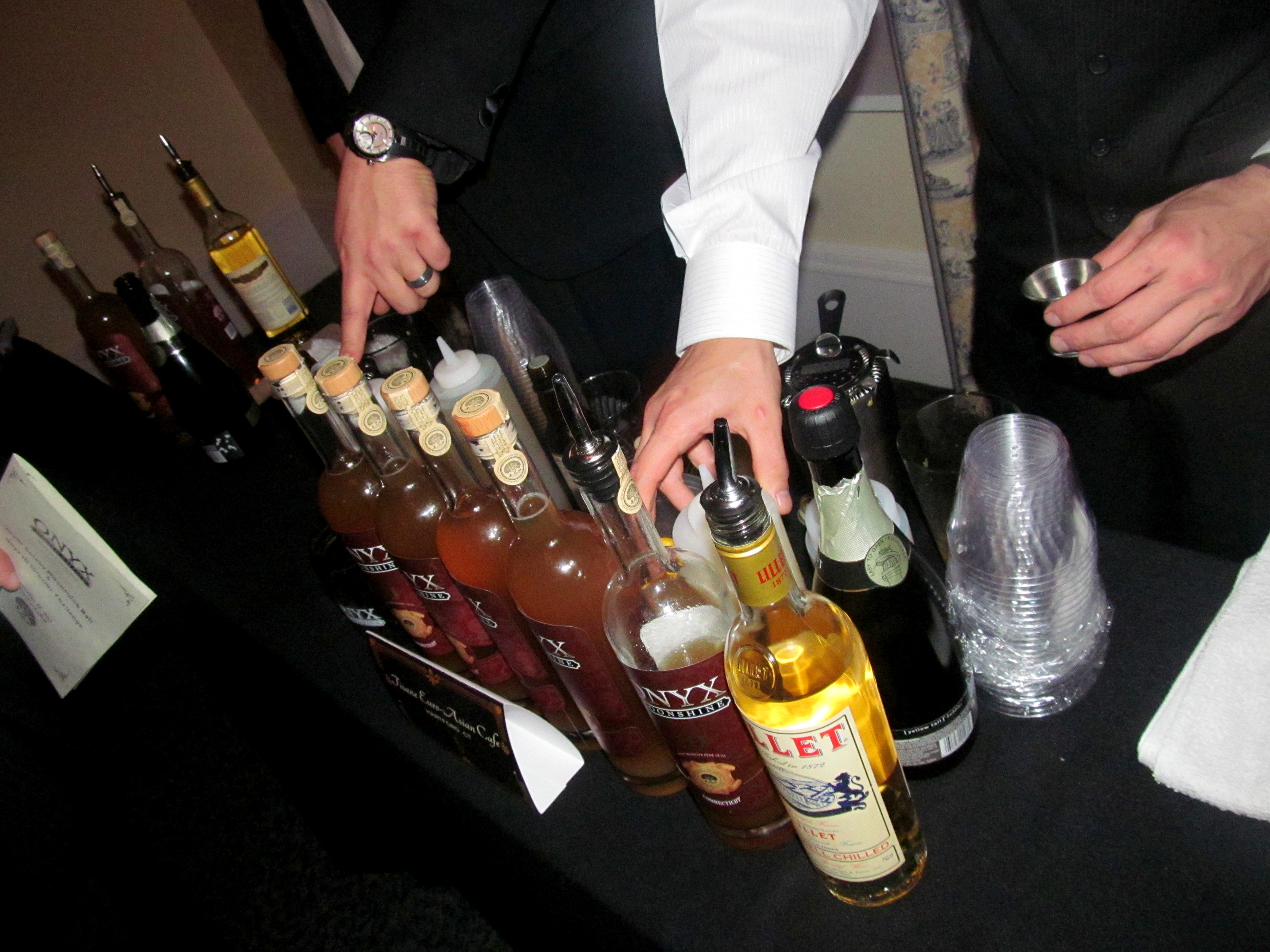 Third place went to City Steam Brewery in Hartford, and while I think Krust or Firebox deserved to be in the top three, I must say the Carraway Daiquiri was tasty, fruity, and daaaaangerously smooth. They infused Onyx 111 with grapefruit and cranberry, added fresh lime and Luxardo, and garnished with edible luster pearls. Oh you fancy huh?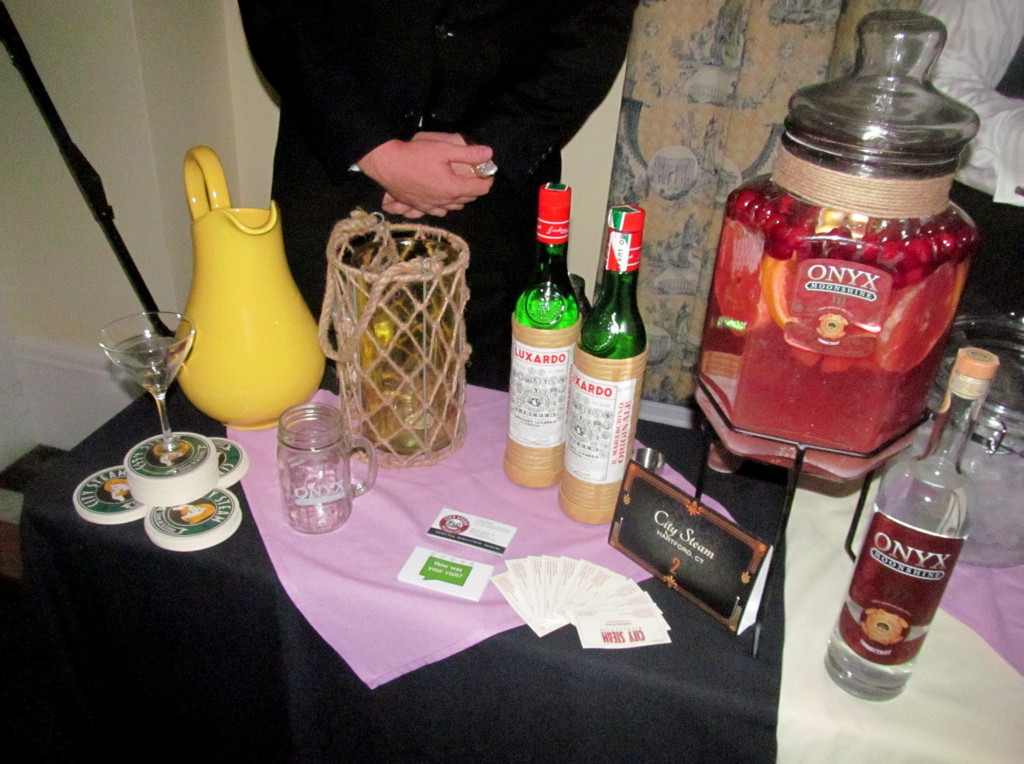 I was surprised that I liked the Corey's Catsup & Mustard Onyx Minted Marilyn – Onyx 111, Three Olives Marilyn Monroe Strawberry Vodka, mint, and spearmint, topped with a splash of Bailey's. I was wary due to both the spearmint and the drink's blue-green color, but I think the Bailey's stepped in and saved the day. I think the drink's color made it look a bit too gimmicky and turned off some voters from the get-go. It was definitely the only colorful infusion in the contest.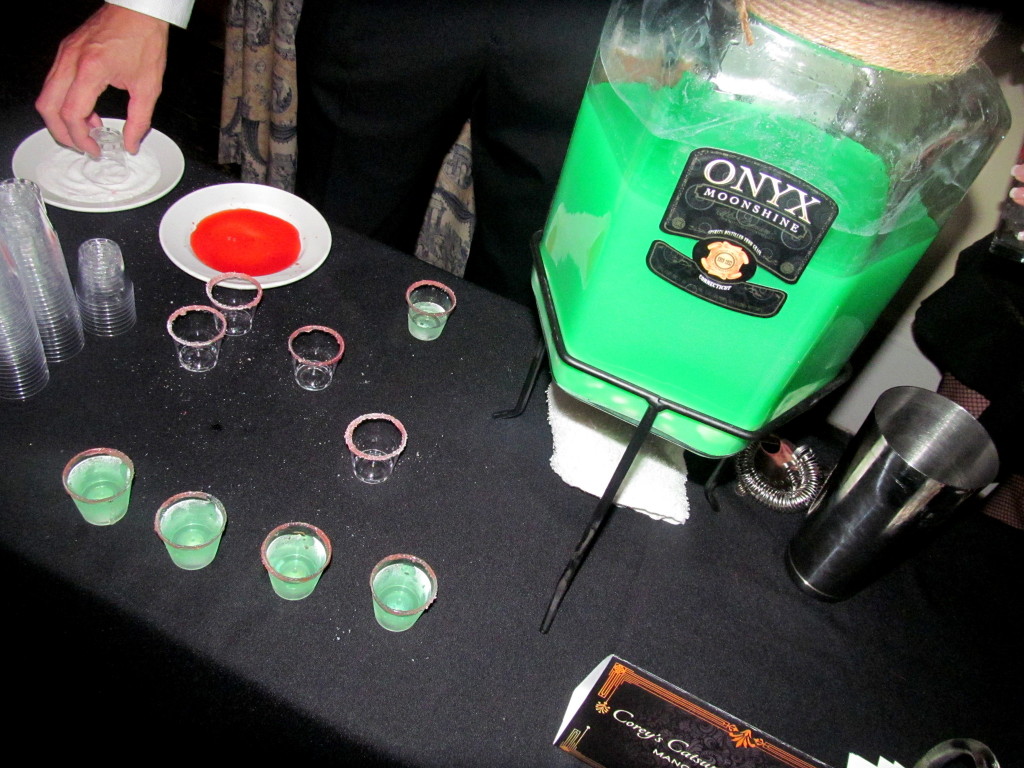 Adam (co-owner of Onyx) was a great host and embodied Gatsby himself! Minus the tragedy. He looked fantastic and his wife Regina was seriously the best-dressed lady of the night. They were both SO nice and kept thanking me for coming. Thank me? THANK YOU! Adam was an excellent host and made the rounds throughout the night trying to check on guests, ensure they enjoy themselves, and tell them to "Keep shinin'."
I visited the Onyx bar, where samples of the new bottled seasonal infusion were being poured. This is the first of what I hope will be many more bottled infusions from Onyx and contains honeycrisp apples (from Blue Hills Orchard in Wallingford, CT), honey and cinnamon. Um, not that it's not good enough to sip alone, but I can only imagine the fall cocktails that will come of this stuff! The fabulous Signature David was by my side at the bar, along with beautiful judge and FOX CT anchor Erika Arias, when I sampled the infusion.
I'm so glad I got to share my time at the Onyx Gatsby Ball with Kat. I sometimes can't believe that I've made such a special friend thanks to this blog. I doubt we would have met if I hadn't started it. Oh fate!
I had a blast writing this recap and reliving the magic of the evening. Every guest was dressed to the Gatsby-inspired nines and every restaurant really brought it. I can only hope this is going to be an annual thing. Onyx Moonshine impresses the marketing nerd in me every day with the non-traditional techniques they use, like these kinds of events or their restaurant cocktail crawls. This is a local company that knows the best way to get the word out  is to make it easy and fun for the consumer to experience its product. I swear they could be a marketing case study!
Thank you to them for having me at this legendary event and congrats again to the Infusion Challenge winners Tisane Barley Vine, and City Steam!
Have you ever attended a 20's themed soiree?
What's the best infusion you've ever tried?
Have you ever tried moonshine?