Bristol Bliss Natural Products Giveaway!
I received complimentary Bristol Bliss products for review purposes. All opinions are my own. This is not a sponsored post.
When I visited Brilliant Options Wellness for my first massage, I noticed some cute and great-smelling soy candles in the studio. BOW owner Kellie informed me that they were a local product (hooray!) by Bristol Bliss. I contacted owner Mary Brown to find out more about her natural/organic candles and other beauty products. She was kind enough to offer me some samples for a review and giveaway blog post!
Unfortunately I never take baths so I never got a chance to use the All-Natural Detoxifying Ginger Bath Salts. The ingredients list is short and sweet: epsom salt, sea salt, ground ginger, baking soda, essential oil. I am not a big user of natural beauty products (or beauty products in general…I just have a few basics) so these pronounceable ingredients are new to me – that's a good thing!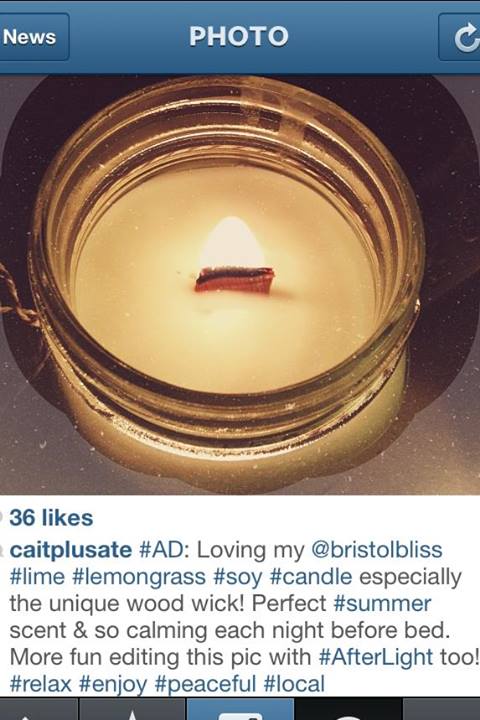 I'm a HUGE candle person though and I used the Lime Lemongrass Soy Candle right away (unfortunately that scent is no longer available but seasonal alternatives include Peppermint and Winter Forest). Soy candles burn a lot cleaner than my usual Bath & Body Works candles. The scent was still strong and I really loved the wooden wick! Such a cute touch and it made a fun roaring sound while the candle burned, like a real wood fire place. So cozy.
As you can see from my first photo, I was sent the All-Natural Lip Balm. That was a few months ago. I love it and use it every single day! My lips seriously feel better using something so natural. Sometimes I don't have it on me so I use good old Chap-Stick and I always miss my Bristol Bliss and wish I had it instead. But I also always wish that it was in Chap-Stick form because I get kinda grossed out using my finger to apply it. Mary must have read my mind because now she offers All-Natural Chapstick instead! It's the same product, just in the form you see above. The only ingredients are organic coconut oil, beeswax, almond oil, vitamin E oil, and essential oil. And guess what? It's only $3.75! You cannot use price as an excuse not to make the switch to a natural chapstick!
Since I received my products, Mary has expanded her line. She now offers All-Natural Baby Powder, Natural Deodorant, and Foaming Hand Soap (in a lovely seasonal Peppermint scent). My favorite product though is an old stand-by – the Organic Coconut Sugar Scrub. I can't say enough about how fabulous this stuff is. It smells completely amazing and that scent comes from organic coconut oil, not a bunch of fake ingredients. It left my skin feeling so smooth and scrubbing off the top layer of yuck was very cleansing. I exited my shower feeling squeaky clean. My only complaint is while the eco-friendly labels are adorable and quaint, they aren't totally practical for a jar that's going to get wet. After a few showers the label on the scrub ended up falling off. I didn't even bother keeping the string on; I took it off before I even put the jar in the shower. For the products that don't see moisture though, the labels are great.
Mary started Bristol Bliss last Christmas, after she started researching the ingredients in products she used for her son and herself. His birth is what made her take an interest and she became more personally driven to pay close attention to what she was putting on and in his body and also her own. She started out with the scrubs and gifted them to friends and family. Excellent feedback gave her the push to open her Etsy shop and the timing has been excellent, given society's rising interest in not only being aware of product ingredients but also buying local! Mary hand-makes and packages everything herself. Until her own website launches (hopefully February 2014), you can buy her stuff on Etsy and also at The Plaid Poppy and Watertown Wicks (Watertown, CT) and Copper & Birch (South Windsor, CT). She also will take custom orders for gift baskets!
Mary wants to give Cait Plus Ate readers the chance to sample some of the product that was my favorite – the Organic Coconut Sugar Scrub! So she's giving away one jar each to three winners! This giveaway will remain open until this coming Sunday 11/17 at 11:59 PM EST, with winners announced Monday 11/18. Open to continental US residents only – no purchase necessary. The winner will have 72 hours to respond. A valid email address must be left with each comment. Extra entries must be submitted via separate comments or they won't count! To enter you can:
Visit the Bristol Bliss Etsy shop and comment with the item you'd want to try most! (mandatory)
Follow @BristolBliss on Instagram and comment here saying you did.
Like @CaitPlusAte on Instagram and comment here saying you did.
Like Bristol Bliss on Facebook and comment here saying you did.
Like Cait Plus Ate on Facebook and comment here saying you did.
Good luck to all and thank you Mary for letting me try your products, sponsoring this giveaway, and having such a dedication to natural ingredients!