Ellovi Body Butter – Giveaway!
I received a complimentary jar of body butter for review purposes. All opinions are my own. This is not a sponsored post.
I'm back again this week with another preservative-free beauty product review and giveaway! But this one is all the more special to me because though the product is not made locally, it is made by a local. Huh? The company – Ellovi – was co-founded by former Glastonbury resident and fellow GHS graduate Kelly Winterhalter!
Kelly is now a San Francisco resident and with her boyfriend and fellow vegan Ryan Pamplin, she started Ellovi and created its first product, Butter. What makes the product unique is the fact that it contains no water. That enables Kelly and Ryan to make Butter with only six ingredients, none of which are preservatives. Butter is highly concentrated and priced at $26 – no higher than other high-quality body butters out there.
I was so excited to try a product made by an entrepreneur I was lucky enough to go to high school with (and she was my neighbor too)! And Kelly has done an amazing job creating a beauty product that is not only all-natural, but actually works. Due to past experiences, I have become a bit skeptical of the efficacy of preservative-free beauty products. Yes I know preservatives are lame but I'd rather have an effective Neutrogena product than an all-natural something-or-other that doesn't even work. That isn't the case with Ellovi.
The consistency of Butter is very thick and for that reason, a little goes a long way! It feels amazing going on I've been using it on my arms and legs for the last 1-2 months. Usually by this point in the fall I'm constantly battling to keep my limbs from being visibly dry, but this year I'm not there yet. I've been applying Ellovi Body Butter in the morning and right after my evening showers…that's it. I don't feel it is necessary to apply it more than twice a day, which means the jar has lasted longer.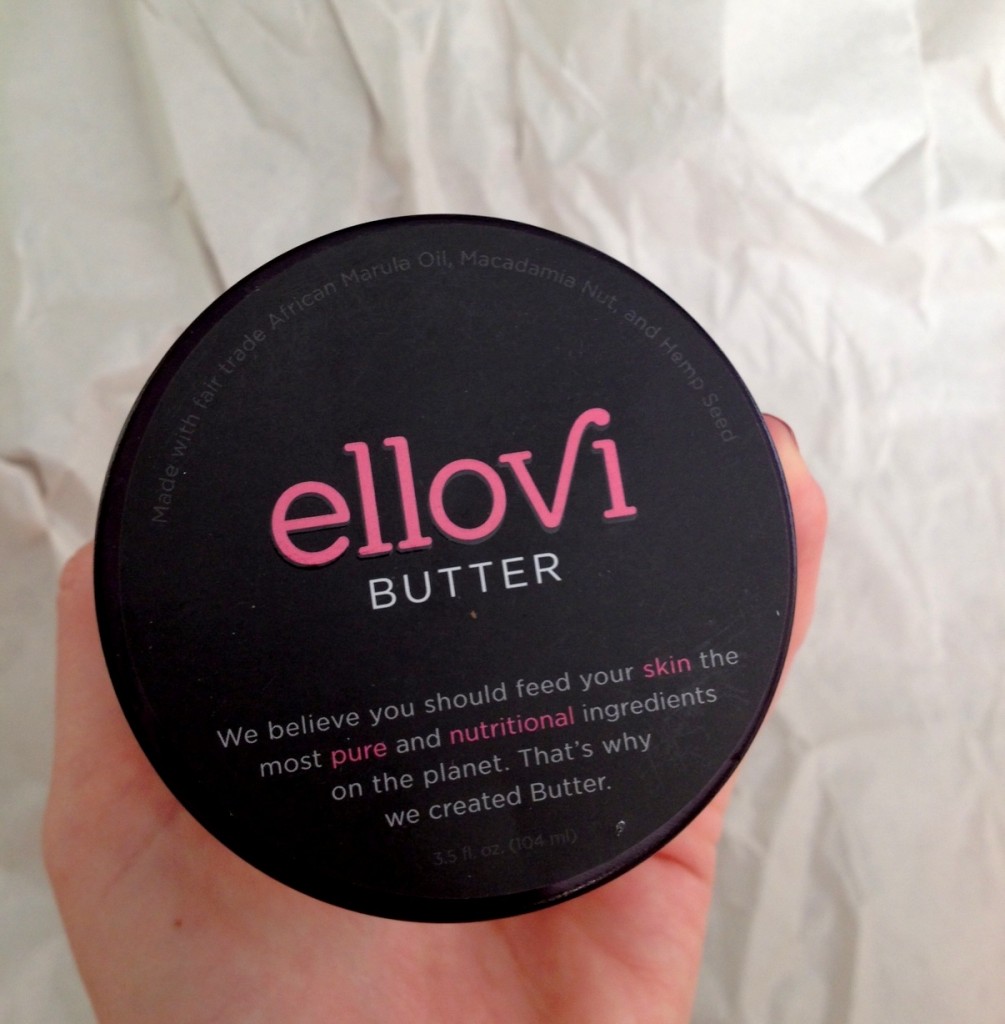 Ellovi does not have much of a scent to it; I don't know exactly how to describe how it smells but I guess I'd use the words "pure" and "clean" (I just went on the website and found Ellovi describes the scent as "nutty"…much better than my description). Given that the only ingredients (macadamia nut, coconut, marula, hemp seed, shea & non-GMO corn) are natural I am not surprised that the scent isn't very strong. Most products with a strong scent are using additives to create that. Butter feels very luxurious while going on! It can even double as an SPF15 sunscreen. Best thing? FREE SHIPPING. Lordy I hate paying shipping.
Discount Code
I only hope that Kelly and Ryan create more beauty products like Butter because I am so excited to watch Ellovi evolve! Not only does everyone get free shipping, but my readers can get 15% off with the discount code "caitplusate". Just click here to purchase a jar…and you can read more testimonies on the Ellovi home page too.
Giveaway!
That's absolutely not all. Kelly is offering one giveaway winner a jar of Ellovi Body Butter! No purchase necessary – winner will have 72 hours after notification of winning to respond. Must leave a valid email address with each comment entry. Continental US entries only please! The giveaway will remain open until this Sunday 11/24 at 11:59PM EST. Please leave a separate comment for each entry or multiples won't count! To enter you can:
Comment on this post and tell me what you look for most in a body lotion/butter. (mandatory)
Follow @ElloviSkin on Twitter and comment here saying you did.
Follow @CaitPlusAte on Twitter and comment here saying you did.
Tweet "I entered to win #raw @ElloviSkin Body Butter from @CaitPlusAte! http://caitplusate.com/?p=11424" and comment here with the link to the tweet.
LIke Ellovi Skin on Facebook and comment here saying you did.
Like Cait Plus Ate on Facebook and comment here saying you did.
Many ways to enter but only one reader will win…good luck!