Big Brew and 42
Full Disclosure: I am being provided complimentary admission to this event.
I mentioned previously that Molly and I will be traveling to White Plains, NY on Saturday 2/8 to attend the Big Brew NY Beer Festival. I was offered the chance to interview Chef Anthony Goncalves, chef/owner of 42 the Restaurant and the designer of the beer-infused buffet that will be available to attendees of the fest's VIP portion.
Beer battered fish and ranch chips
Beer braised lamb arancini (Parmesan and preserved lemon)
IPA pickled carrot salad over roasted and dehydrated carrot
Oatmeal Stout glazed apple fritter
Needless to say (and especially since the general admission tasting takes place AFTER the VIP tasting), Molly and I are certainly going to have to pace ourselves! I could be a "healthy living blogger" and say I'm most looking forward to the pickled carrot salad…but that'd be a lie. I'm looking forward most to the lamb – I love lamb! (Not to be confused with lamp.)
Holy off topic. Anyway, I emailed to Chef Anthony some questions that came to mind after browsing both the festival's and the restaurant's websites. After getting his answers, I had the chance to give him a call and follow up to gather some more insight into his involvement with and feelings about Big Brew Fest, and beer in general.
1. How did you get involved with Big Brew Fest, and how did you decide on the menu?
I got involved with Big Brew NY through JR Cavallaro from Lazy Boy Saloon and Lounge, White Plains, NY. I decided on the menu – I thought of the kind of food I like to eat when drinking beer.
Chef Anthony has an awesome partnership with JR and his restaurant. They partner frequently to do beer dinners together at both 42 and Lazy Boy, so this is not Anthony's first go-around with pairing food and beers.
2. Do you have a hand in selecting beer, wine, and cocktails for 42? Or does someone else work on that?
Other people, beverage director and wine director make selections and run the programs by making recommendations and suggestions that I review.
3. Your restaurant's menu seems full of unique dishes. How do you come up with them? Do you sit down to design a menu or does it just sort of happen as a result of experimentation?
I'm constantly changing the menu, improving myself, and challenging my team. It's a culmination of my team and I constantly evolving and improving.
4. Are any of 42's menu items inspired by favorites from your childhood?
No, none of my current menu items are inspired by my childhood.
5. Are you yourself a beer drinker? What kind of beer is your favorite, or does it depend on what you're eating?
Yes, I am a beer drinker. It depends on what I am eating and I'm open to anything. You can catch me at Lazy Boy two times a week. JR rolls it out for me from his collection of approximately 500 beers.
42 isn't your typical tapas restaurant with a heavier focus on cocktails and wine. The beer list is surprisingly long and features some unique offerings! Chef Anthony's passion for beer shows here.
6. Do you have prior experience cooking for big events/festivals like Big Brew Fest?
Yes, I do. Most recently, I was a featured chef for Meatopia in London and San Antonio, Texas.
Chef Anthony loves these types of events and his excitement about Big Brew Fest was evident while I spoke with him. Like me, he loves getting together with a bunch of people who are there for the same reasons – to try new food and drink, and to share passion and opinions about food and drink with others.
7. What is your favorite meal to cook – breakfast, lunch, or dinner? What about favorite meal to eat?
I like cooking ALL meals – breakfast, lunch and dinner. Same goes for eating – I like them ALL.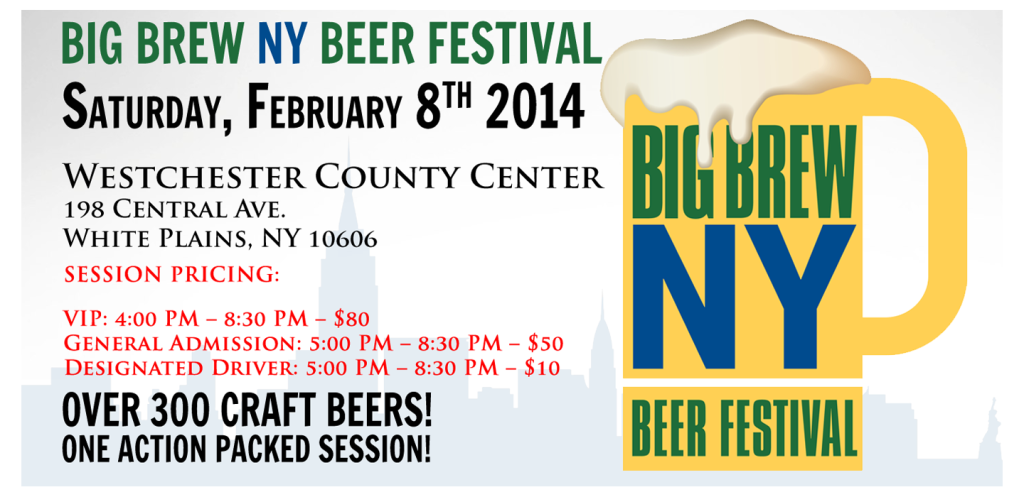 I'm looking forward to speaking with Chef Anthony in person at the event, and remember that you can get $10 off your ticket (VIP or General) using code CAIT at check-out. Check out the beer list and I hope I'll see you there – make sure you look for my tweets and Instagrams during the event on Saturday 2/8!
Have you ever had the chance to speak with a chef about his work?
What's your favorite beer ever? Your least favorite?
Have you ever had a meal paired with beers?