WIAW: Sorella in Downtown Hartford
I received this meal free of charge. The opinions in this post are my own.
I briefly mentioned dining at a new restaurant this past Sunday night, and if you like Cait Plus Ate on Facebook you saw a carby preview. Now it's time to share the full scoop on my dinner – with Kat – at Sorella in downtown Hartford.
Sorella is under Dish Restaurant Group, which also owns the downtown Hartford spot just across the street, Dish Bar & Grill. The owner Gary was nice enough to ask Kat and I to come in…though I probably would have made it to Sorella eventually anyway, because Kat has been giving it rave reviews.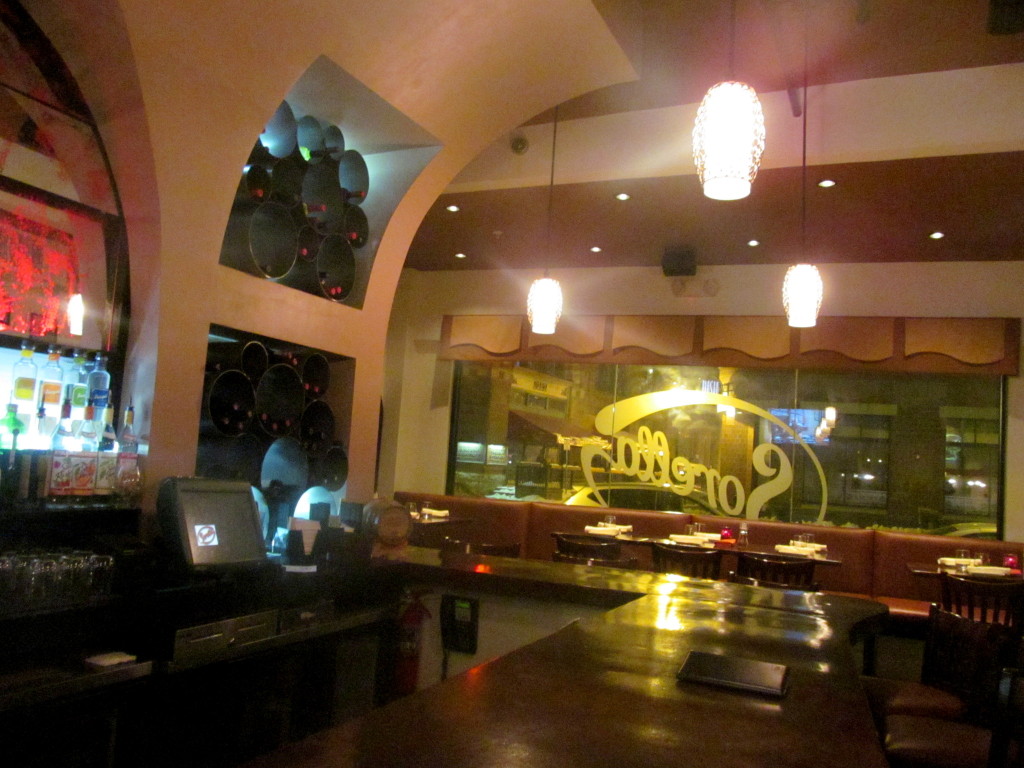 I wasn't too surprised to find it to be very quiet, given that it was a Sunday evening with snow on the weather menu. I selected two seats for us at the bar, because bar dining with one other person is my favorite.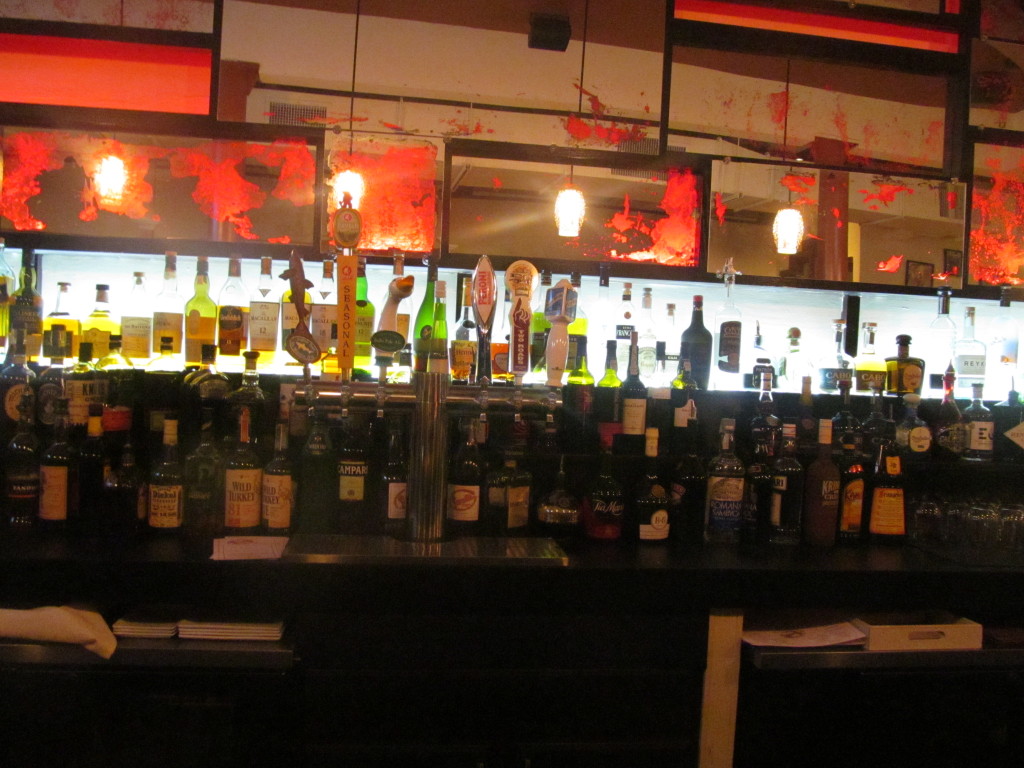 Kat was running late so I perused the drink menu and took photos. The visit had a rocky start, and I don't mean that I ordered my drink on the rocks. I had a very hard time deciding what to order and the bartender didn't seem too knowledgeable about the different cocktails. Since it was the end of the weekend they also seemed to be having some inventory issues and were out of a couple of drinks because of missing ingredients. My first drink selection could not be completed because no one could find its last component, but luckily I had a backup choice ready.
When Kat arrived almost 15 minutes later I still hadn't gotten a drink, but eventually it was set before me and I did absolutely love it. The Saint contained Hendrick's Gin, St. Germain, Solorno liqueur (the menu said Salerno but I think they meant Solerno?), and prosecco. I got it up instead of on the rocks and nursed it for a good long while. These kinds of cocktails are very good at making you forget that alcohol is actually DEhydrating. It tasted nice and crisp, and wasn't too sweet at all. I barely detected the Solorno (a good thing).
Kat really liked her cocktail selection, the Sorella's Paloma (Cabeza tequila, St Germain, ruby red, and soda). I'd have assumed it'd be a bit sweet for my taste but it was actually just right. Still I could definitely taste the tequila and it often makes me feel sick (bad memories) so I stopped at one taste.
Kat was kind enough to put me mostly in charge of picking out our food since she'd been to Sorella before and I am the one moving so I probably won't be able to return for awhile. We went for antipasto plates though, so we'd have plenty to try. First though, the chef spoiled us with a little preview: clams and spicy sausage in a tomato oil and cherry balsamic, garnished with what else but baby cabbages leaves! Paired with a nice side of Pinot Noir.
And to go with our food we shared a quartino of a Barbera. All the wines by the glass are also offered in a quartino size, which was perfect because Kat and I both weren't feeling a whole glass each. Right before the food came out I had a taste of the crusty (as in some pieces were ONLY crust – how awesome) bread with a garlic aioli! It was definitely used for sauce soaking throughout the evening.
Kat's top top must-have was the liver toscani – chicken liver mousse with black truffle oil. The presentation was gorgeous and I happily joined her in spreading this rich mousse on the grilled bread…and dipping into it all the things.
My very favorite dishes of the evening though all came from the trio of vegetable antipasto plates that I selected (with the help of Kat's recommendations). I went for the fried Brussels sprouts (obviously), roasted cauliflower (with raisins, anchovy, chile flakes), and salt roasted beets (with pistachio, vincotto, ricotta salata).
The Brussels were heaven on earth and I easily could make a meal of just those and be the happiest girl in the world. But that'd be a bit sad because it would mean I'd missed out on the fabulous beets and cauliflower. I didn't see or taste any pistachios with the beets (perhaps they were ground or part of a marinade) but still adored how their sweet flavor played with the salty cheese. Similarly, I did not detect with my eyes or taste buds any anchovy in the cauliflower. But the raisins were just DYNAMITE and another fantastic sweeter choice to pair with the savory chile flakes. I really liked the sweet and savory theme going on with the veggies.
For protein we shared three items from the seafood antipasto section of the menu. Looking back I wish I'd chosen something other than the sardines because that with the Baccala was a lot of salt! Especially the Baccala…salt cod, capers, and olives are going to make for a sodium party. All the seafood was fantastic, it was just too much salty flavor for one sitting. Kat and I both adored the octopus paired with the potatoes though and it reminded me of a similar dish I've had previously at Barcelona. I think it was my favorite of the three.
In lieu of a food dessert we decided a liquid dessert would be appropriate and split a glass of port. I wish a dessert wine list had been available (our waitress only offered a dessert food list) but there were a few port options and though we chose the cheapest one, it was still tasty! And the perfect conclusion to the meal.
Our meetup this past Sunday was the perfect chance for me to tell Kat about my new job and apartment hunt. She is so happy and excited for me and as we wanted all the same dishes, finished each other's sentences, and took all the selfies I found myself reflecting on how wonderful our friendship is. Ever since meeting (on Twitter!) we have only found more we have in common (such as our affinities for social media, owls, and all things spazz). She is so understanding and supportive of my journey and I'll miss her a ton, but I know we'll see each other fairly frequently. In fact, we already have plans for the CT Forum in March and Penelope's first birthday party in April!
Now that I'm done being a total sap, I'll give my final thoughts on my visit to Sorella (which ended pleasantly, with Kat and I founding out our meal was on the house!) The waitress behind the bar could have used more education on the cocktails and the bar inventory seemed iffy. But the food was AMAZING, and after the rocky first cocktail the service improved drastically. The prices are quite affordable too and I love the variety of dishes available. You can go ham and get a pizza with potatoes on it (or prosciutto if you really want to go "ham"). Or you can go lighter and do veggies and seafood. The wine list was impressive and despite the difficulty getting my first cocktail, it was awesome. I left gushing and proclaiming that I certainly want to return. I just hope that I can do so sometime when I come home on a weekend!
Thank you to Gary and the rest of the staff at Sorella for a lovely and delicious evening with a great friend!
Which small plate looks best to you?
Have you ever experienced a bartender or waitress with less knowledge of the menu than you'd expect?
Liver mousse – yay or nay?