Just Marvelous
I finished up my first full Boston weekend since my recent vacation and man it was just marvelous. I'm going home again this Saturday (for Penelope's first birthday party!) so to have a weekend with no events to work and just time to do what I enjoy, in the place I love, felt really great.
Marvelous is…this video. I don't usually watch YouTube videos but this one is too spot-on not to share. Plus it features two of my favorite things, saying "yaaaaas" and #Hathahate.
Marvelous is…making a compromise. I went out Thursday (GEM Girl's Night Out recap to come!) and didn't feel to hot come Friday morning. I was dreading the gym all day at work, and Friday tends to be a heavy wine tasting day, so I treated myself to a glass of our newest product after lunch. That sure didn't help my gym motivation and I considered skipping it. But instead I made a compromise – get some fresh air (it was pretty warm out despite some drizzle) and walk the couple of miles to my evening plans at Sweet Caroline's. I felt proud of myself for not forcing myself to go to the gym, but still getting in some activity! Plus I was able to pass the time during the walk by chatting with Kaitlin on the phone; catching up with her always makes me smile.
Marvelous was…the fight the Tennessee Vols put up against the Wolverines. Greg and I got together at Sweet Caroline's to watch the Vols play Michigan in the NCAA Men's Basketball tourney…despite the fact that Sweet Caroline's is a MI bar. OOPS! We were the only UT fans there but later our friend Kelly came to join us because UConn was playing too. I'm a bad alum and didn't really care about that game…but it's cool that they won! My focus was on the Vols and despite the loss, I'm proud of them for keeping Michigan on their toes and losing by just one point.
Marvelous was…trying Soul Cycle for the first time! Rachel clued me in to the fact that Racked Boston was hosting a FREE class at the spin studio's first ever Boston location in the gorgeous Chestnut Hill Square plaza. I signed up as soon as I could but still got put on the wait list…and found out this past Friday that I had gotten in! Soul Cycle is very pricey even for a new student so I'm very thankful to have snagged a complimentary spot. The instructor Erin had an incredible infectious energy and I loved her approach to teaching. She reminded me a lot of my favorite spin instructor from the BSC, Danielle Dee. Just very motivating and all about congratulating yourself for making the time to come out to take a spin class in the first place. I always can use reminders about that sort of thing. I'd recommend Soul Cycle to anyone who has the chance to try it (at a reduced price if it's out of your price range!)
Marvelous are…the recipes I used in this weekend's food prep. This week I will be dining on roasted baby cabbages, mushrooms, and chicken sausage tossed in basil pesto (a TJ's impulse buy!) which was inspired by this recipe, Julie's ginger curry roasted cauliflower (I also used broccoli), simple black beans seasoned with cumin and garlic salt, and buffalo chicken stuffed sweet potato (instead of the BBQ and goat cheese the recipe calls for, I'm continuing my Gorgonzola and buffalo kick).
Marvelous was…a dinner date with Kelly. Jasper White of Summer Shack had mentioned to me that his Cambridge location had recently been renovated, so I asked her to join me there for an early dinner. She loves seafood just like me, and was totally down!
We were both starved upon arriving and asked for a bread basket asap. Though Summer Shack's cornbread is not my favorite (nothing tops my mom's southern style cooking!) it still really hit the spot.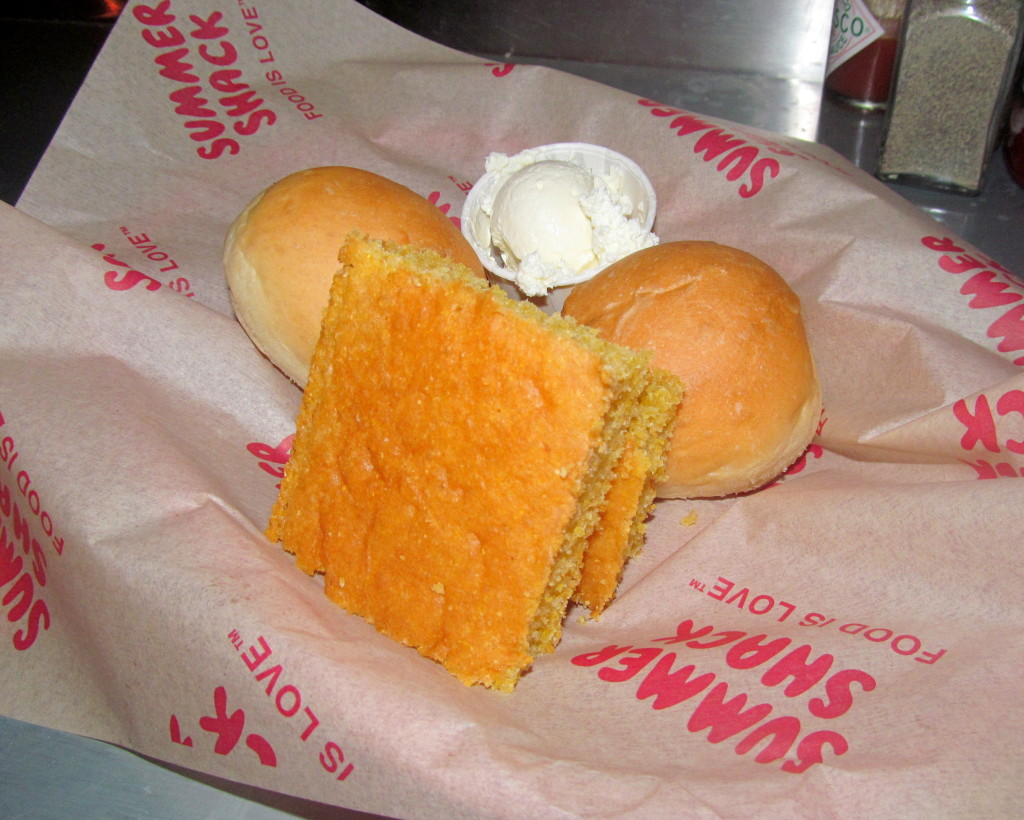 I was pleasantly surprised by the wine list. Not only was the selection really great (especially given I wasn't expecting much of one), the prices were reasonable too! I selected an $8 glass of Nero D'Avola and the bartender even offered me a taste before I committed to it, without me even requesting one.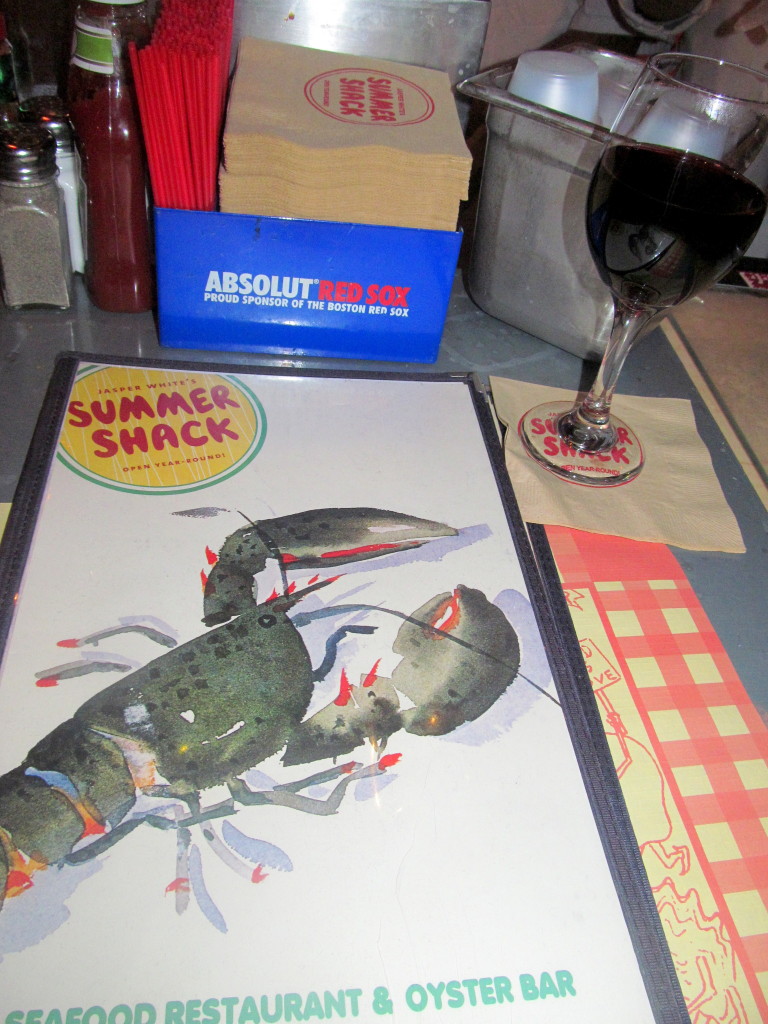 Oh, and dinner! Dinner dinner dinner. Whenever I visit Summer Shack I like to order from the chalkboard because the specials contain the freshest seafood in the house. And I adore monkfish so my selection was a no-brainer.
 The fish was cooked perfectly, I loved the lemon wedge served on the side, and the parsnip puree – AHHHH! I truthfully liked it more than mashed potatoes and I'm not just saying that because it may be considered "healthier". What a lovely dish. Kelly was impressed by her selection (redfish with roasted root veggies) too and we had a great time. A girl's date was just what we both needed and I think we left feeling not only satisfied by the food but also lighter and happier after some great chatting.
Marvelous was…a night out with more friends. I took the T (I'm getting better at that!) downtown to meet up with friends from several different "groups". I love those kinds of nights! I get to see lots of fun people all at once. First my coworker Jeannie and I had a drink at 6B with my Twitter-now-"real life" friend Jen. I tried a sip of Jen's Pom Cosmo (Ketel One Citroen, pomegranate juice, fresh lime) and was pleasantly surprised because it was way less sweet than I expected! I rarely can find a cosmo that isn't too sweet for me so I just never bother ordering them, but next time I return to 6B (and I plan to) I'll have to order that one. I also loved how Jen ordered it without even looking at the drink menu, because she'd stalked it online before coming. Nothing like meeting someone else who does that 😉 now I feel a little normal.
We were at 6B for 90's night but found out that was Fridays, and Saturdays were for the 80's. No thanks! We left after our first drink and went down the street to Scholar's, which I am now obsessed with. It's hard to find a place with great dancing/music that also has fancy cocktails. Until now! My selection, the 1775 (house infused cherry bourbon, Averna, Fernet, Angostura & lemon twist – served up), was so amazing. Kramer and Annie both showed up later and we all got down on the dance floor…and I got down with some kobe beef sliders.
Marvelous was…a well-rounded Sunday morning sweat. I woke up super well rested just like I had Saturday, and headed to the gym for a good arm workout and 40 minutes of Danielle Dee's spin class. And I plan to go tonight, because I can't get enough of her. Just keep spinning!
Marvelous are…new spring nails. I met Jeannie for a fresh coat (MUCH NEEDED) on Sunday morning and she spotted the color I ended up choosing…OPI Brazil Collection's I Just Can't Cope-Acabana! I hope it brings on the warm weather.
Marvelous is…White Oleander. I caught the movie on Sunday afternoon as it was starting (I was home doing chores and blogging), and I ended up watching the whole thing. I really liked it and now I definitely need to get on reading the book.
Marvelous is…Sunday Funday. I feel like a doofus whenever I use that phrase but I really did have a Sunday Funday type of evening! Another trip to Sweet Caroline's to watch MI play against Kentucky, followed by dinner at a restaurant that's been way up there on my to-try list, Citizen Public House. And it was everything I'd heard it'd be! I mean, they have a WHISKEY CLUB. But instead of joining last night I opted for the Ideal Manhattan (Maker's Mark, St Germain, Cinzano Rosso, Angostura bitters, grapefruit bitters). Um, my favorite standard cocktail with added St Germain AKA the bartender's bacon? It was pretty life-changing and I can see why it won a 2011 Boston Magazine "Best Of" award. Oh, and the food. I'd snacked at Sweet Caroline's (on half of a sweet potato black bean veggie burger on a pretzel bun with fig jam and brie OH YES THAT HAPPENED) so I kept it small and ordered a ham spread plus baby cabbages and bacon. Because, baby cabbages. I can't WAIT to go back to Citizen ASAP.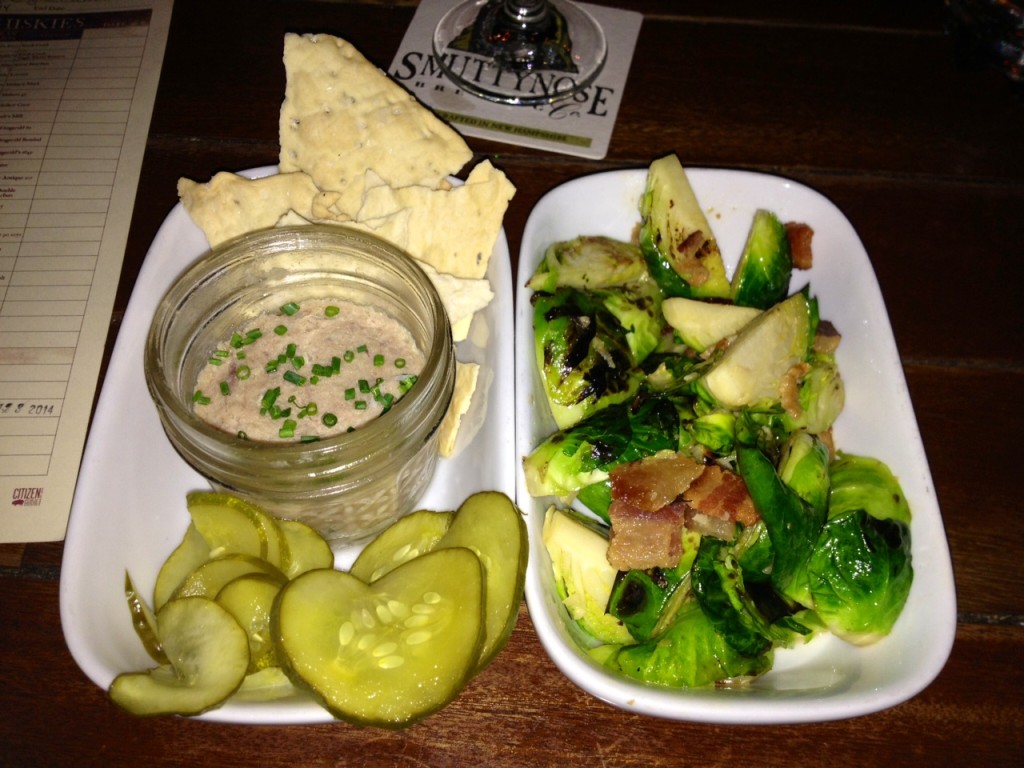 My Monday morning started with water leaking into my bathroom from my window. Thank goodness it was leaking into the tub – convenient! And it means that this post is being published as I sit in my apartment sipping coffee and watching Today while I wait for the maintenance guy. I'll head into work as soon as he arrives but I'm enjoying the chance to chill with morning shows for once. Hope you guys had good weekends too!
Have you ever heard of or tried Soul Cycle?
Which food/drink I mentioned looks/sounds best to you?
Did you have a "Sunday Funday"?