Marvelous DC Trip!
I'm back from a marvelous weekend away and am excited to share photos from my trip! Thankfully my flight had me back in my apartment last night by 8PM, so I had time to sit down and write this post before hitting the hay.
I'm back from my trip to DC to visit my friend Jeff, and I have to give myself some props for not only making sure I hit up many different restaurants and beautiful sights, but also for ensuring that I saw as many friends as possible!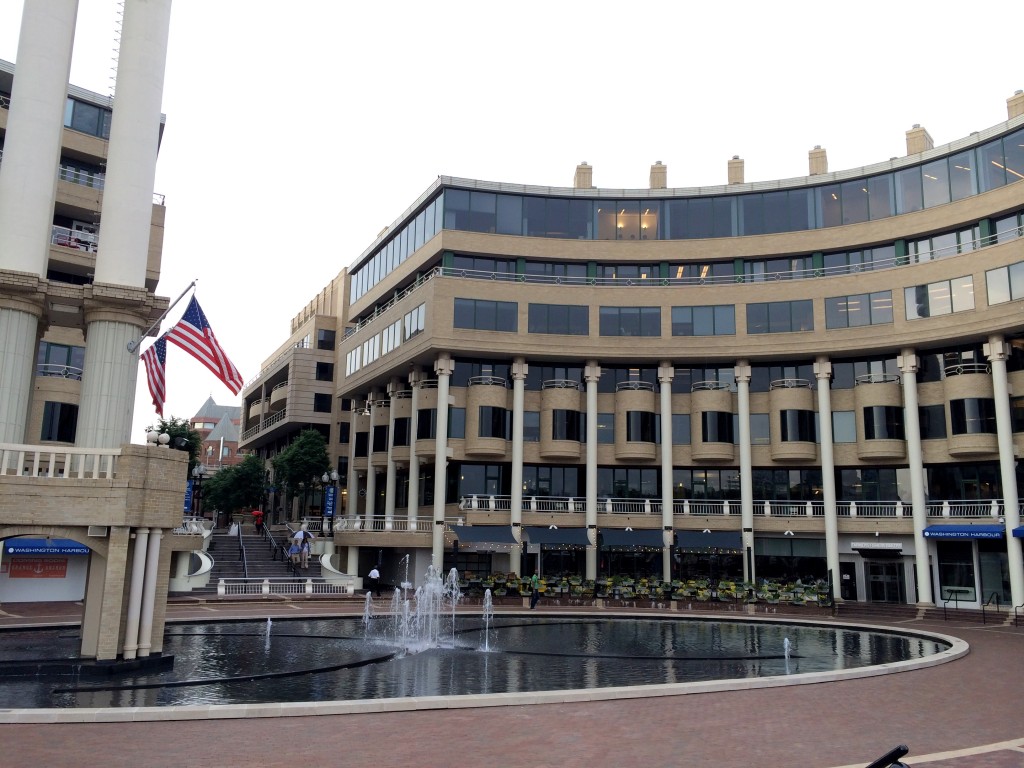 One bummer was that timing did not work out for Alex and I to finally meet up, since she was out of town for the weekend. But she did recommend a stellar dinner spot in Georgetown – Farmers Fishers Bakers!
We walked around Georgetown for a bit before dinner, and took in the (very brown) waterfront and adorable shops (which reminds me a lot of Brookline).
We had a reservation but took advantage of open bar seats instead, because sitting at the bar almost always results in some excellent service and recommendations. This was no different! Our bartender Phil (hi if you're reading!) was super honest in his opinions about the menu items and very helpful in the sense that he wasn't afraid to recommend one dish over another. We started by snacking on super-not-greasy calamari with marinara sauce.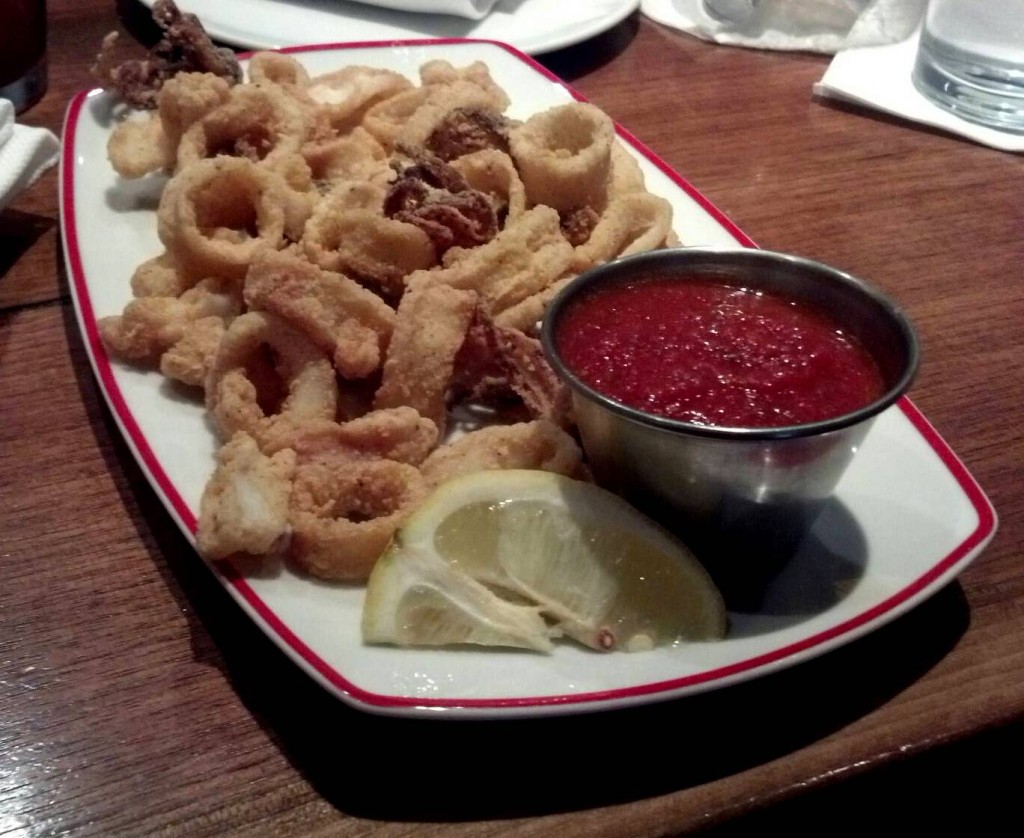 I didn't take a photo of my dinner because my phone was charging at the hostess stand, but I ordered the kale salad. Phil suggested I add steak to it because it would pair well with the dates that came on the salad, and I'm so glad I took him up on that one. What an incredible salad! And his cocktails…out of this world. I asked him for a Manhattan that wasn't a Manhattan, and he made me the perfect drink. Once I saw it I knew I'd love it. Jeff's Painkiller wasn't something I'd select (way too much ice!) but the coconut milk in there was quite good.
The bathrooms at Farmers Fishers Bakers were pretty awesome too. Check out the tub décor, and mirrors!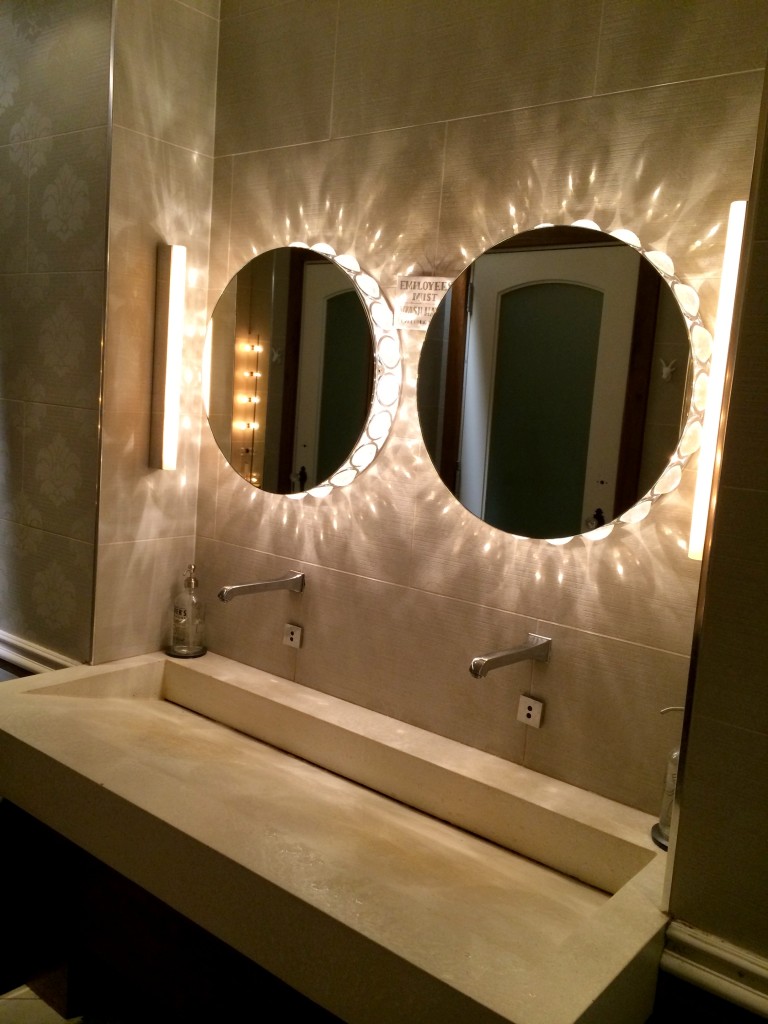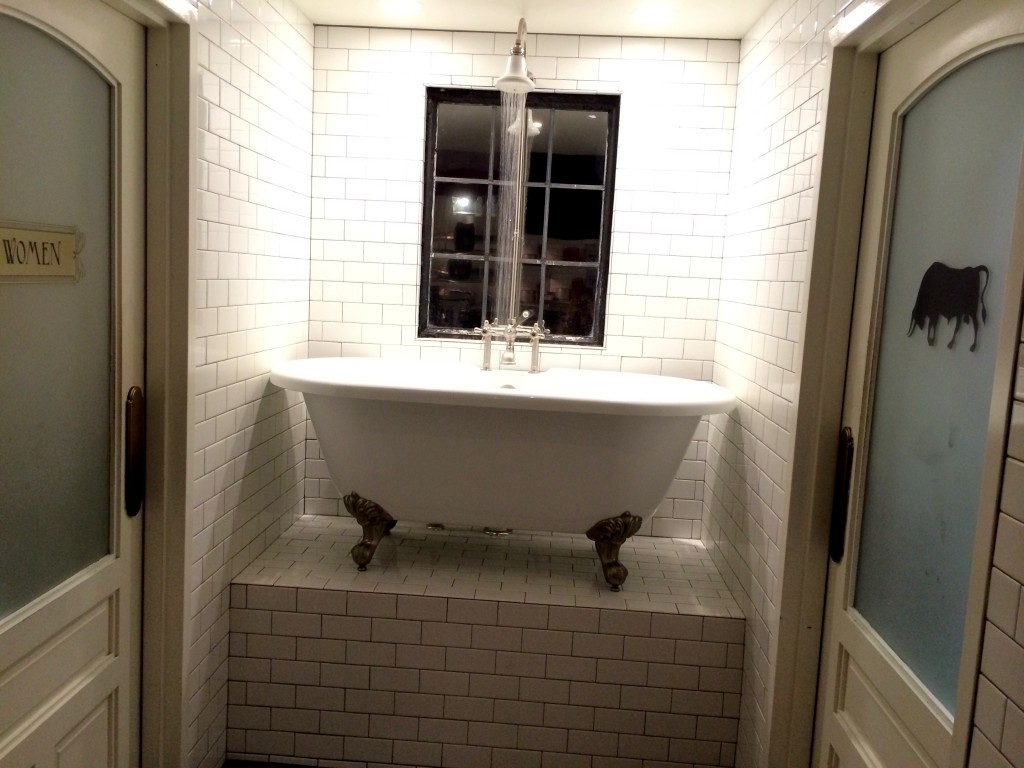 Once we finished dinner I crashed HARD, so Friday "night out" ended up consisting of stupid TV, a homemade cheese & charcuterie plate, and chocolate chips. Mmm.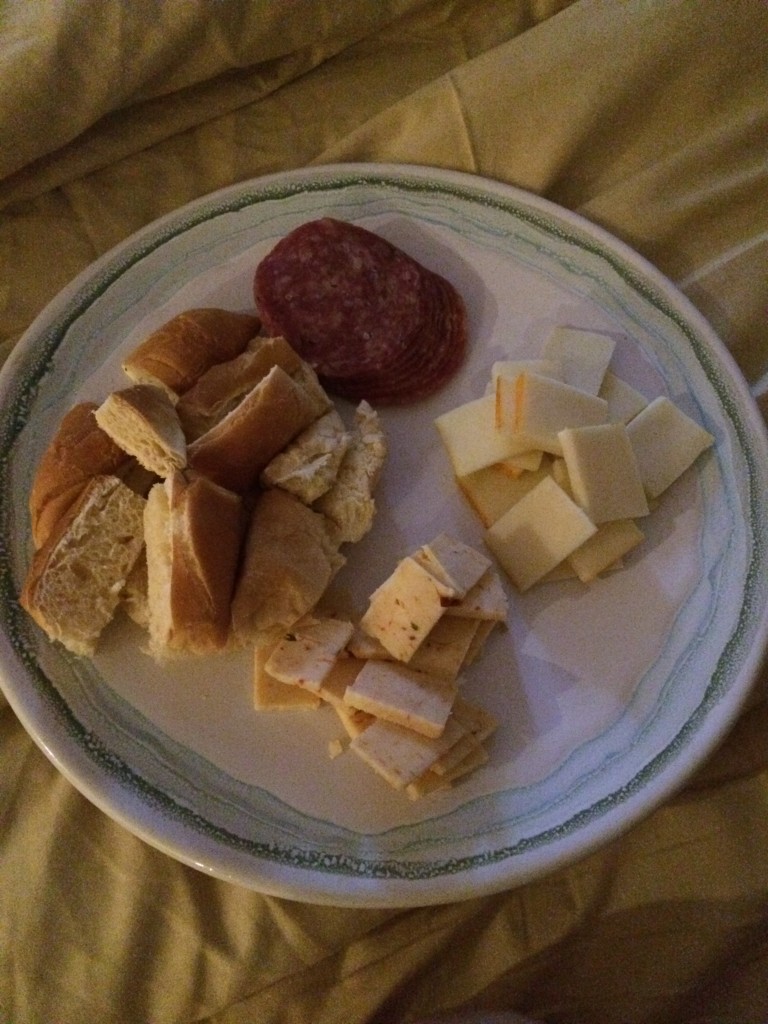 I woke up well rested at 7:30am on Saturday morning, ready for a Zooma Cape Cod half marathon training run! Luckily I had just three miles on the agenda both that morning and Sunday (got that run in too!) and Jeff found me an easy-to-follow route near his house. I enjoyed the run (rocking a great new Spotify playlist – I'll try to share it this week) and finished the workout off with a round of the 30 day ab challenge. I had felt pretty guilty about taking Friday off as a rest day since I was out the night before, but after my Friday ended up being a quiet night in post-dinner, I felt better about it. I was just so tired, and Saturday morning's run felt good probably because I took a rest day. I know I need to take at least one per week during half marathon training, and a travel day seemed the perfect day to do it.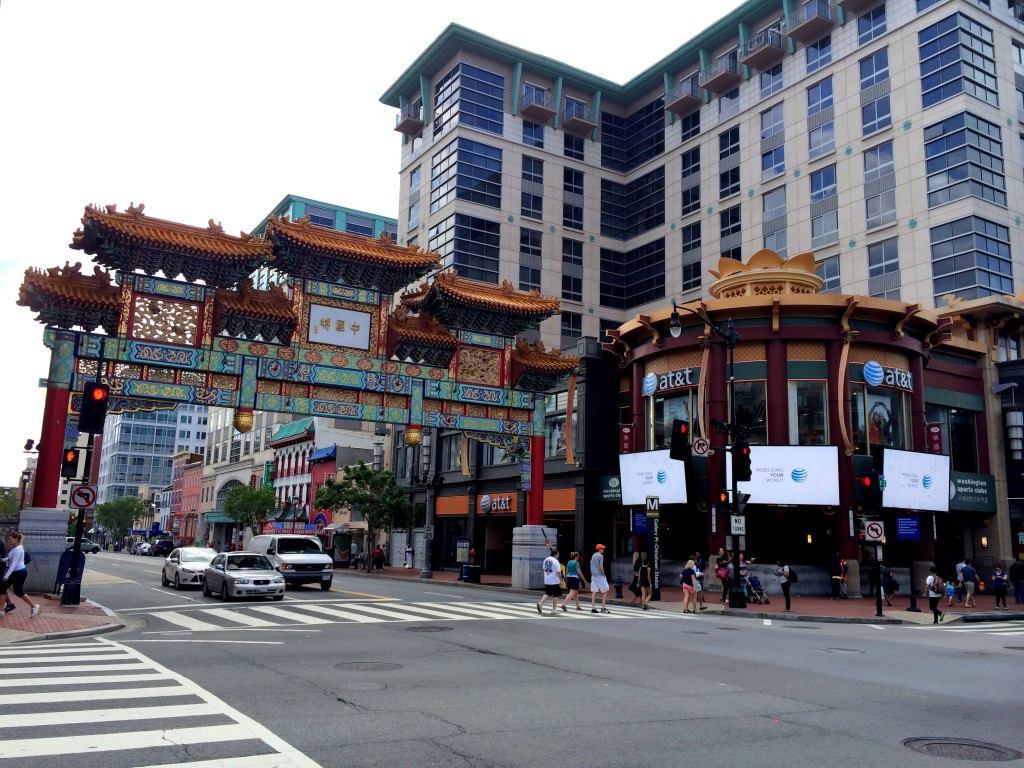 After getting cleaned up, Jeff and I had a light lunch (brunch?) at Matchbox, a spot we visited during our first trip to DC together three summers ago. I was so happy to be back! I had a great double IPA and a WONDERFUL ahi tuna salad. Matchbox does it again!
Then we walked to the National Museum of American History, which we didn't get to last time we were in town. We stumbled upon a cannon firing demo going on just outside; that was pretty cool. Damn that cannon was loud!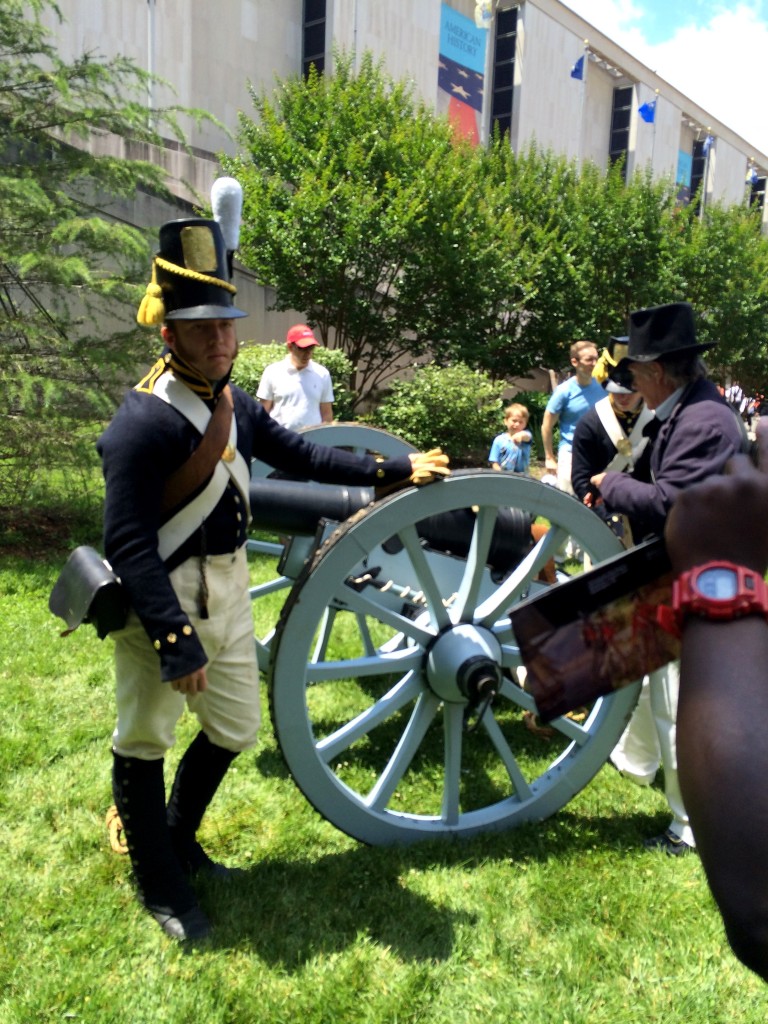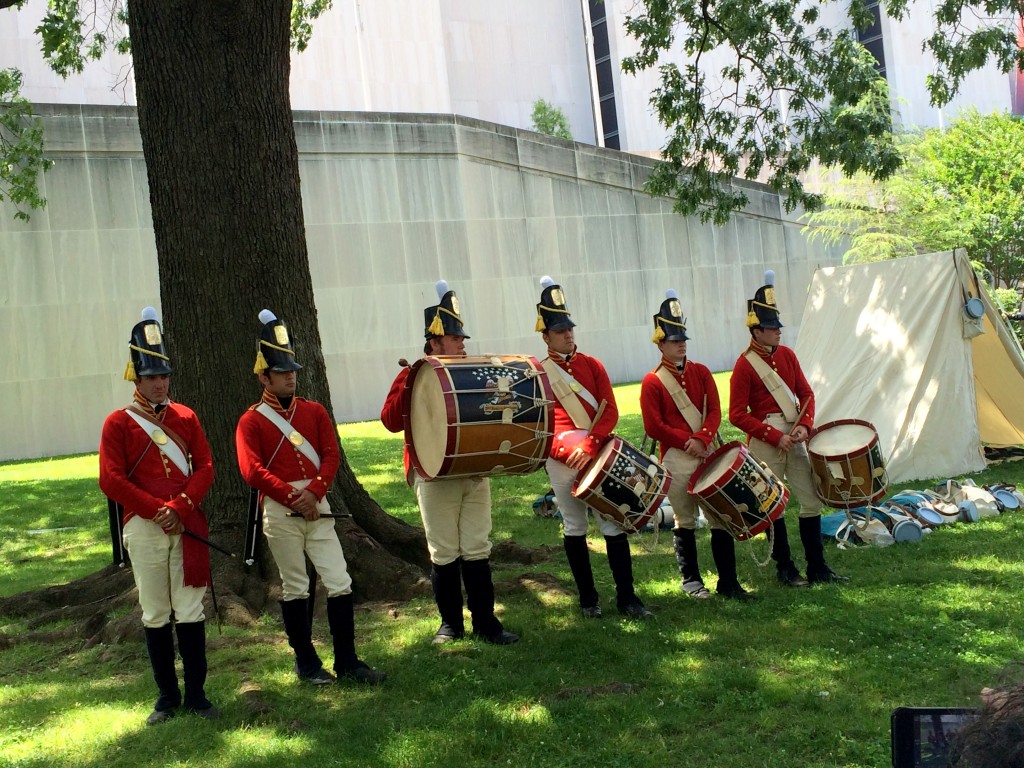 The museum itself was interesting, especially the Food exhibit, but after an hour and a half the fact that we hadn't had coffee caught up with us. The rest of the afternoon was spent hanging out by a not-working fountain, people-watching and drinking Starbucks.
Then I got to see an old friend from college, Jordan! I partially credit her with getting me into group fitness. She's an incredible instructor and was Student Manager of UConn's Bodywise program. I hadn't seen her since we graduated and I'm so happy we were able to meet and catch up. Plus her suggested drink location, Poste, had Saturday happy hour and the coolest patio.
Jordan had great recs for our planned evening out on the town and encouraged us to follow our hunch that visiting POV, the rooftop lounge atop the W Hotel, was a great decision. Even just the lobby of the hotel was incredible!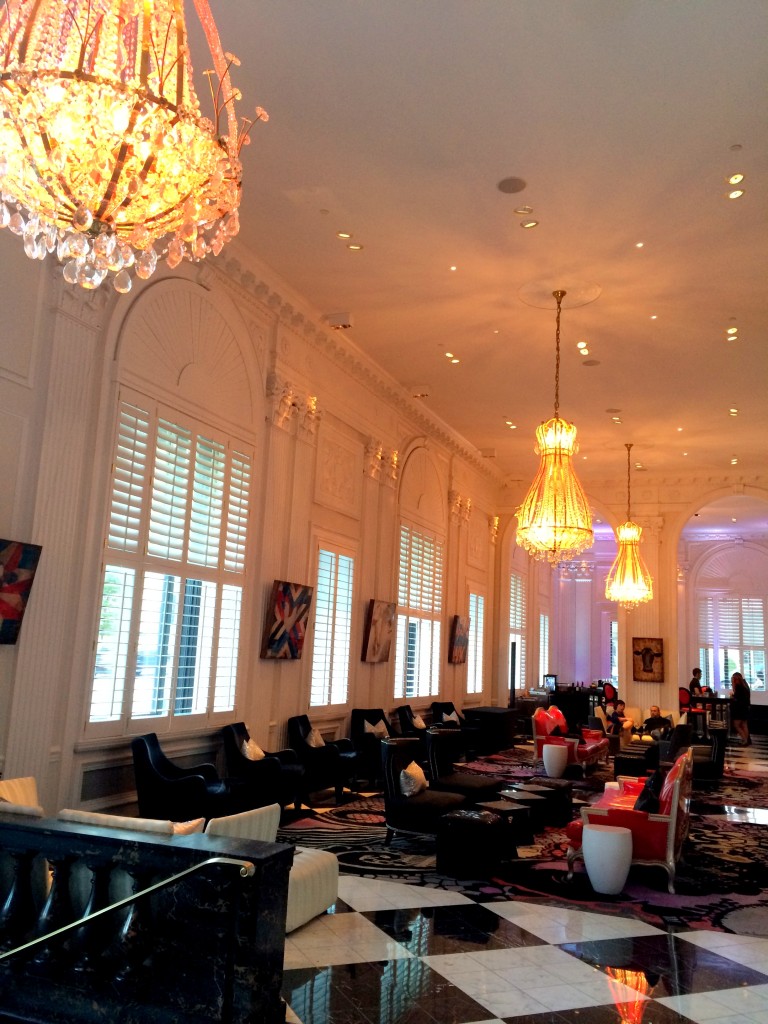 But of course the rooftop itself was BEYOND incredible. What fun people watching – and fabulous views! Yes the drinks were super pricey but you get what you pay for and we certainly got an atmosphere that made me feel like I was back atop the Hotel Gansevoort in NYC. AKA I felt like a Kardashian.
Our dinner spot MXDC was really great, from the service to the food, but I didn't take any photos because once again my phone was charging at the hostess stand. I totally recommend the restaurant though, and don't worry, I did get my baby cabbages fix during this particular meal! After dinner we headed over to 14th and U, where I took a quick jaunt to Barcelona to take a photo out front. We didn't end up getting a drink there because it was too packed (looks like business is good!) but I just had to stop by to say I'd been. That makes my 4th location!
Next came a VERY special meetup. Lindsay and I exchanged numbers prior to my trip and I'm so glad, because she texted me around the time Jeff and I got to our decided-upon dancing spot Policy. And she happened to be a couple of blocks away! She and her boyfriend Travis came to hang out with us and we all ended up drinking fabulous things and dancing the night away. I'm so so so happy we got to meet in person and hanging out with her was just as fun as I always imagined it'd be!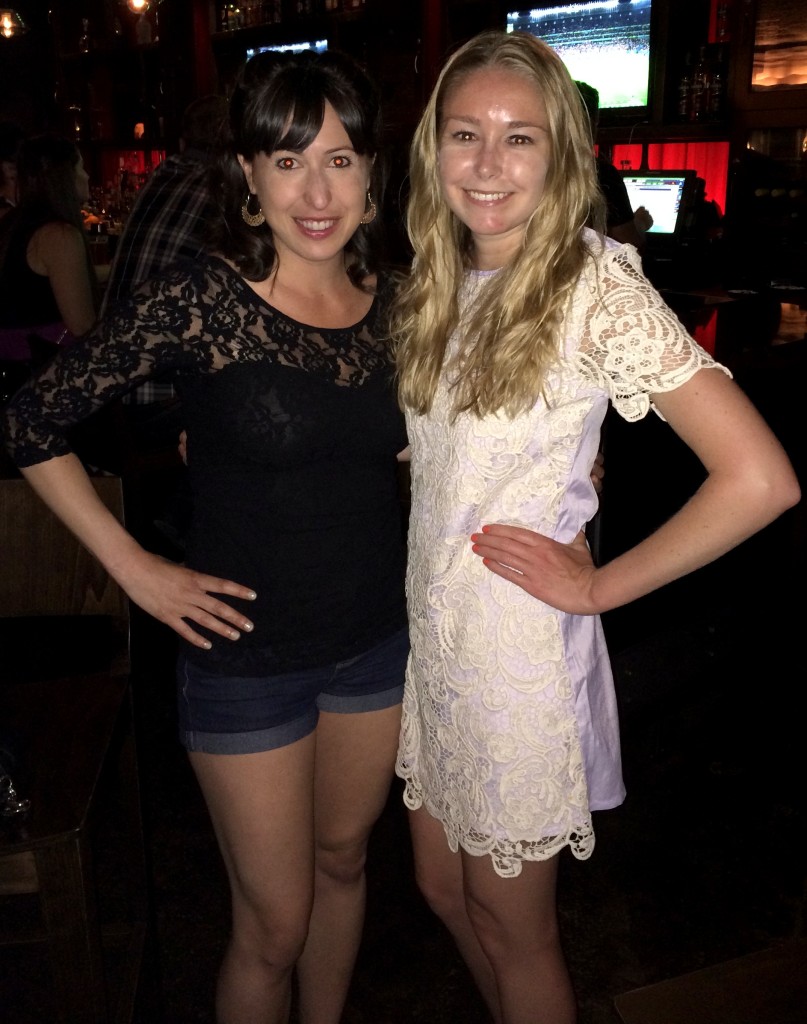 The next day AKA yesterday we didn't have much time for sightseeing because my flight left at 5PM. I did manage to sneak in my run and then we headed back to Chinatown for another lunch, this one at Graffiato (recommended to me by an Instagram commenter – thanks again!). Despite very slow drink service, we still had a great time, especially because we got to meet up with our old friend from UConn (and my friend since high school!), Arjun. He's been living in DC for awhile now and I hadn't seen him in eons. I'm so happy we were able to connect!
To eat Jeff and I shared the house-cured salmon with avocado & creme fraiche atop everything bagels, and I also had the baby kale salad with bourbon peaches & sunflower seeds and the snap peas with peanuts & pickled veggies. This was a pricey meal, but the food was certainly delectable. I also finished Arjun's French toast for him (don't mind if I do) and it was faaaabulous.
And then it was time for me to head home! And here I am now, happy to be home but also happy I had such a good trip. And it doesn't really feel like this weekend was that nuts. I ran Saturday and Sunday. Yes I drank more than usual and had plenty of carbs (more than what's pictured here I can assure you) but I also had vegetables and seafood. I made reasonable choices and never got overly full. In fact, this post from Lindsay really speaks to me right now. I feel like I did this weekend right and didn't miss out on the restaurants and the sights that I love so much. Most important of all, I saw so many special people. I think the way I handled this getaway, especially given how I felt about last weekend, is pretty darn marvelous!
Have you ever visited Washington DC?
Have you ever gotten the chance to meet up with a "blend" when visiting a new place? How about old friends?
Which of my eats look best to you?