Reach the Beach Part 3: Two Runs & Done!
Before I conclude my Reach the Beach Relay recaps…an update on my stubborn right IT band! Thank you so much for your comments of support, advice, and your own shared experiences. I ended up trying to find an "emergency" PT appointment, but it didn't work out due to scheduling/time/monetary restrictions. Someone suggested on Twitter (love that social media crowdsourcing!) that I try out Boston Body Worker, and I noticed while visiting the website that they offered an option to just walk in and get kinesiology taping after a quick assessment. I'd definitely heard some good things about that option and knew a sports massage could leave me too sore to race at this point, so I thought it was worth a shot, especially since I got $20 off for mentioning that I was a referral!
The tape lasts 3-4 days so I should have it on during the half marathon tomorrow. I don't feel a difference yet…who knows if I even will. I am going NUTS taking it easy this week. I haven't done cardio since Monday morning and even that was just about 15 minutes. I've been trying to get my heart rate up without using my legs, such as by doing rapid clean-and-presses. I also am making an effort to focus on upper body lifting, and it's definitely paid off – I've been feeling sore! My abs are getting more attention too (I took a pilates class last night). Still, I really REALLY hope I finish the race tomorrow because I know then, all the rest will be worth it. If I don't finish, it will be hard not to feel like a failure.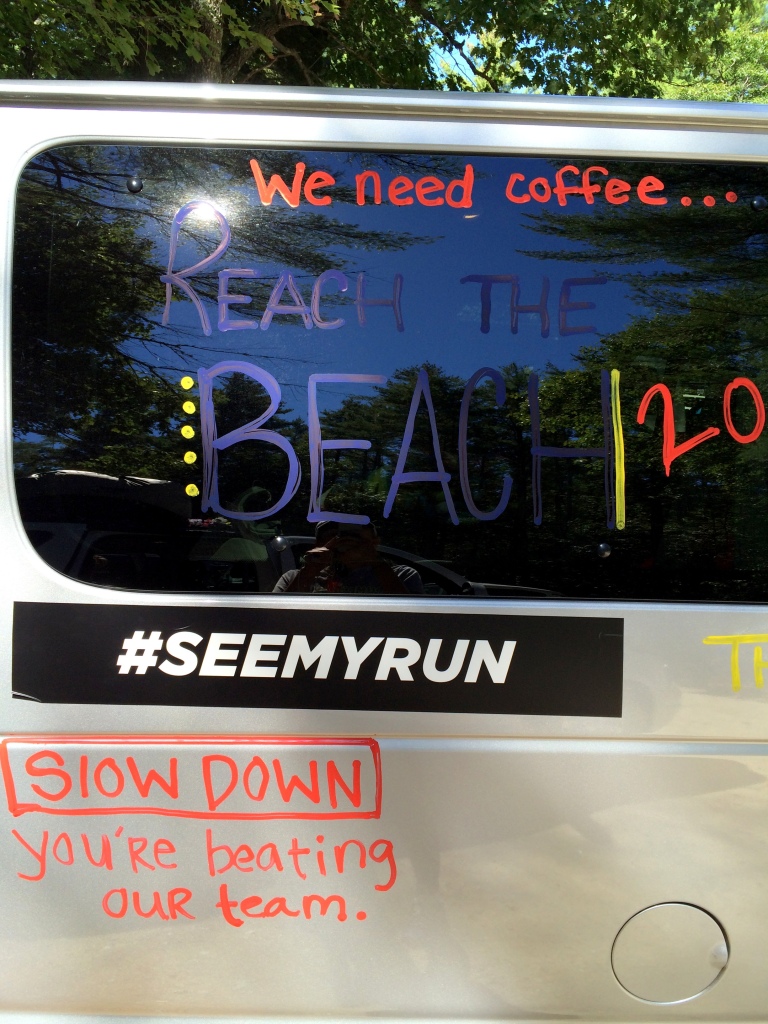 Anyway, when we last left off I was not at all feeling confident that I'd make it through my middle-of-the-night, 5.5 mile (second) relay leg. (Hey, useful parallel to how I'm feeling right now…maybe I will finish the half after all!) I say that it's a parallel because…I did finish that second leg! My stomach was still bugging me, and during the last mile I threw up a little bit and spit it on the side of the road (TMI but come on how badass is that…I kept going!), but I finished! I totally give credit to my favorite podcast, NPR's Pop Culture Happy Hour, for getting me through. Having the voices there to talk to me during those periods of time when no other runners or vans were around me – AKA I was running in pitch blackness – really comforted me. I just knew if I put one foot in front of the other, I'd eventually get there. Thankfully New Balance provided me with all the night gear I'd need – a glow-in-the-dark jacket, blinking lights, and a super-convenient hat with "headlights". I was so glad I didn't have to wear a headlamp and worry about whether or not it would be boppin' around while I ran.
I crawled back into the van once I finished my run, ready to curl up into a ball and sleep…and sleep, I did. I hadn't slept at all and I actually ended up sleeping the most of anyone in the van…oops! I was asleep for the next transition from our Van 2 to the other Van 1, and also asleep for the drive to a diner near the next transition area. I honestly could have slept straight through breakfast, but at that point I hadn't eaten since (not finishing) dinner the night before and I knew my body needed fuel. Thankfully we had an RD in our van – Melissa B – and she gave me some great advice on food to eat that wouldn't hurt my stomach. My oatmeal with sliced banana, plus some scrambled eggs on dry toast, ended up being just what my body wanted.
After transitioning with Van 1 we raced to where I would start my last (and longest) leg of 6.7 miles. That's because Allie was running under 3 miles and knowing her, she was going to FLY through them! And fly she did – I was off and going before I had time to question how my legs could possibly carry me any further. That last run DRAGGED, and I was going so slow, but I didn't care. All I could think about was being DONE!
I did end up meeting another source of inspiration on my run that made it not so bad 😉
When I finished, my legs immediately tensed up and I knew I'd pushed them to a limit they'd never seen before. Our van was well equipped with some rolling balls & sticks so I got to work using those immediately, and kept my ProCompression calf sleeves on to aid in post-run recovery. As my van-mates finished each of their last legs I got more and more excited, because that meant it was almost time to REACH THE BEACH!
The finish was well organized because Van 1's had to park in a further away lot (makes sense – they reach the beach and just wait around for Van 2 to show up!), and we as a Van 2 were able to park in a lot right at the Hampton Beach State Park entrance. If we had been running behind that would have been super helpful! But luckily we weren't, and were able to convene with Van 1 to meet up and wait at the finish line for our final runner – Lorraine. I love that the teams ran across the finish line together!
This sounds so cheesy, but when I was given my medal (which is actually a placeholder medal – they messed up the actual medals and had to give us bottle openers from another Ragnar relay instead so that we'd at least have something!) I teared up a bit. I had never completed a race beyond a 5K, and had never EVER been given a race medal of any kind. I felt so proud of my accomplishment. I knew that I never would have been able to run 18.8 miles in 24 hours one, two, or three years ago. I would not have been able to eat enough to fuel my body as it needed to be fueled. I would never have thought to myself, "I haven't eaten since X or Y time, I need to eat". I would have thought to myself, "I don't feel well, let me use this as an excuse not to eat". I pushed through discomfort SO I could eat SO that I could finish my legs. And it paid off!
I hope that the resting, the taping, the foam rolling, and all the other things I've been doing this week will pay off too. Now that I've crossed one finish line and gotten a medal, I want so badly the finish line and medal that began this running journey – the one that is meant to lead me to the Zooma Cape Cod half marathon TOMORROW MORNING. I'm glad that I was able to do Reach the Beach as my last big training weekend before the half, because I proved to myself that I would definitely be able to finish it. And I was 100% confident of that, up until this past Sunday night's disastrous run. Now I'll just be happy to finish, and will try to keep in mind while I'm running all that I pushed through to reach that beach.
Huge thanks to New Balance, the super-friendly Reach the Beach race staff/volunteers and fellow runners I met along the course, and Team Pumped Up Kicks – but especially my fellow Van 2-mates…I couldn't have done it without any of you!
Have you ever done a night run?
What's your favorite food to eat to settle your stomach?