Trade Em Up Tuesday: Spring Has Sprung!
This past weekend was spent staying put here in Boston, and that's much needed because next weekend is the first of about five in the next month that I'll be spending on the road. I would definitely trade that, but I wouldn't trade the reasons I'll be travelling. More on that in future posts, though. Here's today's Trade Em Up Tuesday.
I would not trade…Friday's rest day. That's something I hadn't let myself do in a couple of weeks and it felt GREAT. Of course it was the only morning last week that I woke up before my alarm, feeling well rested. Funny how that works. But that just meant I had time to write Friday morning's post.
I would not trade…one of Southie's newest restaurants, Loco. I headed there after work Friday with some girlfriends. Everyone went with refreshing Mexican restaurant style beverages to start – except me. I stuck with the old standby, bourbon. Our bartender Moira used to work at Citizen so I knew she'd be able to whip up a tasty bourbon cocktail for me! After our cocktails we all shared a bottle of sparkling rose.
The food at Loco was wonderful and I'll surely be back! We started with chips and guac. I'm not usually huge on guac but GOD this was good. Then I had a couple of blackened swordfish tacos (with more guac of course). I also tried some of Molly's carne asada tacos and Allie's black bean and corn quesadilla. More thumbs up. Loco's portion sizes are the perfect size for maximum chips and guac enjoyment. It was nice to leave and not feel absolutely stuffed.
After dinner we headed to a couple more spots – Lincoln and Highball (my obsession with that place continues) – to celebrate Allie. She just got a new job, and it was her last day at her old one! I got home a little before midnight, watched a few episodes of Parks & Rec (the only thing I'd trade is the day I finish that show), and conked out after capping off my Friday with a snack.
I would trade…a rough night's sleep. It sure would've been nice to sleep in Saturday, but my body wasn't having it. I woke up before 8AM and could NOT go back to sleep. Couple that with restless sleep all night and I was not a happy camper. Thankfully I had time to nurse coffee and wake up before my planned Saturday workout.
I would not trade…a great run + FlyBarre combo workout. Despite annoying wind, Saturday's weather was perfect for running, so I decided to jog about 2.5 miles downtown to the Prudential Center. There I was able to participate in one of sweetgreen's free passport fitness classes, at FlyBarre! I recently tried it out on Easter Sunday (your first class is free, people!) and was happy with how sore I felt for a few days after. I actually enjoyed this weekend's class more because I felt it was more barre-like – we did more songs on the barre itself, working on our thighs, and less upper body songs. The beautiful instructor Stephanie was very motivating and singled me out at one point to get lower in my squat. It was painful but I appreciated the extra push.
I would trade…the ginormous Central branch of the Boston Public Library. I'm sure people are shocked to hear this but I went in there to pick up a book I had on hold and it literally took almost half an hour! That place is a labyrinth, and I'm sure if I needed to do research it'd be super helpful. But from now on I am sticking to my cute tiny Allston branch. I think of libraries as small adorable places, not huge mazes, so I much prefer the neighborhood style setups that remind me of my library back home in Glastonbury.
I would not trade…a trip to Regal Beagle. It'd been awhile since my last visit, and I was so happy to show the place to Molly, since she isn't usually in my "neck of the woods". I ordered the monkfish with mashed potatoes and broccoli rabe. Delicious! Plus we shared the life-changing bacon wrapped bleu cheese dates.
I would trade…ridiculous lines. Spring springing in Boston marks the beginning of LINE SEASON! Molly and I tried to go to Brahmin and I ended up bailing on the entire situation because the line was far too ridiculous. Thankfully we'd already gotten in another stop prior to that – Citizen Pub (when am I not there?) to visit Laura and sip on an Ideal Manhattan.
I would also trade…more restless sleep. Once again I woke up before 8AM on Saturday morning, unable to fall back asleep. Probably had something to do with anxiety I felt over ending up at Eastern Standard, snacking on calamari, after the failed attempt to get into Brahmin. Oops. I eventually did fall back asleep off and on, and ended up not getting out of bed until noon. Whoops – not ideal on such a nice day.
I WOULD NOT TRADE…SPRING. OMFG spring really REALLY sprung on Sunday and it felt incredible. Once I got myself out of bed I took a nice walk to the grocery store and also took some time to lay out for a bit, sip iced coffee, and read. Heaven! Can't wait for more weekend days like this!!! (When I'm not on the road, that is.)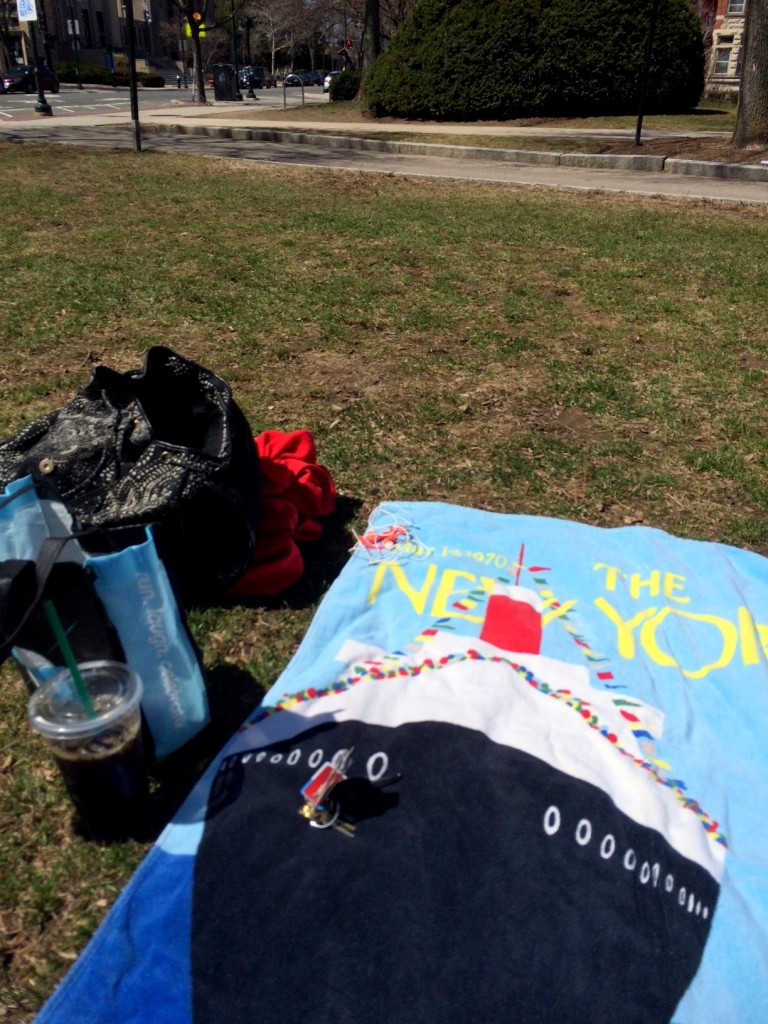 I would trade…getting lost. Jeannie and Allie invited me to their place for some Sunday Funday action outside, and with such nice weather, I just could not say no. But I decided to run there as extra motivation to get my workout in. Who can deny that running to barbecue and sparkling rose is perfect motivation on a gorgeous day? I completed my planned 4.5 miles…but then noticed my surroundings weren't looking so familiar. Wasn't I supposed to be there by now? Well I took out my phone and realized I'd gone to the right address but in the WRONG neighborhood…and my true destination was 2 miles away. WHOOPS. My legs felt dead and I was over running, so I took an Uber those remaining 2 miles. Which sucks because I felt lazy for doing that, versus feeling proud of myself for deciding to go on the run in the first place.
I would not trade…barbecue and sparkling rose. At least the rewards at my true final destination were just as delicious as I'd imagined! Jeannie and Allie had a sweet setup, complete with a TV outside showing the Masters. It was a fun day with friends and ended with me turning out the lights at 8PM, because I can't hang.
I would also not trade…great customer service. I was so excited a few weeks ago to find The Good Bean chickpea snacks at my local TJMaxx. I love those things but as a rule try not to buy them unless I can find them there, where they are almost half the cost they are at the regular grocery store. I purchased a couple packs each of the Sea Salt and Smoky Chili & Lime. I've tried both before but this time around, the Smoky Chili flavor had my mouth on FIRE! I tweeted them to ask whether or not they'd ramped up the spice in the recipe, and was informed that they had.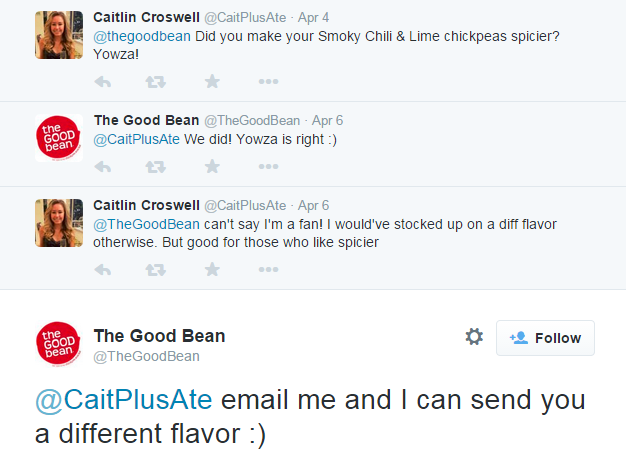 I certainly would have liked to know this because I literally could not eat them unless I coated them in plain Chobani! But The Good bean was kind enough to send me FOUR bags of two flavors I already know I love – plus a surprise bag of their new chips! I love great customer service. Thank you, Good Bean!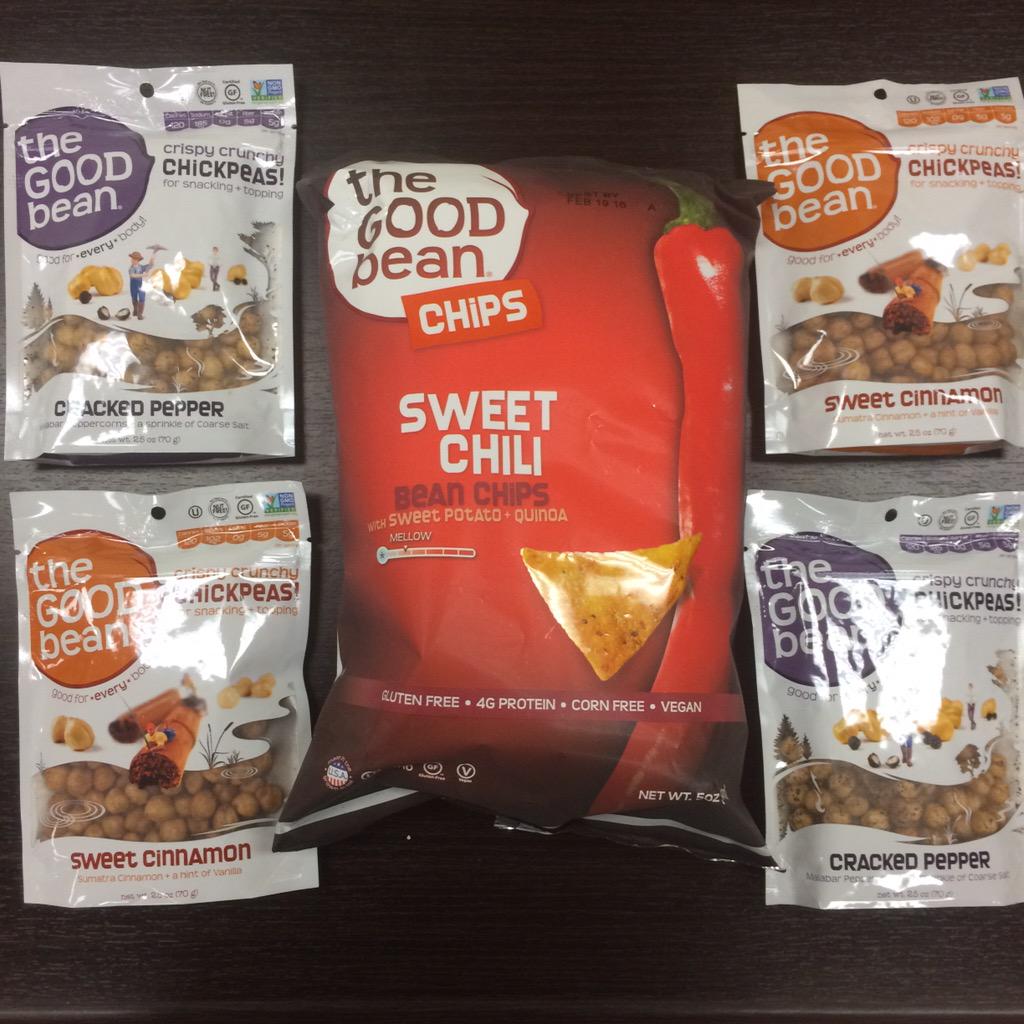 I hope you guys are as happy as I am about spring finally springing. I can't wait for more days spent outside soaking up the sun!
How are you celebrating spring's arrival?
What would and wouldn't you trade today?