Sweating and Shopping in Chestnut Hill Square
I received the SoulCycle class mentioned in this post free of charge. Opinions of the experience are my own.
I mentioned in Friday's post that I'd be off to Chestnut Hill Square's SoulCycle studio on Saturday for the birthday class of my friend Abbey. I started my outing though doing what I like to call a necessary evil – grocery shopping.
I decided to venture into Wegmans, because I'd heard a lot of magical things about it from other Boston bloggers like Christina and Jen. While I certainly was impressed, and would like to return sometime when I had more time to kill (and a lunch or dinner to buy – holy amazing hot/cold bar!), it was not my ideal choice of grocery chain for a quick, budgeted stop. I saw a ton of items I'd love to have thrown into my basket, including some fun hummus flavors. That's temptation to someone trying to stick to her grocery list, and only her grocery list! And holy crap, if you want a carb craving, simply walk by their bakery. Its scent made me glad I was about to go to SoulCycle in anticipation of an inevitable Saturday night carb party.
I threw my groceries into my car (parked in the FREE, convenient parking garage!) and headed over to SoulCycle to put my stuff in a free locker and get on my bike.
It's always a zoo when one class is getting out and another is coming in, but once I got into the room I was quickly able to find my bike. I even clipped in with no help – I'm getting the hang of spinning shoes!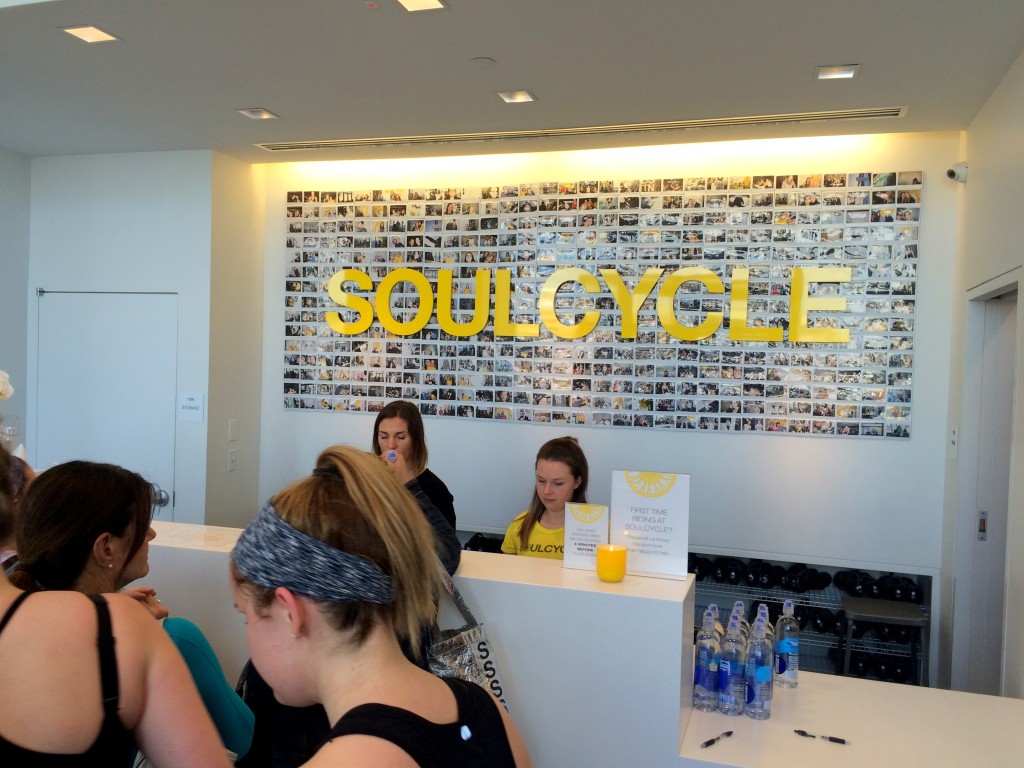 Our instructor, Charlotte, taught an incredible class full of killer energy and music. SoulCycle really does feel like a cardio party – that claim is true. The beat and movements of my classmates motivated me to keep up with their rhythm, and that helped me go faster than I would have in a normal spin class.
I also love that SoulCycle is a 45 minute class that feels just as effective as a longer workout. I'm all about getting it done and over with so I can go about my day!
After the class ended, SoulCycle staff came into the studio and brought Abbey and another birthday rider mini cupcakes from nearby Sweet! The whole class sang to them too. SoulCycle is pricey, but as a special occasion fitness party it certainly fits the bill. I wouldn't hesitate to recommend the same experience to anyone else! Abbey felt super special and had a blast.
I had considered purchasing some SoulCycle merchandise, but at Wine Riot the evening prior I'd bought a new Second Glass tank top, so I decided to hold off.
But this tank really spoke to me, because I can see it being an absolutely perfect top to wear out. Who knows, maybe I'll run into it again sometime. It's hard to tell in the photo below, but the top was made of a super soft and smooth material, not just regular cotton.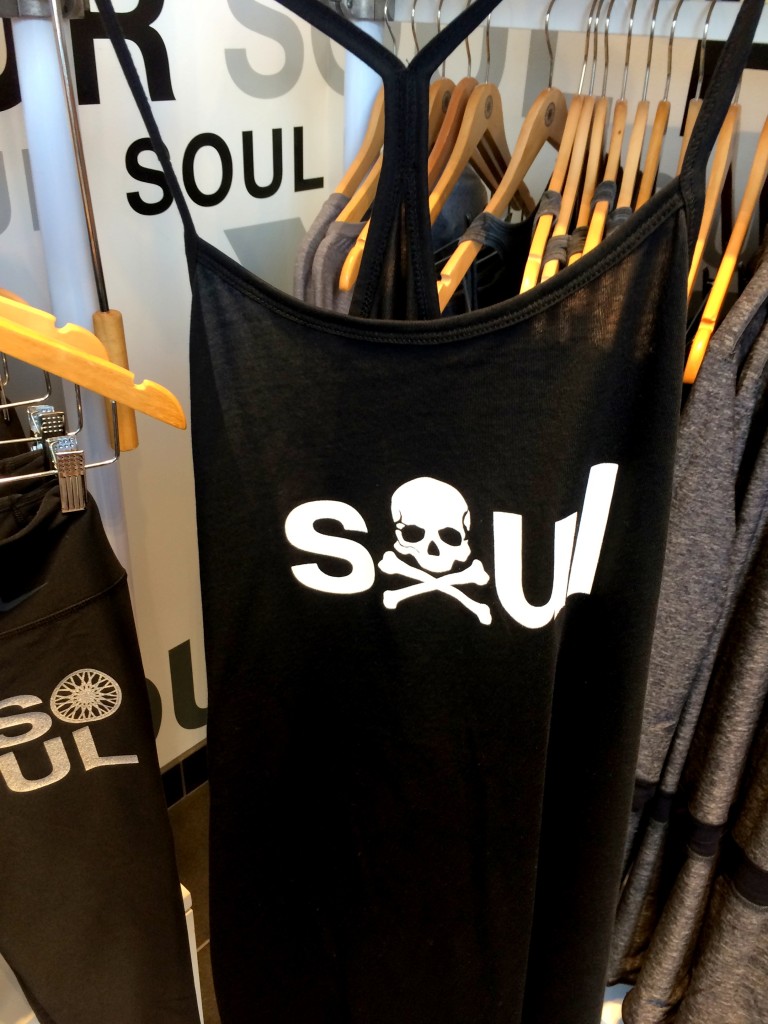 After I said bye to the girls, I ended up stopping into Francesca's on my way back to my car. They had a huge 40% off sale and I found this adorable dress! I took it up to the register and…it wasn't supposed to be on the sale section. Bummer. I had to put it back, but maybe I'll return in the future and it'll actually be on sale.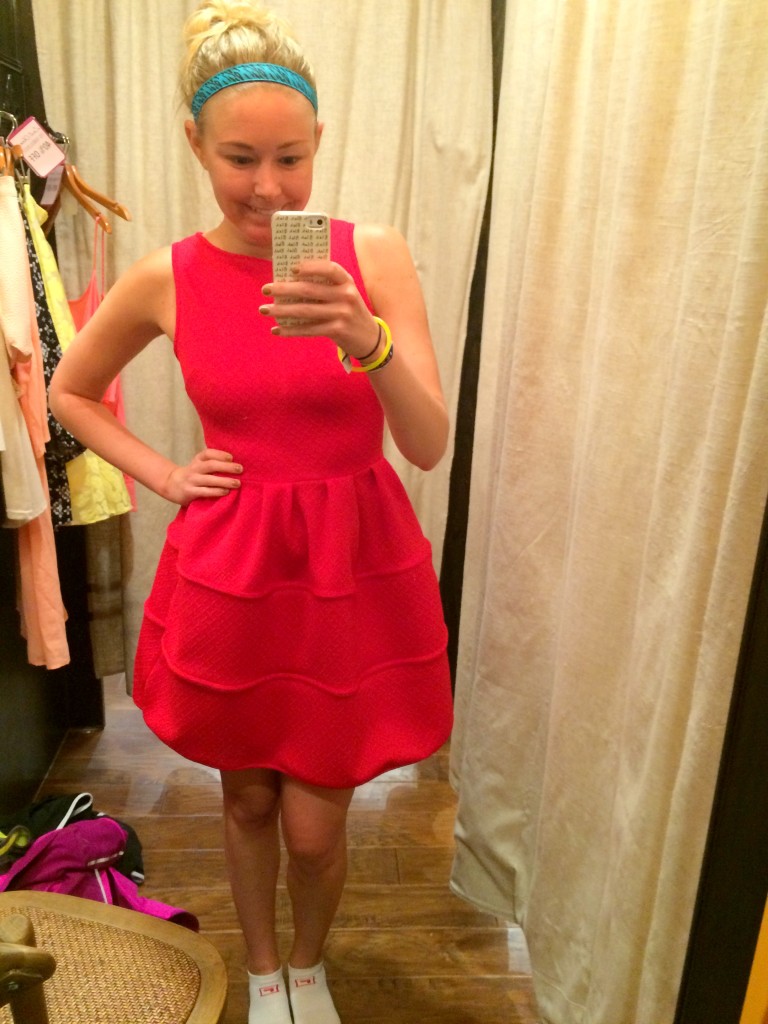 It was time to go home and scarf down lunch, because as much as I wanted to grab it from Sweetgreen or Wegman's, I had to try to save some money!
Chestnut Hill Square continues to be a great place to shop, sweat, and dine. I hope to make it back over there soon – there's certainly plenty to do!
Have you tried SoulCycle?
Huge grocery stores full of wonderful foodie finds…a blessing or a curse?
Ever fall in love with something on a sale rack, only to find it's not on sale?