Boston Moves & Food
During this summer in Boston I have continued to eat great food, while also trying out some new fitness options (and keeping with old favorites). I'm back with another round-up post to catch you guys up, and this one focuses on both moves, and the food that makes all that moving worth it.
Vélo-city Spin in Back Bay
I went to Vélo-city once before, and was excited when one of the owners recently reached out and invited me and my partner in crime Emily to try out a class! We opted for this past Tuesday's 5:30pm Britney vs Beyonce ride. FYI, Vélo-city offers a TON of fun theme rides, including country, which Emily and I plan to return for.
Vélo-city's "thing" is that they offer a great spin workout without the intimidating "cult-like" vibe that other spin studios can give off. They try to push a chill, inclusive environment and even serve wine and beer after some of the last classes of the night. The price is also more affordable than many spin studios, with $99 for an unlimited month (vs up to $270 for other Boston spin studios).
While I did miss the amenities I am used to from previous spin studio visits, such as locker rooms (changing is done in large bathrooms) and full size lockers themselves (bigger cubbies are available though, with someone at the front desk watching bags at all times), what's most important to me in a fitness facility is the quality of the workout/class and the price. I got a great workout in just 45 minutes (I love spin studios with 45 minute classes – hard to find sometimes) and the Britney/Beyonce playlist was on point. I also like spin classes that include a song using light hand weights; it breaks up the class and makes the time go by faster. Your first three rides at Vélo-city are just $30 (or one first ride for $12), and I'd encourage anyone interested to go for the three ride option so that you can try out a few different instructors and themes!
Met Bar on Newbury St
Right from spin, Emily and I headed to Met Bar, a restaurant on Newbury Street. I rarely dine out on Newbury but that is Emily's 'hood and she had positive things to say about the place, so I agreed to go check it out. Despite some of the prices being a little ridiculous (Whispering Angel Rosé at $16/glass?!), I really enjoyed my meal and the weekly specials can't be beat. For example, Monday nights in the downstairs bar you can get a burger and fries for $4.99! And this is a decent sized 5 oz burger too. We were there on a Tuesday – Taco Tuesday to be exact. Emily and her boyfriend took advantage of three tacos for $6, but I went with what I had been craving all day – something to bite into! No salad for me. Thought I felt as if I "should" order one, I instead stuck with my craving and got a turkey burger on a wheat bun with brie, a fried egg, and caramelized onions (aka "Paris-style"). I also skipped a veggie side and ordered sweet potato fries, which came with a tasty horseradish aioli.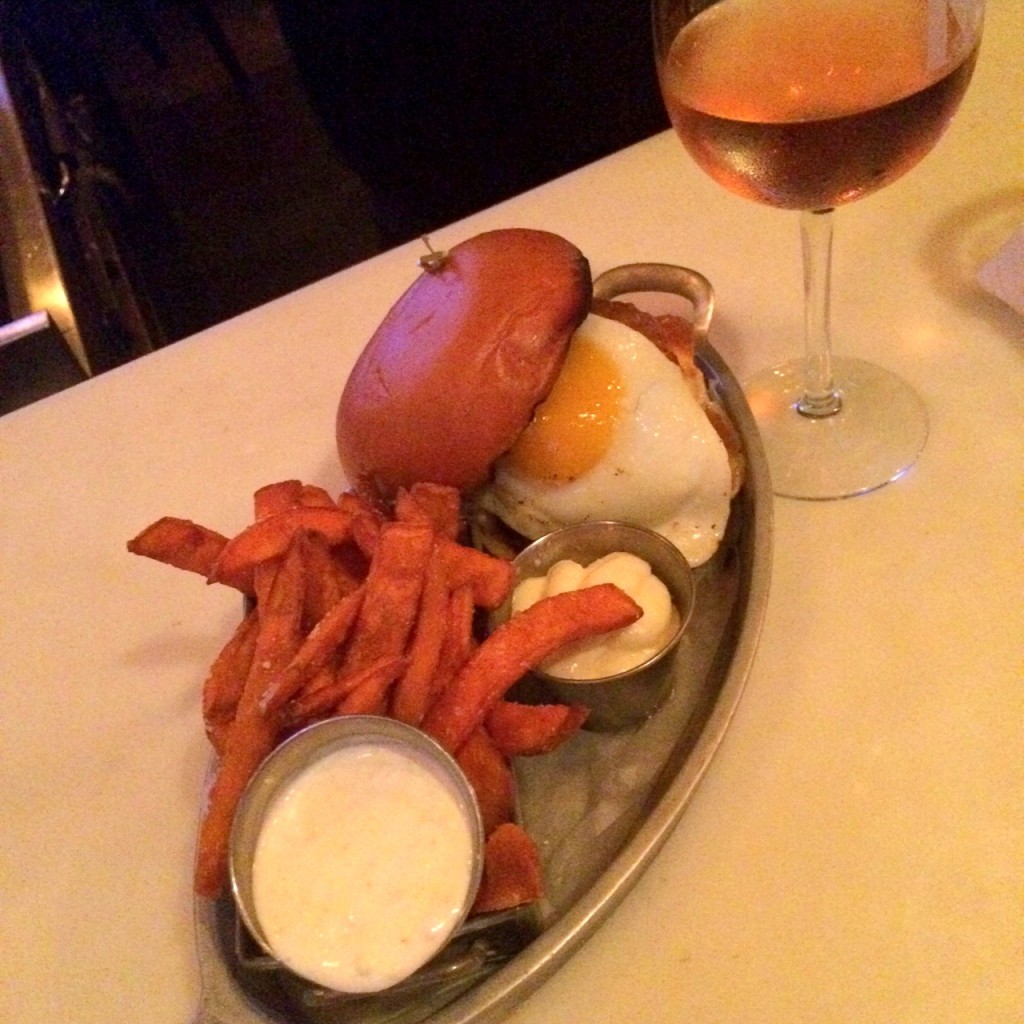 YUM! This was an absolutely fantastic and perfect post-spin meal! And never fear, I found a more affordable $10 South African Rosé on the wine list. I would definitely return to Met – there are many more menu items I want to try. Hopefully next time, it will be patio weather!
The Bar Method
I recently came across a deal on Facebook that I could not pass up! The Bar Method just opened a location in Downtown Boston and to celebrate, offered a discount of 20% off the $75 price tag for 6 weeks of unlimited classes. I jumped at the chance for unlimited barre for about $60…I knew even if I went once a week, it would be worth it! And the classes can be used at any location – thankfully, because Back Bay is more convenient for me.
So how does The Bar Method compare to other barre classes I've tried? It's not much different. Like most barre I've tried there is practically no cardio involved, but that's always nice when one doesn't have time to shower or you show up to class on a good hair day, right? I'm glad I bought the package and have attended two classes so far. I'm sure I will attend enough between now and the expiration to make it well worth the price, and it's nice to add something new to my routine, since I haven't done barre since my last trip to Florida.
51 Lincoln's Tasting Room
I don't usually dine in "the burbs", but couldn't pass up an exclusive invite to attend a media dinner in The Tasting Room at 51 Lincoln in Newton. Located in the basement of 51 Lincoln, The Tasting Room is where Chef/Owner Jeffrey P. Fournier can get in touch with his creative side, while the main floor serves up the favorite dishes, like bolognese and Caesar salad, of longtime customers.
I was thrilled when I arrived to find several of my friends were also in attendance! Which meant that we had no shame in doing whatever we could do to get the best Instagrams possible.
The plates of food we sampled were absolutely gorgeous, and the wines complimented each course perfectly. My favorite, pictured below, was the coddled egg over polenta with roasted tomato vinaigrette and flowers. Fun fact – the dishware is all hand-made by a local potter!
Along with our coconut cake and marscapone ice cream, we received mini tiki cocktails. The dish and drink were the perfect celebratory ending to a fun night!
The Tasting Room's five course menu rotates and the space is available for a max of 20 people at a time, making it a great idea for a foodie's birthday party, or corporate event where one needs to impress. Visit the website to view the current menu! I'm also anxious to dine upstairs and try that famous bolognese!
Rave Yoga
I saw a couple friends RSVP on Facebook as "attending" an event that caught my eye immediately – Rave Yoga, sponsored by MoveWith Boston, a digital platform that connects the community with fitness instructors doing awesome classes like rooftop yoga, outdoor bootcamp, and poolside pilates. An event that pairs fitness with a party, and with no venue change, sounded right up my ally. The 1.5 hour class, taught by local instructor David Magone, took place last Wednesday in Cambridge at the Oberon.
My friend Allie and I attended and had a nice time! The class was pretty good (I think Renee at Back Bay Yoga has spoiled me a bit) and the environment – black lights, glow sticks, falling confetti during savasana, and a disco ball! – was a totally unique and welcome change to the usual yoga experience. We didn't stay for too much of the "rave" part though – I hit a very thick wall and all I wanted was my bed.
The Middle Gray
Last week I attended the soft opening of much anticipated Brookline Village cafe and art gallery, The Middle Gray. The beautiful space is now open and serves creative cocktails, beer/wine, and South American food. Despite the fact that it was a soft opening, the food 100% impressed our party and service suffered very few "kinks". Since I was with a couple other (also hungry) people, we got to try many dishes and I would order every single one again. It seems the Brookline neighborhood's anticipation of this spot is well placed!
Half Marathon Training…?
Oh yeah. About that. Ever since my six mile "long run" a few weeks ago left me limping for over a week (HI IT BAND), training is a bit…on hold. I'm still working out regularly, and am doing my PT exercises. But as long as my IT band still hurts going down stairs and while running to catch the T (already embarrassing enough, but try adding a hobble), running is not in the cards for me. Which means my goal for my second half marathon has gone from get a PR to…just finish the goddamn race.
Puritan & Co
I ended said six mile run a few weeks ago at a spot in Cambridge called Puritan & Co. I recently went from never having been there before to going twice in a month – funny how that happens. The below pictured Church cocktail, featuring gin, aperol, and lemon, was just the so-refreshing-it-doesn't-taste-dehydrating drink I needed after that run.
I also got to attend Puritan & Co's Rosé Rumble, AKA my dream event. Over 20 different rosés were sampled, along with some absolutely incredible eats!
This is not even everything I have gotten to do this summer. It's truly been the best summer of my life so far. I love living in a city like this – it's the perfect stage in my life to be doing so. I've made new friends, continued to bond with old ones, and checked more restaurants off my expanding-like-a-hydra list. And August ain't over yet – I'm back to the 203 in CT this weekend as well as NYC!!!
Have you discovered any new restaurants this summer?
Tried any new workouts?
Which of these summer happenings looks most fun to you?