Brussels and Bread at BISq
It usually takes a bit of extra motivation for me to go "all the way across the river" to Cambridge, but the chance to try food and wine at a new-to-me restaurant was more than enough incentive to get me walking to my car and driving over to Inman Square to check out BISq!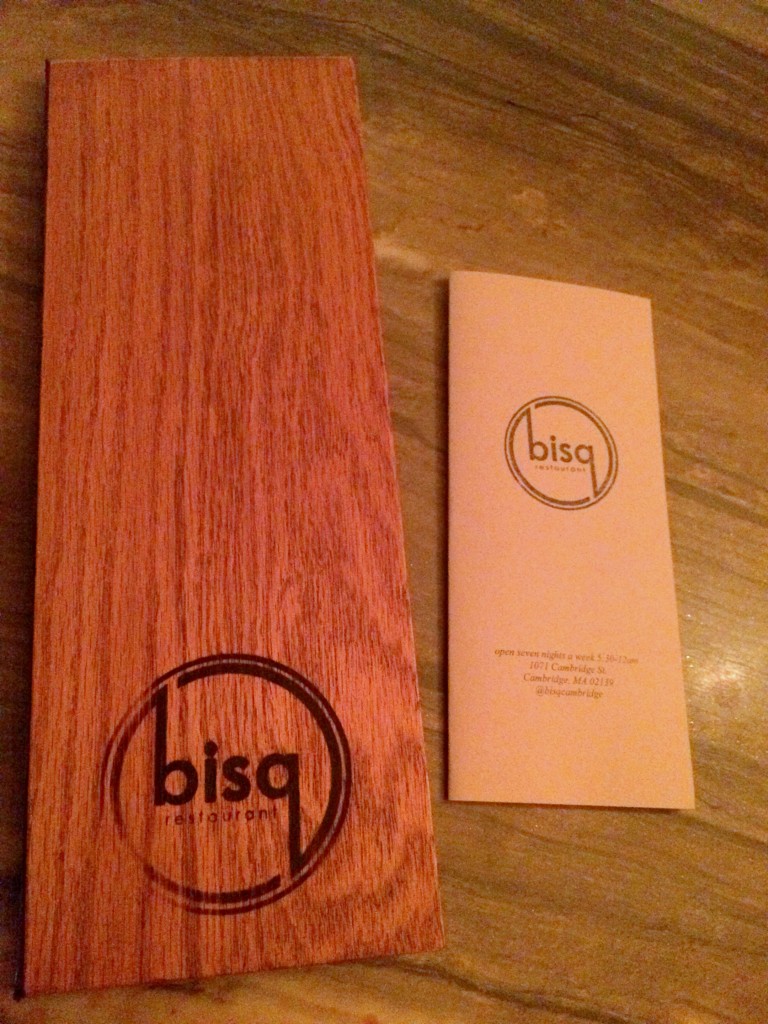 The restaurant appears to be small in terms of width, but it occupies a deep space that extends back and ends with a dim, cozy bar. My friend Kelly and I always opt to dine at the bar if we can, so we chose to sit there.
In retrospect dining room lighting would have been better for food photos, but the bar staff was extremely polite and helpful in explaining BISq's unique wine selection. I'm glad that we had them – and samples! – to help us make our choices. Kelly and I both started with a fantastic Jean Bourdy Cremant du Jura, and the pour (in a regular sized wine glass) did not disappoint. With dinner I decided on a Reuilly Pinot Gris, but we also tried tastes of some funky options that would intrigue any wine geek. This place has got some really cool stuff in stock!
Kelly and I both share a love for bread and Brussels sprouts. We figured a wine bar would have some good bread, but seeing baby cabbages WITH cornbread on the menu was an added bonus! We loved every bite of this dish and ordering it first was a no-brainer. I prefer my Brussels charred and crispy, yet really enjoyed these despite them being cooked on the lighter side.
We also started with a charcuterie board which included chicken liver mousse with whole grain mustard and crispy shallots, braised tomato and pork pate with whipped feta (an excellent touch), and morcilla topped with avocado and chimichurri sauce. That was our favorite, and according to our server, chef's favorite as well! The board came with delicious grilled bread, though not enough for the board's contents, but more was hastily brought out upon request. And to be fair, has anyone ever received a cheese or meat board with enough bread? The answer is likely no. There is also never enough bread, ever.
Despite the fact that Brussels sprouts were consumed, they weren't actually our favorite dish of the evening…though said favorite did of course involve bread. The honor goes to the "N'Awlins Barbecue Shrimp Toast", topped with gooey cheese and "sexy scallions" (quotes because those are the menu's words, not mine).  Despite only eating one piece each, this totally filled us up! But that didn't stop us from asking for extra bread, for sauce-soaking purposes. The toast remained crisp despite how melty the cheese was, and I could taste the shrimp's freshness. I would order this every time I returned to BISq!
We ordered a second dish at the same time as the toast so, despite being full, we still had more to eat – BISq's evening special! That would be fried green tomatoes atop a house-made gumbo, which was the stand-out on the plate, despite my love of all things fried.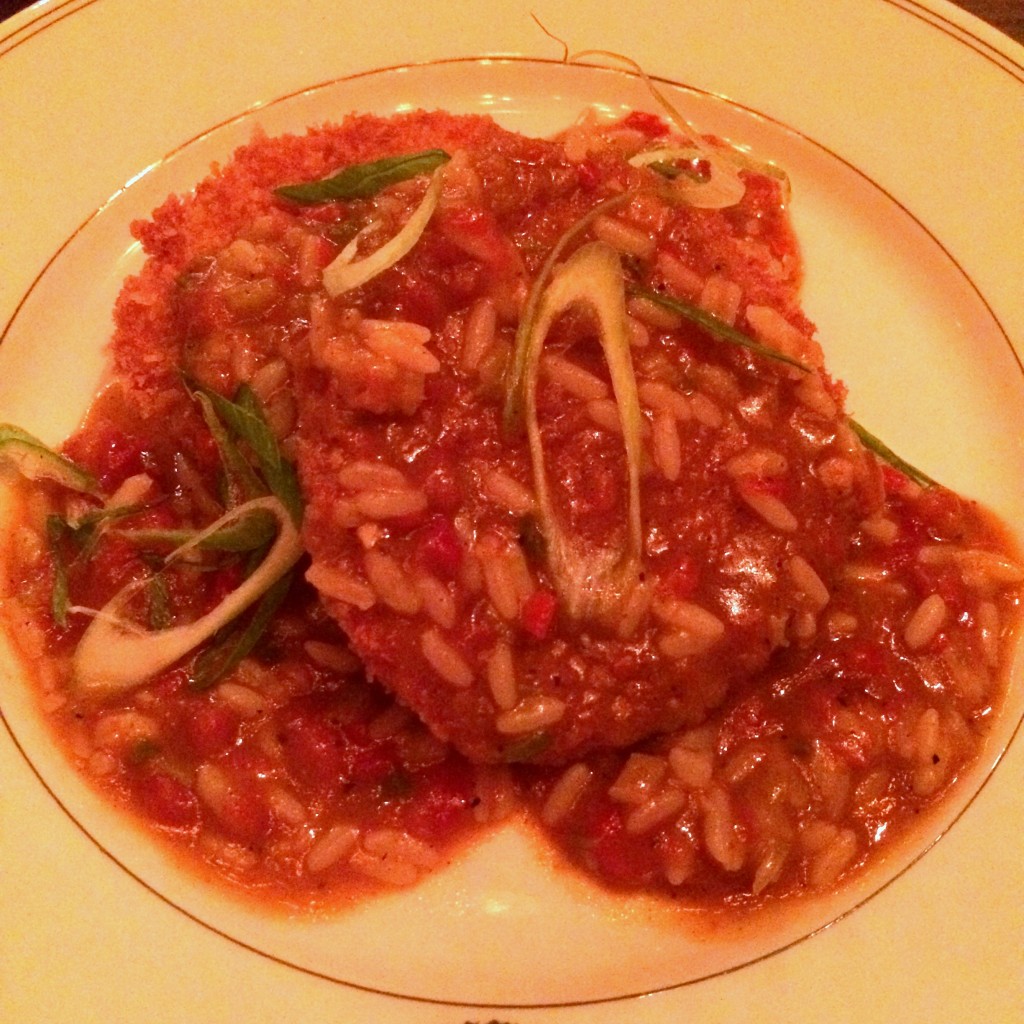 The staff was kind enough to send out a dessert "charcuterie" plate – one of the most unique desserts I have ever seen! Kelly and I both agreed that the chocolate "salami" (bottom right) was by far the best option on the board, loaded with nuts and rich chocolate and hints of sea salt. I also surprisingly liked the lemon bar (top left) even though I'm not much of a lemon dessert person; despite the bar's very yellow hue, the lemon flavor was just subtle enough.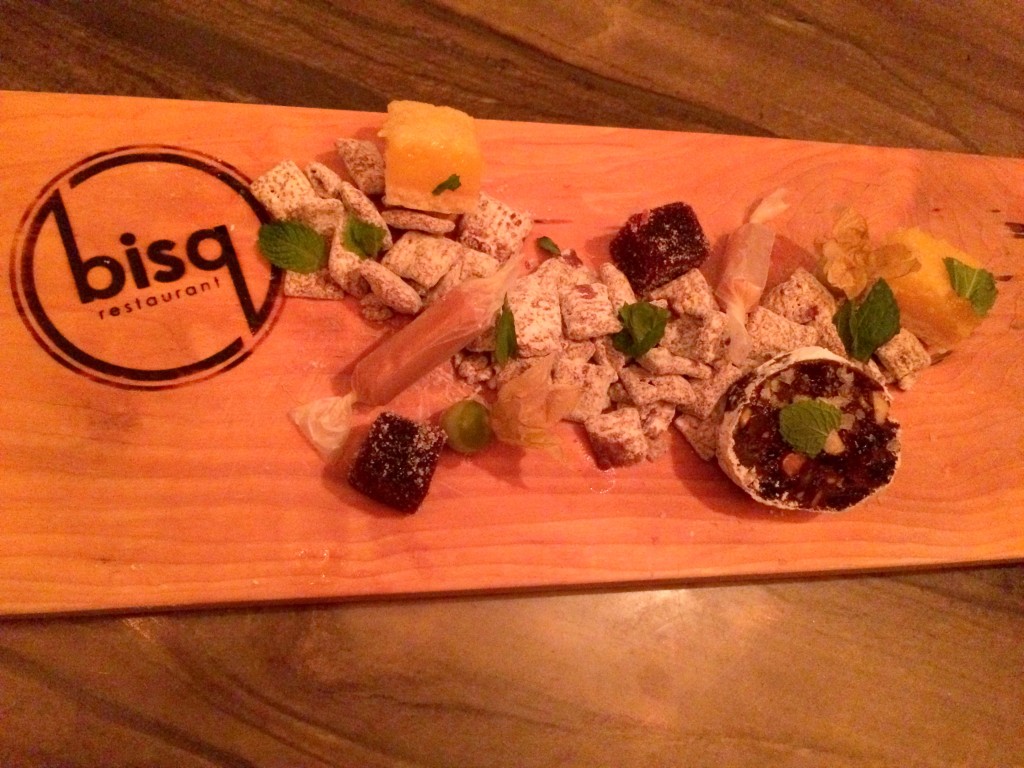 Kelly and I left very full and very pleased with our experience. I would definitely recommend BISq, particularly to anyone interested in unique wines. It also would make a really cute date spot! And was 100% worth the "trek" across the river.
I received a complimentary meal and drinks from BISq in exchange for an honest review. All opinions are my own.
Which of the dishes I sampled looks best to you?
Do you prefer a wine list with unique selections, or selections you can easily recognize?