Friday February Check-In
It's been a week since I shared my two goals for February – not drinking when I stay in and blow-drying my hair once a week – and I thought I'd check in on this Friday to share how that's going so far.
It's…kind of going!
Monday night went well. After an hour of spin class I really wanted to reward myself with a glass or five of wine, but cooking dinner was the perfect distraction. Once Jeff and I sat down and started eating, we totally forgot about having a drink. Oh, and Courtney's Spaghetti Pie turned out awesome, though more like a casserole since I didn't have a pie dish to use. I highly recommend this recipe!
It also helped that we had a fun event to look for on Tuesday night – a pop-up at the fabulous Envoy Hotel in Boston's Seaport, to raise money for the New England Center & Home for Veterans and promote the food and drink of Envoy's restaurant, Outlook Kitchen & Bar.
The Boston event scene is so fun because many of my friends attend the same events as me! I could show up solo with confidence that I'd bump into someone I know. But at this particular event, I knew in advance that Jeff, Kaitlin and her husband, and Matt would all be in attendance.
Everyone had a wonderful time. I had plenty of great snacks, but my favorite was the slider. I think I need to pay a visit to Outlook to try the burger! And hopefully this summer I can get up to the Envoy's fabulous roofdeck bar, Lookout.
On Wednesday Jeff and I were back in again, but this time he was cooking for me! As the work day went on, my dreams of red wine later in the evening intensified, and the thought of sitting on my couch and drinking water while someone made me dinner seemed sad. That's when I started negotiating. We had plans to go out to eat on Thursday night, and we'd normally drink, but why not drink while staying in on Wednesday and NOT drink on Thursday? The drinks at Thursday's dinner destination weren't necessarily worth it, plus we'd save money that day. It didn't take us long to decide that was our plan.
And I'm so glad we made that our plan! Sipping Earthshaker Wines L'Amis Barbaresco while dinner cooked in the oven was so very relaxing, and it paired perfectly with the Italian meal.
The next night we went on a double date with our friends Jenna and Jon to Zaftig's Deli in Brookline. I have lived in Boston for two years, quite close to this place, and yet last night was my first trip. But not the last! I didn't take any photos but sampled plenty from the menu and loved it all, minus the cantaloupe that came with my meal, but only because I don't believe in eating fruit after 4pm. I kind of slash definitely adopted the mentality that since I wasn't drinking, I could eat extra – not consuming calories from alcohol and all. Pretty silly of me but it happens. Once again I was very glad I didn't drink and woke up super well rested this morning. I even put on jeans!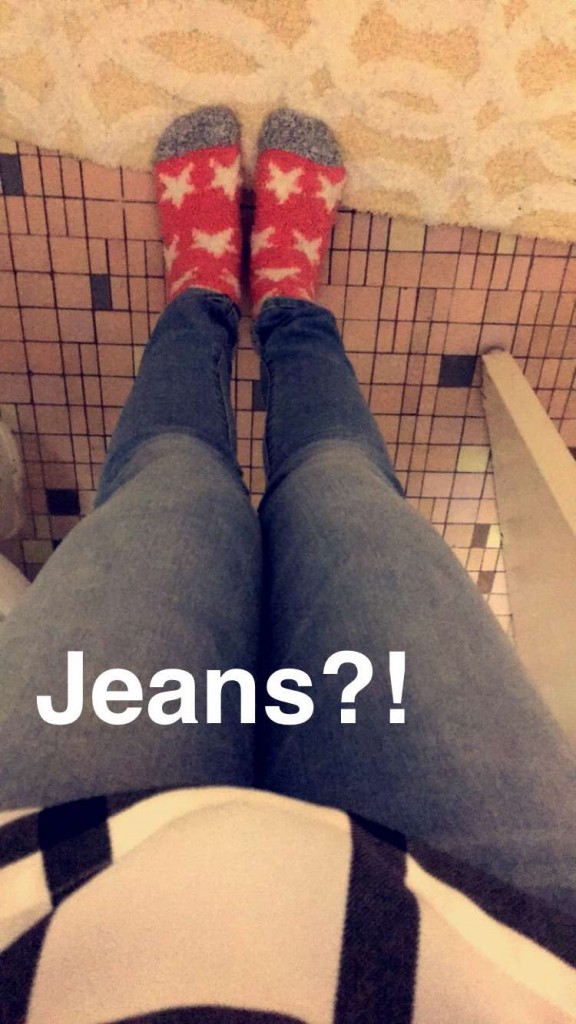 So in terms of not drinking while staying in, it's gone semi-well. I did drink one night at home, but traded that off with a night of not drinking while dining out. Tonight Jeff and I are grabbing a drink with Kaitlin and her Jeff, and then staying in to get takeout and watch a movie. A more low-key Friday than I usually go for, but I'm still quite excited!
Oh, and the blow drying – I haven't had a chance to get to that one. But I have plans tomorrow afternoon after my post-Cyc shower, so the blow drying will happen then. I swear!
How was your week? What are your Friday night plans?