4 Favorite Dinners (And What They Mean)
I have really enjoyed cooking dinners for Jeff and I to enjoy together at home, even before we moved in together (check out my Pinterest account to see almost every recipe I've ever made). This post first started as a sort of round-up of four favorite home-cooked meals that we both have loved. However, I realized after I picked out the four that they all had a common theme. They were all meals that I would not have made for myself at home (as-is, at least) a couple of years ago…or even a year ago.
I used to consider home-cooked meals my "chance" to have complete, 100% control over ingredients and cooking methods. That meant making everything as "clean" as possible (very little fats, if any…veggie based…carbs only if I had worked out that day). In my head, this off-set any meals that I had out or bites and drinks I enjoyed at events I attended. So when sharing these four favorite dinners, I'd also like to highlight what about each dish makes it a big step for me, and shows how far I have come in my search for letting go and just enjoying food.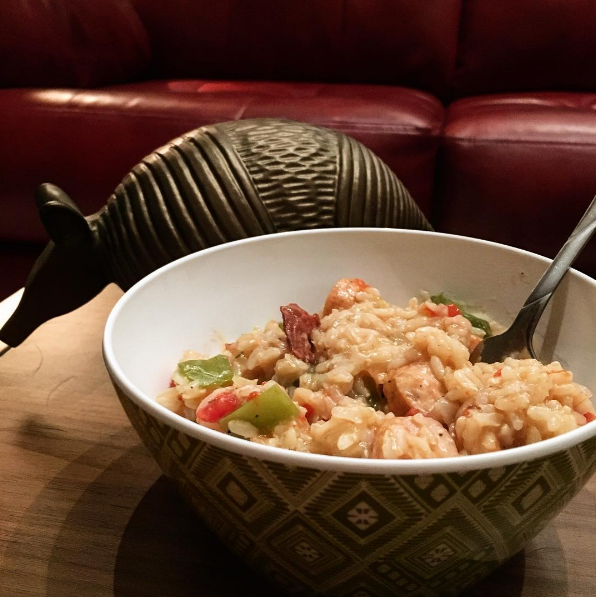 To this day I still am not a HUGE fan of rice, but Jeff loves it. He had mentioned jambalaya to me several times, so I decided to try my hand at making it using an easy recipe from Cook, Craft, Love. I considered doing the rice on the side and having none or only a little, but what good is a deconstructed jambalaya? So I just made it all in one pot, just like the recipe asked, and actually ended up really enjoying it…rice (carb) and all.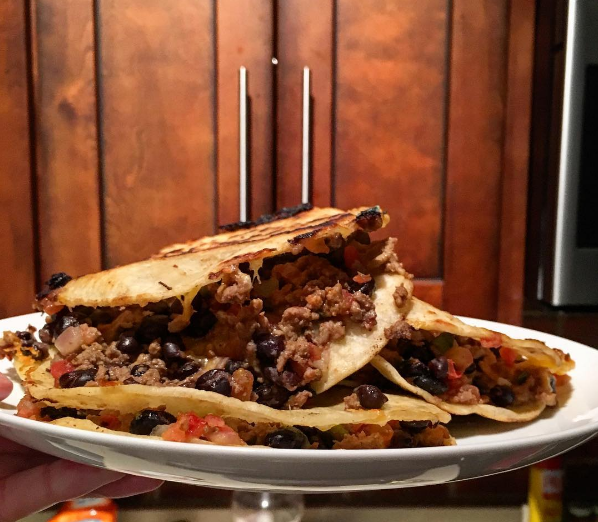 I purchased a large package of corn tortillas for a Mexican Casserole, and wanted to use the rest of them. I figured quesadillas were as good a way as any. Quesadillas are one of those dishes I'd typically only order out at a restaurant. But I made them for us using plenty of cheese, and topped with sour cream too. I remember when I used to order quesadillas with "light cheese" out at restaurants, and would end up being completely disappointed when they were dry and falling apart. A quesadilla is meant to be cheesy and enjoyable, not tough to get through.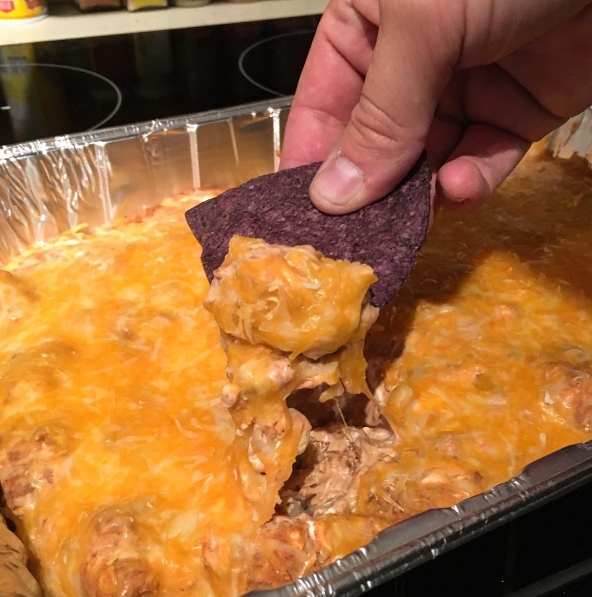 Have you ever heard of Texas Trash Dip? I hadn't, until one day while browsing Pinterest I stumbled across this recipe from An Affair from the Heart. This is one of those dishes typically served at a party to a crowd of people, not shared between a couple for dinner. But it sounded really good (cream cheese…sour cream…cheese…refried beans…) and I had no party plans coming up, so I decided to just make it for Jeff and I to have for dinner. And I had leftover tater tots in the fridge, so I threw those in too. I shouldn't really need to explain why the decision to make Tater Tot Texas Trash Dip for dinner was a big deal for me recovery-wise, so I'll just leave it at that.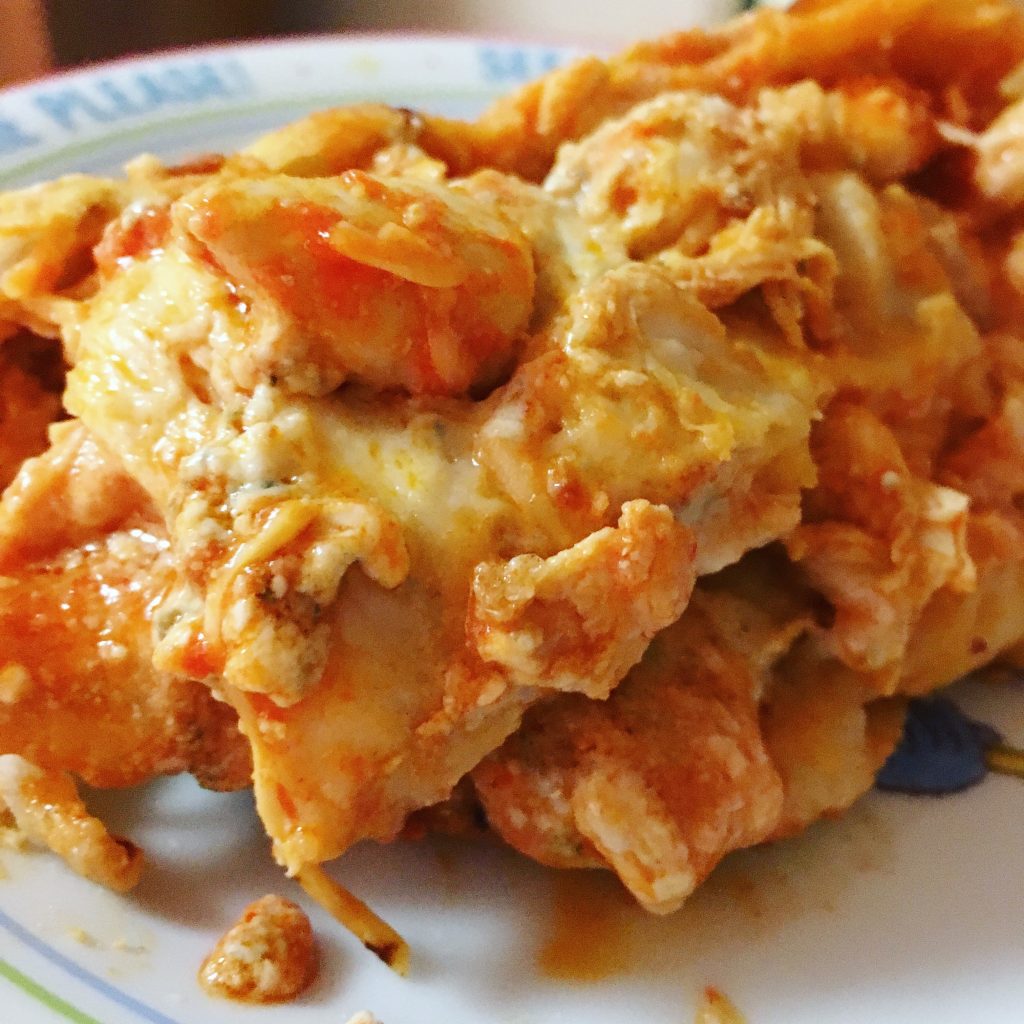 I had never made a calzone in my life, but Jeff and I often talked about calzones and how much we loved them, so I've tried my hand at making a few now. And all of them have been buffalo chicken calzones (because in my opinion, that calzone is king). Chicken smothered in cheese and dressing, encased in fluffy white dough? Not something I would have allowed myself to even order out in the past unless it was 2am and I was coming home from a party. But making calzones is actually really easy! And if a dinner is easy to make and delicious too, then why not enjoy it?
Cooking is seriously so much fun now that I don't restrict myself to perfectly clean recipes, or force myself to modify them until they barely resemble the originally intended meal. Sure, I still make easy modifications. I buy reduced fat shredded cheese, use ground turkey or chicken instead of beef, and try to add a veggie or two to the ingredients list when I can. But these swaps are almost effortless and do not degrade the recipe at all (unless you ask Jeff, who was skeptical when I threw spinach into a recent casserole I made). If a calzone calls for lots of cheese and dressing, I'll use it. A jambalaya is BASED on rice, so I'm not going to plan making it around separating the rice from the rest of the ingredients.
If anyone out there reading this is still really struggling with early stages of recovery, please know that it is SO worth it to keep pursuing and fighting. Life is so much easier now, and we all deserve that.
What are some of your favorite recipes to make at home?
Do you ever find yourself avoiding certain recipes, or over-modifying them, to cut back on calories or certain food groups?