My Taste of Nature bar giveaway ends tonight, and it has FIVE winners, so make sure you enter!
I missed the Marvelous In My Monday party this week but better late than never right? This week has been loads better than the last and I'm excited to link up with Clare today to share five marvelous things on Five Things Friday!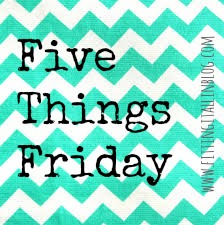 1. My workouts this week have been way better!
Thank goodness I was able to get back to my evening group fitness classes. Monday I took Danielle's amazing spin class, and I took another pretty good spin class on Tuesday evening. Wednesday night I invited Jeannie to join me for Total Body Conditioning and I'm so glad I did because I may have copped out and done a not-as-tough StepMill workout instead if I hadn't already committed to the class by inviting her! She was super curious since I am always talking about how tough the class is and yeah…it was tough. But we both felt great after and want to commit to going every week. I'm glad to have someone to motivate me to attend! Here's one of the moves we did:
2. I'm proud of how well I handled Wednesday's dinner out.