Check out yesterday's post to see a review, discount code, and GIVEAWAY for Ellovi Butter, a raw six-ingredient body butter created by my friend from high school!
I've done Five Things Friday (or some variation) posts in the past but this is the first one I've done since Clare started her link-up! And I have several different things to say today so it's very appropriate timing. I love these kinds of posts because I don't have to focus on one topic. I can just bop around and share different news/insights/etc. And what do you know…Clare featured one of my posts in her Five Things Friday today! Thank you Clare!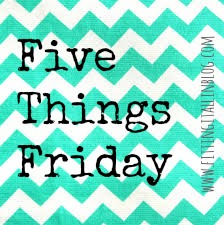 1. I got really full on Wednesday night. I felt anxious all day at work because not only did I do a morning (which means shorter than usual) workout, but I had dinner plans with Kat to eat in the Millwright's Tavern. The staff at Millwright's have a tendency to spoil me 😉 and I found myself future-tripping all day about whether or not that would happen. Well it did – Chef Tyler sent out some amazing appetizers after we'd ordered our (first) drinks and entrees.