Fashion Friday: Captain Jabbo Bracelet Giveaway!
Two thumbs up for Caitlin, folks. I so appreciate your encouraging comments and tweets about my plans yesterday to NOT do more of a workout than one Group Step class at the gym, and still go out to a restaurant afterward and enjoy myself. I have to admit, it was tough. I was tempted to skip a snack before the gym because I was trying to restrict and compensate for not working out "enough". But I didn't because I knew that I wanted to be strong, fight the ego, and be true to me! And truthfully, Caitlin knows she needs a snack before she works out.
The step class felt great, and though I still felt seeds of doubt about doing enough working out or being "hungry enough" for my dinner, my worries really did dissipate almost completely the moment I sat down. I had great food, drinks, and company. I did not overdo it on food/drinks whatsoever and even ditched my comfort zone and stayed out at the restaurant until 11pm! This morning when I woke up I felt a) exhausted and b) wonky in the stomach area. So I ditched the planned P90X Yoga session and did some basic stretching. That's IT for me today. I feel REALLY proud right now because though I've got some anxiety going on right now, I'm being kind to myself and I have faith in that and know I'm doing what's right!
Now let's get our Fashion Friday on!
What's a Captain Jabbo?! That's perhaps the question running through your mind as you read today's Fashion Friday title. And don't worry, I hadn't heard of them until very recently. Captain Jabbo is a small online retailer that sells sailor bracelets and other nautical-themed accessories. And in case you're wondering who the heck this Jabbo guy is, the website tells you his story.
Kim emailed me on behalf of Captain Jabbo to find out if I'd be interested in trying out a bracelet. I totally used to rock these bad boys during high school summers. I was down to do so again once I saw all the fun colors the bracelets came in! I gave her my size and color of choice, but what I received totally surpassed my expectations.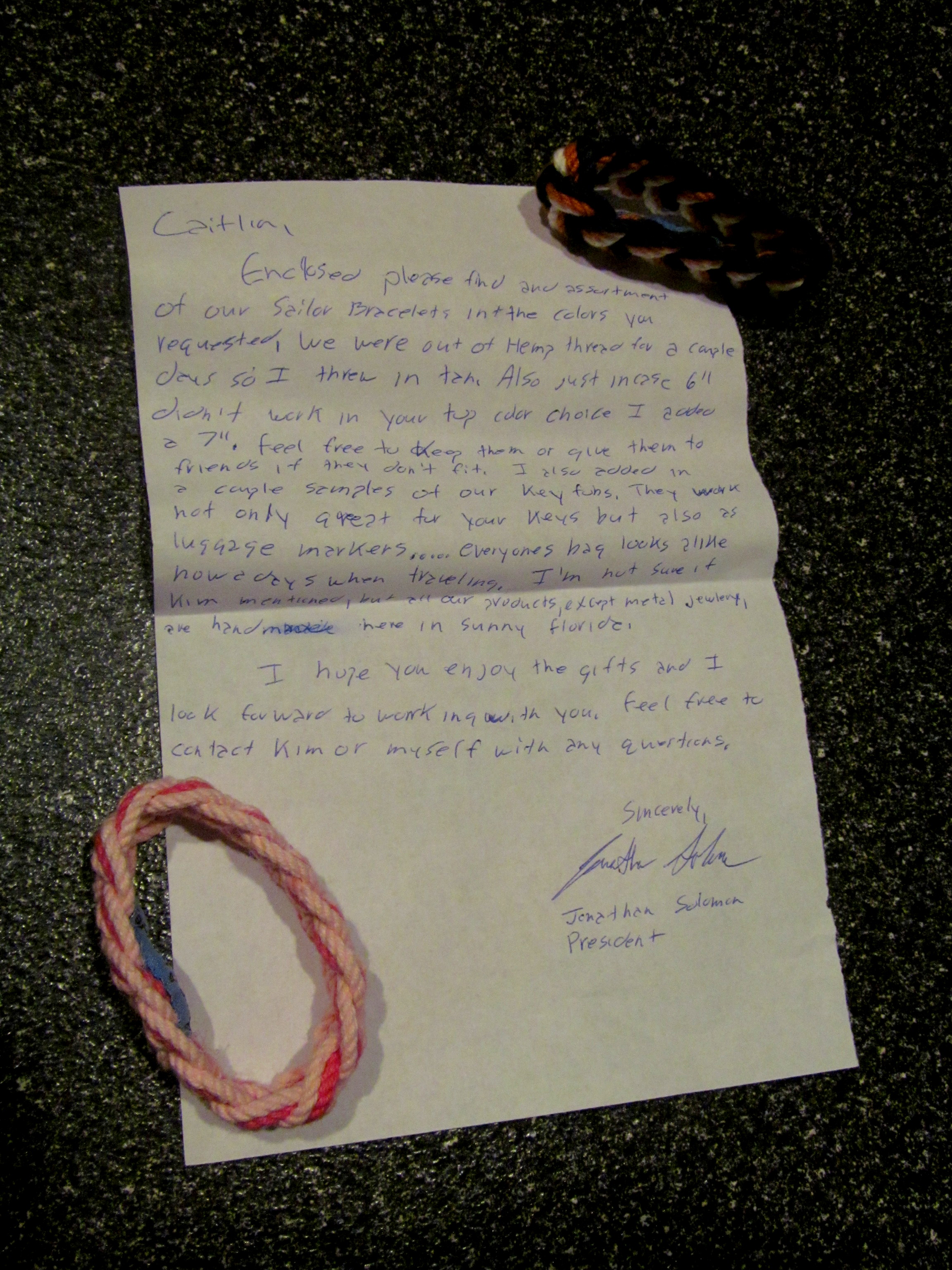 Captain Jabbo's president (Captain? ha) himself Jonathan Soloman wrote me a really kind, long note and included several colors for me to choose from as well as a couple extra bracelets in a size bigger in case the size I picked out was too small. Luckily it fit, but I did set aside some extras to give to my mom and sister!
These bracelets totally made me think of my pal and fellow New England-er Sarah. Somehow I feel she'd be all over these…
Jonathan also sent me two adorable Monkey Fist Keyfobs .(a monkey fist is a type of knot tied at the end of a rope). How'd he know I love pink?! Well, maybe because the above pink bracelet was my first color choice. However he knew, the pink keyfob sure looks adorable with my pink Reebok sneaker keychain!
It's safe to say that I'm in love with this Gold Sailor Knot Ring I found on the website!
I have very small wrists and the 6″ size bracelet fits mine perfectly, but does take some effort to get over my hand. Don't worry, it's easier to take off than put on! The 7″ bracelet might work for me too but I like these bracelets to have a tighter fit so they don't slide down my hands.
I even rocked the hemp bracelet during my spin class on Wednesday night!
And I've saved the best for last…a portion of all proceeds from the current month's sales will benefit The Children's Miracle Network hospitals! Each month, Captain Jabbo switches up the charity the company donates to. How cool is that?
Promo Code!
Captain Jabbo is offering my readers a 20% off promo code to use on the website! Just enter "CAITPLUSATE" at checkout to get 20% off your order total! Valid until 2/17/13.
Giveaway!
Captain Jabbo also wants to give three Cait Plus Ate readers their own sailor bracelets! I will be choosing three winners and each will receive a sailor bracelet in the color and size of choice (based on color/size availability). Entries close this Monday 1/21 at 11:59PM EST – continental US entries only please. Here's how to enter, and be sure to comment for each method or multiple entries don't count:
Visit the Captain Jabbo site and tell me which sailor bracelet color you'd want most! (mandatory)
Follow @CaptainJabbo on Twitter and comment here saying you did.
Follow @CaitPlusAte on Twitter and comment here saying you did.
Tweet "I entered to win a @CaptainJabbo bracelet from @CaitPlusAte! http://caitplusate.com/?p=7177" and comment here with a link to the tweet.
Visit Captain Jabbo on Pinterest and repin one of their pins. Comment here with the link to the repin.
General Giveaway Rules: No Purchase Necessary. The email addresses that are collected for this giveaway will only be used for the purpose of contacting the winner and will never be given out to anyone nor sold. The winner will be randomly chosen and contacted via email. The winner will have 72 hours to respond. Please make sure you check your junk mail folder. In the event that the desired color and/or size is unavailable, winner will be asked to choose a different color in his or her size.
Good luck you guys! Let me know if you have any questions for me, or you can ask Captain Jabbo yourself on Facebook! I received keyfobs and bracelets free of charge from Captain Jabbo, but this is not a sponsored post. All opinions and thoughts on the brand/products are my own. 🙂