Fashion Friday: Sunglasses Shop Giveaway!
Sorry for being MIA yesterday, guys. Work was moi busy. But I did post a cool Tribesports core workout graphic on the blog's Facebook page, so make sure you head over and check that out. Also, the Captain Jabbo winners may have been chosen, but remember the promo code is still good until 2/17!
I'm a spoiled blogger, I'll admit it. In today's post you'll see my second pair of complimentary Oakley shades – yes, second. I received a pair of active wear sunglasses at the Fitness Magazine Meet & Tweet last May.
I have always been a lover of CHEAP sunglasses. I typically spend no more than $10 on a pair and have owned (and still do own) many shapes and sizes of shades.
Jess of Sunglasses Shop contacted me to find out if I wanted to review their designer sunglasses and provide a giveaway for my readers. Honestly, the last thing I need is more sunglasses but I am a fashion addict and jumped at the chance to get a new pair of shades! Plus, I'm SO excited that Jess wants to do this giveaway, because the idea of one of my readers winning a free pair of Oakley sunglasses makes me weak in the knees with excitement!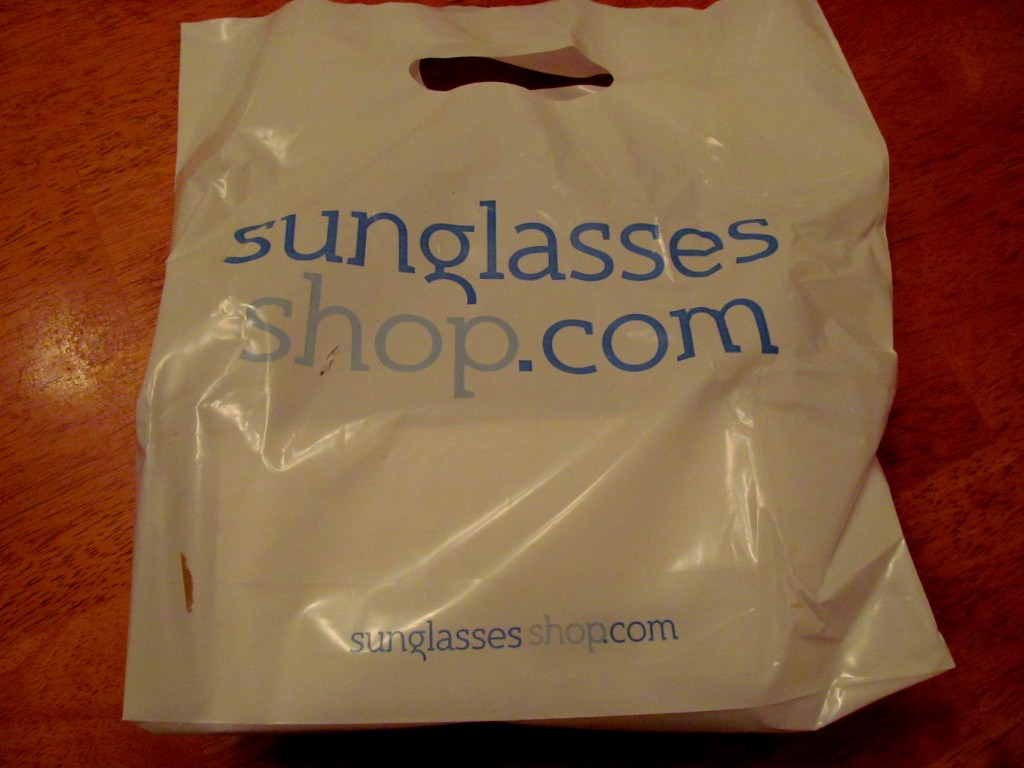 I pulled a Copycat Caitlin move and picked out the same Oakley Women Twentysix.2 Sunglasses I'd seen Heather review. They looked so cute on her and I love a basic pair of shades that matches a lot of outfits!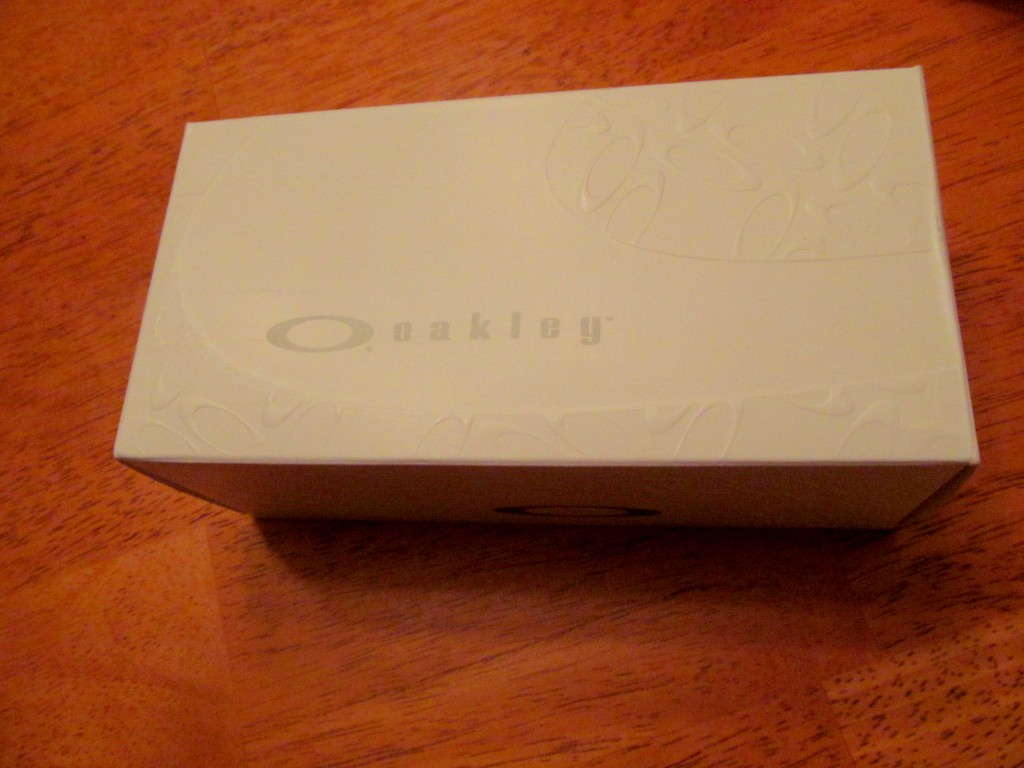 Sometimes I hesitate to buy designer brands from a company like this because I don't know if I'll get that same "I-own-designer" feeling that I might get if I purchased from the brand's store itself. I know, I know, labels are lame. But come on, you know you feel fancy-shmancy when wearing a designer brand whether you want to admit it or not. I like how the sunglasses came in the same Oakley box and classy white case as the glasses I got at the Fitness event from the Oakley ladies themselves. Definitely made me feel very Oakley, which always makes me think of Sarah!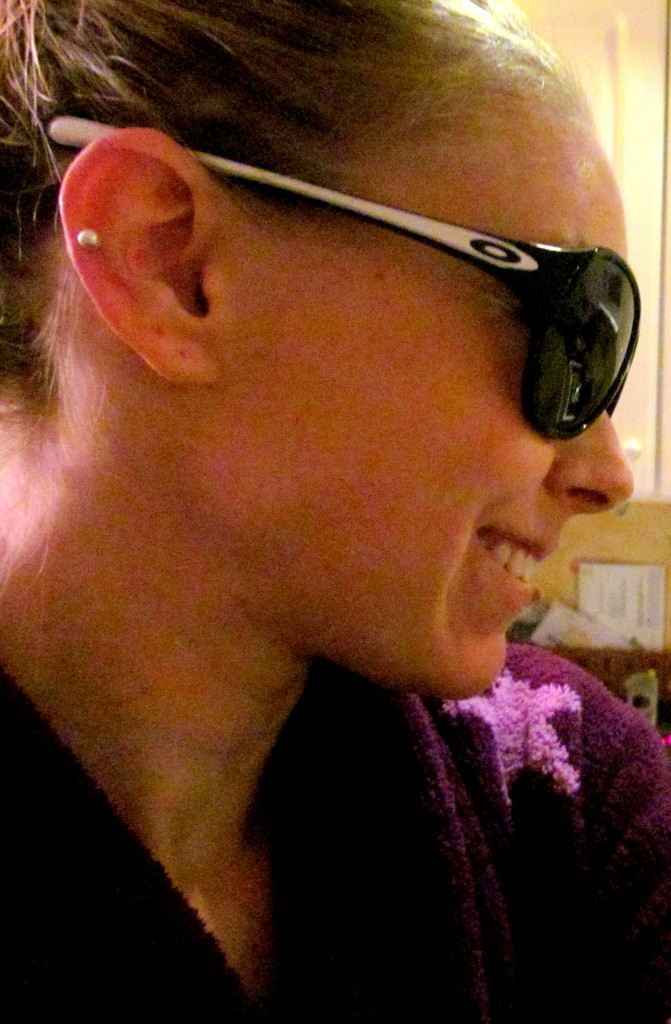 I tried on the glasses as soon as I opened them (ahem, while wearing my fuzzy robe, clearly) and immediately was drawn to the white on the sides. I love that subtle touch!
Of course it isn't all prancing around in my bathrobe in these glasses. I've been wearing them each morning on the way to work (winter sun sure is strong!) and they make me feel quite badass.
I received exactly the product I was expecting in perfect packaging, and in a timely manner. Sunglasses Shop was very responsive and friendly. I've also heard nothing but good reviews from Heather and other bloggers!
Giveaway
Get excited you guys, because Sunglasses Shop is giving one lucky Cait Plus Ate reader a pair of Oakley sunglasses (up to $165 value) FREE! The giveaway will remain open until this Monday night (1/28/13) at 11:59PM EST and entering is easy – just make sure you leave a separate comment for each of these methods for multiple entries to count:
Check out the Oakley sunglasses that Sunglasses Shop offers and comment here telling me which pair you'd want to win most! (mandatory)
Follow @SunglassShop on Twitter and comment saying you did.
Follow @CaitPlusAte on Twitter and comment saying you did.
Tweet "I entered to win Oakley @SunglassShop shades from @CaitPlusAte! http://caitplusate.com/?p=7301" and comment here with the link to the tweet.
You can also like Sunglasses Shop on Facebook (though this is not a way to enter).
General Giveaway Rules: Continental US only. No Purchase Necessary. The email addresses that are collected for this giveaway will only be used for the purpose of contacting the winner and will never be given out to anyone nor sold. The winner will be randomly chosen and contacted via email. The winner will have 72 hours to respond. Please make sure you check your junk mail folder. In the event that the desired pair of sunglasses is unavailable, winner will be asked to choose a different pair.
I received these Oakley sunglasses free of charge from Sunglasses Shop. This is not a compensated post. My opinions are my own.