Mohegan Sun WineFest 2013
Remember friends, the giveaway for a free pair of Oakley sunglasses from Sunglasses Shop ends tonight at 11:59 PM EST! Be sure to enter this fabulous contest!
Last year I went to Mohegan Sun Casino's annual Sun WineFest and had so much fun, I needed three posts to share my experience! This year I am going to do it all in one post, but that's not because I had less fun. Au contraire, I'd say this year was MORE fun because I reunited with old friends I'd met during and since last year's event, met a blend I LOVE in person, and got to share the experience with my close friend (and namer of this blog), Rachel.
My love for Mohegan Sun is no secret. I visit as often as I can whether I am there as their guest or just ready to have a great time with friends and family. I love entering the casino and feeling like I'm in another world – yes I know they do that on purpose. But I only lost $20 on the craps table this night (unfortunately my lucky streak has ended) because I spent most of my time in the ballroom of the convention center at Saturday's Grand Tasting!
I checked in at the Media booth and was pleasantly surprised to receive a swag bag! Contents included a fun beer glass (which I will probably drink water out of like my others), Aria EVOO, some flavored beef jerkies, a ginormous sausage, beer bottle openers, and a Long Trail bumper sticker.
I also received a voucher for a free WineFest celebrity chef cookbook from Spin Street, which is located inside the casino and also had a WineFest booth. I of course chose Jasper White's The Summer Shack Cookbook: The Complete Guide to Shore Food. Jasper is the man!
The tasting ran from 12-5pm (11am-5pm for the media) but Rachel and I arrived at 2:30pm. Even I don't have the stamina for 5-6 hours of wine tasting. We grabbed our glasses (I kept losing track of mine and must've used a total of 3 or 4 throughout the day, ha) and got to work.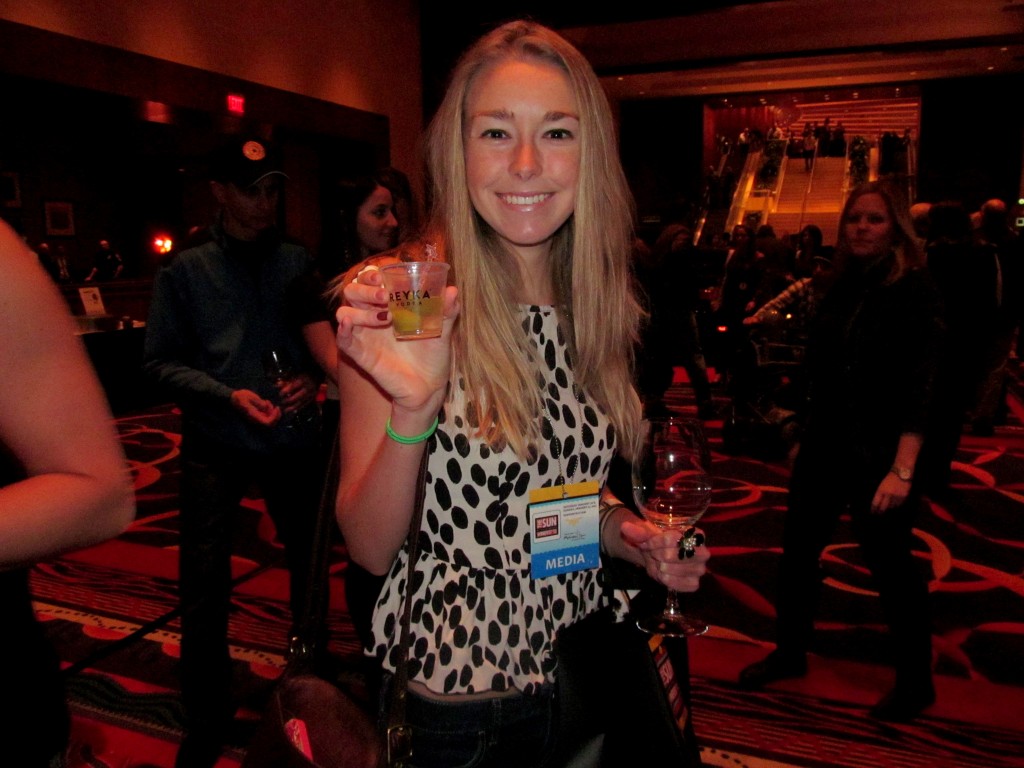 How CUTE is that dirty martini?! Surprisingly to many I'm not a big fan of this classic cocktail, but this small portion was perfect. The Icelandic vodka, Reyka, was new to me but pretty incredible and so smooth. I have to admit I gobbled those olives down in .2 seconds.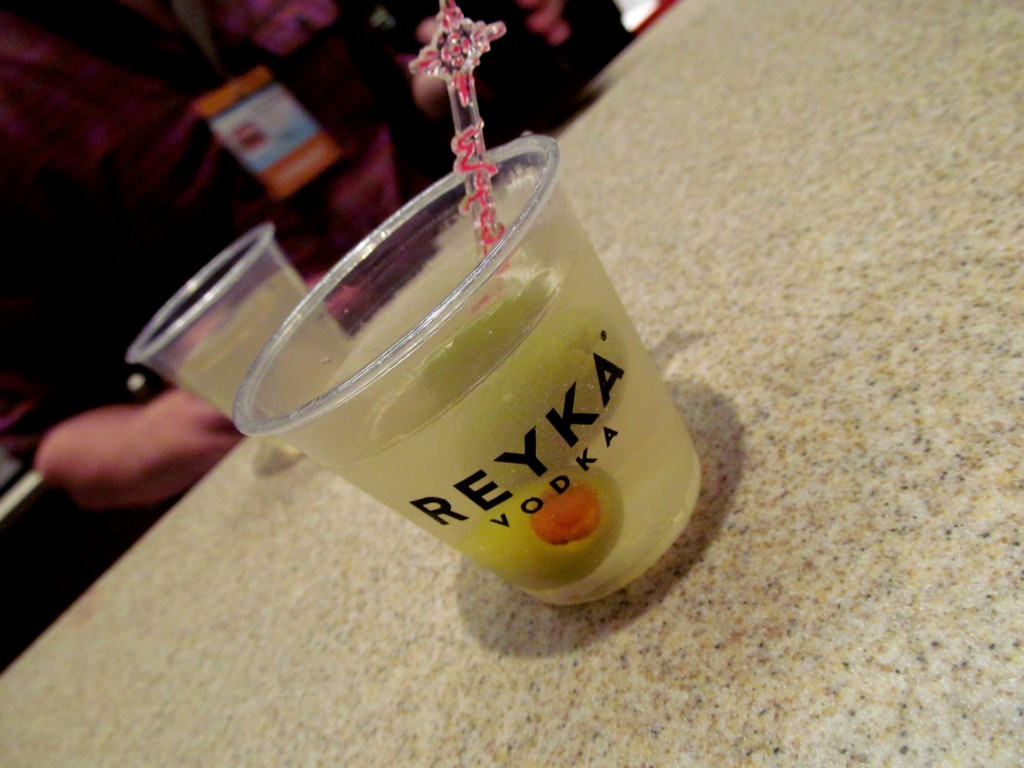 My strategy (yes I had a strategy) was to hit the hard liquor first, then wine, and beer if we ended up with time (we didn't). This Hendrick's gin guy was pretty spiffy and made a fabulous little cucumber cocktail.
You may be shocked to learn that I took the next photo before I'd consumed a drop of alcohol. You know me and my cheesy pics.
I was super psyched to see one of my favorite local companies, Ripe, at the Jim Beam booth. But I took my whiskey (Jim Beam Black) straight, of course.
WineFest is huge and I went in with zero expectations that I'd be able to try everything, or even a good fraction of everything. After all I was driving! So I made sure during each stop to try and get out of my comfort zone and sample wines I wouldn't normally order at restaurants.
I found my love, Relax Riesling, and was super pumped! That booth also had a bottled sangria I actually enjoyed – Funf Sangria.
I stopped by the Sassy Bitch Wines booth, where I hoped to run into Signature David, since I'd met him at the same booth last year! He wasn't there but those who were remembered me and my mention of them on this blog after last year's WineFest, which was pretty cool!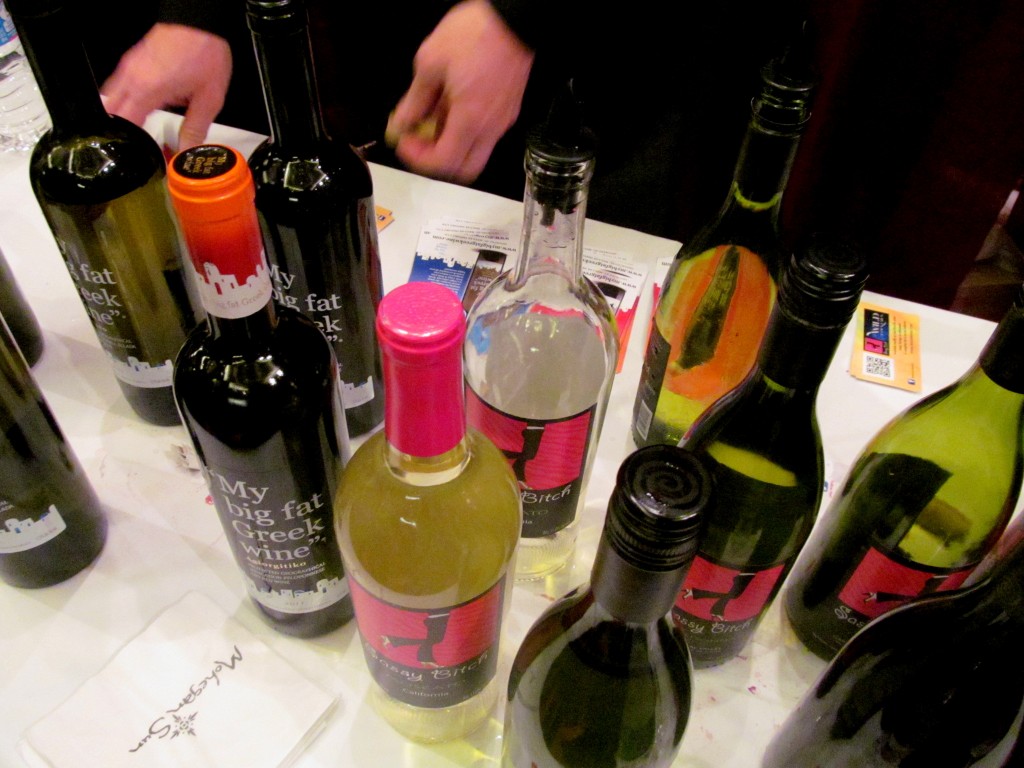 Of course one of my favorite stops both last year and this year was the dark chocolate and red wine tasting by Brix Chocolate. Not surprisingly, the darkest chocolate was paired with the most full-bodied, robust red and that pairing was my favorite.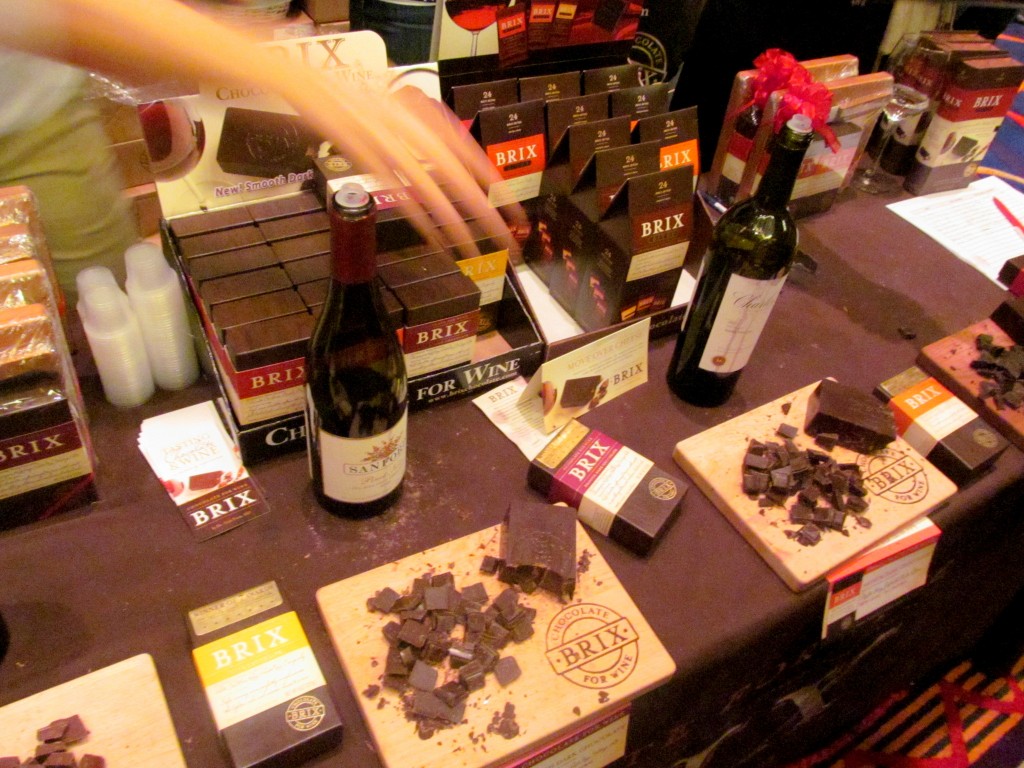 What would a wine tasting be without cheese?! Drinking wine ignites a cheese craving in me like no other. Rachel and I almost purchased some from iGourmet.com.
We did end up making purchases at the Wicked Natural Store booth. I sampled most of the below offerings (with Pretzel Crisps – win!) and Rachel and I each bought a jar of Eggplant Caponata and Black Bean Sweet Potato Dip (which also includes butternut squash). Yup, STELLAR salad beast ingredients!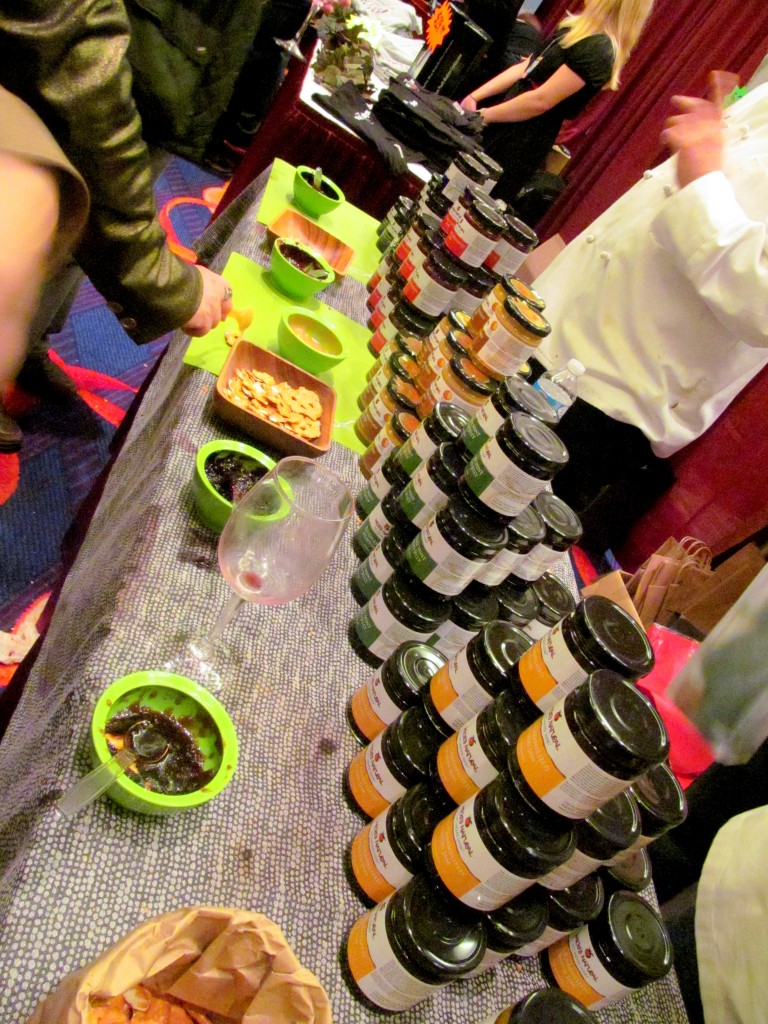 I met a VERY special someone at this year's WineFest – but I already knew her. It's been a long time coming but finally I was able to meet Kaitlin of For Love of Carrots! This girl is so gorgeous and sweet. I met her super nice boyfriend Jeff too (already made famous by her blog, ha!) and we met up off and on throughout the evening. Love you, girl!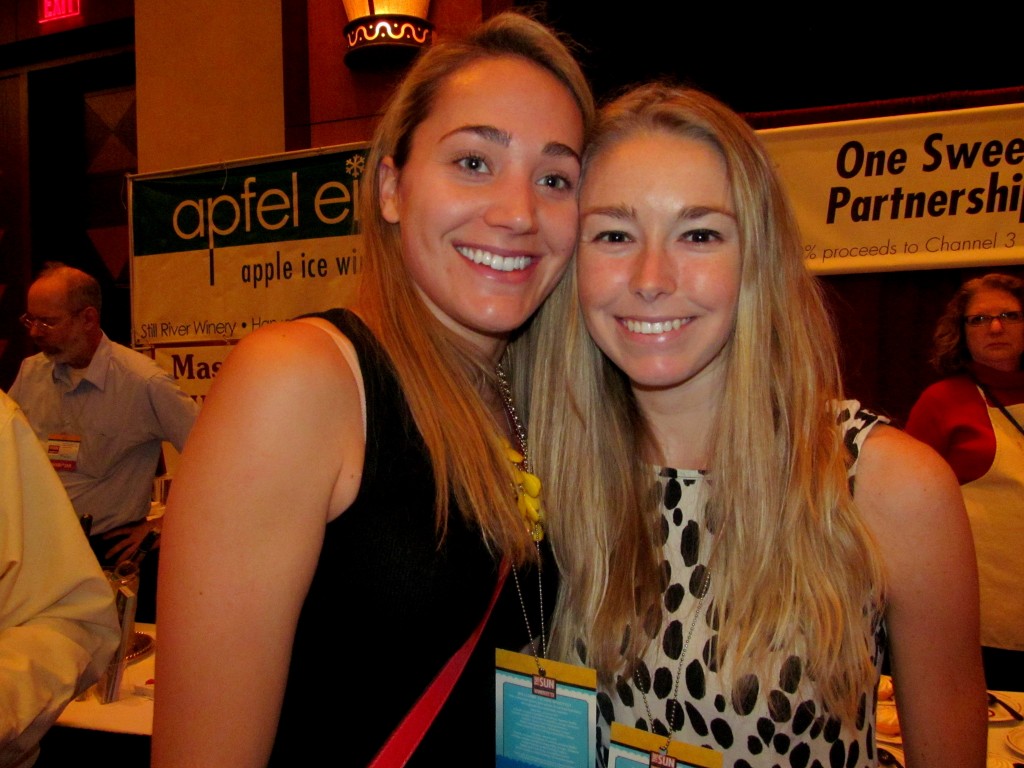 Oh, guess who else I met? GUY FIERI!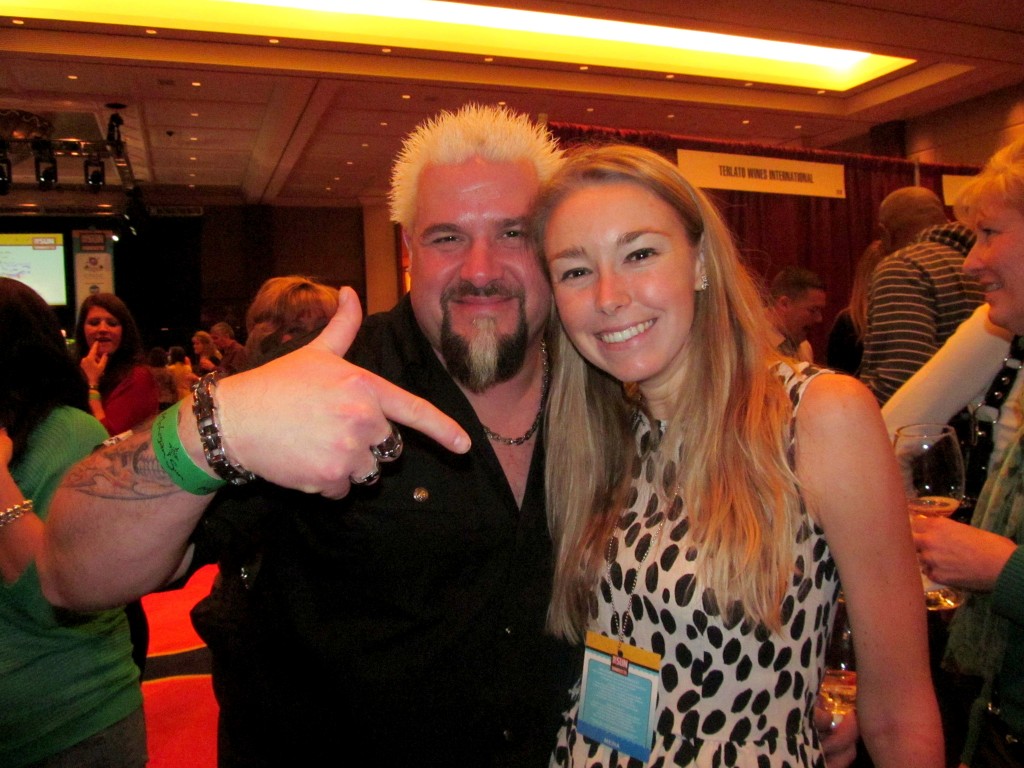 Okay, not really. In my wine-buzzed state I had the gall to go up to this guy and ask him (in a half-joking manner) if he was the real deal. He wasn't, and looked like he'd been asked that already 80 zillion times. He also said that he's had this Guy Fieri "look" since before Guy was even famous! Not sure how true that is but I felt bad because once I started a ruckus and asked him for a photo, a bunch of other people came over and asked him for the same. I think they thought he really WAS Guy!
I also saw my favorite Boston drinking buddy, Ken of Pete & Gerry's Organic Eggs! As usual he was a total gem and I will be expanding upon my stop at that booth later in the week, with a special treat for you guys. Hint: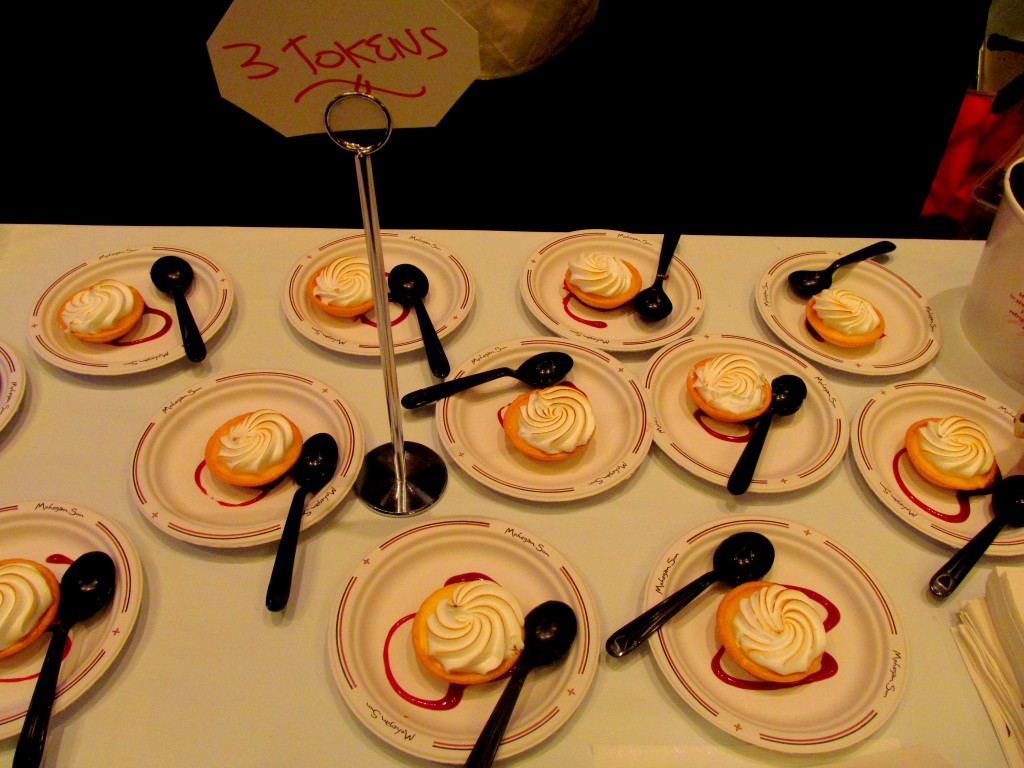 Gotta give Mohegan props as well for providing free hydration for WineFest visitors.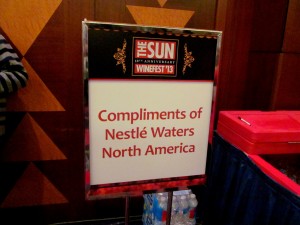 Along with entry into the Grand Tasting, Rachel and I received some food tokens to use at the various restaurant booths set up around the perimeter of the ballroom. Alas, I did not do a very good job documenting everything we tried because we hit up the booths right as the tasting was closing down and were in a mad rush!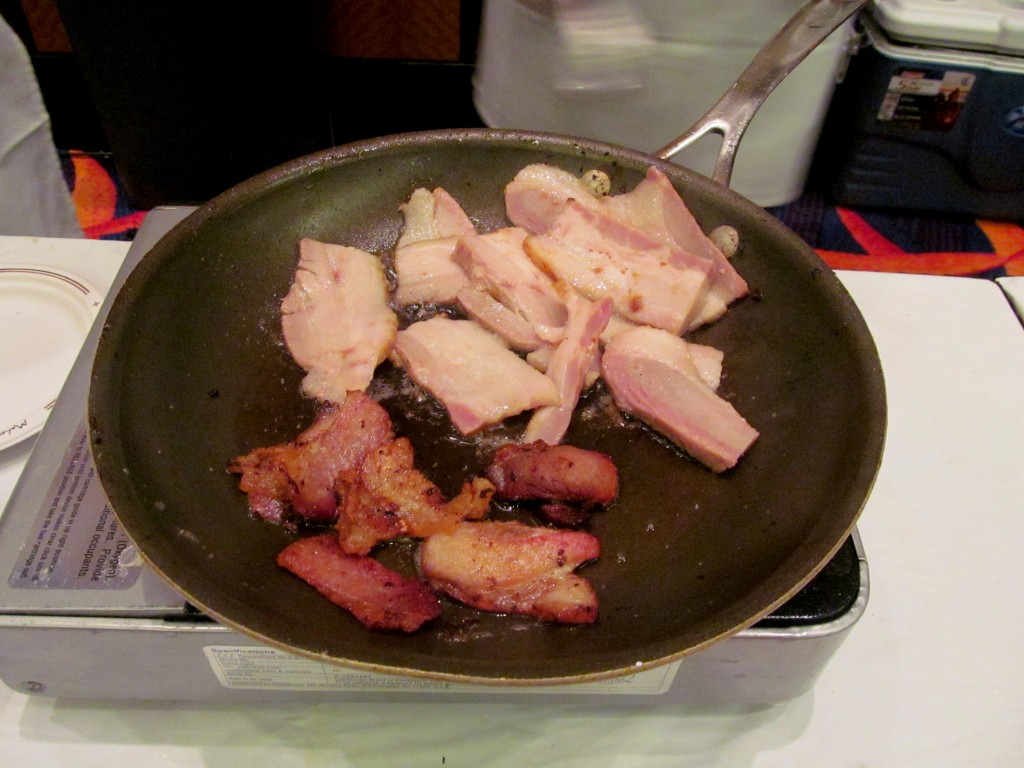 Esca Restaurant & Wine Bar of Middletown, CT (you'll actually hear another mention of them tomorrow) was cooking up the above fantastic looking pork and just like last year, the chefs were kind enough to offer me a couple of samples free of food-token-charge. The below pork slider came topped with an apple cinnamon compote. It was INCREDIBLE.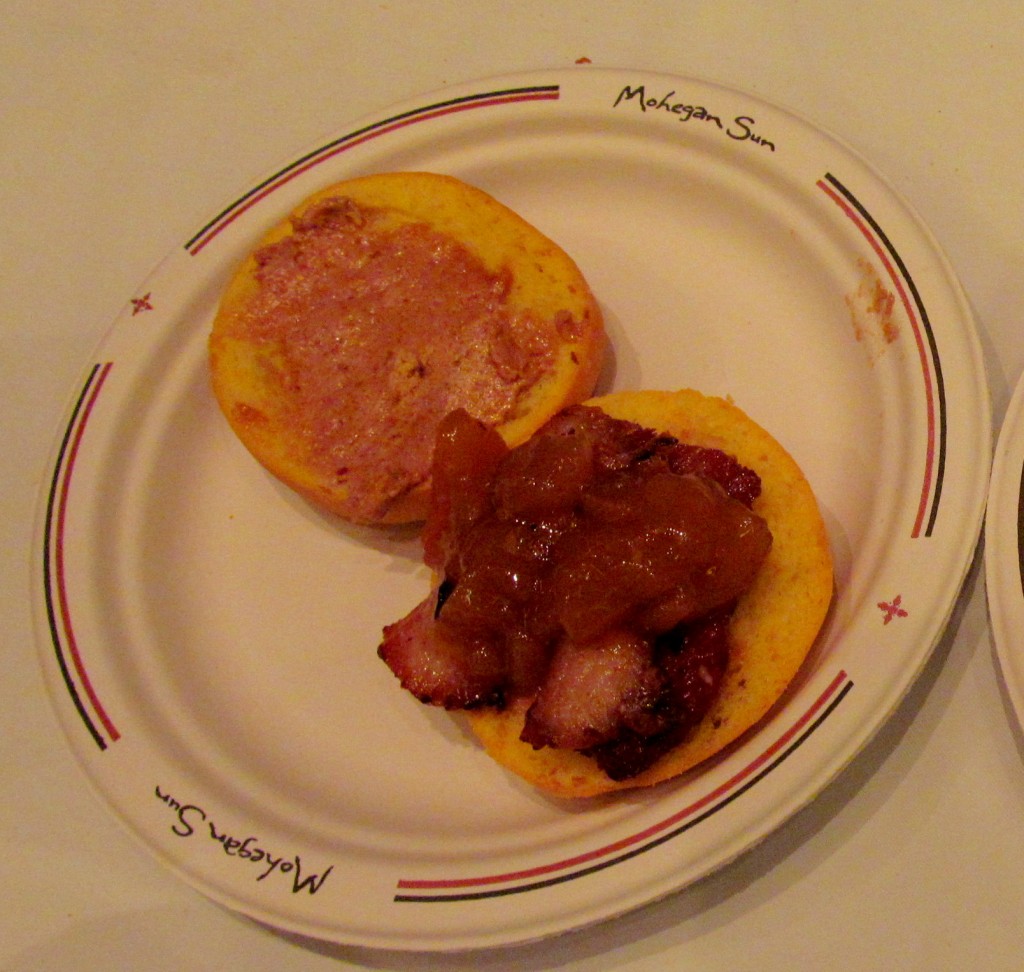 We also sampled their hazelnut souffle with homemade whipped cream. Mmmm. I'm a bad food blogger and have no more food pictures! But I can recommend visiting each of the following places and getting some variation of these dishes:
Cuvee's meatballs
Vivo of Marriott Downtown's veal and mashed potatoes
After the Grand Tasting closed down, I lost my $20 at craps and Rachel and I headed home. Once settled in I emptied out my swag bag and took the obligatory photo of my loot.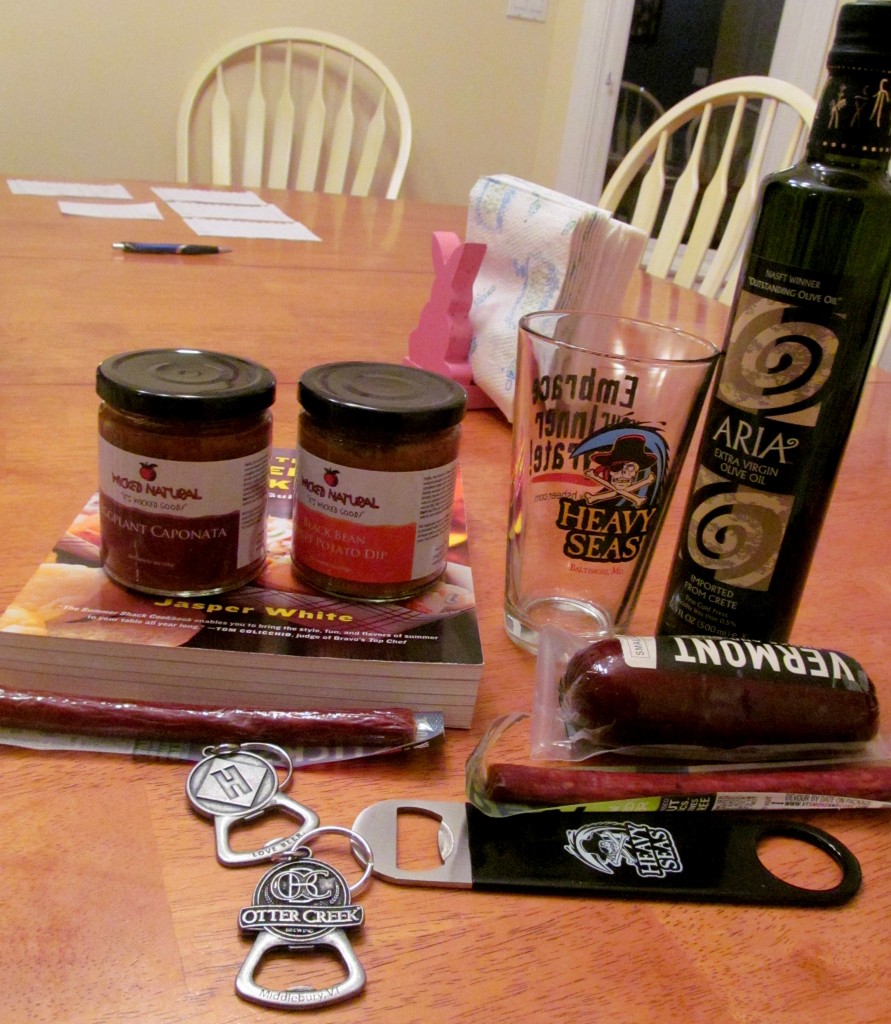 What an amazing time we had! Thank you to Mohegan Sun for having Rachel and I as guests…and for putting on such a wonderful tasting again. I have to admit that if I had not been a guest of Mohegan, I would have had to think about whether or not I wanted to purchase a ticket to Saturday's tasting, which would have cost $80 (a Sunday tasting ticket is $70, interestingly enough). If I had done so, I definitely would have arrived at noon to make sure I didn't miss out on trying anything I wanted to sample, though I would have had to pace myself for sure.
Even though I got in for free, I can truly say this is the best tasting event I have ever attended. The only thing that would stop me from buying a ticket is the price itself – I'm a cheapo. Just being honest! But for those who can afford it, or even are just a little bit not sure, I would say a ticket to the Sun WineFest Grand Tasting is definitely worth the money. The sheer number of wines there is truly mind-boggling! I have been to other tastings before that are cheaper, but only offer about 25% of the amount of samples that WineFest does. I cannot think of a better birthday or Christmas gift for a wine-lover than a ticket to Sun WineFest.
Have you ever been to a huge wine tasting event?
What was your favorite part of this recap?
I received guest passes and food tokens for the Sun WineFest free of charge from Mohegan Sun. This is not a sponsored post, and all opinions of the event and products featured are my own.
PS. Krysten of The Misadventures of a Darwinian Fail is having heart surgery on 2/1. Pavement Runner put together an amazing tribute for her (can you spot my contribution?!) so check it out and leave your well wishes in the comments or tweet using #WeHeartYouKrysten!