Caitlin and Kaitlin Take Gbury
I'm glad you all are just as excited about BAMR Bands as I am (in fact mine makes another appearance in this post – can you spot it?) and I'm happy to announce the winners of my giveaway!
Congrats Amanda, Allison, and Celeste! I will be contacting you about your prizes!
When I first met Kaitlin of For Love of Carrots in person at the Mohegan Sun WineFest a few weeks ago, we hugged so hard that her boyfriend Jeff was sure it wasn't our first time meeting. But it was, and that's one of the most beautiful things about blogging – the way it brings people together. Right after our too-short time together at Mohegan Sun, Kaitlin and I made plans for her to come stay with me for a night (and yes, we've already got a weekend set up for me to come visit her in a few weeks).
Saturday
We started her visit with a trip to a store I knew she'd adore, The Silver Dahlia. We split the above adorable package of Vera Bradley hair elastics, and I also walked out with my first ever Alex and Ani bracelets. It was tough to decide (and resist buying more than two), but I had a Christmas gift card for only $25 so I stuck with gold UConn and Newport bracelets!
Next up was a very special yoga class at River Rock Yoga in Old Wethersfield – Valentine Partner Yoga with Sandy and Sharon! For just $35 (together), Kaitlin and I got to learn lots of fun partner poses that felt REALLY good. The studio is gorgeous and the instructors had set up a really cute centerpiece complete with a candle and chocolate!
Surprisingly enough we were the only non-couple who'd signed up for the class! I expected to see other Fitfluential friend pairings, but we had just as much fun as the couples. Lots of laughter, fabulous stretching, and an EXTREMELY long shavasana (too long for our tastes, but in our quest to learn to just sit still every once in awhile, I'm sure we benefited).
I'm definitely interested in returning to River Rock Yoga for some of their other unique classes and workshops, like $7 Hula-Hooping classes (first Monday of the month), a Yoga Tune-Up Hip Bliss Workshop on 3/24 (just $20 before 3/16), and a musical meditation practice on 3/30 with the Cuckoo Kirtan Wallahs (a $10-$20 donation is suggsted). If money is an issue, the studio even offers complimentary community yoga the third Saturday of the month from 3-4pm. Be sure to follow them on Facebook for updates on these special classes and events! That's how I found out about the Valentine's Partner Yoga.
We changed at the studio (in a really nice, large bathroom/changing area) and headed to Glastonbury for a Cait-Plus-Ate style night out. First stop was OBVIOUSLY Rooftop120! I've brought several blends there before because I know my favorite bartender Andres will never fail to impress! In fact, I had been at Rooftop the night before (Friday) for a birthday/VDay dinner date with my fellow single lady Kim (but that's a post for another time).
Kaitlin selected one of my mom's faves, the Skinny Glastonbury Girl (Skinnygirl Cucumber Vodka, white cran, lime) while I went with a custom Andres creation. I was sure to pick a liquor base I'd never tried before: Hanger One Mandarin Blossom Vodka. I noticed he used muddled orange and St-Germain, but am not sure what else was in there. Does it really matter? I ask that because the cocktail was perfect as usual. So dangerously smooth and not too sweet AKA the Andres standard.
Kaitlin and I knew we wanted to try out a different spot for dinner (gotta get in as many restaurants as possible during her visit) but we also knew Andres doesn't skimp on pours and needed to pair some food with our cocktails. Our appetizer choice was surprisingly easy given all the menu's fabulous options we had on the menu…the East Meets West Tartar (ahi tuna, sweet chili vinaigrette, shallots, scallions, Alaskan King salmon, salsa verde, cilantro).
We were two happy seafood-loving peas in a pod. Such fresh rare fish and I the nerdy foodie was sooo excited to sample fish eggs by themselves for the first time!
After we paid the bill and I gave Andres a huge hug, Kaitlin and I set off for destination #2: Pond House Grille in Glastonbury, for which I had a SaveNowCT deal. I've eaten there a few times before and have really enjoyed myself, but my parents have had a couple experiences there that were less than wow-ing. Still the seafood on the dinner menu had Kaitlin and I excited so we grabbed seats at the bar and after a very considerable wait (the bartender Mike was stuck behind there by himself) we ordered glasses of red wine – and basketS of BREAD.
Pond House's bread has totally improved since last time I visited. It used to be a too sweet and too soft Northern-style cornbread with butter, but now it's crusty, white, fresh-baked, and served in an adorable colorful colander!
Despite the fact that the service remained pretty slow at the bar for most of the evening, Kaitlin and I had a blast chatting – we were in no rush at all! Family, guys, college, future jobs, our relationships with food and fitness…no topic was off limits and that came completely naturally to the two of us. I felt like she could read my mind!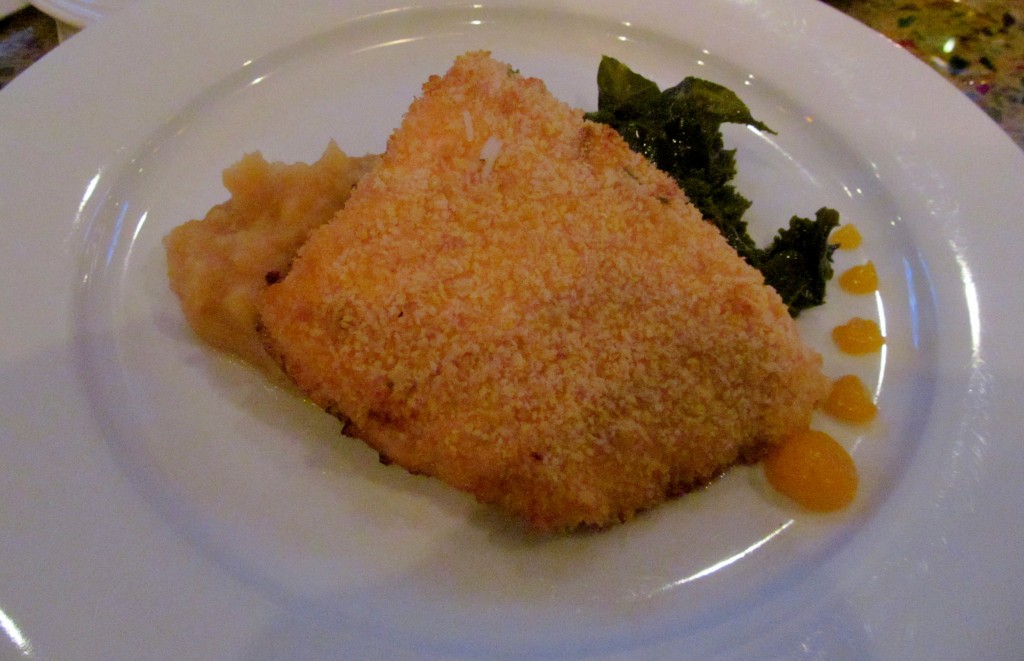 We surely read each other's minds when picking out dinner and ditched the idea of sharing a few different plates. Both of us had eyes for only one entree and knew we wouldn't be willing to share – crispy baked salmon with apple parsnip mash, braised kale, and vanilla apricot sugo. The salmon tasted so incredible and we both couldn't get over its crispy coating. I was a bigger fan of the mash than Kaitlin, but we both decided it definitely tasted its best when paired with the salmon. Such a nice set of contrasting textures. The biggest downer of the dish? NOT ENOUGH KALE! We both finished our kale portions in just a few bites. True the average person doesn't love veggies like we do but…give me kale!
Kaitlin opted for another glass of Cab while I took advantage of being at a place with a good wine selection and ordered a 10-Year Croft Tawny Port. So good and gone so quickly! It was around this point that I realized the bartender Mike was in fact one of the competitors in the Farm to Shaker CT Bartender Challenge, for which I was a judge! I re-introduced myself and complimented him on the wonderful Bloody Mary he made with Ripe Craft Bar Juice – it represented Pond House well at the contest! Mike said his favorite cocktails reflected his sweet tooth and he brought us each a sample of Mike's Dragon Fire (Bacardi Dragon Berry, Chambord, strawberry puree, sour), his signature cocktail, which comes topped off smoking with liquid nitrogen!
Unfortunately Mike's sweet tooth is way sweeter than either mine or Kaitlin's…we'd had our sugary fill after a couple of sips! But the drinks sure made us feel fabulous and were a very special end to a special evening.
In true grandma fashion, we got back to my house and were asleep before 11pm. Fabulous.
Sunday

Kaitlin and I woke around the same time – 8:15ish – and high-tailed it to my beloved Daybreak Coffee Roasters. I just love showing friends around my favorite spots! We sipped our black coffee at my favorite sunny-window table – Vienese Roast for her and a French press combo of Russian Raspberry and Double Dark Chocolate for me. Oh yes you can BET it was as good as it sounded! I convinced Kaitlin to pick up a couple flavors to take home since Daybreak's flavors are my favorite. Coffee-expert manager Mark helped her decide on two of my faves, Mocha Butter Crunch (yes it's available online!) and Snickerdoodle. So far she's tried the first one and is way impressed!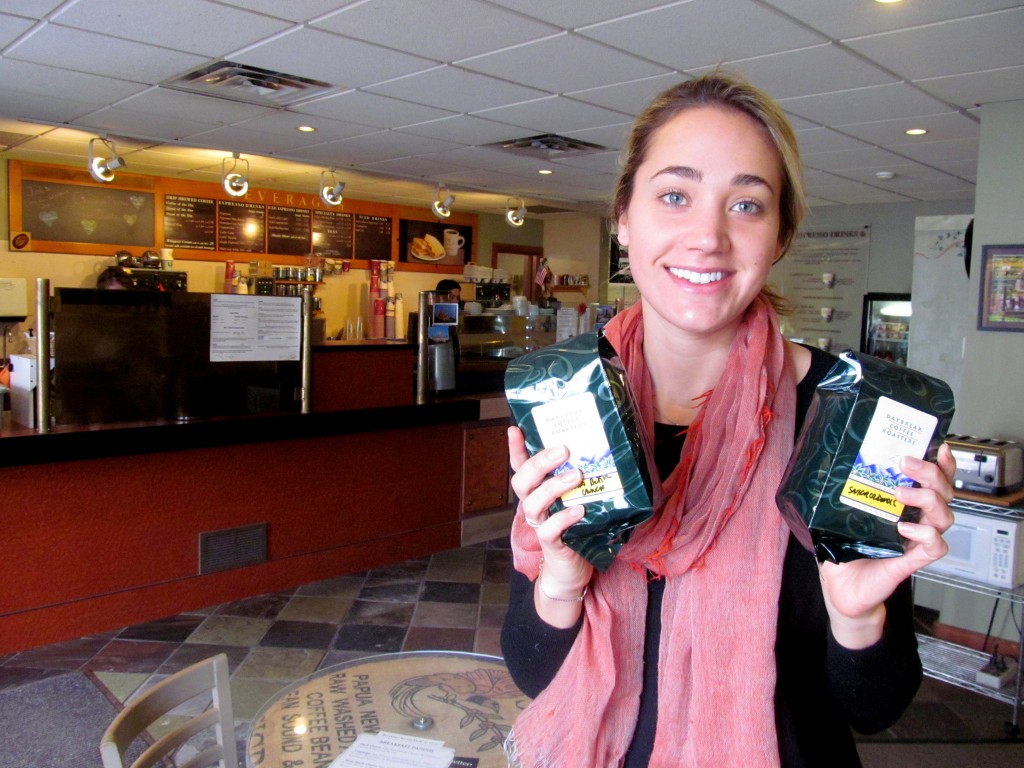 We had to get our shameless tourism vibe on and get a picture in front of the very roaster that roasts all those amazing coffee beans at Daybreak. Studying in there on Saturdays is particularly wonderful because the roaster is running and smells incredible!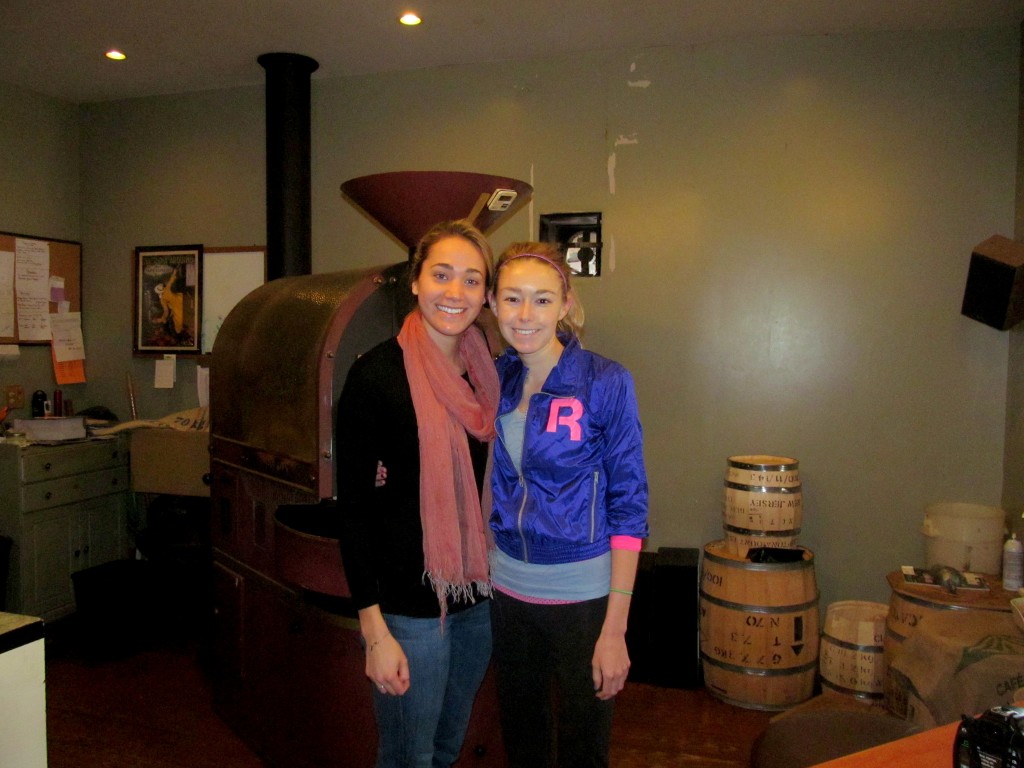 We were going to walk to Whole Foods but holy CRAP it was windy yesterday! So we drove over and dashed inside to explore and hopefully grab samples. The only one we found (it was still early in the day for a Sunday) was a fabulous Cabot cheese but I also grabbed a jar of the below fabulousness that I have been wanting to try – it was on sale for $4.69!
I also was about to eat my arm off so I built a $12+ salad beast beauty. Whole Foods really had its A-game going yesterday…the below box contained a kale frittata, eggplant salad, balsamic tofu, curried sweet potatoes, curried cauliflower, pulled salmon, various bean salads, and a lot more amazingness.
After eating we went to Francesca's because mine isn't very crowded and hence has pretty good sale items; alas, that wasn't the case yesterday. We saw plenty of crazy adorable owl accessories and knick-knacks but were both too practical to purchase them.
At that point it was time for us both to get back to reality – me to the gym and laundry, and Kaitlin back home to the boy, dog, and grocery store. It was easier to say goodbye knowing we already have plans to see each other again a few weeks from now! Oh, and she brought me presents…I'm spoiled!
Thank you Kaitlin for making my weekend so special and I'm so glad we've met each other – YAY BLOGGING!
Have you ever had a blend come stay with you?
Which of our drinks/eats look best to you?