Top Nosh in West Hartford!
Thank you for your comments on yesterday's story about my encounter with my new friend Ed! I saw him again this morning at Peaberry's and we chatted for a bit. Funny enough, after I told him that I'd gone to UConn, am almost done with my MBA, and have a full-time job, he just looked at me and said, "You're the oldest kid aren't you?" Yes we oldest, always the overachievers. Crazy how it's always so easy to tell. I also learned that Ed was an NBA referee for three years! I'm excited to keep learning more about him – he's already taught me so much, just by buying my coffee yesterday!
I was still in a funk for a lot of yesterday but at the end of the day as I sat on the couch watching TV with my dad and brother, sipping a little Cameron Hughes Pinot Grigio, and eating a dinner pretty easy on my stomach (very light on veggies, more heavy on frozen Ore-Ida fries…man I love those things), I felt quite at peace and thankful to be feeling a lot better physically and mentally than I had at the beginning of the day. My time to wind down and relax with the DVR and my books is so key to keeping me centered and calming me after anxiety-filled days – or even after the most normal of days. I'm grateful that I am able to easily access the things that calm me.
Speaking of which, my mom gets back from Florida today and I am excited to see her! There's a couple of dishes I've been wanting to make and enjoy for home dinners with her (like a Jasper White's Summer Shack Cookbook ceviche using Gorton's Seafood!) and we even have plans for a special meal out at J. Gilbert's this Friday to use a coupon (duh). My dad leaves today for a 10-day business trip to Australia so please keep him in your thoughts during his many miles of travel!
Top Nosh Time!
I want to take a moment to mention an event I'm attending next week that I'm quite excited about – the Jewish Teen Learning Connection's 18th birthday celebration, Top Nosh! The "Small Plates, Great Tastes" tagline says it all – think of it like a mini (and more affordable!) Taste of the Nation.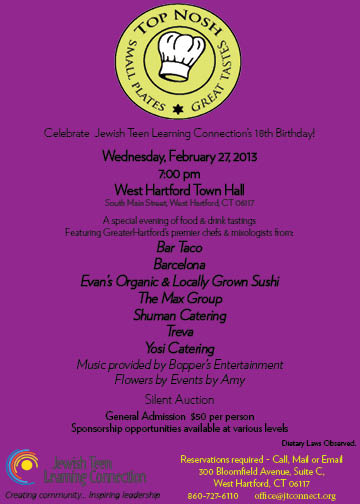 I'm sure you recognize on the list some restaurants I've blogged about. There's Barcelona (they'll be popping up here again soon actually) and the many wonderful Max restaurants. Bar Taco also has fantastic cocktails and food, and though I've never tried Treva, I hear their drinks are legendary and the place has been on my mental list for awhile.
The event, held at West Hartford Town Hall, will also include music and a silent auction. So when is it? Wednesday, February 27th, from 7-11pm. Tickets are only $50 each and your spot must be reserved in advance! To do so you can call 860-727-6110 or email office@jtconnect.org. I hope to see you there, nommin' and noshin' for a great cause!
Have you ever attended a charity foodie event?
What are your favorite activities to do in the evening that center you?