Birthday Dinner at Max Downtown
Thanks for putting up with my spotty blogging the last couple of weeks! I hope now that the pre-vacation work rush and during-vacation relaxation has passed, I will get back into my routine, including regular blogging!
I still have some Max Restaurant Group establishments to cross off my list, but I selected their ritziest, Max Downtown, for my 24th birthday celebration dinner. My birthday was on 3/22 and this dinner occurred the weekend before that, but vacation and a last MBA semester typically result in late recaps such as this post, so forgive me!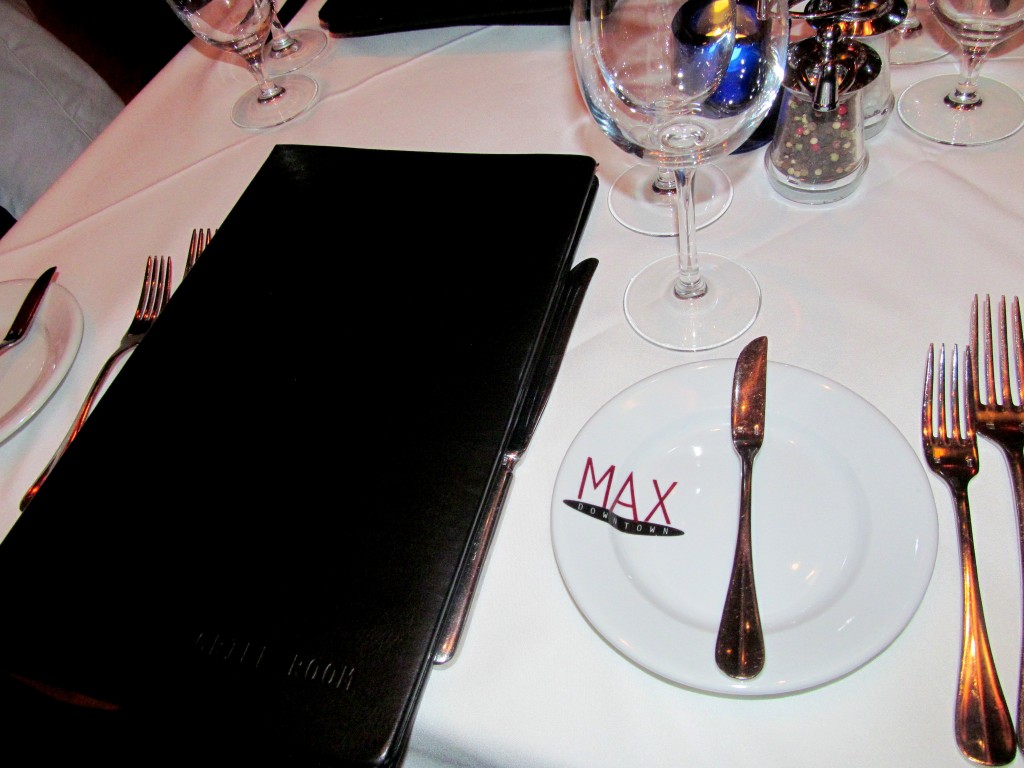 I (obviously) invited my parents to this special dinner, as well as my best friend Lidia! My dad was kind enough to me and my mom off while he ventured out to find downtown Hartford parking (hey, we were cold!) so I had some time to take some shots of the restaurant's lovely interior while we waited.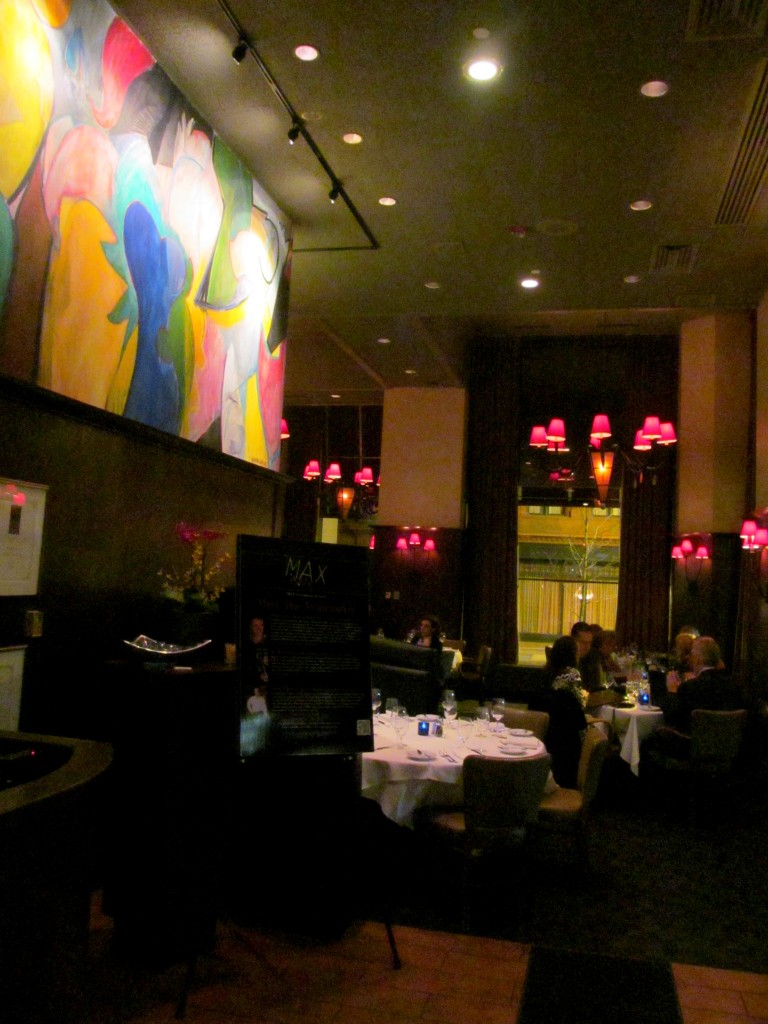 EDIT: A reader (thanks Sandi!)  has informed me that Max Downtown will validate up to two hours of parking in the garage attached to their building! So you don't even have to go out into the cold! The entrance is on Pearl Street – thanks again for the tip!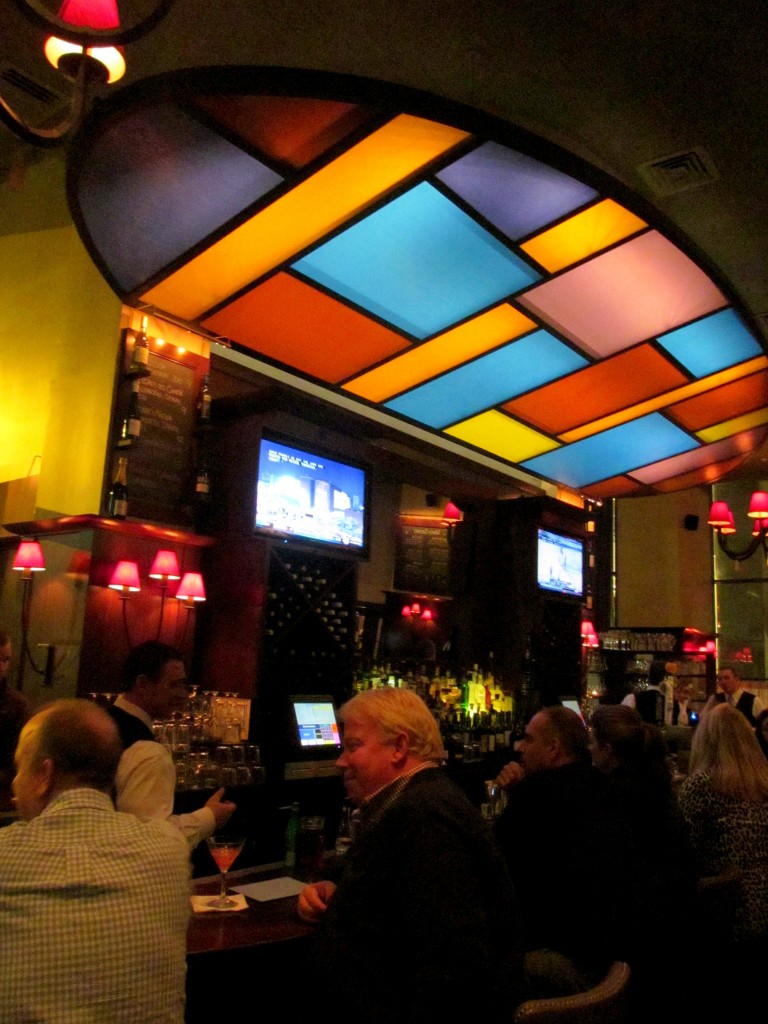 A live piano and guitar player were playing in the bar area! But I'm not a a huge fan of live music while dining out, so it worked out that we were sitting around the corner from the bar in the main dining area.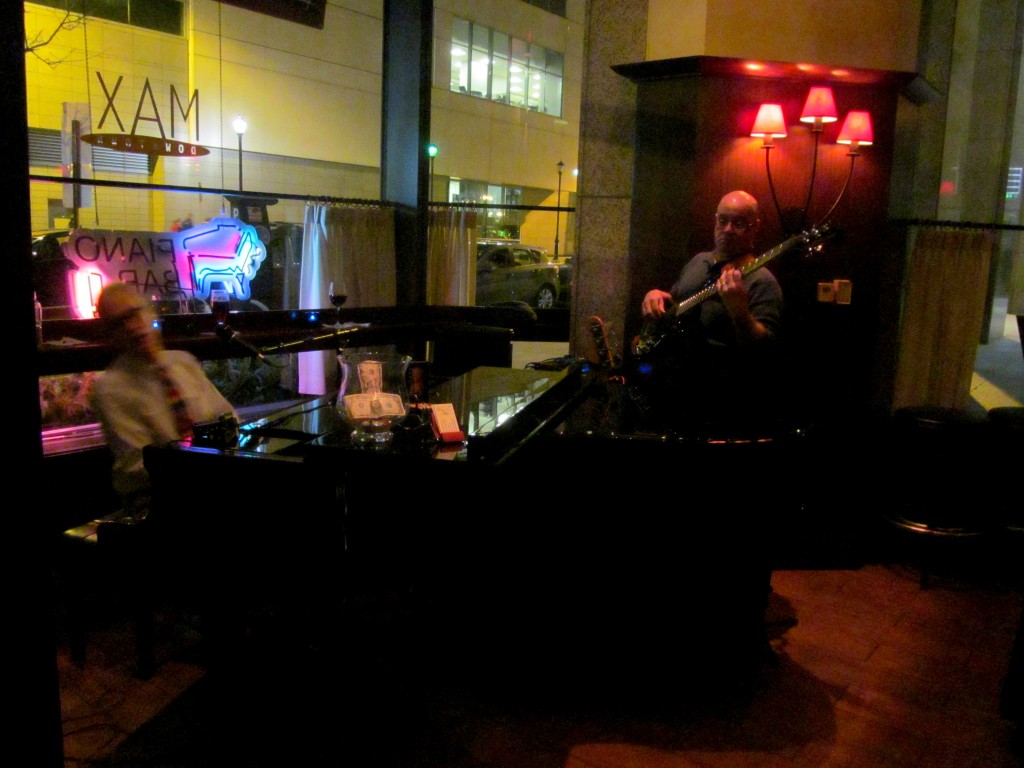 The staff took our coats (nice of them to have a coat check given the fact that downtown parking requires a walk in the cold during winter time!) and we were seated and served promptly by a very personable waiter. A little TOO personable – he was a bit long winded but certainly had good intentions and was very helpful.
He certainly delivered a fabulous cocktail; I ordered the Manhattan from the evening's special cocktail list, but asked for the bartender to make it less sweet.
The bartender totally delivered, in more ways than one. My Midnight Manhattan (High West Double Bourbon, Amaro Averna Luxardo Maraschino, Xocolatl Bitters) tasted fabulous and I am in LOVE with how Max Downtown serves cocktails – the "extra" pour goes in a what I can only call a huge test tube, in a clear bucket of ice, so that it remains chilled!
My dad's martini received the same treatment, as you can see above!
For the table wine my mom selected a winning red (Millbrandt Vineyards Cabernet Sauvignon – 2011) from Max Downtown's HUGE wine list. I'm talking binder-size – but fear not, all wine-by-the-glass offerings are conveniently listed on one page. That's where my mom spotted this wine, which she'd had before and enjoyed, but we went for the whole bottle. I'm certainly glad because it was poured into a beautiful glass pitcher! Next time I'll have to order a bottle of a chilled white so I can find out what kind of pitcher (if any) that would go in!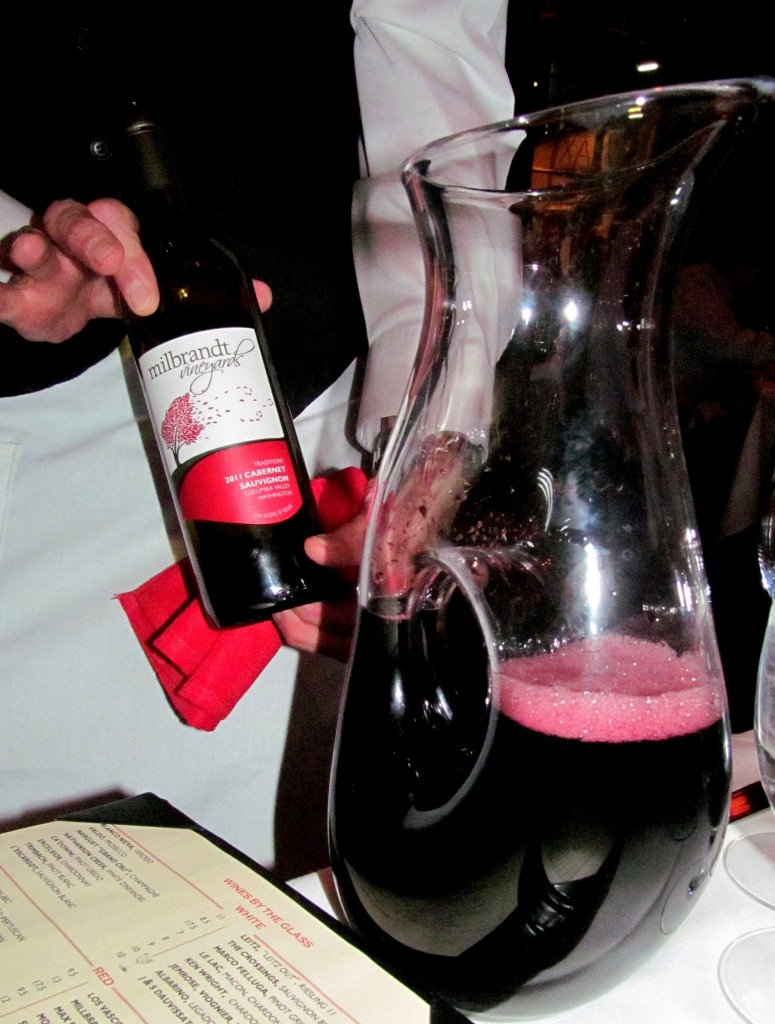 Max Restaurant Group definitely knows how to put on a show. My mom, grandma, and sister were very impressed by the treatment we received at Max Fish and my dad loved the special manager visit to our table at Max Amore. But Max Downtown topped it all when they brought me a bottle of complimentary birthday champagne…and lanced it open with a saber.
With no warning or words of explanation, the above bucket containing a bottle of Marguet, "Reserve Brut", Grand Cru, France (91 Burghound) – oh yeah, and a saber – was placed in our table by two men in suits. They efficiently put together a tableside set-up that told me something crazy was about to go down.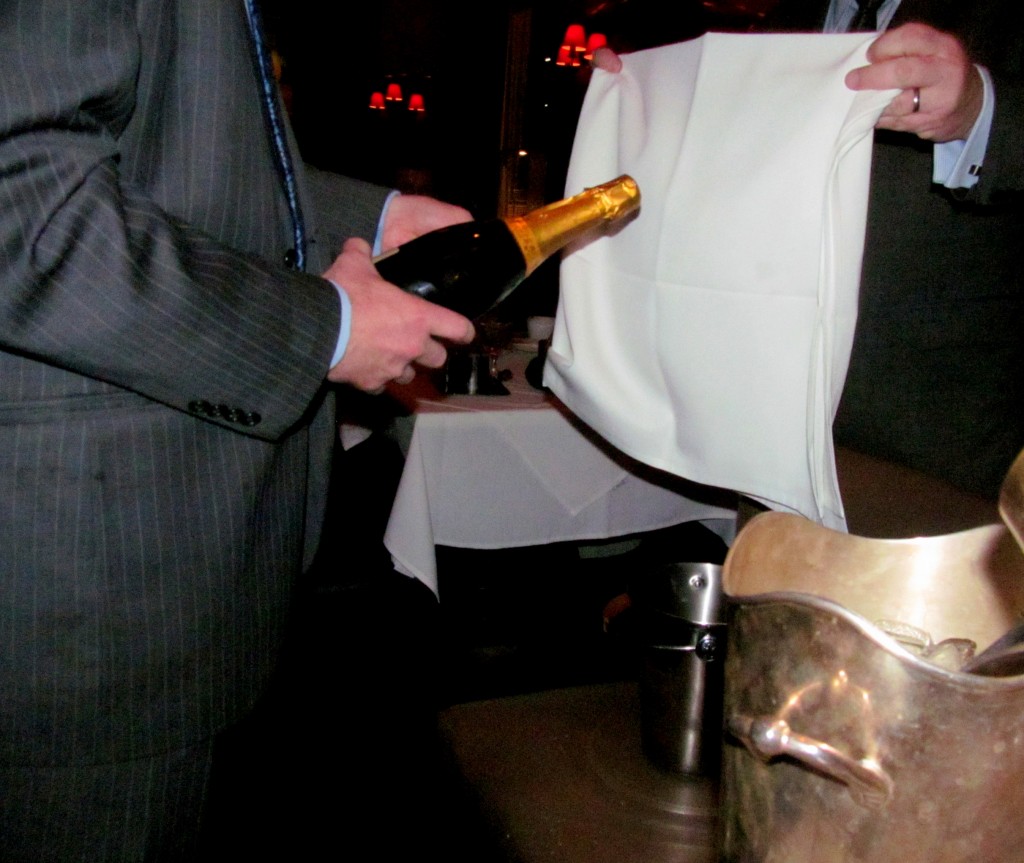 The saber was removed from the ice bucket and poised over the bottle. Was he about to do…what we thought he was going to do?!
Yup!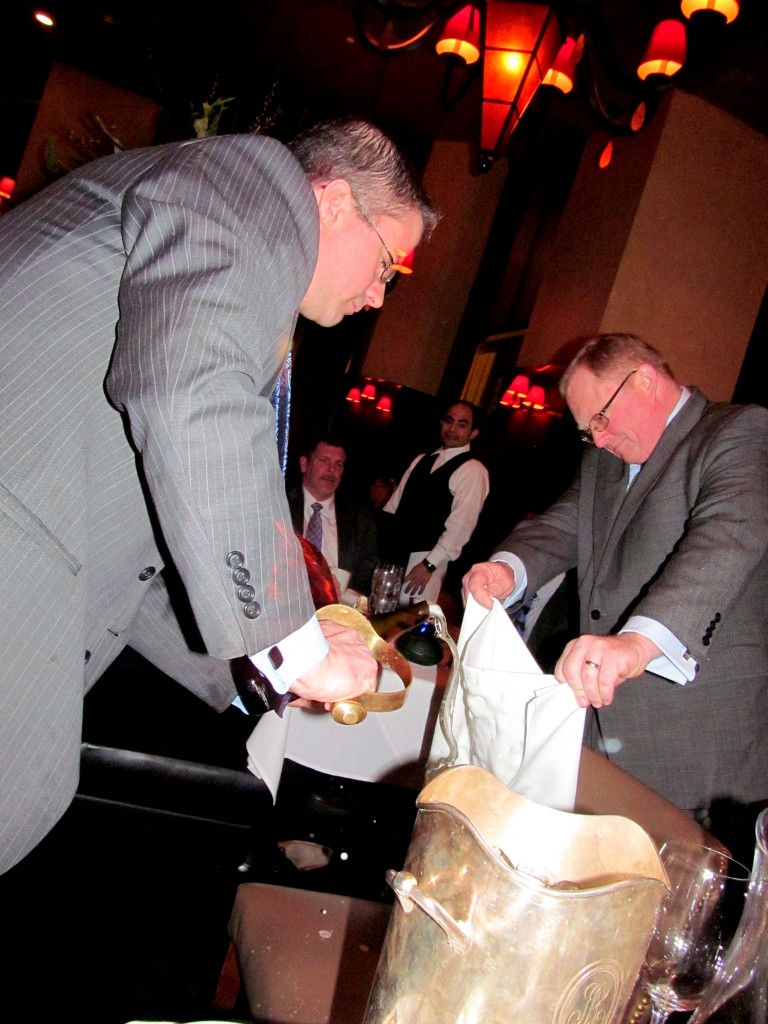 The top of the champagne bottle – cork still in there – was neatly lanced right off and bubbly foamed out in a truly grand manner.
As my glass of birthday champagne was poured from the "broken" bottle, we were informed that the lancing happened so quickly that no glass shards could have fallen back into the bottle. I actually was not even considering that as a possibility until it was mentioned…but good to know!
The champagne was fantastic and the four of us easily killed the bottle! I started with that and my Manhattan, and saved my red wine for my meal. That's called portioning, right?
But before said meal, Chef Hunter Morton had another surprise for us – Oysters and Pearls (a take on a dish by famous chef Thomas Weller – thanks for the correction Julie!), a tasting plate of Wellfleet oysters atop a sabayon of tapioca pearls, Osetra caviar, and lemon salt air. Yes I said lemon salt air!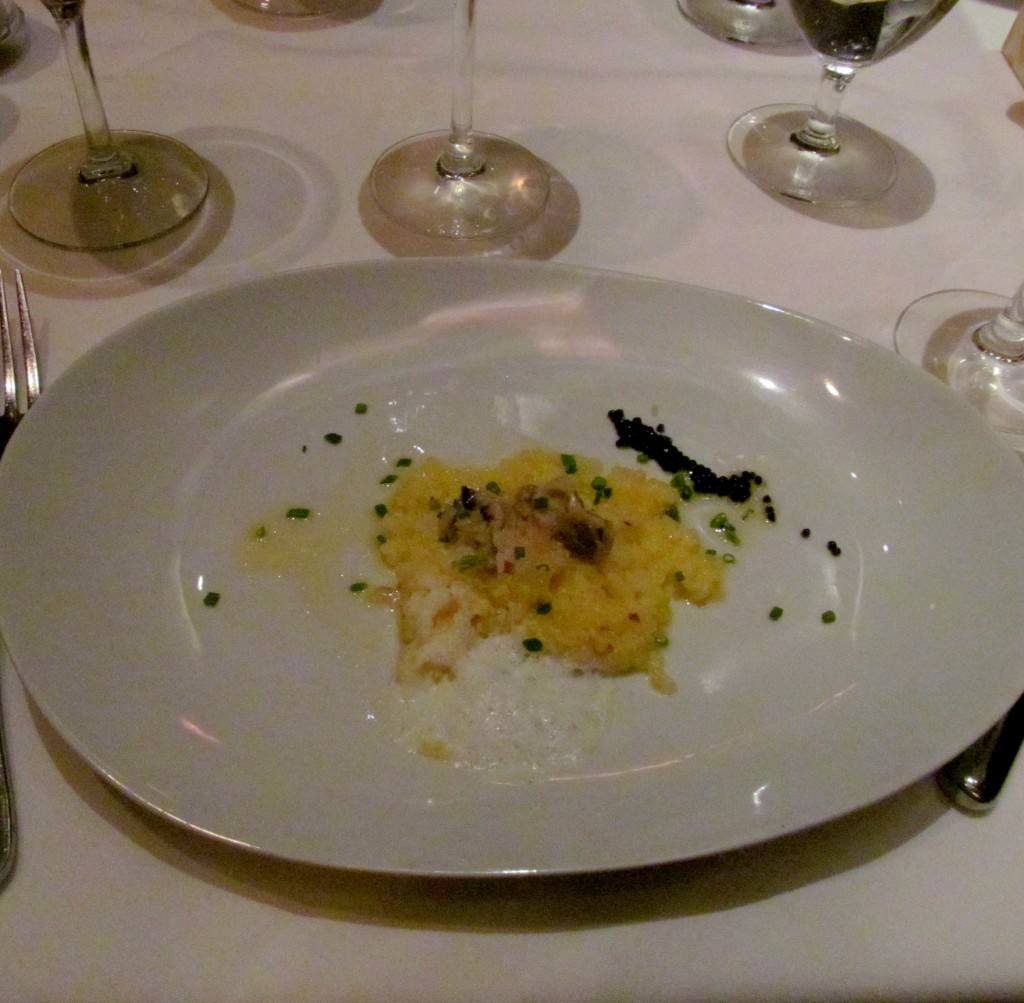 I cannot rave enough about the flavor of the tapioca pearls and oysters, or the unique twist from the lemon salt air, which reminded me of the gastronomy employed by Chef Scott Miller during Max's Chef to Farm Tomato, Tomato dinner.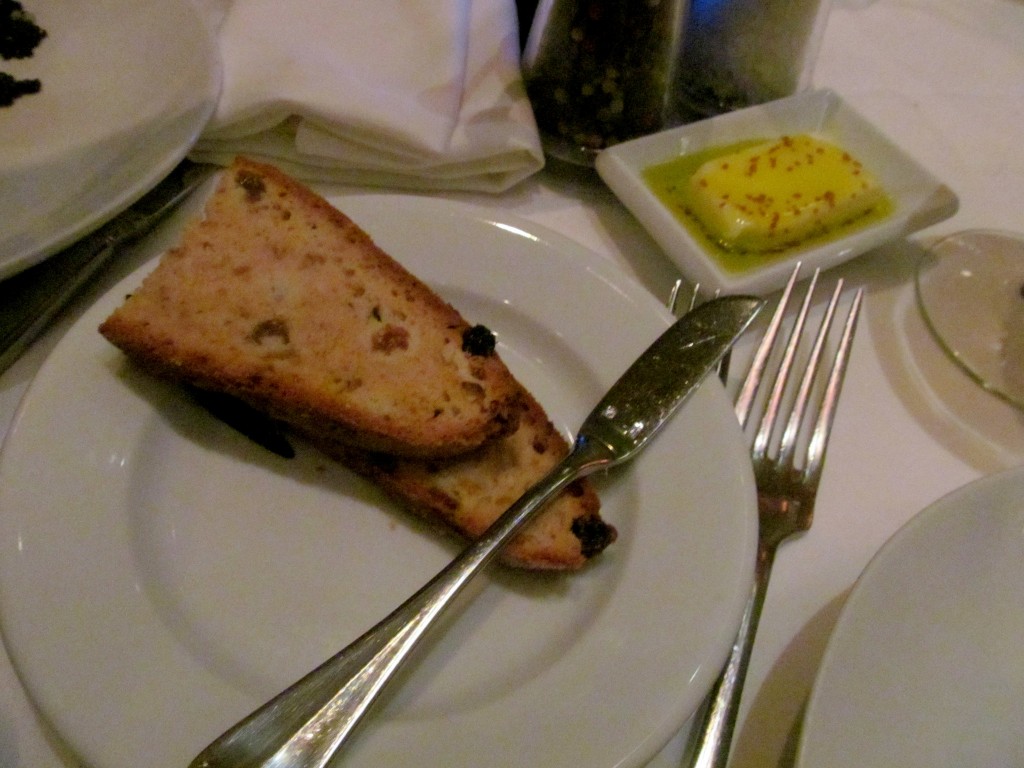 In honor of St. Patty's (happening the next day)the evening's bread was a freshly baked Irish soda variety, and yes that is butter with olive oil poured on top…fats on fats 😉
Max Fish is where my mom first sampled and fell in love with ahi tuna, so I insisted we order Max Downtown's appetizer version. Ahhh, incredible! Lidia, my mom, and I shared and adored the above platter and I got to steal the ginger for myself since my mom and Lidia aren't fans. Muaaaaahaha.
Our waiter helped my dad select his winning entree, the Filet Mignon Oscar-Style: jumbo crab, Parmesan-crusted asparagus, sour cream & chive potato puree, and Béarnaise. He finished almost every bite and I got those he didn't – the filet tasted great, the potatoes as decadent as you'd expect, and the crusty Parmesan exterior of the asparagus was not greasy at all.
Unfortunately I didn't get to steal any of the crab but that's okay because I got my seafood fill from bites of Lidia's and my mom's dishes, as well as my own. Lidia's choice of the Jumbo Shrimp & Sea Scallops (atop housemade Meyer Lemon fettuccine, asparagus, confit cherry tomatoes, and pancetta-artichoke carbonara) certainly didn't disappoint because true to its name, those shrimp were JUMBO.
Thanks for sharing Lidia – that's what best friends are for right?
One reason I chose Max Downtown for this special meal was because I know about my mom's obsession with baked potatoes. I adore them but she is a true devotee in the sense that if a baked potato is a side option, she will ALWAYS order one. While this did not come close to the olive-oil rubbed, sea-salted skinned version by J. Gilbert's, the baked potato was quite hefty and made for a satisfying meal alongside her Loch Duart Salmon a la Plancha with roasted baby carrots, cauliflower, shaved Brussels, and pomegranate glaze.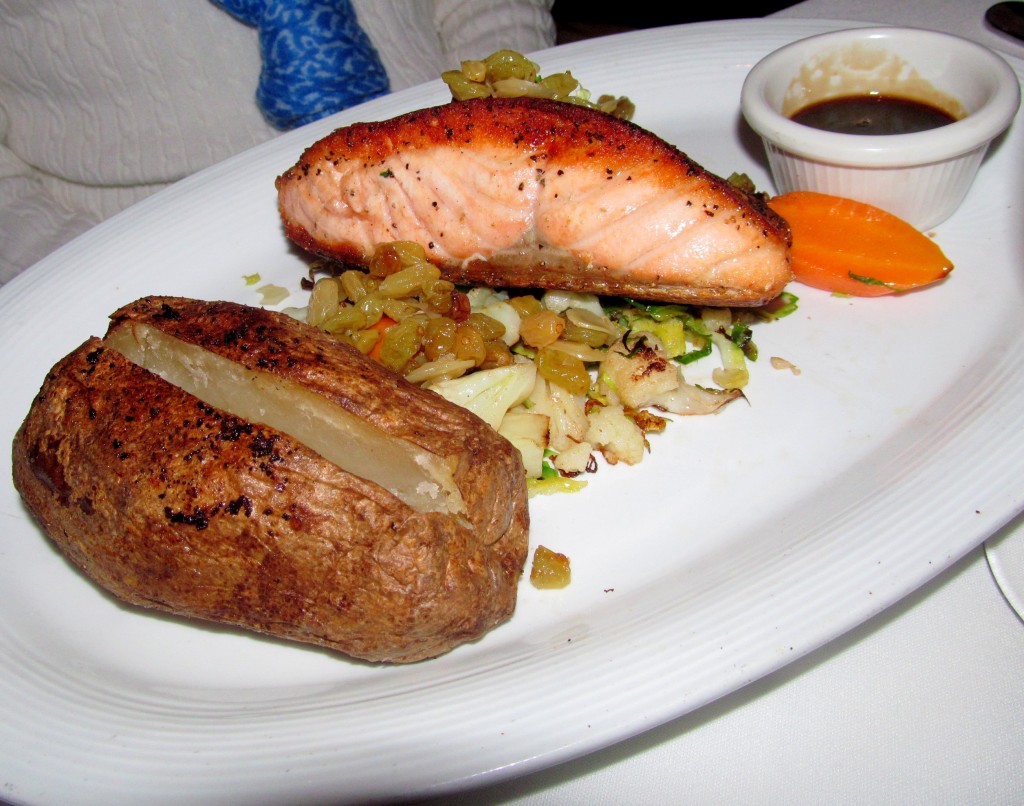 Every dish at Max Downtown is made to order so the kitchen had no issue with subbing in the baked potato for the parsnip potato puree the dish usually came with. She also requested the glaze on the side (happened) and no raisin-almond relish (didn't happen). I felt bummed that the relish was left on the dish because my mom HATES raisins with a burning passion but I suppose that happens sometimes when many modifications are made to a dish. She sure was still pleased with the choice and I was pleased the portion was so generous that she could not finish it all 😛 man that salmon tasted great.
Grand finale….my entree choice! I try to go for the special most times I dine out because to me, special equates to FRESHEST and also something I can't always get during return visits. So I ordered a seafood special called Miso Soy Marinated Striped Bass, topped with pork belly, grilled pineapple, broccoli rabe, and coconut lemongrass sauce. I just HAD to try Max Downtown's Brussels so I got those instead of the rice cakes that came with the dish, and ordered the sauce on the side (but ended up using every last drop).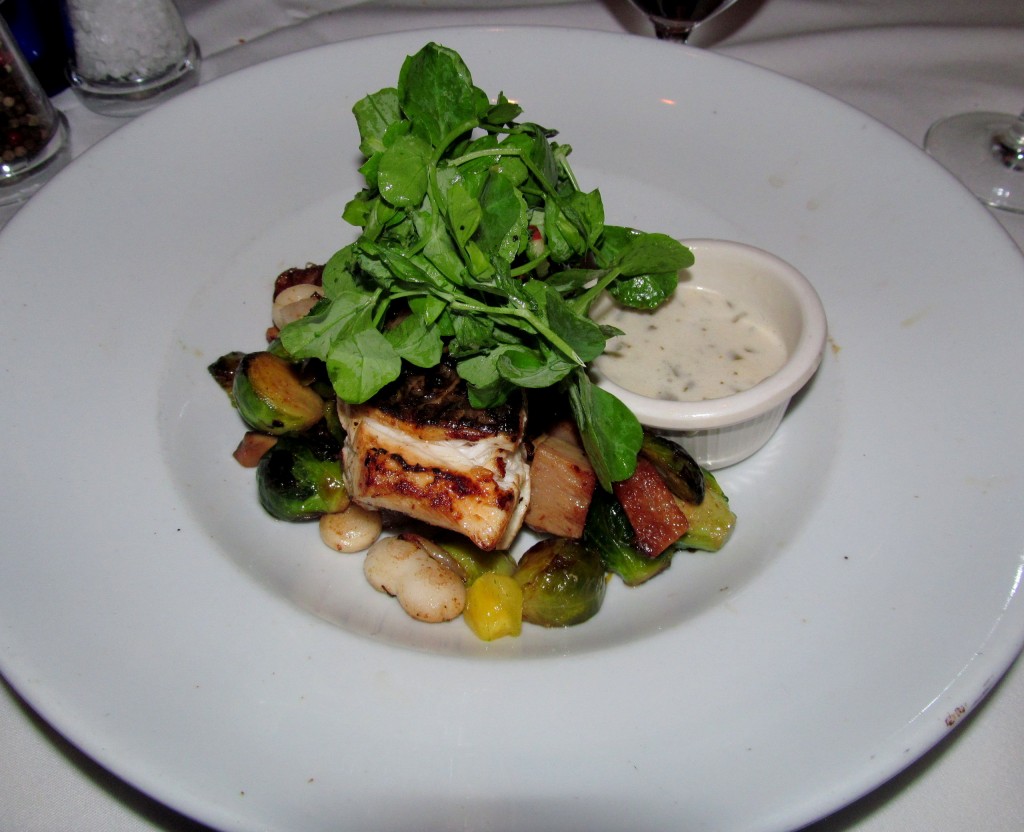 Not a morsel was left standing on the plate and I liked that the dish had a bit of a surf n turf vibe thanks to the pork belly. I'm all about trying as many different morsels on one plate as possible as regular readers will know! It'd been awhile since I'd had striped bass too, and it's crispy grilled exterior – cooked to perfection – surpassed my expectations.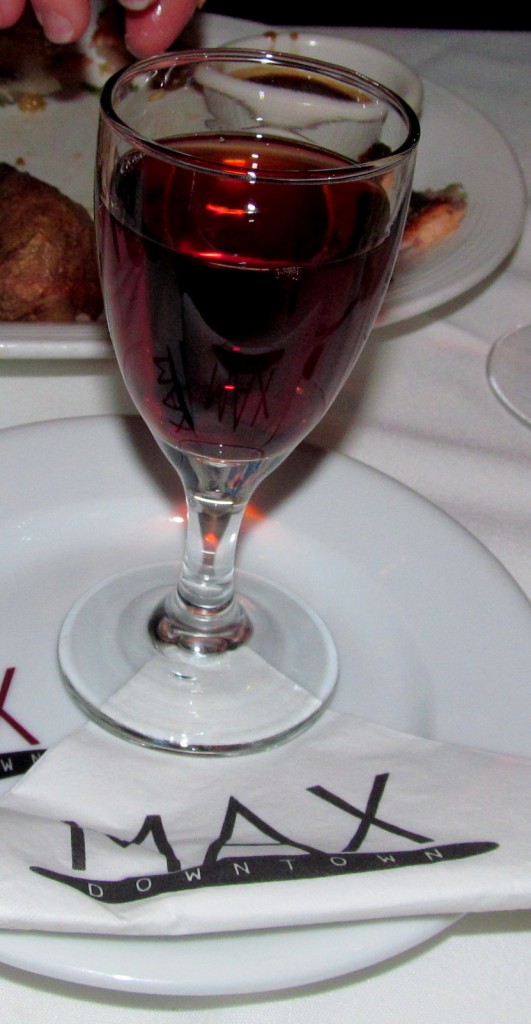 I not only take advantage of specials while dining out, but also availability of quality ports and sherries! I ordered a glass of port and planned for that to be my dessert because I was pretty full. Not so fast said Max…
…and our waiter brought out a plate of both of the evening's dessert specials, in honor of the Hartford Symphony Orhcestra! On the left is Sicilienne's Rosewater Sabayon: fresh berries in an almond tuille with raspberry coulis and sugared ROSE PETALS! And sugary delish they were indeed. First place definitely goes to the Cavalry Overture: brownie base, chocolate mousse, crisp merique, and raspberries. Yeah, anything that starts with a brownie and decides to ADD mousse to it is definitely a winner, though the first dessert gets more points for creativity (and taste too because that flaky almond tuille was fab).
Mom, Dad, Lidia, and I left with epic memories and you can bet I shared the whole champagne-lancing scenario with just about anyone who would listen for the next week or so! So far I have yet to have a Max Restaurant Group experience that I'd call just another night out. I can't wait to cross more locations off my list and keep that trend rollin'.
Social Media Alert! Get more food porn from Max Restaurant Group's new Instagram account, and you can follow @MaxDowntown and @MaxRestGroup on Twitter and like their pages on Facebook!
Have you ever heard of lancing a champagne bottle?
What was your most memorable birthday dinner?
Which dish looks most mouth-watering to you?
Thank you Max Downtown for a memorable birthday dinner! Though I received some freebies during this meal as you can see, this isn't a sponsored post and my opinions of the experience are genuine and truly my own!