Fashion Friday: HealthyChic Giveaway!
Happy Fashion Friday (but more importantly Happy Friday) to you all! I did not do this post last week in light of the manhunt going on in Boston. I felt inappropriate blogging given the fact that all eyes that day were turned to other more important media sources on the Internet. Of course this post could wait a week, and it has, and now here it is! I'll stop rambling and cut to the chase.
What's HealthyChic?
Marni of HealthyChic contacted me awhile back to introduce me to the website, which I would call RueLaLa for fitness! Some websites claim to offer deals from premium brands – and then customers never see those premium brands come around. But I myself have seen Lululemon and Lucy activewear offered on HealthyChic, at QUITE the discount. Alas, I saw too late and my favorite pieces already were sold out in my size. But HealthyChic doesn't just offer active wear – I died over these adorable Yummy Yogi cookie cutters!
Once users create a HealthyChic account, they receive periodic (not overwhelming at all) emails with the latest deals, just like on RueLaLa (except way less emails). Along with clothes and cookie cutters, you'll find swimsuits, yoga DVDs and accessories, hats and jewelry, vitamins/supplements and food, home goods, and beauty products.
The best part about HealthyChic is their 1 Makes 1 program. For every purchase, a meal is donated to a hungry child via credible charities like the United Nations World Food Programme and Project Angelfood, among others.
My Experience
Let's get back on topic and discuss fit fashion! Marni sent me a $25 credit so I could try the service out for myself. I kept an eye out in the HealthyChic emails for a deal I wanted to take advantage of and jumped at this fun Gymdoll tank!
The top is $26 on Gymdoll's website, but was $18.99 on HealthyChic. That may not seem like a huge discount dollar-wise, but it is a little over 25% off! Discounts always appear to be more significant on higher priced items, like the Lululemon offerings; they are more significant dollar-wise, but comparable percentage-wise.
I have to admit that I HATE paying shipping when I shop online and HealthyChic doesn't offer free shipping until one spends at least $75. I was not able to spend that much over my credit so I purposefully looked for something I could buy that would be around $25 once shipping was applied (well, I would have bought that awesome Lululemon and Lucy stuff, but no size = no go).
My order arrived promptly and even came packaged as if it was straight from Gymdoll, with a fun sticker included that is going on a notebook!
Luckily the top fit perfectly, but if it hadn't I knew I had the option of free returns!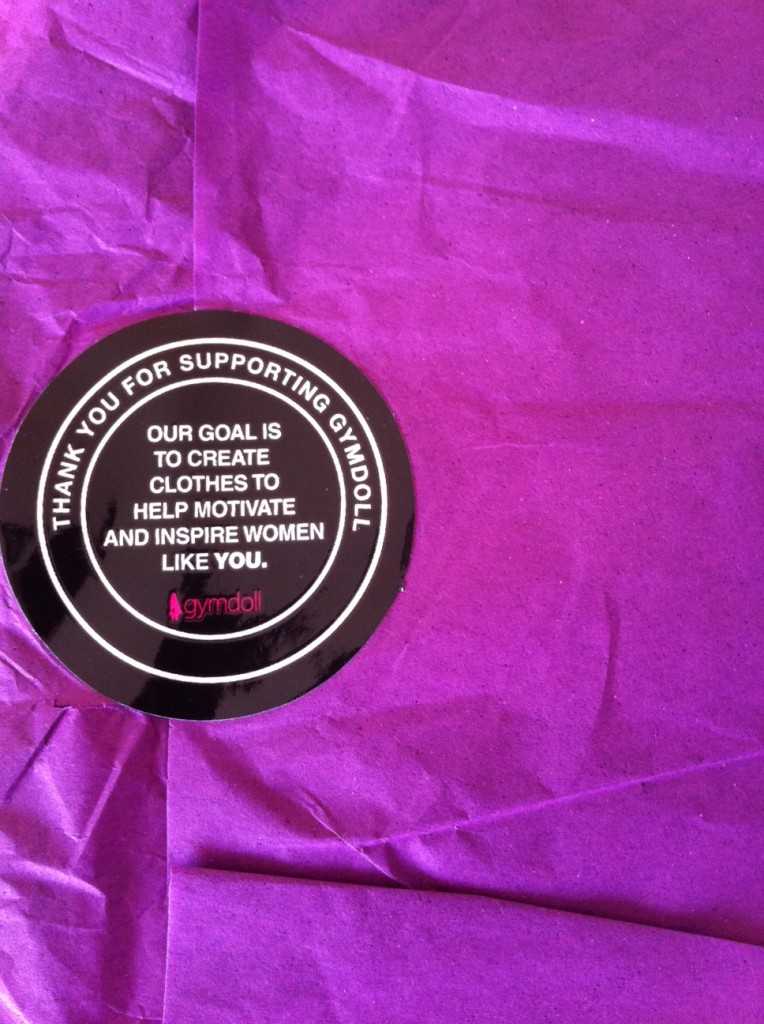 Check out the little fun touch I noticed on the tank's interior!
Giveaway!
Marni has offered to let me share the HealthyChic experience with a Cait Plus Ate reader! One giveaway winner will receive his or her own $25 online shopping credit. The giveaway is open until Tuesday 4/30 at 11:59PM EST for US readers only. Please make sure you leave a separate comment for each form of entry or multiples will NOT count. Entry methods include:
Visit HealthyChic, browse the offerings, and comment with the link to an item you'd use the credit toward if you won! (mandatory)
Follow @HealthyChicInc on Twitter and comment here saying you did.
Follow @CaitPlusAte on Twitter and comment here saying you did.
Tweet "I entered to win $25 to @HealthyChicInc from @CaitPlusAte! http://caitplusate.com/?p=8726" and comment here with the link to the tweet.
Visit HealthyChic on Pinterest, repin something, and comment here with the link to the repin.
If you don't win the giveaway, you can always sign up through my invite link and use the discount code FRIENDS15 to get 15% off your first order! Good luck to all!
I received $25 to use on HealthyChic for the purpose of trying the service and writing this review, and will receive a $20 credit for each person I invite that places an order. However I was not/will not be compensated beyond this and all opinions of my experience are truthful and my own.