Barcelona Goes Galician
Thank you to all who entered the HealthyChic $25 credit giveaway! The winner is my girl Linz of Itz Linz!. Congrats lady and I'll contact you about redeeming your prize. If you're bummed you didn't win, remember you can still create an account through my invite and use discount code FRIENDS15 for 15% off your first order.
Last March I was transported to Mendoza during a wine dinner at Barcelona in West Hartford. In April, Exec Chef Alexander Feldman was at it again on Wednesday 4/17 with a Foods of Galicia dinner menu.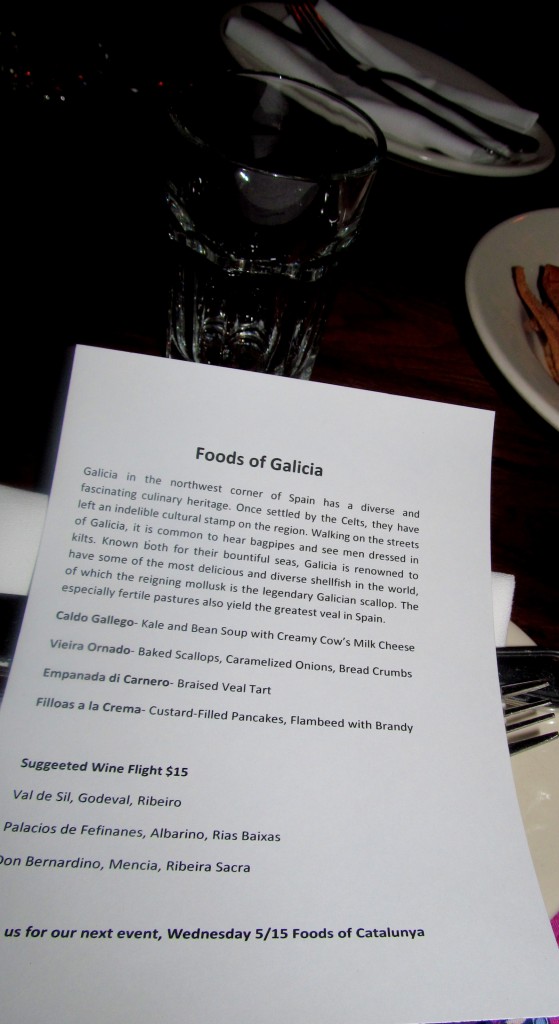 The above menu was served with sides of historical and cultural tidbits. Alex is extremely knowledgeable – he's always got a fun new food fact to share with me! – and to me any meal is enhanced and more enjoyable if I can learn about its origins while I eat! Barcelona's events always are about learning in addition to eating and drinking.
Unfortunately having the event inside instead of in a private room or patio setting made it harder than usual to hear Alex for those of us sitting at the table farther away from him, but the menu was printed up with facts and he was on hand to answer questions. Our table also had a very special guest – Alex's brother (and another chef) Matthew Feldman! He and Alex worked together at their restaurant Fiori in Great Barrington, MA and though Alex has left for West Hartford (my tastebuds are thankful), Matthew is still holding down the fort at Fiori! I must dine there sometime!
We started with a round of drinks and a basic tapa, the roasted chickpea puree with pita chips.
Unfortunately the round of drinks did not get the meal off to a smooth start. Our waitress accidentally dropped her tray of drinks on my poor friend Olivia. Red wine + white shirt does NOT a happy girl make. She promised to pay for all the dry cleaning as she cleaned up the mess – she definitely felt very badly. It was only an accident and everyone in the food industry, I'm sure, has something like this happen to him or her while on the job. Olivia and I could empathize. However, I was surprised when no one else from the restaurant came over to apologize. I'm not saying she was entitled to a "freebie" for what happened, but we did not hear anything more about the incident the rest of the evening.
Olivia thought her drink was pretty good, but I think she enjoyed her second more – the Barcelona Gintonic (G'Vine Floraison Gin, Fevertree Tonic, Lemon & Lime).
I adore wine flights since they give me the chance to try more varieties so I went with the flight meant to be paired with the evening's meal (once my cocktail was all gone 😛 ) – two whites and a red.
Caldo Gallego is a kale & bean soup served with creamy cow's milk cheese but I think it may have been laced with something orgasmic because our table could not stop audibly oooohing and ahhhing after each bite! Whenever I see soups on restaurant menus I'm hesitant to order them, especially when broth-based. No one should ever be afraid to order a soup at Barcelona! It was that good and the first white wine paired well due to its slightly sweet and fruity notes, which balanced the saltier soup.
Galicia is known for the region's scallops and though Alex could not get scallops actually from Galicia, I'm sure those used in the second course certainly were the freshest available! The Vieira Ornado – baked scallops with caramelized onions and bread crumbs – did not skimp on freshness, flavor, or SIZE!
The third course's Empanada di Carnero – braised veal tart – can only be described as epic. LOOK at that thing!
Matthew started trying to cut into the empanada, but I knew there was only one way to attack that sucker.
My word cannot pay enough tribute to the veal, which was expertly prepared and perfectly sauced (the bread didn't get too soggy at all). The red wine was a dynamite pairing with the meat too – my favorite savory course pairing of the evening. I went into "protein mode" and didn't finish all the bread because I wanted to save room for the dessert, but that required a lot of willpower. Luckily I had great company to distract me!
Olivia is a fellow veggie lover and right before our veal empanadas came out she was as equally excited as I was to be served some veggie tapas! I loved the unique touch the anchovy-garlic paste gave the asparagus. I never would have known it was an anchovy paste either – I assumed olives!
I'd put in a request for a sherry pairing with the dessert and Barcelona delivered! And the food – the Filloas a la Crema (custard-filled pancakes flambeed with brandy) – were more than worthy of the room I saved for them! I'm sure you'll believe me when I say there is nothing like a good sherry paired with a liquor-infused dessert. Especially when custard is involved. I mention frequently that I'm a salt-addicted savory foods person, but at these kinds of special events I almost always enjoy every dessert a great deal, because they're so often unique!
As the meal was winding down I asked my favorite Negroni maker ever, Dan, to make Olivia one of his fabulous Negronis. The whole table sampled it and I was glad to share my second-favorite standard cocktail with others who had never even heard of it before. The Negroni certainly has a unique flavor from the Campari, but I just adore it!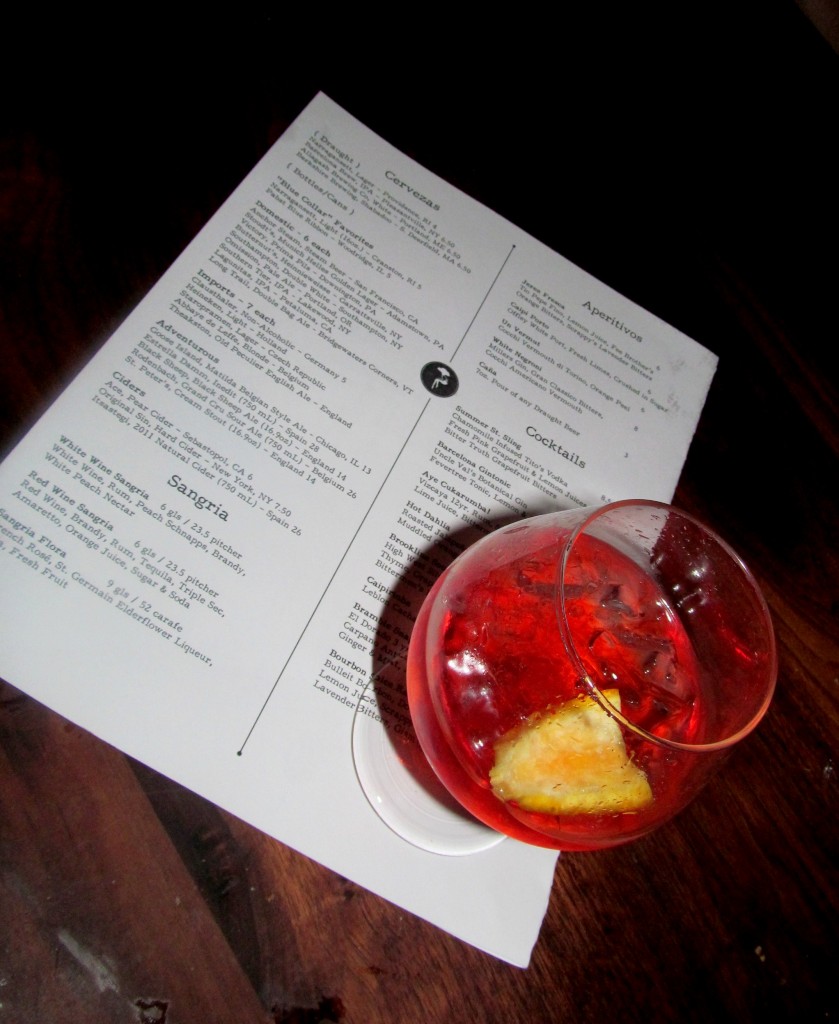 I like that Barcelona decided to make this month's wine event wine-optional. Not that I'd ever take the no-wine option 😉 but some did not want wine flights and were able to be flexible and have a different drink or no drinks instead. And those that did, like me, still got wines specially paired to each course! Win-win.
Barcelona's next wine dinner is May 15 and the theme is Foods of Catalunya. I will be attending with Kat – we both are going to write about the event! To make a reservation you can call 860-218-2100. I hope to see you there!
Which course would be your favorite?
Would you do wine pairings, beer, cocktails, a mix, or nothing with a coursed-out dinner like this?
I received my meal and wine flight free of charge, but this is not a compensated post and all thoughts and opinions are genuine and my own.