My First Massage – and One for You!
Unfortunately my host is under a bot attack that is targeting WordPress sites, so the blog has been down off and on since yesterday afternoon. I hope it gets resolved soon! In case you missed yesterday's post about a paella cooking class I attended at my favorite restaurant for events, Barcelona in West Hartford, be sure to do so to learn about paella, pick up some cooking tips, and check out photos of both commonly and unusually delicious foods!
Despite my self-proclaimed addiction to daily deal sites, where  discounted massages are available on the reg, I have never had a massage! That is until I was contacted by Randi Plake, on behalf of Kellie Dunne and Brilliant Options Wellness in Plantsville, CT. Kellie is a Licensed Massage Therapist, as well as a Certified Health Coach and Occupational Therapist.
She and Randi were interested in working with me on a blog post about my experience getting a complimentary massage at Brilliant Options Wellness. Kellie works flexible hours, by appointment, so finding a time to come in that worked for me was easy. In fact, she even bared with me when I had to reschedule a week before my originally scheduled appointment.
My Brilliant Options Experience
Brilliant Options was easy to get to address-wise, but is a bit confusing to enter because the business is located in one of those houses that has been converted to office space for several different tenants. So the front of the house looks like a law firm, but the back is where the entrance to Brilliant Options is located. Kellie was sure to call me personally and give me a heads up; her detailed instructions made getting to the Brilliant Options parking lot and entrance a breeze.
I could tell from the moment I stepped into the lobby area that Brilliant Options Wellness was an ideal spot for me to get a massage. Kellie's holistic approach to health and wellness was reflected in the serene, clean decor. She believes that all areas of life – especially the mental – are connected; that connection plays a primary role in one's health.
We stepped into the intimate massage therapy room and sat down side-by-side so we could have an honest conversation about the the simple one-page history form I filled out first. I felt comfortable with Kellie immediately and did not feel judged at all by her when I revealed my history with disordered eating as the reason why I have taken an increased interest over the last couple of years in health of the mind, not just the body.
She explained to me how the massage would work and encouraged me to speak up during about preferences and make it my own. I was given a choice of music (I chose piano) and also selected an essential oil to be placed in a water bowl below the headrest portion of the massage bed. Then she left the room while I undressed and got face-down into what was definitely the most amazing bed – or any soft surface – I have ever experienced!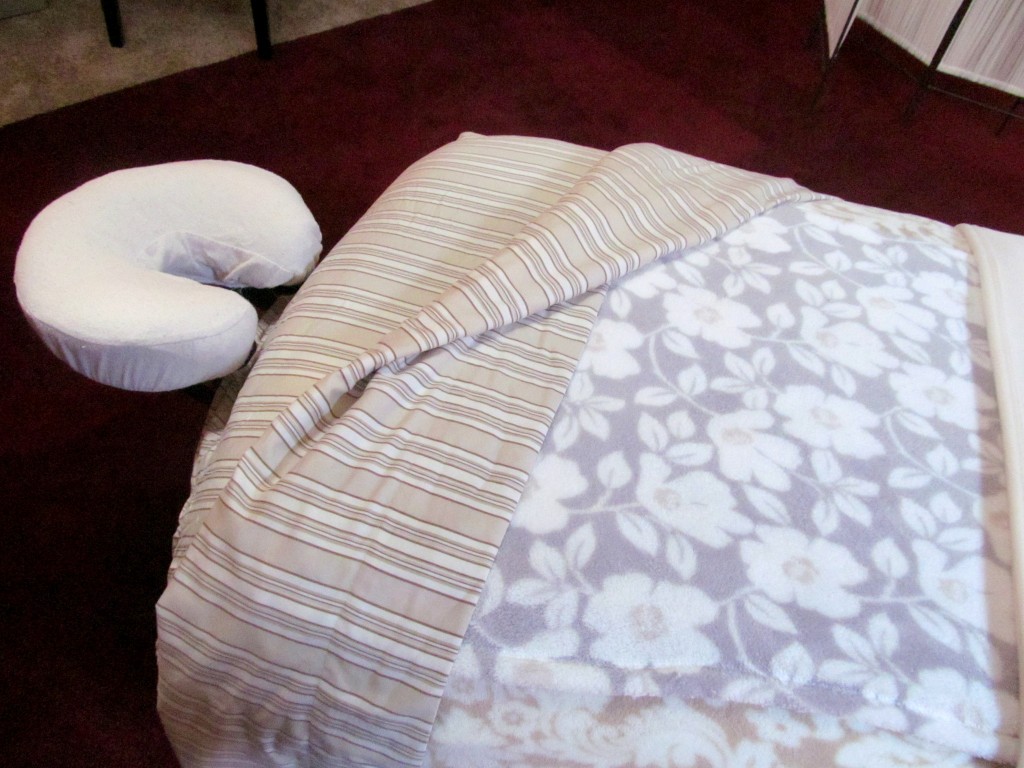 I was not expecting the bed to be HEATED! I had been worried I'd be too cold so I pretty much always am, but the temperature was perfect, the mattress Tempur-Pedic, and the sheets extremely soft. Kellie came back into the room when I called, adjusted the bed, and got to work.
We started the massage with me on my stomach and saved the portions with me on my back for the end, since she predicted it'd be harder for me to "come out of" the massage if I ended it on my stomach. She was totally right – I barely could come out of it after it ended with me on my back! I didn't hesitate to direct Kellie to massage certain tense areas harder – like my shoulders, which I always keep tensed (in fact I just realized they were as I typed this) – and sometimes she checked in with me too. The essential oils smelled lovely and Kellie replenished them in the water bowl halfway through, which was nice since the smell had definitely faded by then.
I was surprised by a couple of parts of the massage. Firstly, I'd assumed I'd have to ask Kellie to stop massaging my feet when it came time to bring them into the game, because my feet are SUPER ticklish. But whatever massage therapy school taught Kellie about foot massages certainly works, since I only felt slight discomfort while she massaged my feet. She knows what she's doing and I think even my sister, the most foot-ticklish person I've ever met, would be able to handle it!
Secondly, I surprised myself by LOVING the face massage portion! I never really got how it could be relaxing – or anything other than weird – but again, Kellie is well-trained and knows what she's doing. The face was one of the last parts she massaged before we ended and I am certainly glad the massage concluded on that note.
After the massage I received a complimentary small bottle of water (massages can really dehydrate the muscles) and was advised that since it was my first one ever, I might feel soreness in the next one to two days. I did feel some shoulder soreness the next day, but it was gone after that. I also recommend bringing your own full water bottle because I was SO thirsty during the drive home and though it was nice of Kellie to give me a mini water bottle, I needed about three more!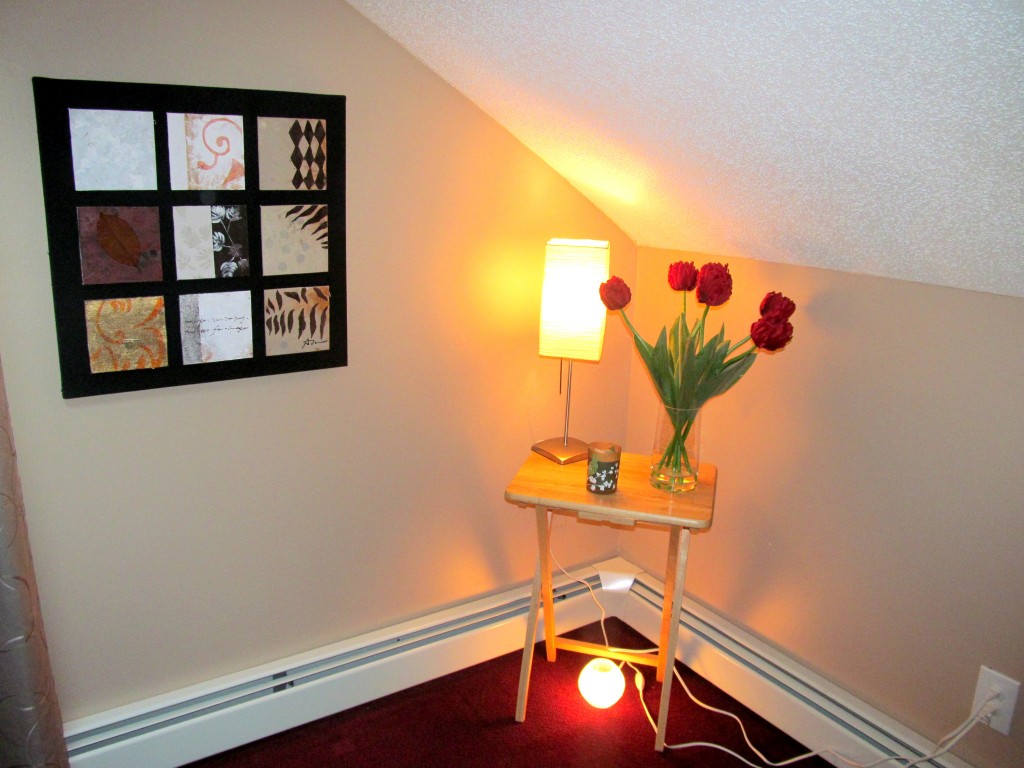 I received the basic level Being Blissful 60-minute massage (priced at $75). The 30-minute version is $45 and the 90-minute version is $100. Though the more focused In the Zone massage is more expensive at all minute-levels ($55, $90, $115) but Kellie will not normally give it to someone totally new to massages since it can be too intense. She does pregnancy massages too – a perfect (pre) baby gift – and chair massages! To see all pricing, options, and massage benefits, click here.
The Bottom Line
I really adored Brilliant Options Wellness and though I am still too cheap to pay for massages on the reg, I may start considering buying the daily deals every now and then as a treat. To those who choose to get massages regularly, I highly recommend checking out Kellie's services at Brilliant Options, especially if you are interested in supporting a small business and/or a very holistic approach to health! I also have got to give Kellie props for immediately mailing to me the bracelets and watch I accidentally left behind after forgetting to put them back on post-massage. Thanks girl!
Giveaway!
One local Cait Plus Ate reader will receive a complimentary 30-minute Being Blissful massage from Kellie at Brilliant Options Wellness! The giveaway will close this Friday 5/17 at 11:59PM EST. To enter, you can do the following and make sure you leave a comment for each or separate entries don't count:
Comment and tell me your massage experience. Are you a noob? A seasoned pro? (mandatory)
Follow @BOWellness on Twitter and comment here saying you did.
Follow @CaitPlusAte on Twitter and comment here saying you did.
Tweet "I entered to win a 30-minute massage @BOWellness Plantsville, CT from @CaitPlusAte! http://caitplusate.com/?p=9106" and comment here with the link to the tweet.
Repin something from the Brilliant Options Pinterest and comment here with the link to the repin.
Follow Kellie on Instagram and comment here saying you did.
Though it's not a giveaway entry method, you can like Brilliant Options Wellness on Facebook to stay in the loop about specials, events, and healthy tips from Kellie. Lots of ways to enter so good luck to all my local readers who decide to do so, and hope my non-local readers enjoyed hearing about my first massage experience!
Disclaimer: I received the massage from Kellie and Brilliant Options Wellness free of charge. All opinions on my experience are my own and this is not a compensated post.