All the Catalunya at Barcelona
Barcelona West Hartford had an Argentina wine dinner in March and a Foods of Galicia dinner in April. May's dinner was all about the food of Catalunya – with wine pairings! This was my weeknight out last week and it was great fun!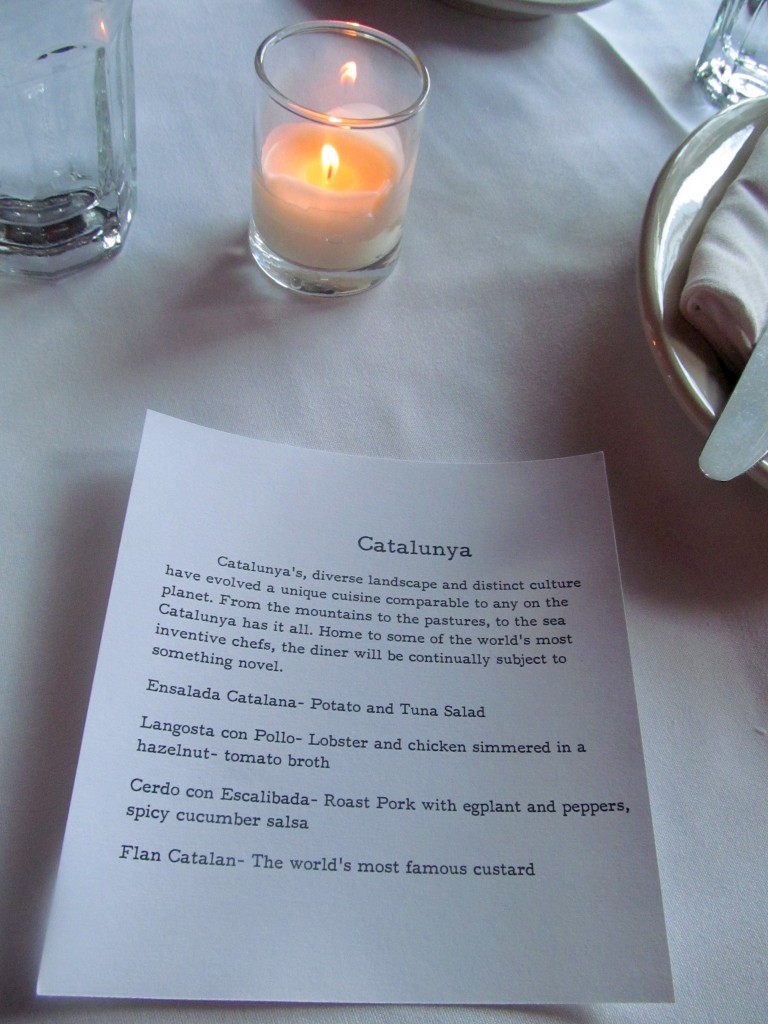 I attended the dinner with my good friend Kat and her sister Helen. My sister was supposed to come too but alas, she had to work. It was my first time meeting Helen and she is the woman – I can't get over how similar her dynamic with Kat is to my dynamic with Hannah!
Our meal was prepared by Executive Chef Alexander Feldman, who came out with each course to share its ingredients and other fun facts about Catalunya (Kat calls him Mr. Wikipedia). He explained at the start of our meal that Catalunya is the most adventurous place to eat in Spain (now I know where I'm going whenever I visit the country). The chefs of the region love experimenting with crazy flavor combos, ingredients, and cooking methods.
Our waitress Emily was EXTREMELY knowledgeable about the wine paired with each course. She started us off with a bubbly – Sumarroca Brut Nature Gran Reserva Cava 2007. The perfect celebratory way to kick off the dinner with my friends!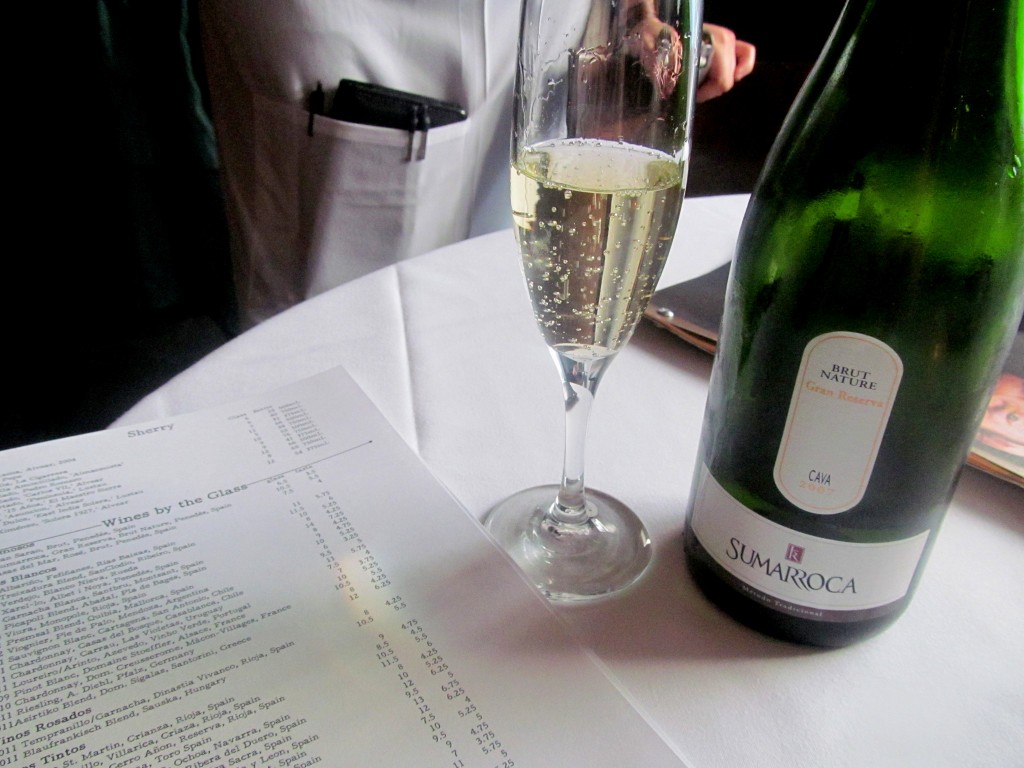 The first course would have been perfect to eat outside on a sunny summer day – too bad Connecticut refuses to give us many of those. The Ensalada Catalana (thinly sliced boiled potatoes, onions, green peppers, tomatoes, olives, tuna, hard-cooked egg, red wine vinaigrette) still tasted fantastic and would in any environment! Alex is a baller; this recipe called for canned tuna, but of course he oil-poached fresh tuna instead.
Helen's sister is a vegetarian, so Alex was nice enough to customize some courses and substitute others to fit a vegetarian diet. Helen received the same Ensalada Catalana, minus the tuna.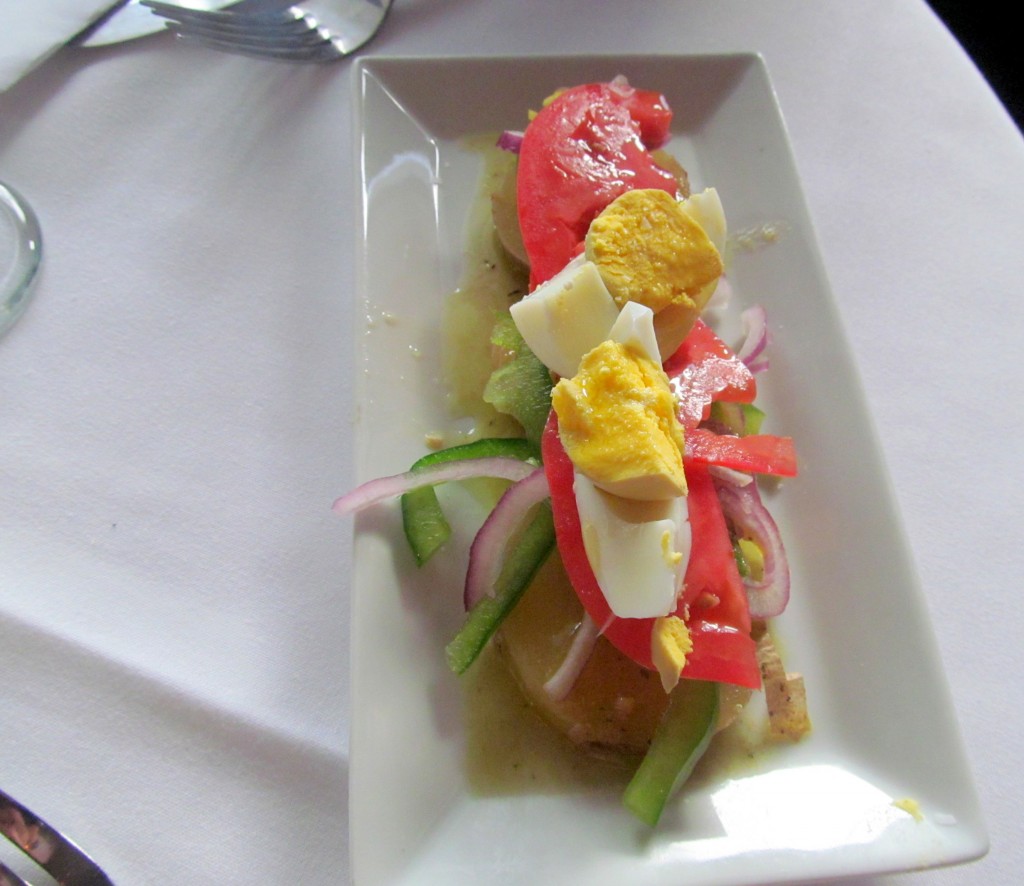 I may try to never order the same dish twice in a restaurant, but I totally wasn't complaining when Alex brought out his amazing Pa Amb Tomaquet (tomato and olive oil rubbed toasted bread), which I've had on two prior occasions. This was definitely the most charred version I've ever seen or tasted though…as a major carcinogen lover, I was very happy!
The next course wins for both most interesting tapa and most interesting wine pairing of the evening! I was intrigued when Emily brought us a dry sherry (Lustau Almacenista) to pair with a savory course – Langosta con Pollo. What's that you ask? Oh no big. Just chicken and lobster sauteed in a soffrito of onions, herbs, tomato, saffron, wine, and brandy…finished with ground almonds and hazelnuts, chocolate, and garlic!!! Told you Catalunya was known for unique ingredient combinations!
Helen's vegetarian option – roasted eggplants, red peppers, and a spicy cucumber salsa – came with its very own wine pairing!
Kat and I were also poured a sample of the vegetarian tapa wine (Helen tried some sherry too) and Emily was on the money when she called it very "stinky". So true, but it was SO good! Emily's knowledge really came in handy during the meal – she asked us to take a couple of sips before trying any of the veggies, because it would take a couple of sips to get the wine's true flavor as it was meant to be experienced with food. I really want to look for this in the liquor store to have at home sometime!
Helen was totally spoiled during the main course and received an entire vegetarian paella! She and Kat dug in and raved over the soccarat (the crust that forms at the bottom of the paella pan). I passed because I knew I wouldn't even have room to finish my own plate! And I'd had plenty of paella at Barcelona's last event. 🙂
Alex brought out a vegetarian tapa for all three of us to share – sauteed chard with pine nuts and raisins. I loved the contrast between the savory pine nuts and sweet raisins!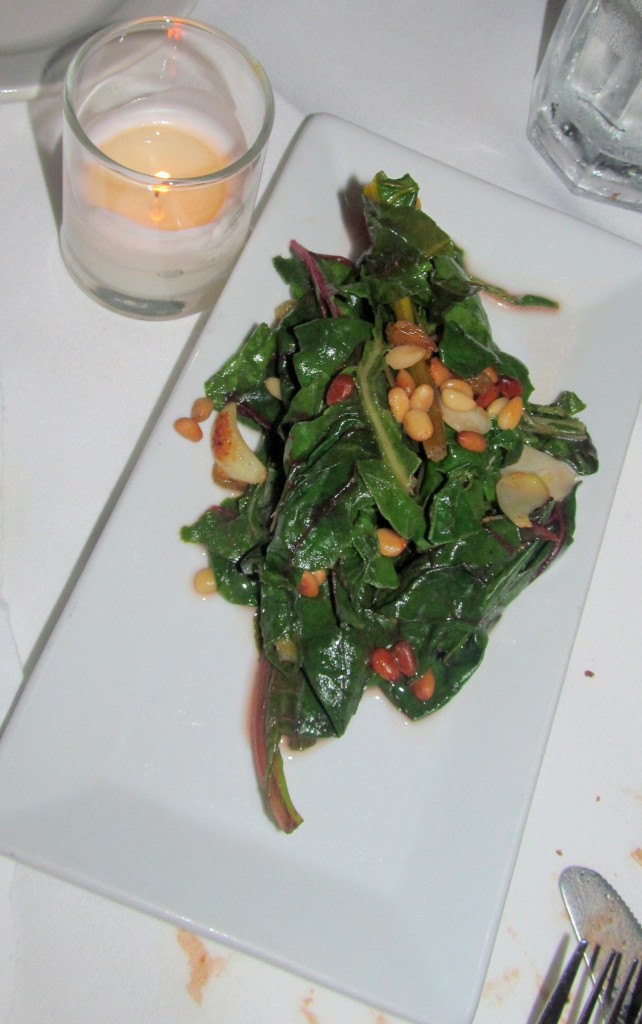 Our table received two red wines – one for Helen's food and one for mine and Kat's. Both were outstanding, but my favorite between the two had to be the vegetarian course's pairing…Cerro Anon Rioja (2006).
Kat had to ask Alex for some pork cooking tips, because she prepares it often at home but can never seen to get it to retain its moisture. The pork (Cerdo con Escalibada) came with the cucumber salsa, eggplant, and roasted red peppers Helen received in a prior course. I could barely finish it but took the rest to go and enjoyed it the following night! I have said before that I don't really like to order food that takes "work" to get to and I would categorize this dish as such. The bone and the fatty portions made it a bit hard for me to cut, so I probably would not opt to order a bone-in piece of pork again. However the cucumber was just wonderful with the meat!
Kat's baby girl Penelope is a foodie (as in she demands food practically every hour) and finished the milk Kat left at home with her husband before we even got halfway through our evening! So Alex sped up the pork/paella course and had the dessert boxed up for us to take to-go. Fine by me…I was a bit full but knew in an hour or so I'd be ready for dessert. Emily still brought over an after-dinner drink – sweet vermouth – which had me psyched because I've been in love with the stuff since I got a spontaneous tasting at Barcelona's bar on Thanksgiving Eve.
As soon as I got home I poured myself a small taste of red wine to go with the dessert – Flan Catalan! Ahhhh…just thinking of it now, I miss it! Red wine and dessert pairings steal my heart every time but even without the red wine, this would have been moan-inducing. Even to-go!
I love that I got to take some Catalunya home with me…thanks to the leftover pork, it lasted me into the next evening!
 Thanks to Alex, Emily, and the rest of Barcelona for showing us a delicious, fun time. And thanks to Kat and Helen for joining me for dinner!
As a blogger for this event, I received my food and wine free of charge. My opinions are my own.
Which course would you have been most into? If you say the Annie's mac with pork, I will be totally okay with it.
Have you ever visited any regions of Spain? I feel like Barcelona is giving me the full culinary tour!
When you order dessert at a restaurant, do you typically eat it there or take it to go?