Marvelous Meal at Barcelona!
Breaking news (or not) to Fashion Friday readers – my missing gold fake-Tom has been found. Yesterday's tweet says it all, so I'll leave it with that..

I had one of my most marvelous dining experiences ever on Friday night at one of my favorite area restaurants, Barcelona Wine Bar in West Hartford. My dad is out of town and my sister was working (not even going to mention my brother, who certainly has no interest in hanging out with the fam), so my mom and I wanted to go out for a special dinner – just us two.
I contemplated our restaurant choice during the week and decided on Thursday night that I just had to bring her to Barcelona. It may be hard to believe given how often I have been there, but she had NEVER been! My dad was super impressed during his first visit and I knew she would be too, plus it meant SO much to me to be able to show her such a special place and introduce her to my friends there.
We were determined to dine at the bar, so we waited for seats (the place was hoppin') while enjoying our first round of drinks. I passed on to my mom a recommendation Anna gave me during one of my first Barcelona trips – Cesca Vicent, a Cab/Garnacha blend. As I expected, she was blown away. I'd requested earlier in the day that Anna start dreaming up a concoction for me, and she delivered with a rum cocktail with lemon juice and muddled cucumber. Super refreshing and it went down wayyy too easily. I held off on my next one until after we snagged two seats from some nice West Hartford restaurant-hoppers.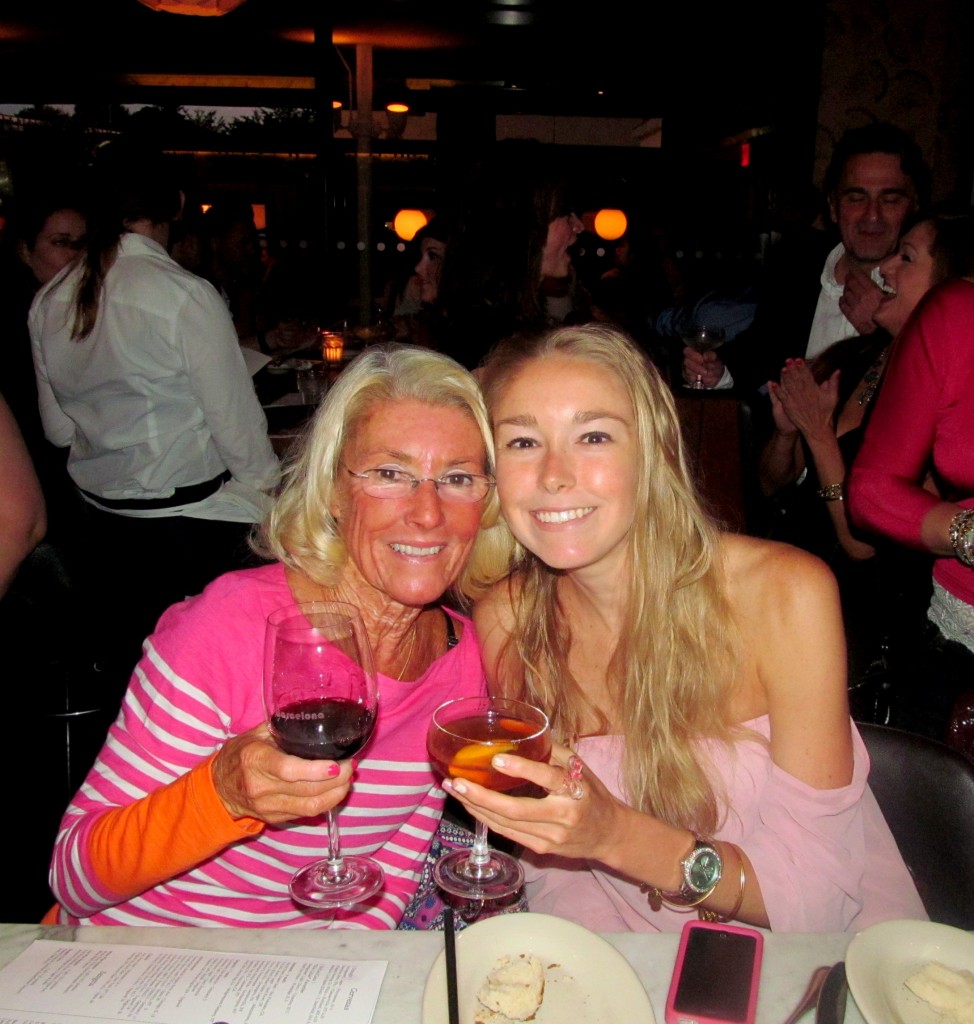 I ran into Ryan of Nora Cupcake Company at the bar, so it was great to have another awesome person to introduce my mom to. He informed me it was National Bourbon Day, and that was all I needed to hear to help me decide that my second drink would be bourbon-based. I asked maestro Dan to work magic and make said drink.
Again, another drink that went down way too easily!!! Luckily Mom was driving and Emily, another wonderfully talented bartender (she showed my dad and I a great time at our whiskey tasting), immediately delivered us the Barcelona food I was most excited to show my mom…and it wasn't even a tapa.
I could go on and on about Barcelona's piping-hot loaves of crusty, soft bread and fantastic olive oil! Emily added a ton of pepper to the oil for us too. I was so busy Instagramming and photo-taking that I didn't get to enjoy nearly as much bread as I'd have liked, but my mom was in heaven with it and her red wine.
I asked Anna to give my mom some menu guidance on choosing tapas since she was unfamiliar with much of the menu. We ended up sharing a bunch of stuff (the best way to dine with tapas!), most of which was not too "out there" for my mom to enjoy!
We started with the tuna tartare (with capers, lemon, and yucca chips), a local (Newington, CT) kale salad with balsamic and hazelnuts, and Gambas al Ajillo (shrimp, garlic, guindilla pepper).

Next up we had the asparagus (I left that to my mom; I've had it several times at Barcelona and eat it a lot at home too), roasted mushrooms (tiny little guys!), and my favorite tapa of the evening…the Pig's Head. My mom didn't touch that one, and man am I glad, because I was NOT sharing. The tapa was basically (words a waiter used to describe it to me) the best, fattiest parts of a pig's head (like the cheeks) formed into a cake. I can't recall what else was in said cake aside from fava beans, but those beans did provide great texture variety. The chimichurri sauce atop the pig was also fabulous. I was very sad when this tapa was gone and that's how I knew it was my favorite.
My mom kept munching on bread after we finished but I wanted more tapas! So I ordered the pickled beet salad (with walnuts and Valdeon  – a Spanish blue – cheese) and a super-new menu item which I cannot recall the name of (EDIT: it's montadito, thank you Anna!), but it was basically a crispy toast with smashed avocado, english peas, and sprouts on top. Anna recommended that one to me and I sure am glad she did. It was amazing! The beet salad was delish too but I didn't finish it because I wanted to save some to use in my salad the next day 🙂
To say my mom was impressed by our Barcelona experience is an understatement. The whole way home all we could talk about was the magic of the evening and how kind every employee was. Exec Chef Adam Greenberg even emerged from the kitchen for a few minutes to say hi and meet mi madre! We are already planning a trip back, this time with my dad in tow. My mom said she could really tell everyone who works at Barcelona feels like he or she is part of a family; that's something that's always been evident to me whenever I've dined there. I'm glad she could see it too! I seriously feel SO lucky to have been able to share something I love with the mom I love so much.
Thank you to the staff of Barcelona Wine Bar West Hartford for making my Friday night out with my mom so memorable and MARVELOUS!
Which tapa would you have been most excited to try?
Do you dine at any restaurants where you know some of the staff?
What was marvelous about your weekend?!