TGIF in Simsbury
A single post would have to be way too long to recap all the fun I had this past weekend, so I thought I'd spread the love between two posts, beginning with today's retelling of this past Friday night. I spent time with people I love, and also spent $0. Gotta love it when that happens. Before the day I drove into Simsbury to have the interview for the job I currently hold, I don't think I'd ever stepped foot (or tire?) in the town. And while a lot of the time it is very quiet and…well…a bit boring…the town sure delivered on this particular evening.
Let me rewind back to the beginning. After a quick-and-dirty post-work gym trip (25 minutes on the StairMaster followed by upper body weights and abs) I met my parents at Millwright's for a cocktail before the evening's main plans. I debated whether or not I wanted to make this pre-event visit because I was nervous to order a cocktail before attending a shindig where I knew I'd be drinking wine. However, I really wanted to introduce my mom to my friends (my dad had recently done just that) at this very special restaurant…and Chris Parrot's cocktails are no ordinary cocktails. So I took a leap and brought my parents down to the Millwright's Tavern!
I'm so glad I did because it meant a lot to me to show my mom such a special place and introduce her to the people who work there and share the same passions I do for unique food and drink! Speaking of which…I ordered a rum-based beverage called the Jungle Bird (Black Strap Rum, Campari, pineapple, lime) and was SO impressed. The rum tasted of molasses (I could totally just sip on it) but the bitter Campari and lime cut through the sweetness of that and the pineapple. Such a perfect flavor combo and I could totally sip on these for days during a beach vacation.
My dad ended up having to finish my cocktail for me because I was so busy taking pictures, I didn't drink it quickly enough. We had to get to our plans! We didn't want to miss the start of the Hartford Symphony Orchestra's Talcott Mountain Music Festival at the Simsbury Performing Arts Center.
My parents and I met up at the CT.com table with my good friend Kat, her husband Mike, and their ever-famous daughter Penelope! Kat was kind enough to score my parents and I table tickets and a parking pass as a thank you for helping to promote the event through my blog. Thanks to her, we had AMAZING seats!
The evening's music was Rolling Stones themed. When I heard "Hartford Symphony", I envisioned instrumental orchestra versions of Stones music. Instead we got a tribute band, complete with a lead singer! He reminded me of the lead singer of Train, but more attractive.
Kat and I both brought local Connecticut wine – hers from Rosedale Farms & Vineyards in Simsbury (she and I will be dining there at the Max Chef to Farm seafood dinner this Friday!) and mine from Lost Acres Vineyard in Granby.
The first song was obviously "Start Me Up" and the hippie ladies seated behind us were super pumped and started dancing immediately. Yes I joined them later.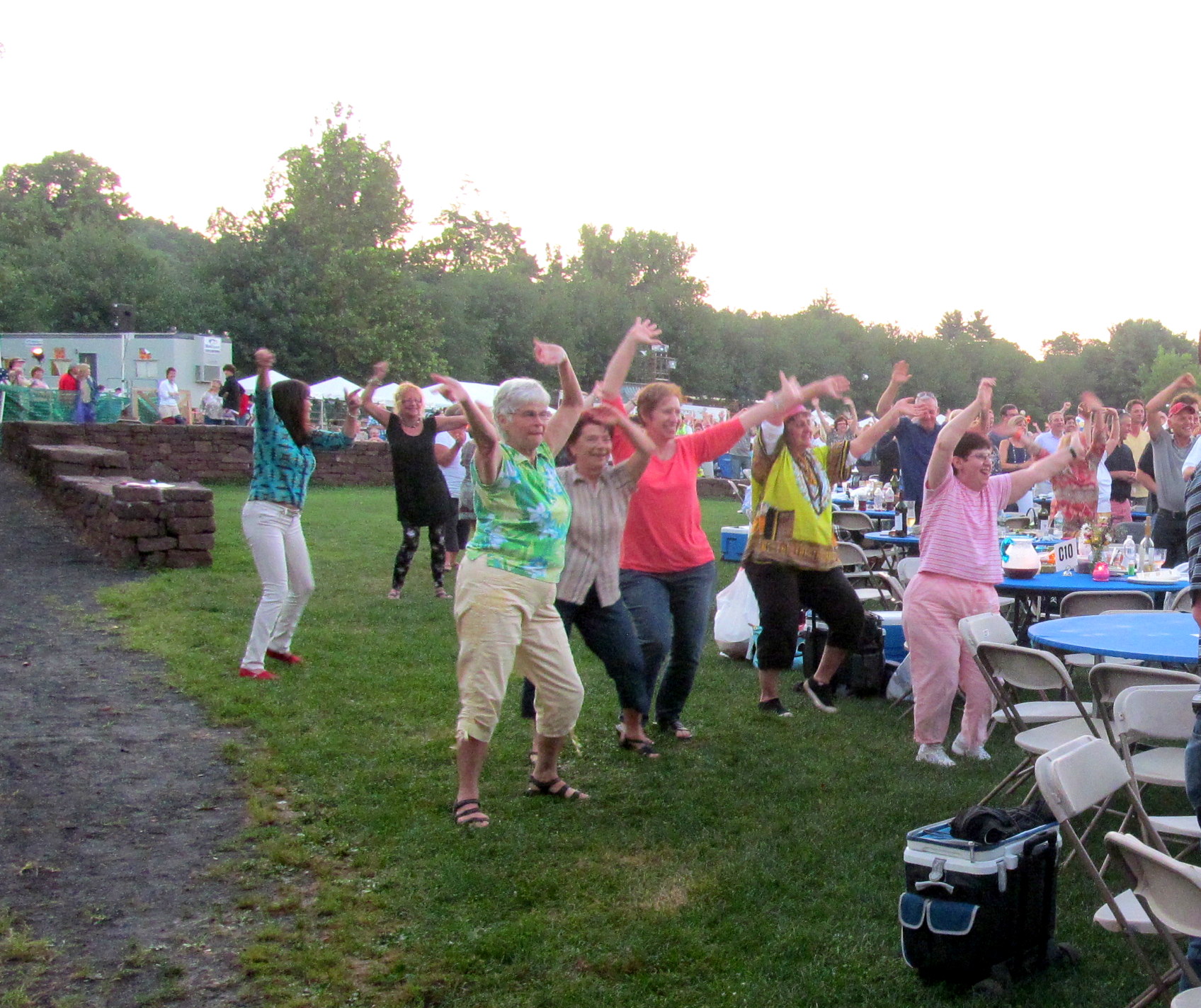 I know what you're asking…where are the Penelope pictures?! If one asked where Penelope was at any point in the evening, a safe guess would have been in my mom or dad's arms. They could NOT get enough of her, and she was an angel all night. We were at the concert for a few hours, the music was loud, and yet she never once cried. I'm surprised she wasn't crying when she arrived given her outfit…
I have never seen my dad, a die-hard Tennessee Vol, treat a Gators fan as nicely as he did Penelope! Just goes to show she can charm anyone.
Kat claims that my mom gave her mother-in-law competition for the award of Most-Likely-To-Steal-The-Baby.
After a couple of songs the area in front of the stage became a dance floor, and I could not have been happier. I LOVE dancing and sure was not expecting this concert to involve any…yay! Obviously Penelope got in on it.
I just loved watching Kat, Mike, and Penelope dance together. They're the sweetest little family.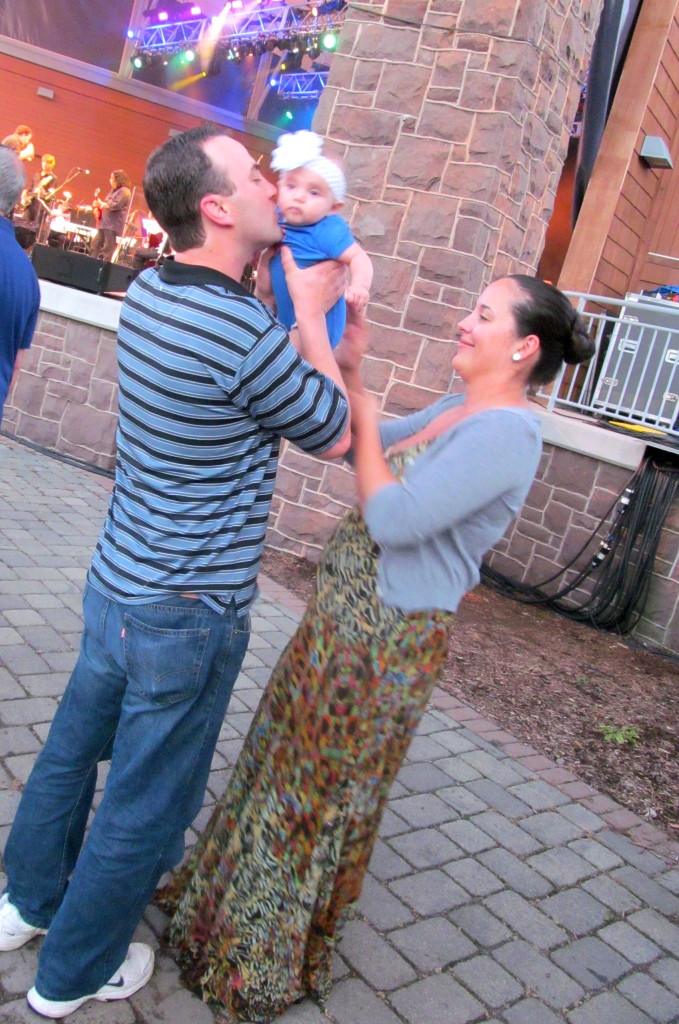 We snacked on takeout from both Giovanni's in Glastonbury and Fitzgerald's in Simsbury. Kat brought these amazing little fruit tarts from Fitzgerald's, and you can bet I had one later that night when we got back to her house.
If we had to have table seats for any concert I was glad it was this one, where we were close enough to the stage to enjoy the lead singer's charisma. And having less distance to dash up there to dance, the moment we heard the chords of a familiar song, wasn't half bad either.
 The dancing only got more fun, and more joined in, as the sun went down. According to Kat, dancing with my dad brings out my very whitest side.
My parents LOVED the dancing and probably would have done more of it if it hadn't been for Penelope's presence.
I realized that the Talcott Mountain Music Festival is actually the place I met Kat in person (Mike too) for the first time, last summer! She met up with Jeff and I there to deliver to us our lawn tickets as a thank you for the first giveaway I did. It was our first Hartford Advocate-Cait Plus Ate partnership (of many more that came and are yet to come!) and it all seemed to come full circle this past Friday, because after the concert I went back to Kat's place to stay over so we could go on a weekend trip together (another blog post) the following day!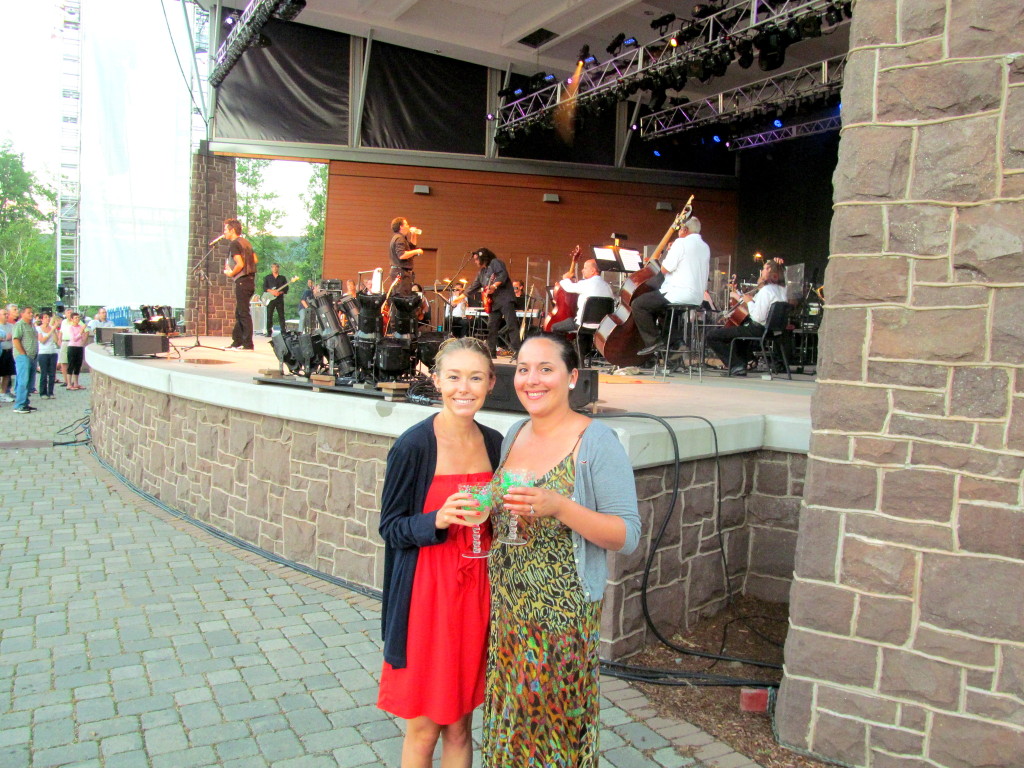 I can't believe I've gone from a Twitter friend to a friend Kat would invite along on a family trip. I'm so thankful that we've met each other and become close! ALL the sappy.
Yes, there is more to come on my weekend with Kat and her family. Our next stop was SARATOGA! But that's for another day and another blog post…
Does your area host any outdoor concerts? Any tribute band concerts?
Are you a Rolling Stones fan?