Last Hurrah at La Trattoria
La Trattoria provided me a complimentary glass of wine and my meal for this write-up. This is not a sponsored post and all thoughts and opinions are my own.
La Trattoria (Canton, CT) contacted me about coming in to try out the menu and write a blog post about my experience. I truthfully had never heard of the restaurant before, so I did what I do best and started menu-stalking. I liked what I saw – lots of variety, and opportunity for healthy ordering (the restaurant partners with Snap Fitness in Avon to offer a menu of lighter options). So I accepted the offer and made plans to come in last Wednesday after a post-work Zumba class; the restaurant is located just over the Avon line, and my gym has a location in that town. Super convenient for a weeknight outing!
My menu-stalking also immediately gave me an idea of who to invite – my sister Hannah, who goes back to school this week. We needed a last hurrah, just the two of us, and she loves classic Italian food. I knew she'd be all about this trip! She was especially impressed when she did menu-stalking of her own and saw on the La Trattoria website that "If a favorite of yours doesn't appear in the selections below just ask us and we will be happy to prepare it for you." Talk about accommodating!
The restaurant was not crowded, which was expected given it was a Wednesday. During the first half of the week (Monday-Wednesday), La Trattoria offers an AWESOME lobster special, served with steamed veggies, potatoes, and a house salad. Guests can either choose a whole steamed lobster for $14.95 or twins for $24! Despite not being a lobster person, Hannah gave La Trattoria two thumbs up before she even ordered, because our booth happened to have an outlet for her near-death phone.
I was more than ready for a glass of red wine – gotta have it while dining Italian! I selected one of the evening's special wines by the glass, the Wild Horse Pinot Noir. Special indeed – at $11 a glass it was a higher price point, but also worth it. The manager, Mark, was very excited by my choice – it's a favorite of his.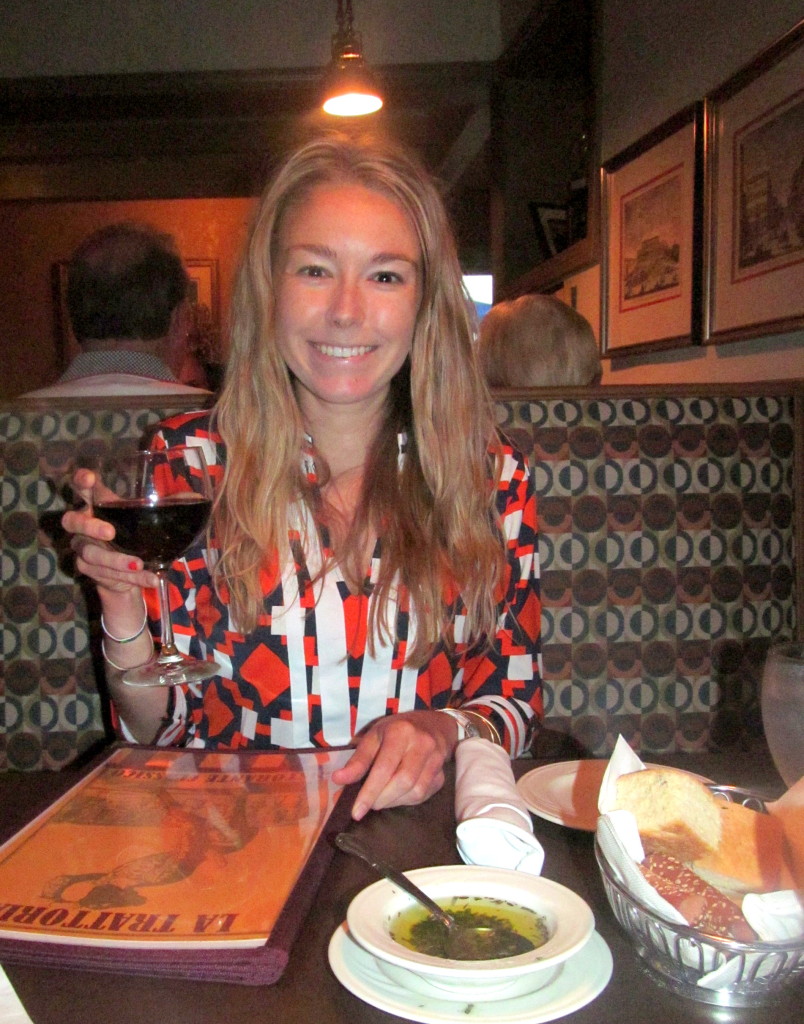 I completely ADORED this Pinot Noir and it was the perfect companion as I browsed the extensive dinner selection. Hannah and I were both having a MAJORLY difficult time deciding! We knew one thing though – we wanted some bread. The bread basket's contents weren't terribly exciting – a pretty average crusty white Italian bread and some thick breadsticks – but the olive oil and herb mixture stood out to us both. An extensive amount of ingredients created a seriously complex flavor that really perked up the plain bread.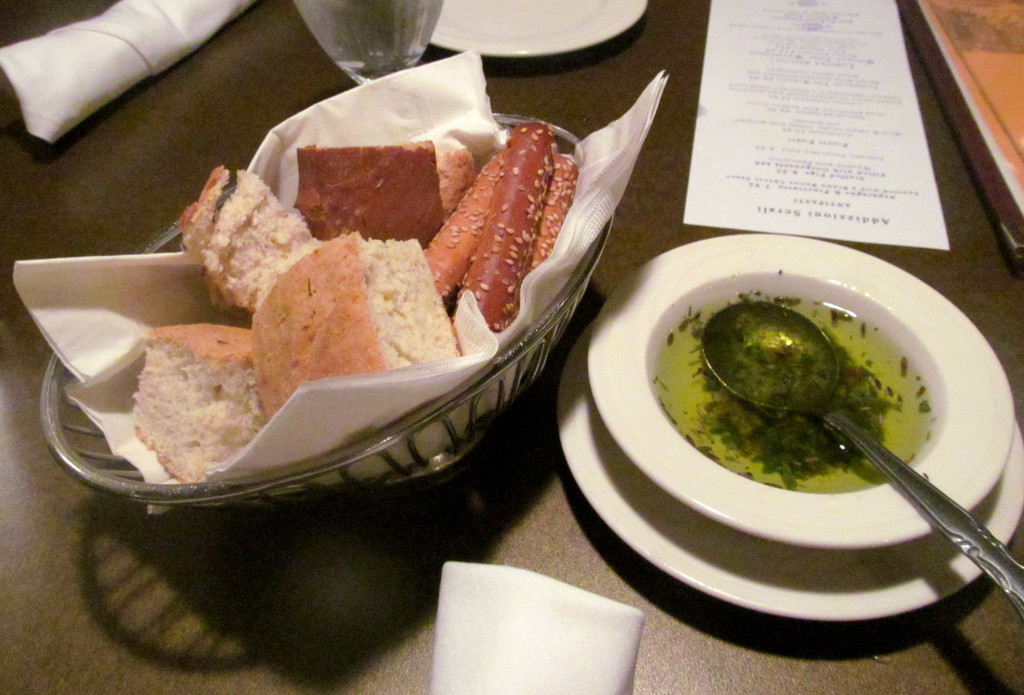 It sure took long enough, but Hannah and I finally made our decisions. First, we started with the tableside Caesar salad. I'm not really a big Caesar salad person; it's pretty boring to me and to be honest, carries a stigma in my mind due to its often-high calorie content thanks to creamy dressing and cheese. But I'd heard La Trattoria did an unbelievable Caesar salad with a fun presentation, and I thought it would certainly make a photo-worthy choice at the least.
The salad ended up going above and beyond both my and Hannah's expectations! Watching Mark make the salad (he usually is the one to do so, though some staff is trained for when he is not available) was pretty fascinating. He crushed up fresh garlic cloves and anchovies using just two forks, and used every ingredient in traditional, classic Caesar salad except egg.
La Trattoria's version of Caesar salad is way healthier than the version served at most restaurants! Mark did not use too much cheese, and the dressing didn't contain any heavy ingredients. I may miss a few components in this list, but I recall fresh lemon juice, Grey Poupon, Worcestershire sauce, A1, oil, and vinegar.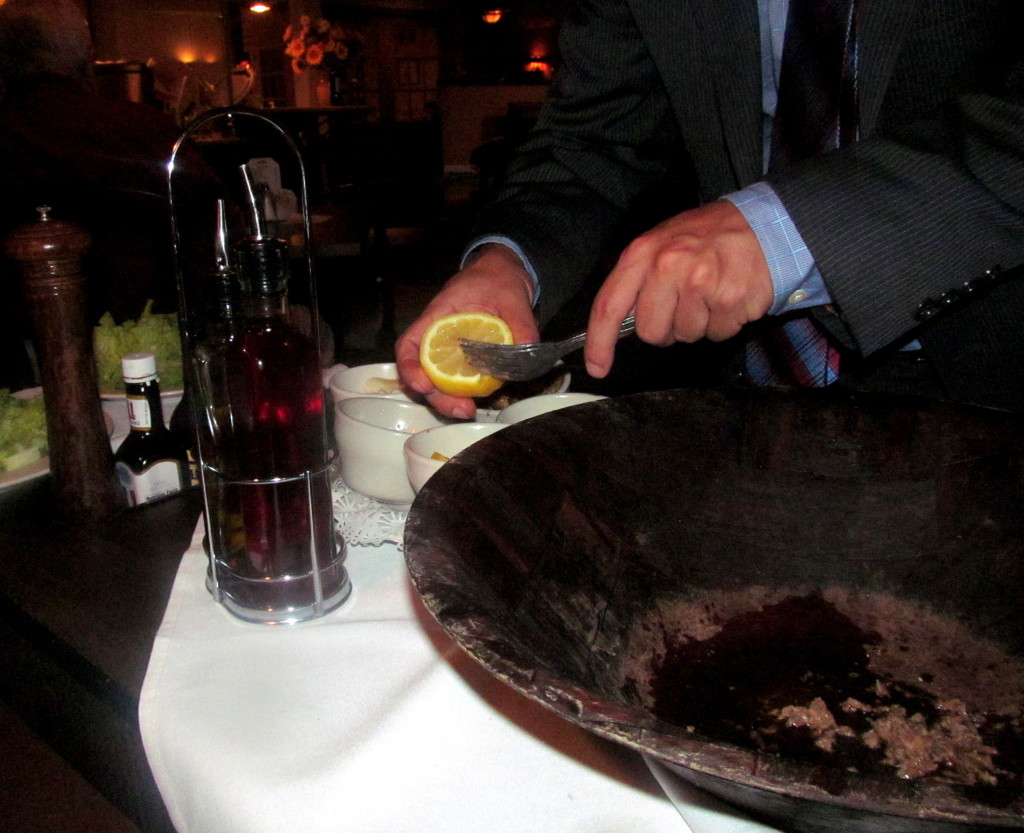 The fresh-ground pepper Mark used really enhanced the salad's flavor and Hannah and I asked for extra once it was all done and on our plates! Watching him hand-toss the salad was fun too.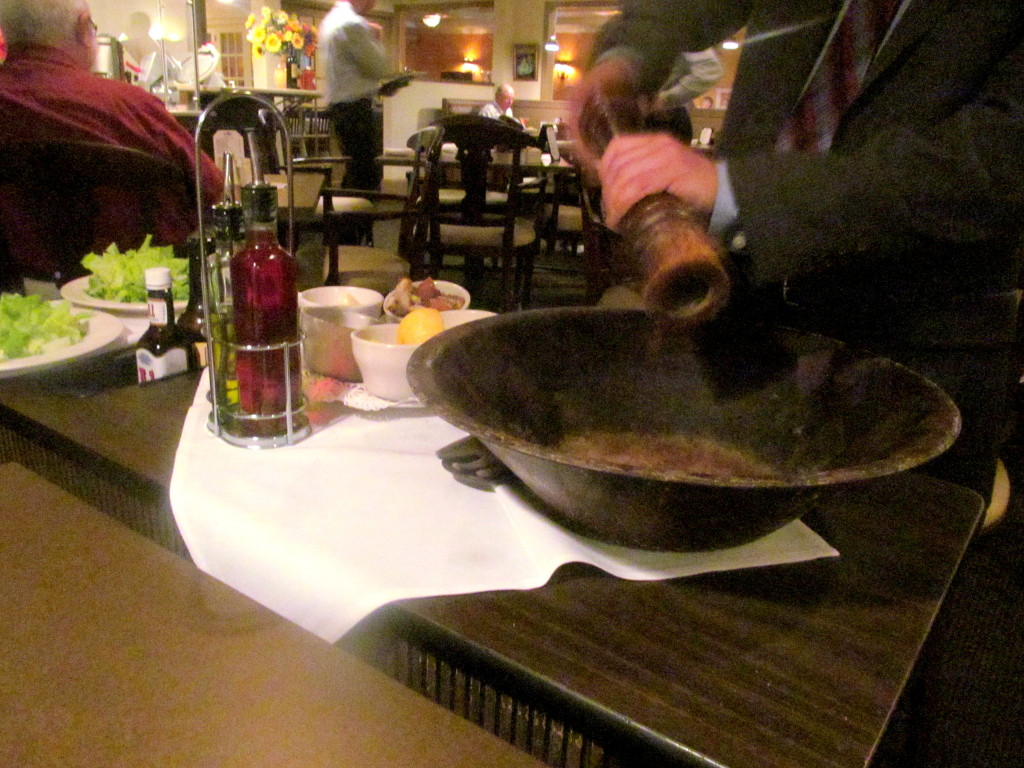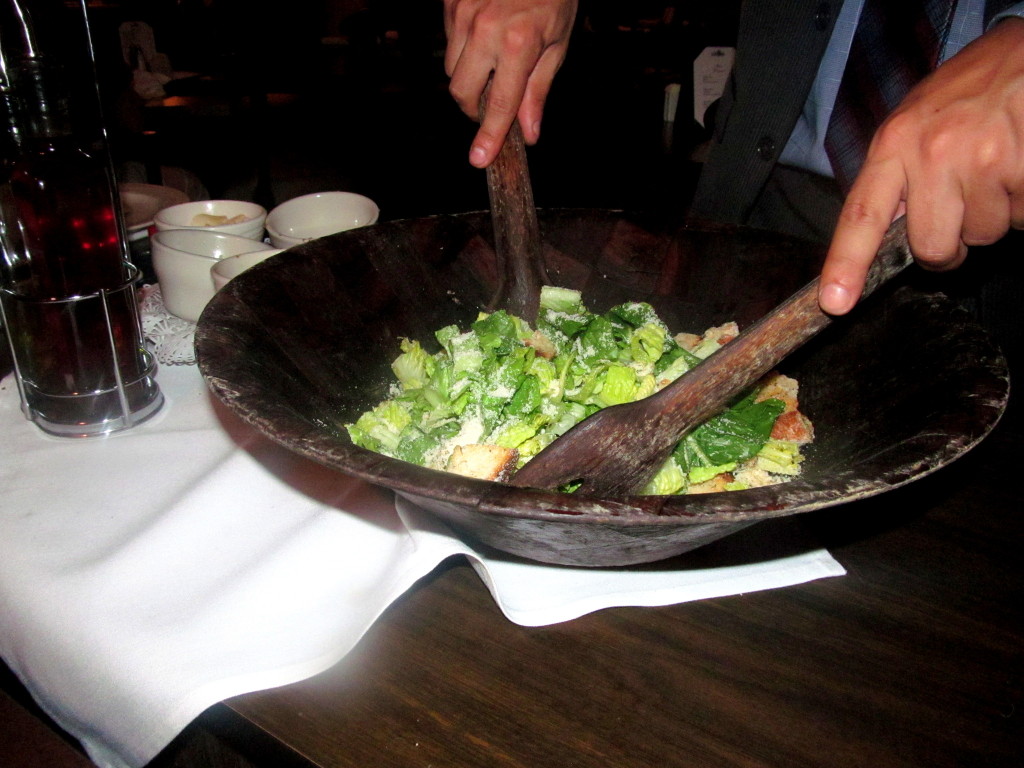 We seriously experienced love-at-first-bite. The portion was plenty – neither of us finished because we wanted room for the main course (but man oh man did I wish I had enough stomach room). I brought some home for my little brother, a Caesar salad fanatic, because he is so picky and NEVER lets an anchovy come near him. After he happily finished the leftovers, I informed him he'd just eaten anchovies. He was cool about it, but when we went out to eat this past Sunday night he refused to touch the anchovy that came with his Caesar. Oh well, I tried to broaden his horizons!
For my second glass of vino (to go with dinner) I went for the Coastal Ridge Cabernet Sauvignon, a regular offering by the glass on the wine menu. I'm a bit picky with Cab Sauv but I really liked this one – and its more affordable price point! I do wish La Trattoria had a cocktail menu (you know I'm a mixology nerd) but I also wasn't surprised when I didn't find one at this more traditional restaurant.
Our food arrived promptly, but not too soon after our Caesar salads were boxed up for us. Hannah was most excited for the classic Italian options so went for one of those – the lasagna! It came served on a bed of steamed veggies, a pleasant surprise that balanced out the heavier entree.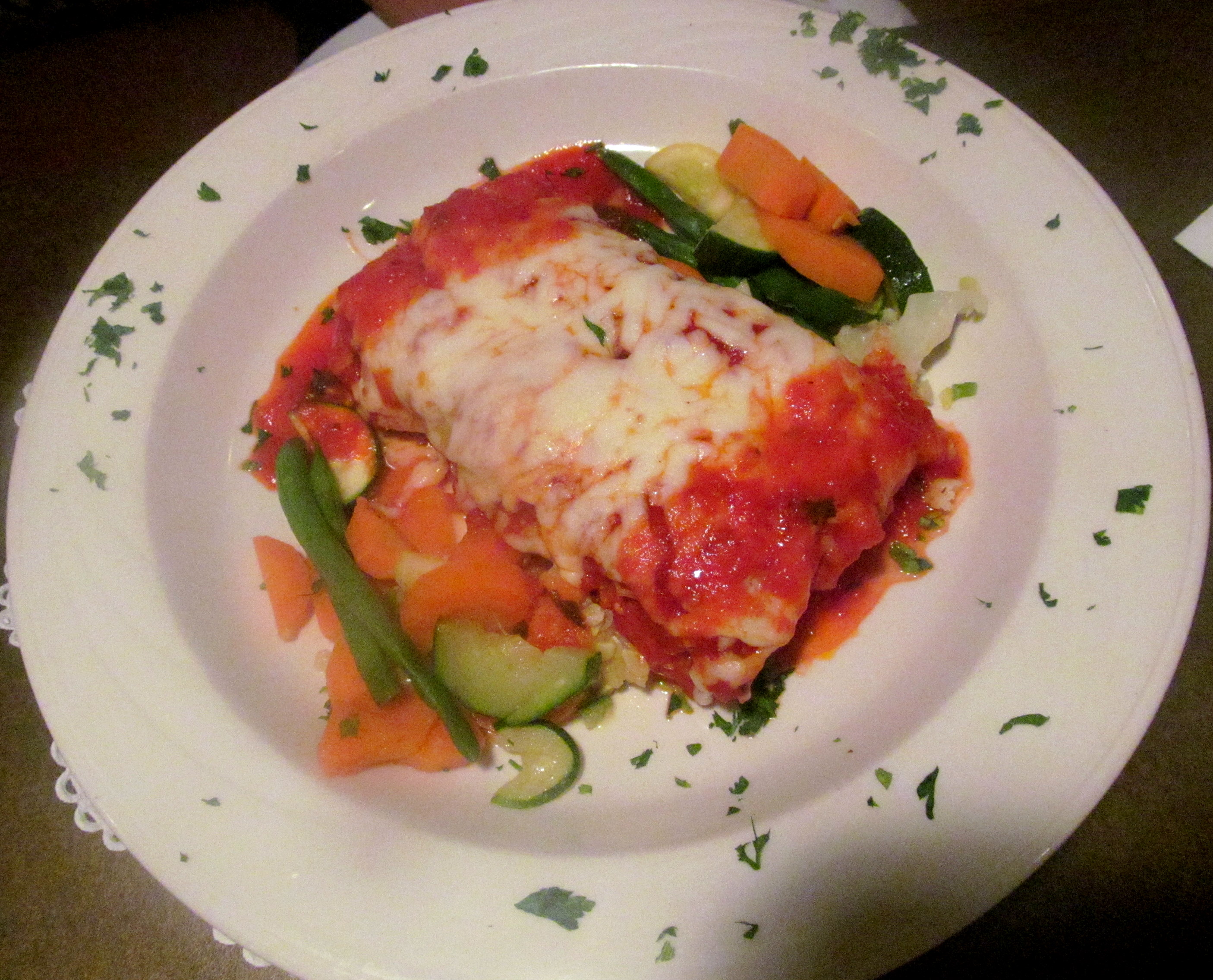 Her dish was served with a heavy sauce of cream, butter, and nutmeg (Besciamella sauce) on the side. I sampled both the lasagna and sauce, and both were incredible. The lasagna's meat was flavorful enough to stand out among the cheese and noodles, and that sauce…well, it was to die for. How is a sauce of butter and cream not to die for?
After much indecision, I went with a dinner special – the prosciutto-and-asparagus stuffed chicken! I don't often order chicken out because I find it more bland than other protein options, but when it's stuffed with two amazing things, I can't resist it. The chicken tasted nice and moist and I received not only the creamy sauce on the side (as I'd asked), but also some marinara sauce for sampling. I always forget how much better homemade marinara is than the jarred stuff – but one taste of La Trattoria's was all I needed to remind me.
My dish came with steamed veggies and potatoes, but I subbed out the potatoes and took advantage of the fact that the Snap Fitness menu offers a side of spaghetti squash! So few restaurants have it so whenever I see it on a menu, I jump all over it. Truthfully, the only other two places I've ever seen with spaghetti squash as a side are two of my favorite chains, Ruby Tuesday and Bonefish Grill. La Trattoria's was way better than any I've tried from those restaurants! The veggies were awesome too – flavorful despite lack of butter. The chicken didn't even need any more than a light coating of the cream sauce to give it moisture!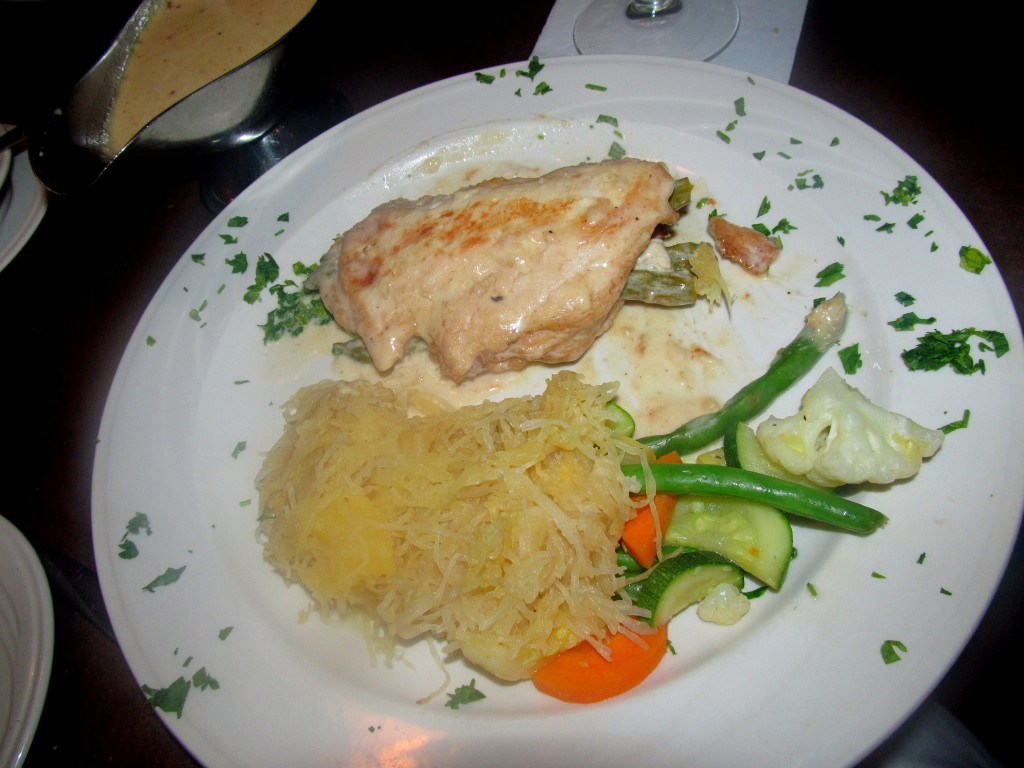 Alas neither of us could finish our meals, but I took home some chicken and Hannah took home some lasagna. I'm glad I did, because my chicken really hit the spot the next evening! Clearly we had to decline an offer for dessert (though I sure could've gone for a port if I didn't have to drive home).
Hannah and I had a great time chatting it up and celebrating the wonderful summer we've shared together during her time home from school. I'll be sad to see her leave tomorrow but I'm glad I was able to give her a chance to come out for a fun meal, despite being on a college budget, thanks to La Trattoria and the opportunity they presented to me and my blog. I'm certainly grateful!
We also can totally see our parents and brother loving the place (we did after all grow up frequenting Carrabba's, but this was better) and are excited to bring them in sometime! The location is a bit far from home, but I certainly think a meal at La Trattoria is worth the 40-minute trip we'd take. I may have to ditch Hannah since she won't be back from school again for awhile, and go ahead and take the rest of the family. I really am anxious to get back because there are seafood options on the menu calling my name!
Thank you to Mark, our waiter, Jason, and the rest of La Trattoria's staff for making it a special and tasty evening for my sister and I! You can follow La Trattoria on Facebook and Twitter to stay up-to-date on specials (like the Lobster).
What's the best stuffed dish you've ever tried?
What's your favorite healthy restaurant side?
Do you and your family have any certain type of cuisine you all love?