Cait Plus Rach in Newport – Part 1
Catch up on the first portion of my RI vacation weekend – lunch and shopping in Providence – in yesterday's post!
Friday Night
After settling into our hotel and getting changed, Rachel and I hit Downtown Newport for our first evening in foodie heaven! We wanted to start with fabulous cocktails and headed to an ideal spot to find just that, Fluke Wine Bar & Kitchen. I gave this place a test run last summer and was thoroughly impressed. The seasonal menu always changes so this visit was still full of plenty of new drink and food choices.
We headed upstairs to the bar, which has a nice view of the water. I ordered the Juniperotivo – Junipero Gin, pomegranate molasses, fresh mint, fresh lemon juice. I was a little worried the molasses would make it too sweet, but I've never had a bad drink at Fluke. The bartender came through and delivered this delicious and refreshing creation!
We decided to get some food in our stomachs because our drinks were quite potent! Fluke is one of those places that brings around a bread basket and places one piece on each person's plate. That's cool and all, but it also meant that we called our waitress back a couple of times because who eats one pieces of bread?! Plus the basket contained three types (baguette, sourdough, pumpernickel) so we had to try them all.
Fluke is pricey and as difficult as it was to decide on just a few small plates, we had to keep it to that because a full meal there could have bankrupted us for the remainder of the weekend!
Afterward we took ourselves down Thames Street in search of another drink and definitely more food. Our mission was to make it all the way down to Asterisk, a newer restaurant where Rachel's co-worker's little brother (you catch that) works as a bartender. Unfortunately he had just left for the night, but we decided to stay because the menu looked great!
We were a little bit chilly but still wanted to enjoy the summer night, so the restaurant's open-air vibe was the perfect compromise!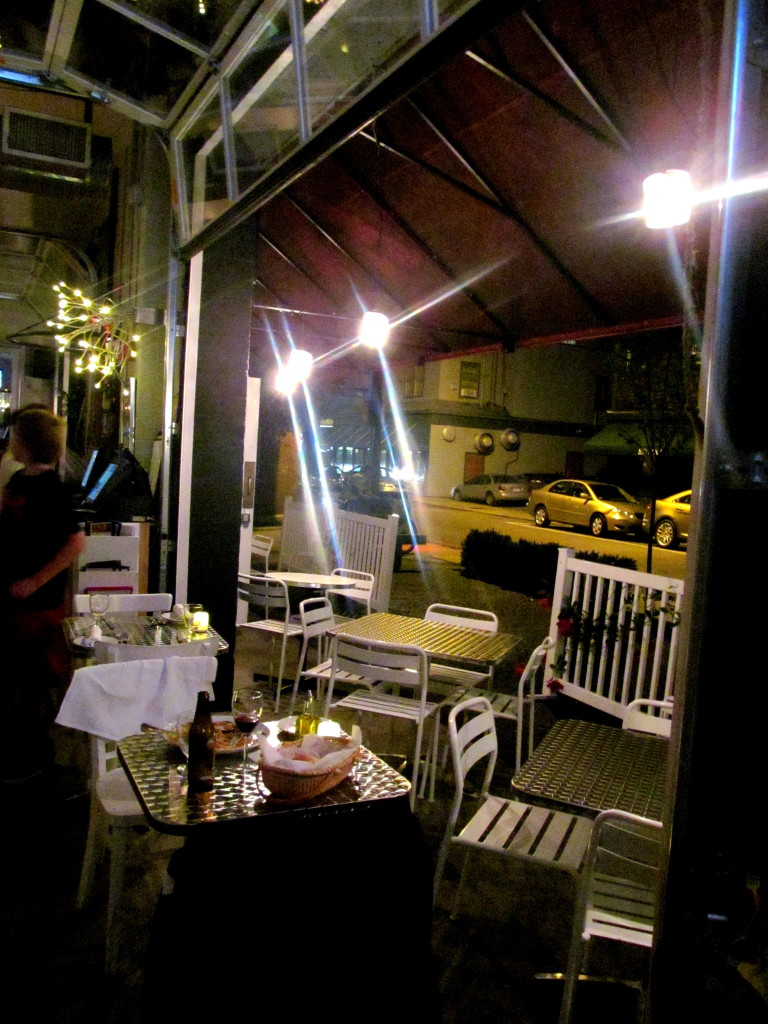 Rachel selected the Basil-Lime Gimlet (vodka, basil infused simple syrup, fresh lime juice served straight up) which ended up being truly the best basil cocktail I have ever tried. That simple syrup was AMAZING! My drink selection was simple but I needed something less "hard" – the Champagne Cocktail (champagne, angostura bitters, a sugar cube). I recently enjoyed the same drink at Cuvee and fell in love!
For food we decided to do what we'd done at lunch and split an appetizer and an entree. After just having seafood and wanting it for the entree, we chose the Beef Carpaccio (with baby arugula, capers, red onion, parmesan cheese, and olive oil). The flavors made for a wonderful combo – the mixture of cheese and oil on the greens tasted stellar! I was loving the salty meat and capers.
Our entree seriously turned out AMAZING. We decided on the tuna teriyaki served with cucumber salad and coconut rice. The tuna steak was the biggest we'd ever seen and came atop a grilled pineapple! It was cooked rare but had a nice charred exterior, and I loved the added heirloom tomatoes and the wasabi sauce – perfect for rice dipping. I'm not normally a white rice fan at ALL but the coconut flavor of this version was so amazing and made for a really special dish. I ended up liking the rice the most out of everything on the plate!
Instead of dessert I ordered an espresso martini, which the bartender said was Asterisk's specialty (I swear everyone entering the bar was ordering one!). I'm often wary of espresso martinis because they typically are made with so much cream and/or heavy liqueurs that I can't even taste the coffee. As soon as I saw the color of my drink, I knew that wouldn't be the case. Most of the flavor came from the rich espresso itself. Perfect nightcap!
Saturday Morning
I didn't sleep well at all and felt dead to the world when I awoke the next morning. However thanks to drinking several different liquors the day before, I could not go back to sleep. Rachel was up anyway so we got moving right away and headed out to get breakfast at a spot I have been wanting to visit since briefly spotting it last summer – Keenwah Superfood Eatery! We had plans to do the Newport Cliff Walk after we ate and wanted food that would fuel us well for a few miles cliff-side walking.
The restaurant was pretty dead and the staff was nice enough to bring our drinks and food out to us on the patio, after we ordered at the counter. I started with a green juice (instead of coffee, since I'd caffeined-ODed the evening prior) of romaine, apple, and lemon. Simple and delicious!
For my meal I had wanted to go vegan (I enjoy doing so when I have the chance, at restaurants like this with tofu and other vegan protein options) but was lured to pescetarian land by the Fish & Chicks (smoked salmon, egg white, capers, spinach, tomato, and onions on a wheat sandwich thin). On the side I got apple slices and goat cheese, which I happily added to the sandwich for extra crunch.
Our superfood fueled us super-well for a little over three miles of the cliff walk! Unfortunately Hurricane Sandy damaged some of it, so that was the only portion open. We still enjoyed checking out some mansions, the beautiful Salve Regina campus, and incredible ocean views. Plus it was super warm out, so by the time we finished we were craving a cold libation.
Which meant it was perfect timing to visit the Newport Vineyards in the next town over! The spot is special to me because it's where I had my first EVER taste of my beloved port, back in Summer 2011 (before this blog even existed).
Our tastings were $12 each for 5 pours, but the guy doing our tasting was a kind man and gave us each a few extra samples 🙂 Newport Vineyards offers a RIDICULOUS amount of wines (36…seems ridiculous for a winery) and choosing 5 was really tough. I tried to switch it up and opted for a big red, a rose cabernet, a dessert wine, and a couple of whites. The vineyard benefited from our extra samples because after I tried one of them – the Rhody Coyote Hard Apple Cider – I purchased a bottle (for just $9.99, how could I not?). We also got a free half-bottle of Bellevue Blush Wine, which Rachel kindly passed off to me!
That wine certainly worked up our appetites and it was lunch time, so we headed back downtown to eat lunch al fresco. But that'll have to wait for another blog post, because that's all the time I have for today folks. More Newport recapping to come!
Which food or drink looks best to you?
Are restaurants a big part of your vacations?