Hot Summer Night at Pond House Grille
Pond House Grille provided me complimentary admission to this cooking class. This is not a sponsored post, and all opinions on my experience are my own.
Pond House Grille has revitalized not just its appearance (examples: shiny website, tablet menu format) but also its food. Executive Chef Jordan Stein is placing a huge emphasis on seasonally appropriate and creative cuisine which makes heavy use of local ingredients. I had the privilege of receiving a chef's tasting there not long ago, and was truly blown away by the dishes this talented and humble guy served up.
I often lament that most restaurants do special events on weeknights, so when I saw that Chef Jordan himself would be hosting a Hot Summer Night Cocktail Party cooking class on a FRIDAY NIGHT, I jumped at the chance to attend!
I've attended events titled cooking classes, but never before have I seen one that was actually almost completely hands-on. I immediately felt relief that I'd dressed casually!
Each participant received a "program" for the evening which displayed the menu and included a recipe for everything we were going to be making!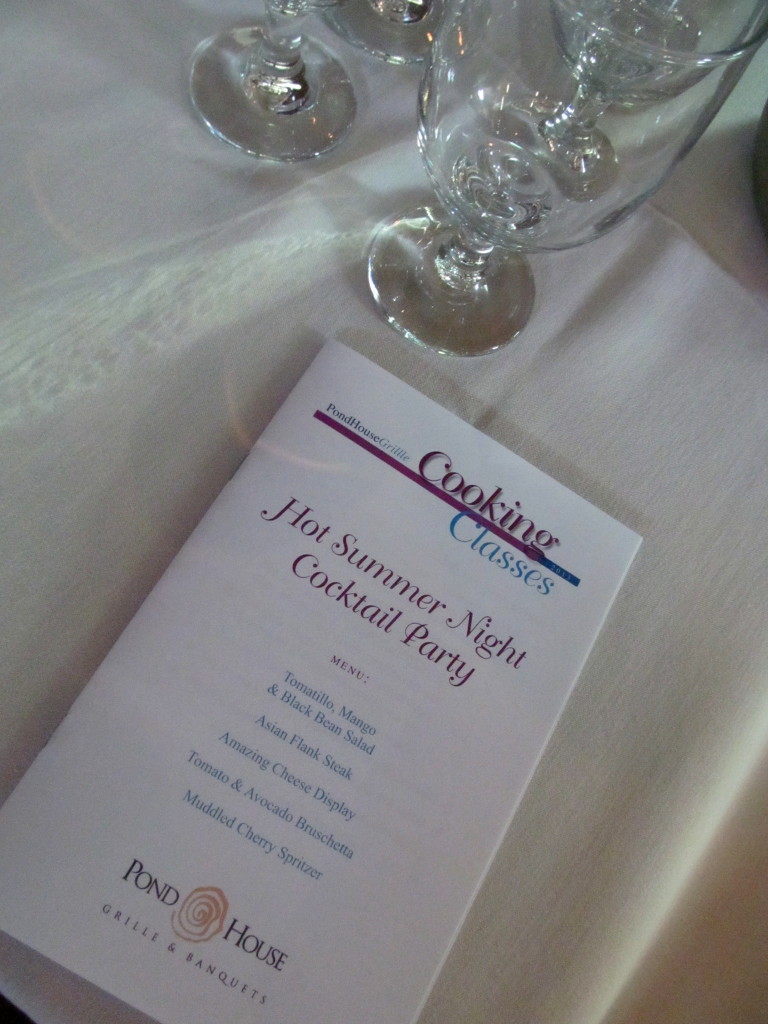 We went around the table to introduce ourselves and share the best meal we'd ever had. Jordan noted that not one person chose a fancy and/or famous restaurant – everyone's meal had something to do with the overall experience and moment in which it took place. For example, the most satisfying and best meal I ever had was during my college spring break in Montreal, when I was so hungover I thought I'd die. That story is for another  time.
I volunteered to help Jordan demo the process of making the evening's signature cocktail, the Muddled Cherry Spritzer. I'd just had my first foray into cocktail making at home, so the timing seemed appropriate.
I was pretty psyched about this nifty cherry (and olive!) pitter…I think my sister needs one, because she has been known to spit cherry pits at me.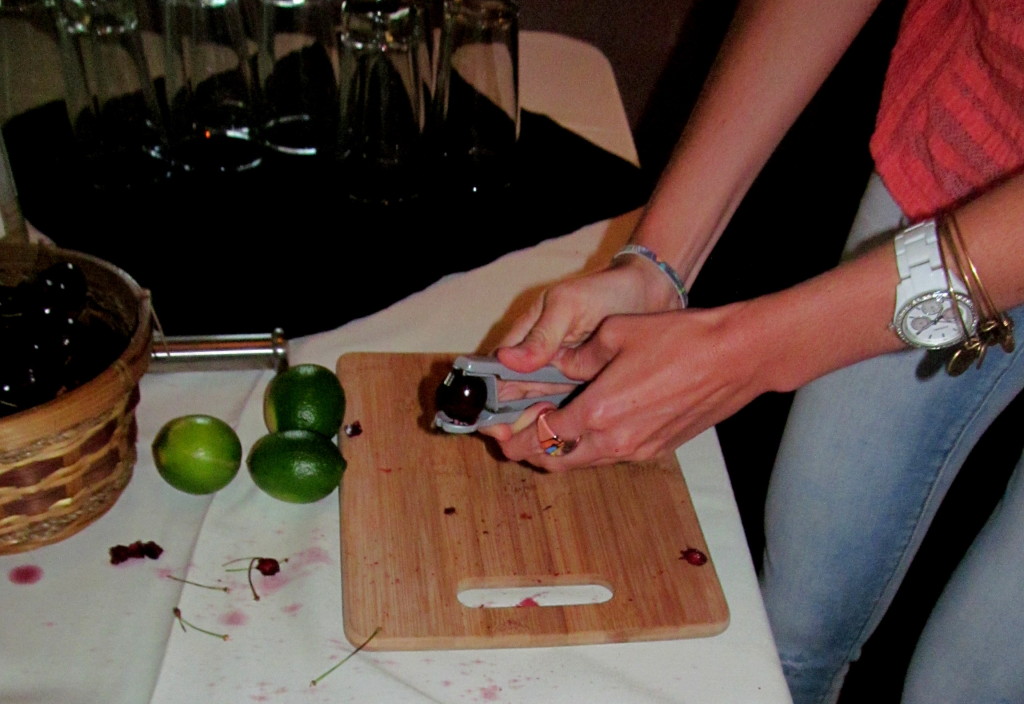 Jordan instructed me to pit 6-8 cherries (so I used 7) and then muddle them. It was time to put my arm days to the test!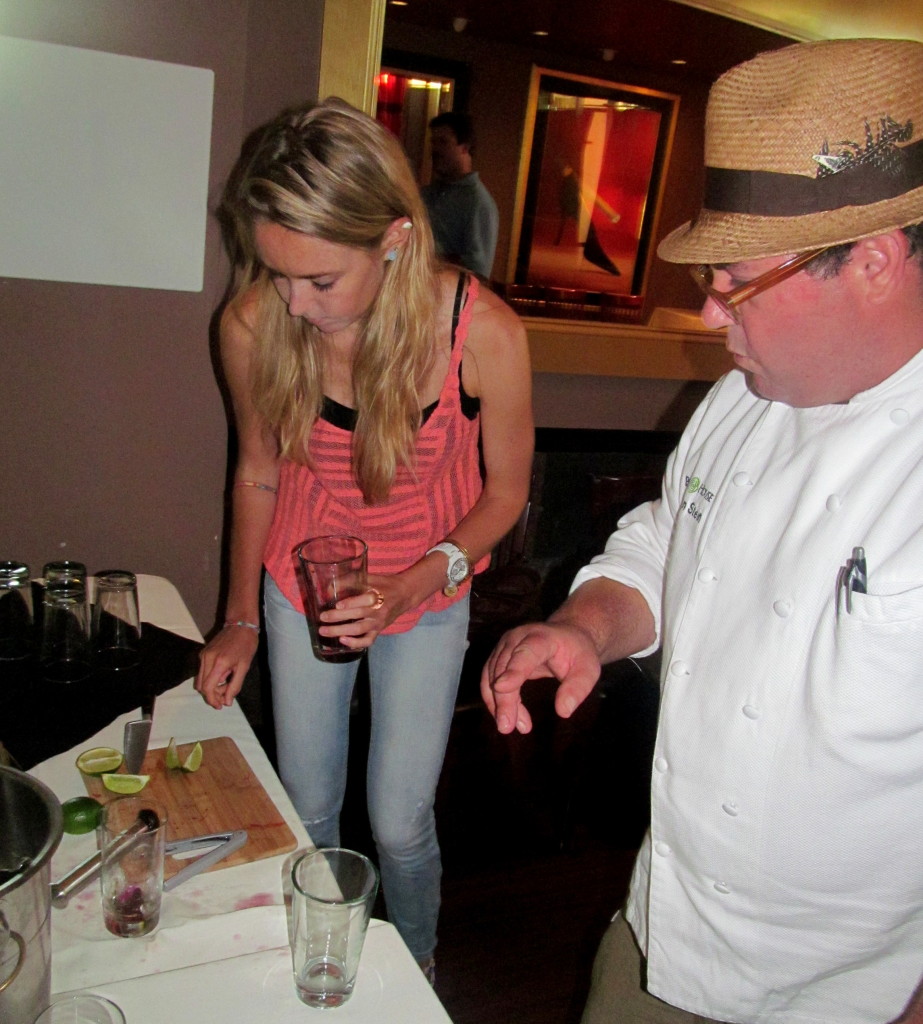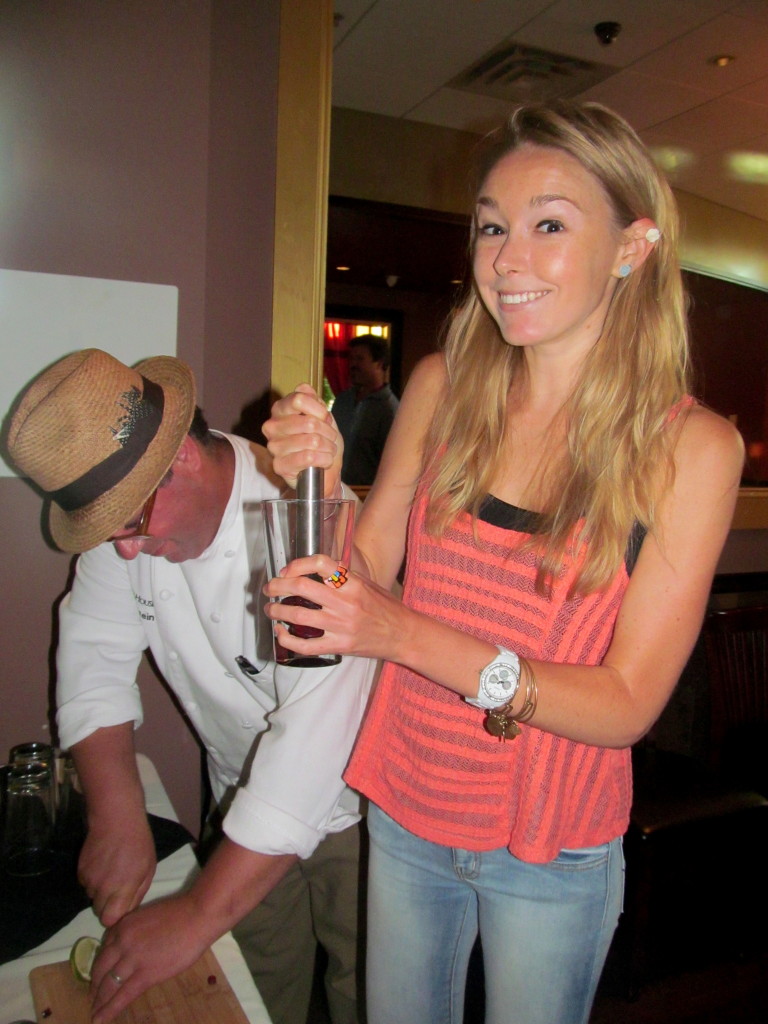 Then I simply added the vodka, ice, seltzer, and lime juice, and stirred!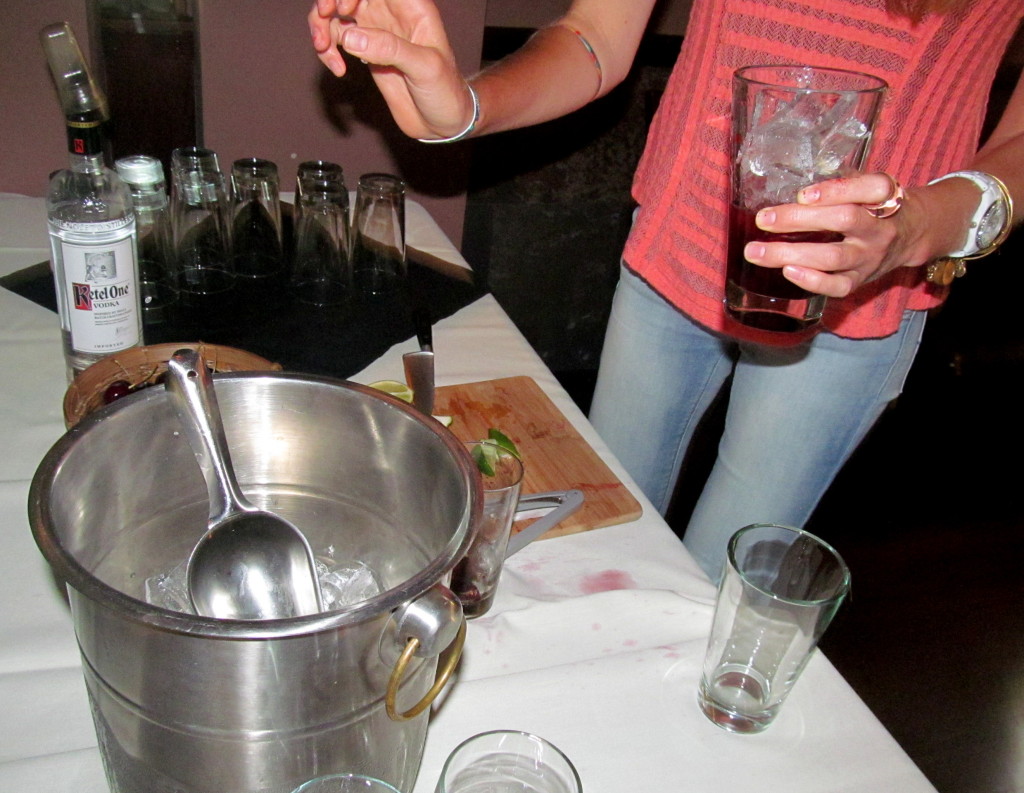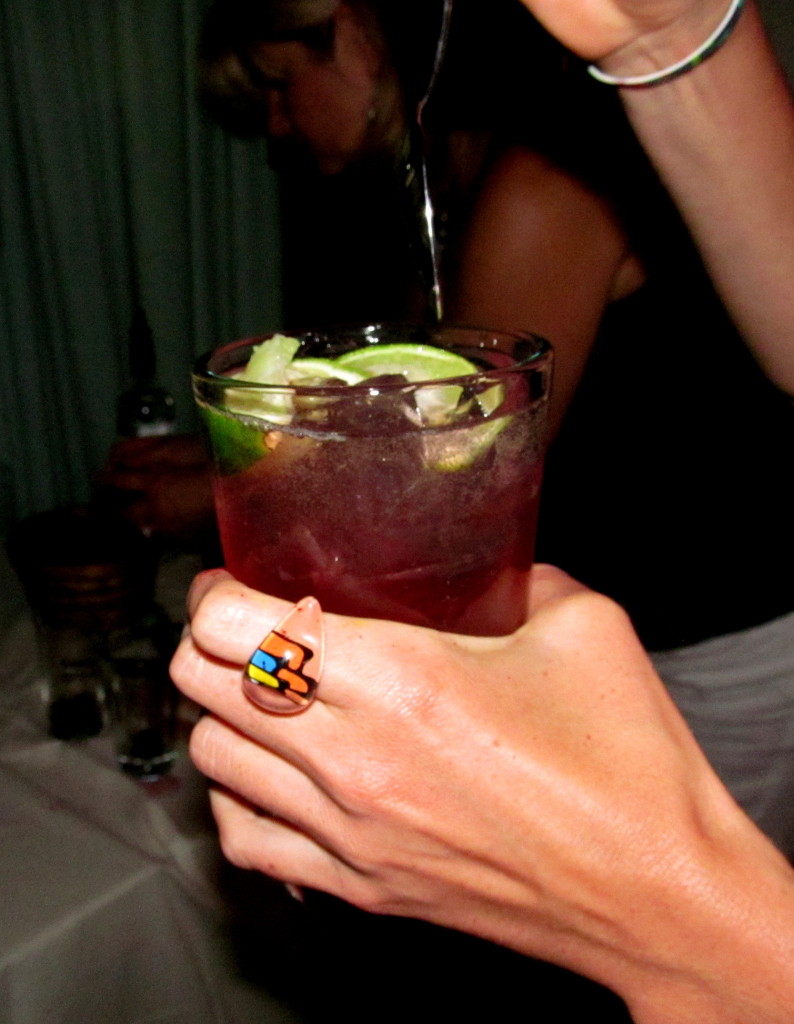 Despite the fact that I added mucho vodka to my cocktail (I definitely saw some eyebrows raise in the room as I poured!) it still tasted too sweet to me.
I don't think I should have used so many cherries, and I could have gone for more limes and less seltzer. Fruity drinks rarely taste good to me!
I ended up ditching the drink after a few sips and ordering a glass of red wine. It was still fun to make a cocktail!
It probably wasn't smart of me to drink during the next portion of the class – the Amazing Cheese Display contest. Yes, a contest to see who can make the best cheese plate. Yes, this was an amazing contest. I KNOW.
Each participant received a cute mini cutting board, and we got to work. The winner was to receive a free entry to another cooking class. One of the participants was actually at this event to use his free cooking class, so we had a reigning winner to compete against!
Jordan walked around to each display and critiqued both its creativity and practicality as a summer party appetizer. I got some points for both, so that was nice! The entry above got major creativity points (and tasted amazing) but not so many on working as an appetizer for a whole party of people. It ended up being a tie between the above entry and his wife's…we all decided his wife had to win because if he won twice in a row she may never hear the end of it! 😛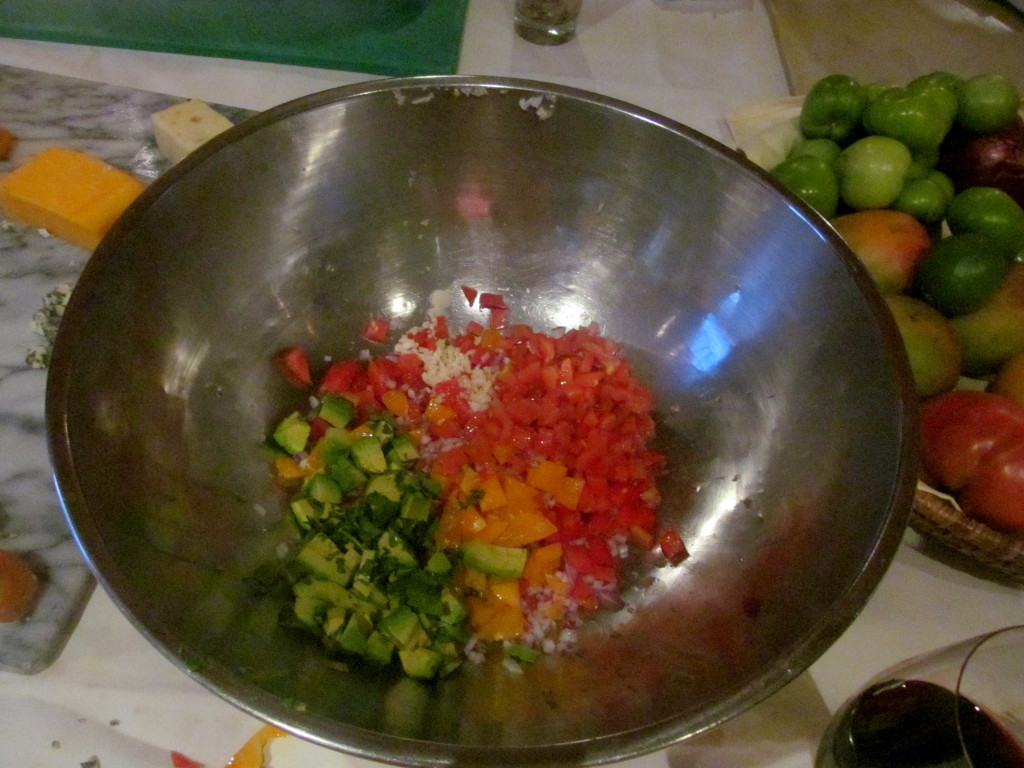 Next it was time to make some sides for our "dinner party"! The class was all about dishes that could easily be prepped ahead of time so that during a summer party, the host would not be prevented from mingling and enjoying him or herself with the rest of the guests. We started by chopping up lots of red and yellow and PURPLE tomatoes for the avocado tomato bruschetta!
Instead of toasts or crisps, Jordan had the great idea of using hollowed-out crispy baguette (rubbed with olive oil, of course) to make little bruschetta "boats". Genius!!!
After having a bruschetta boat, I scooped some more of the filling onto a plate. The avocado combined with those fresh local tomatoes was just too good to not have more of!
Our other side was tomatillo, mango, and black bean salsa. We learned that though the core of the mango isn't used in most dishes, it's a fun snack and Jordan often saves the cores for himself and the kitchen staff.
I have to be honest and share that I had absolutely no hand in preparing this side. Most of the guys in the class did that, while Jill and I took silly pictures and ate bruschetta filling.
Meanwhile the kitchen had been cooking up the Asian-marinated flank steak, and when it came out the room was filled with ooohs and aaaahs. Perfectly red in the center – just the way I like it!
Believe it or not, there was leftovers of everything. Instead of wasting all that food, Chef Jordan brought us a ton of containers and insisted we take it all home. Um, don't mind if I do? I took home more of everything you see on my plate above, plus the fixings for a second-attempt at building a fantastic cheese plate. See, I did learn something in the class!
We all sat around the table eating and chatting, content with both the food in our bellies and the value for the price of the event. $55/person included tax and gratuity. Given the instruction we received from the chef, the amount of food we had to eat at the event (and unlimited servings of the signature cocktail), and the plethora of leftovers available to take home, I'd call the cooking class a total steal! Though I was fortunate enough to not have to purchase a ticket, Jill and Jeff were extremely pleased with what they got for their money. I would pay $55 – even a little more – to do another Pond House Grille cooking class in an instant!
Another thing I liked about this event that most others probably didn't? No dessert. I'd rather drink more wine or eat cheese than have a dessert any day. I don't like feeling like I have to eat dessert at these kinds of events even if I'm full from dinner. So I'm happy that instead of dessert, we had more savory stuff on this menu. Again, I know I'm probably alone here.
I'm already on the lookout for the next Pond House Grille cooking class and as I mentioned at the beginning of this post, major props for offering it on a weekend night, when it's easier for me and I'm sure other working folks to attend. I asked Chef Jordan about that and he said he has plenty of confidence in his amazing staff to do a great job serving the restaurant's weekend patrons; he doesn't think they need him looking over their shoulders or hovering as they cook. And in the event of a crisis, he is indeed in the building to assist if needed! It's nice to hear such a talented chef put so much faith in the other chefs who work with him – I'm sure his staff appreciates that and feels valued!
Thank you to Jordan, Matt, and Ashley of the Pond House Grille for having me in for my first cooking class. It won't be the last!
Have you ever attended a cooking class?
What's your favorite dish to serve at a summer party?
Which part of this class would have been your favorite?