MIMM: All the Friends!
Welcome to the work week, folks. Remember that many of you may have a three-day (Labor Day) weekend on the horizon, so keep your chin up, you can make it through!
This was a weekend of friends of all sources. High school, Twitter, blogs, you name it. Not only did they give me the best of times, they also gave me the support I needed to give myself permission to enjoy the marvelous.
Marvelous is…Friday night in West Hartford Center.
I hit Blueback Square in West Hartford, CT on Friday night to try a restaurant Rachel and I had been dying to try, Vinted. Verdict? It was good, but nothing mind-blowing. The food is mostly small plates and I enjoy Barcelona (another tapas-style spot)  just as much, if not more. I'd like to return and try some dishes that have caught my eye, but am not super anxious to do so.
The biggest disappointment of the evening was the below Cuban sandwich. Rachel and I adore them, and were excited for there to be less bread (flatbread) so that we could taste the star of the show (the pork). Unfortunately the chipotle sauce was so spicy that we could barely taste the meat! Quite a bummer – I'm getting a better spicy tolerance but honestly, we couldn't even enjoy this sandwich because of how spicy it tasted.
One of Vinted's main draws is the argon-oxygen replacement system that keeps open wine bottles good for so long that the place can offer 68 wines by the glass. Definitely an ideal spot for a wino, but not one on a budget. I had a hard time finding enough affordable wines to build a flight, plus I had a major bourbon craving, so I ordered a cocktail (still $12, agh). It was quite good, but a little light on the bourbon and heavy on the orange liqueur.
Afterwards we headed to Barcelona (speak of the devil) for a round of after-dinner cocktails and BREAD. Because why order dessert when you can order bread? It had been way too long since I'd last been there. Dan made me the bourbon cocktail I'd REALLY been wanting and Anna let me taste a concoction she made as well.
I ran into none other than the princess of West Hartford herself, the lovely Danielle! Then my friend Kat (who I met from my other good friend, Kat…confusing!) came to meet up. We finally got to go out together!
And THEN my high school friend (and recent burger partner-in-crime) Hong came by to join the fun! At this point I realized I needed to eat more to accompany beverages, and ended up ordering a fig flatbread tapa and the same chocolate hazelnut lava cake with coconut ice cream that I sampled at Barcelona's paella party.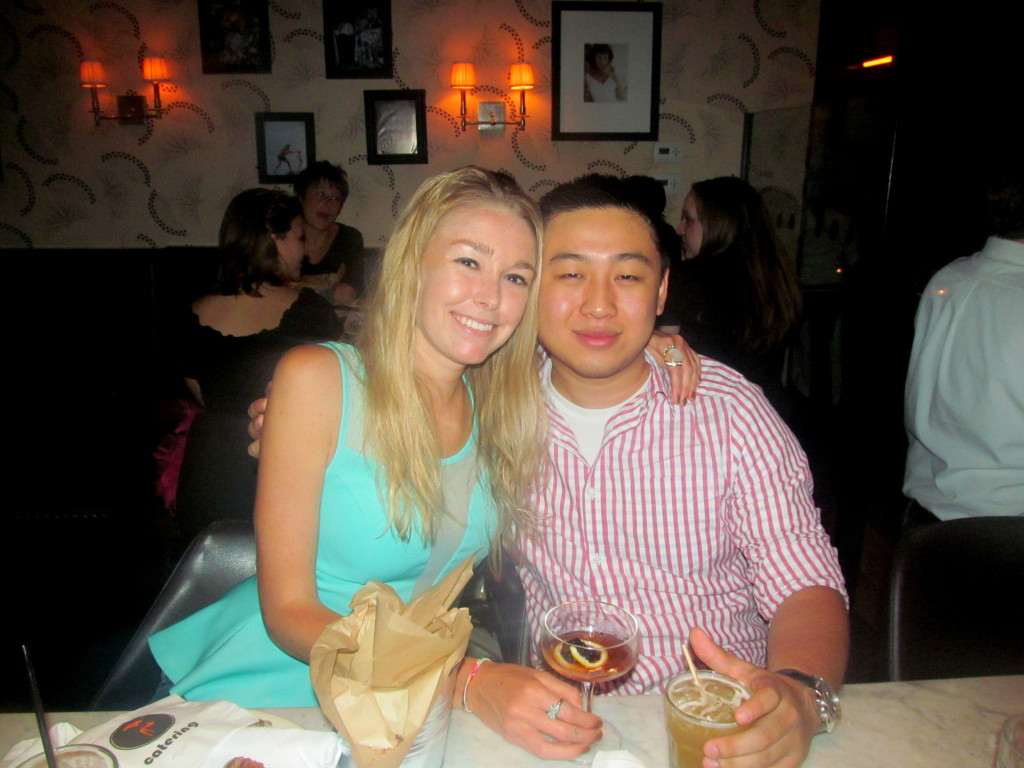 Seeing so many different friends in one evening was awesome, but what was more awesome was how many different friends (and family) were there for me the next morning when I woke up feeling nothing but regret. I couldn't believe I'd had an evening out that consisted of almost every dish being carb-based. I drank more than I'd planned to. I hadn't even worked out on Friday longer than 40 minutes. I had a REALLY tough time getting out of that negative head space all day on Saturday, but I'm thankful I have such an understanding support system to reach out to. At least I didn't miss out on anything Friday night, like I might have in the past. Well I did miss out on the Ben & Jerry's craving I had, but that's only because they were already closed when it hit.
Marvelous is…a free personal training session at Accelerated Fitness.
My pal Maria, a Glastonbury Rotary Club member I met through my Lobster Fest blogging, took me to Accelerated Fitness's Cromwell location to meet and train with her person trainer, Kevin Carlson. A full blog post is to come on the experience, but I really needed an ass-kicking on Saturday morning, and I'm glad I had this plan with Maria already set to a) get me out of bed and b) get my body moving!
Marvelous is…attending Kaitlin's engagement party!
I hit the road Saturday afternoon for Fairfield to hang with Kaitlin and attend the engagement party for her and her fiance, Jeff. She let me borrow an awesome maxi dress!
The selection of both snacks and beverages was quite impressive and the pool provided the perfect summer party atmosphere! I even managed to refrain from putting a cardigan on until closer to the end of the evening…cold people problems.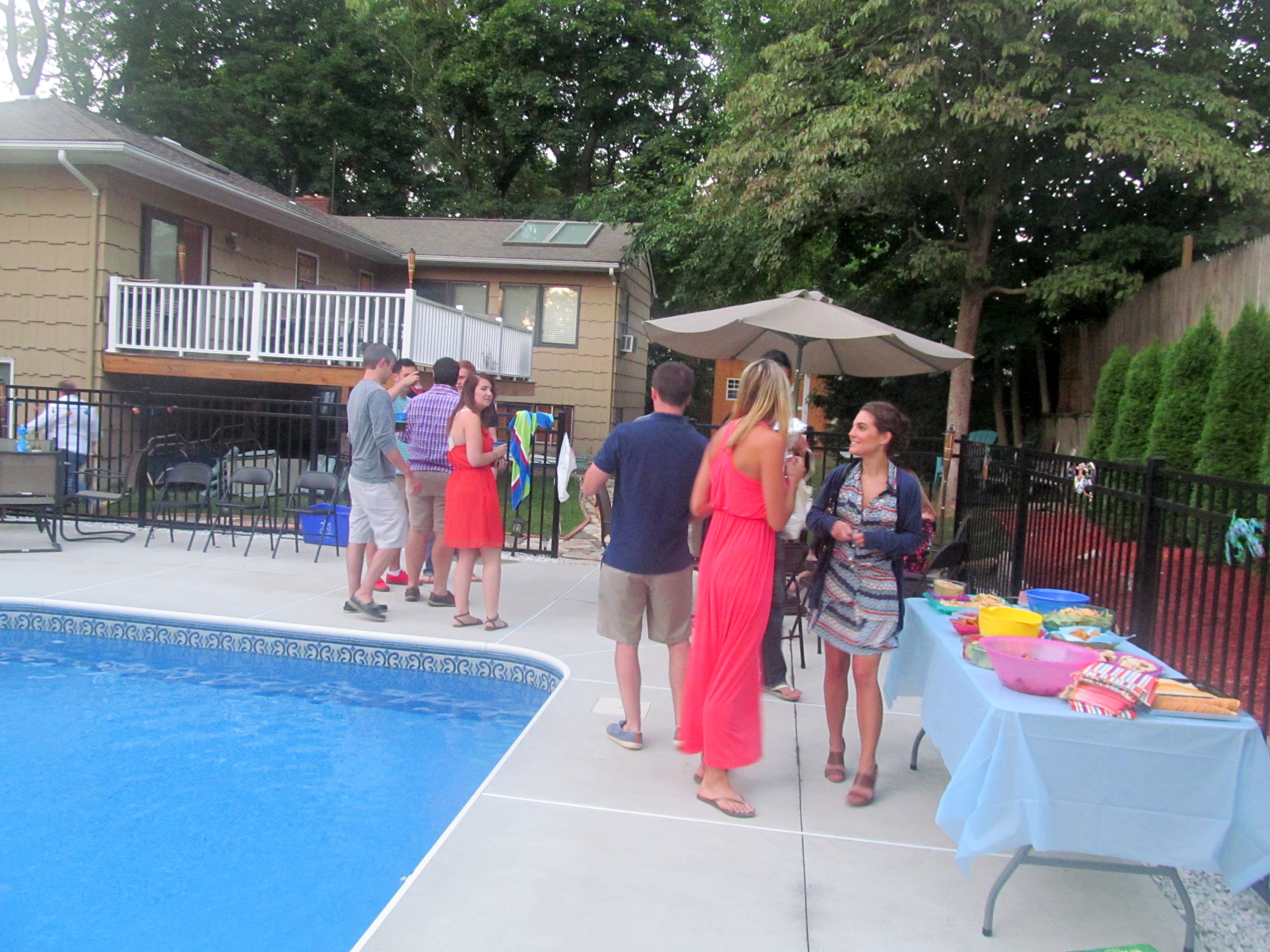 I also hit the nail on the head with the engagement presents I got for Kaitlin and Jeff at Sur La Table. Jeff always seems to be eating popcorn whenever I visit, but complaining that Kaitlin only buys him the healthy bags. A microwave popcorn popper with a spot on top to add as much butter as he wanted seemed like the perfect gift! And of course, much of Kaitlin's gift had a pig theme.
Oh, and before the party we had a yummy dinner at Fire Engine Pizza Company that involved Kaitlin enjoying beef tips. I'm so proud of this girl for being a red meat lover now 😉
Marvelous is…a Sunday morning to myself.
It may seem contradictory given this post's title, but I had a blogging event to attend Sunday afternoon (more on that later!) so I was thankful for alone time on Sunday morning. I really needed it because once again, I was stuck in a negative head space trying to calculate exactly how many snacks/drinks I'd consumed at the engagement party and how much I should work out to "make up for it". I listened to NPR on the drive back home and took a Group Kick class (my first in awhile) at my gym, which helped get my mind off regret and get my frustrations out.
Marvelous is…live-tweeting the VMAs last night.
Seriously, live-tweeting award shows is fabulous. I stayed up later than I should've but had a blast watching the VMAs with a ton of other people on Twitter. My dad enjoyed it too because I kept finding hilarious tweets to read out loud to him. I'm the millionth person to say it this morning but…NSYNC reunion tour please?! Hanging out with my parents while watching the show was also just the relaxing remedy I needed to try to put the weekend's negative feelings behind me, and focus and bask in only the marvelous.
What was the most marvelous part of your weekend? 
Do you tend to spend weekends around people, alone, or a nice mix?
Did you catch the VMAs? Do you enjoy live-tweeting awards shows? I swear Twitter makes them so much better!