Re-cycling in Boston
I received a discount on the cycle class detailed in this blog post. All opinions on my experience are my own.
Awhile back (as in before my Christmastime trip to Boston!) I read Sarah's first review of Recycle Studio in Beantown and eagerly made a reservation for a class (at a discounted price – thank you Megan!). I was going to be in Boston for an overnight trip in December and wanted to get in a morning spin session, which is one of my favorite forms of weekend exercise! Unfortunately I read the schedule incorrectly and didn't get a chance to go back in December, but Recycle Studio agreed to extend my purchased class past its expiration date so that I could go again next time I was in town and had time…which was this past Sunday!
I selected the 45-minute Reboot Ride at 10:30am on Sunday morning. That gave me flexibility in terms of how late I wanted to stay out the night before (which ended up being just past midnight!) and also plenty of time to account for trying to find a parking spot near the studio (located on Newbury Street). I didn't realize until I went to make my reservation that since I last did so, Recycle Studio had opened up the Newbury St (Boston Common) location. The original is in the South End. I also didn't realize Sarah did a whole new review of the new studio after it opened!
The space was beautiful and open, and the staff very welcoming. Katie B, the instructor, readily offered to help me set up my bike if I wasn't used to those offered by Recycle. But they actually were the same bikes used at one of my gym's locations, so that was easy! I wore the Pumas I usually wear for spinning (I don't own spin shoes) but Recycle does offer spin shoe rentals for $4/class. I am cheap and didn't utilize that option, even though I tried spin shoes once before and really liked using them. My Pumas have about had it and I'll probably invest in spin shoes instead of buying more Pumas, because I have heard that spinning in sneakers can do long-term damage to foot muscles. I DIGRESS.
The class began once the room was dark and candles throughout the studio had been lit. Katie B's energy was great and she had some great music for us. I noticed that for those who aren't music fans, earplugs are offered free of charge. The class went by at a reasonable pace and I'm glad there was no clock no the wall, as that is my downfall in any spin class. Each song she had us doing something different than the last. Some of the moves were not my favorite because they differed from traditional spin and therefore I had a hard time catching on. We did a lot of "push-ups" on the handles (both regular and tricep), and also standing crunches while in second position. A lot of it was causing my heart rate to go down because I had to pedal slower to try to coordinate what my upper body was trying to do, so I just gave up on it and did my regular spin thing. After the class ended I spoke with a couple of other girls who had been taking spin at Recycle Studio for awhile, and they admitted it took them about a month of going consistently to really get those unconventional moves down. I definitely would be interested in giving it a few more goes if I lived in the area.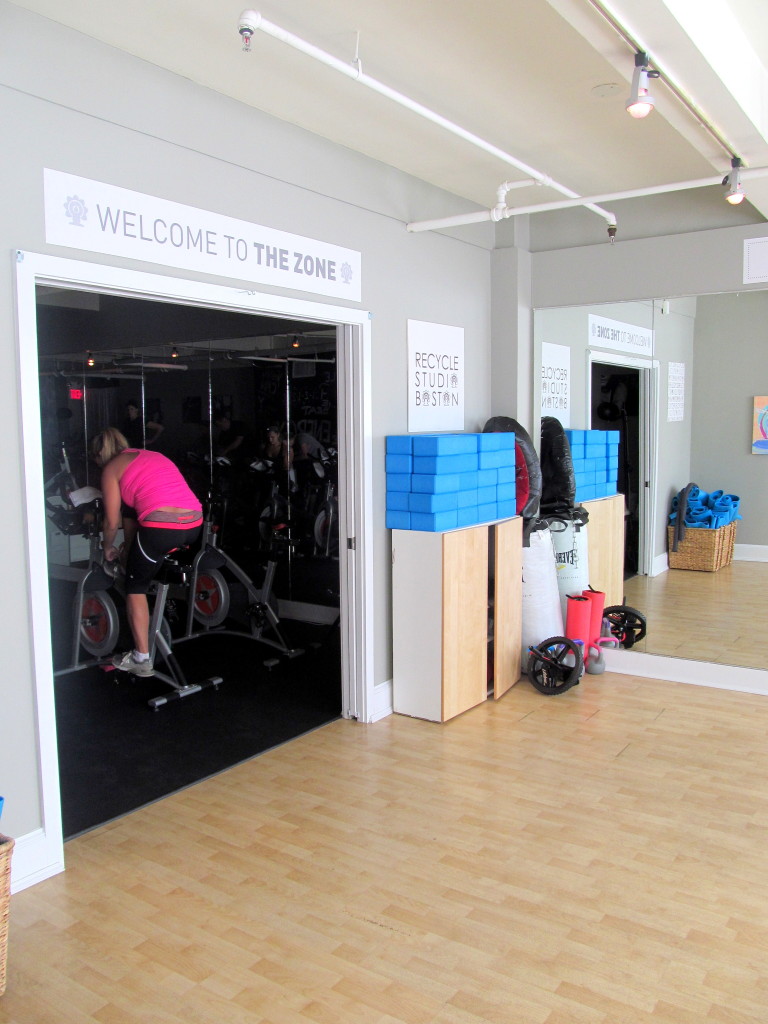 Like Flywheel, the second-to-last "working song" of the class focused on toning with light weights and many upper body reps. I grabbed four-pounders and totally underestimated how hard the song would be for me to get through! I had to skip some reps toward the end. It felt great to get some upper body work in since the past week had been so busy that my weight training had fallen by the wayside.
A single ride is $22, and it's a much better deal to buy multiple-class packages like a month unlimited for $190. Recycle Studio does seem a bit expensive to me, but the facility is very nice and I think someone who spins consistently would find great use for a package like the monthly unlimited. I know some people don't like to join gyms if they run or bike outside consistently, but for the winter months a cycling studio membership could be well worth it they like/love spin and need something for when the roads/sidewalks are inaccessible due to winter weather.
The tanks, long-sleeve shirts, and baseball tees were a little pricey but also sooo soft (they're from American Apparel) and the just-release dark gray design caught my eye. I caved and bought the tank ($28). I adore working out in my Flywheel tank and I know I'll get good use out of this at both the gym and at work.
In fact I wore the tank to work and post-work Group Power on Monday, as my Boston-souvenir. I got a lot of compliments from people and they were all surprised to hear where it was from.
Even if I lived in Boston I don't know if I could see myself buying a class package at Recycle Studio because I need variety in my group fitness routine, so general gyms that offer lots of different classes are more for me. But for the spin addict or the outdoor cycler who needs a winter option, I'd recommend it!
Have you ever tried a spin studio? How about spin in general?
Do you work out on vacations, even mini ones?
Are you a fan of souvenir t-shirts?