Pond House Grille Side Dish Cooking Class
I received complimentary admission to this event in exchange for a blog post about my experience. All opinions are my own.
This past Friday night I had the opportunity to attend my second cooking class (read about my first one here) at Pond House Grille in Glastonbury, CT. The restaurant has been doing one class per month, and with Thanksgiving coming up this one was appropriately themed "Spice Up Your Side Dishes".
All classes are taught by Executive Chef Jordan Stein but I wouldn't exactly call it teaching…hosting is a more accurate word. Jordan is so great with his guests! I felt like I was in his home and he was letting us all help him make Thanksgiving dinner. He made sure every "student" got some hands-on cooking time in. He would demo each step and afterwards pass it off to a volunteer – or someone he chose. Some guests were hesitant to volunteer and Jordan did a wonderful job of encouraging them to do so.
I'm getting a bit ahead of myself. I'm sharing cooking photos and I haven't even mentioned that before we started cooking, two of my favorite things – cheese and wine – were made available. Pond House definitely knows how to do cheese and I could have made a meal out of that alone!
We started with prep for the Sweet Potato Butternut Squash Hash. Jordan sprinkles both cooking tips and interesting facts throughout each class, and he shared with us that most sweet potatoes in America are actually yams! He also advised us to not hold onto sweet potatoes and "age" them for a few days like people often do with white potatoes. They are typically at their best when used right away. Finally, Jordan shared that instead of trying to scoop the seeds out of the core of the butternut squash, he likes to just save the whole core to add to his compost.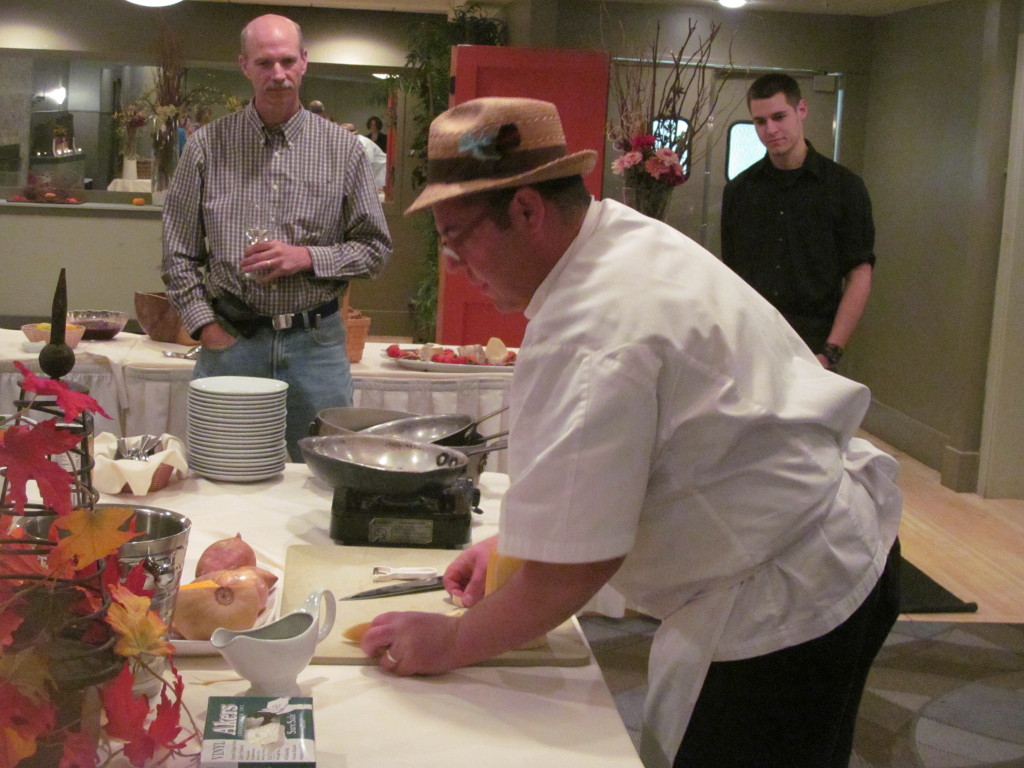 Jordan taught us to cook each hash component – the sweet potato, the squash, and the onion/red bell pepper/poblano pepper blend – separately in its own pan because each takes a different amount of time to cook. Then the three can be combined on one pan with salt and pepper, and roasted til golden brown (or charred if you're me).
This is a great dish to make for a situation in which you are going to be driving over to someone else's house for Thanksgiving. Just prep and cook the three components ahead of time, combine in a dish, and roast in the oven once you arrive at your destination (be sure to ask before you leave if there will be room in that oven)!
Though it takes some slice-heavy prep work, this hash would be SO easy to recreate at home for not just Thanksgiving, but any meal. It turned out amazing and has a short ingredient list!
Next we got to work on the Creamed Spinach. I'm not one to pour heavy cream on my greens, but I became less wary when Jordan spoke about not using TOO much heavy cream or cheese. His goal for any creamed dish – to not to ruin the taste of the vegetable itself – had me on board.
The star ingredient of this dish though was not the spinach, the heavy cream, or the cheese. It was freshly ground nutmeg! Jordan had one person grind the nutmeg into the pot and then passed around the leftover for us to smell. Give me that in a candle please!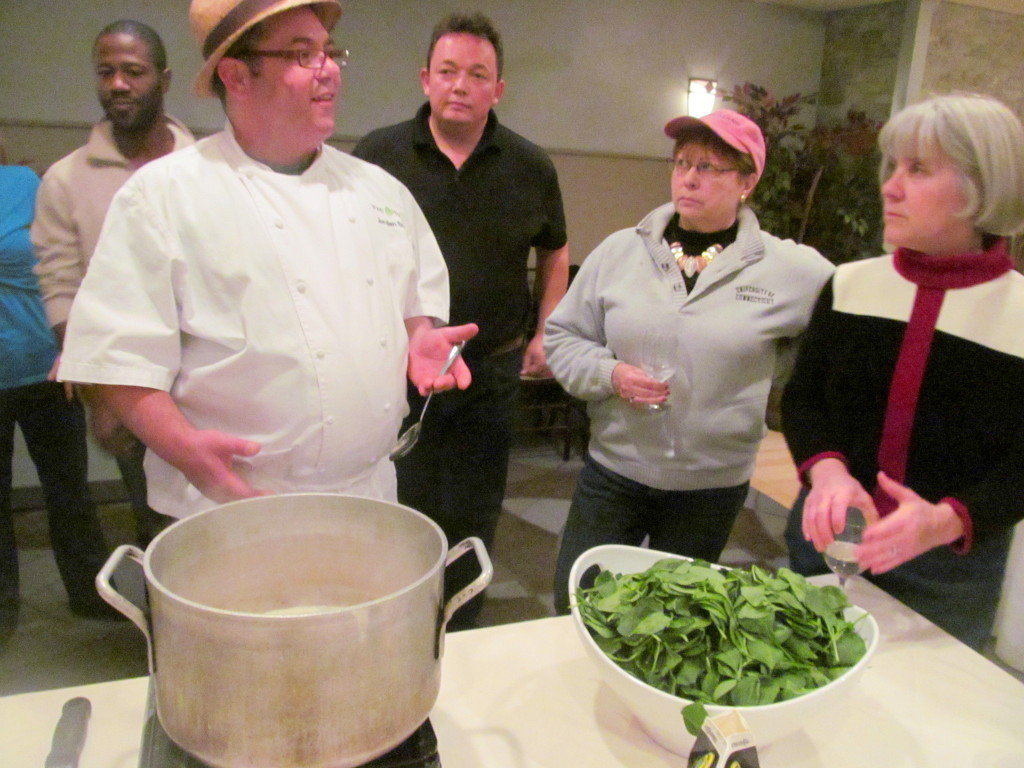 First he combined the nutmeg, cream, and cheese into the pot – he advises using a tall pot so that plenty of spinach can fit in it, since it gets quite wilted down by the heat. So you'll need a lot! The spinach is added bit by bit to the mixture, to ensure that each added portion is well-coated.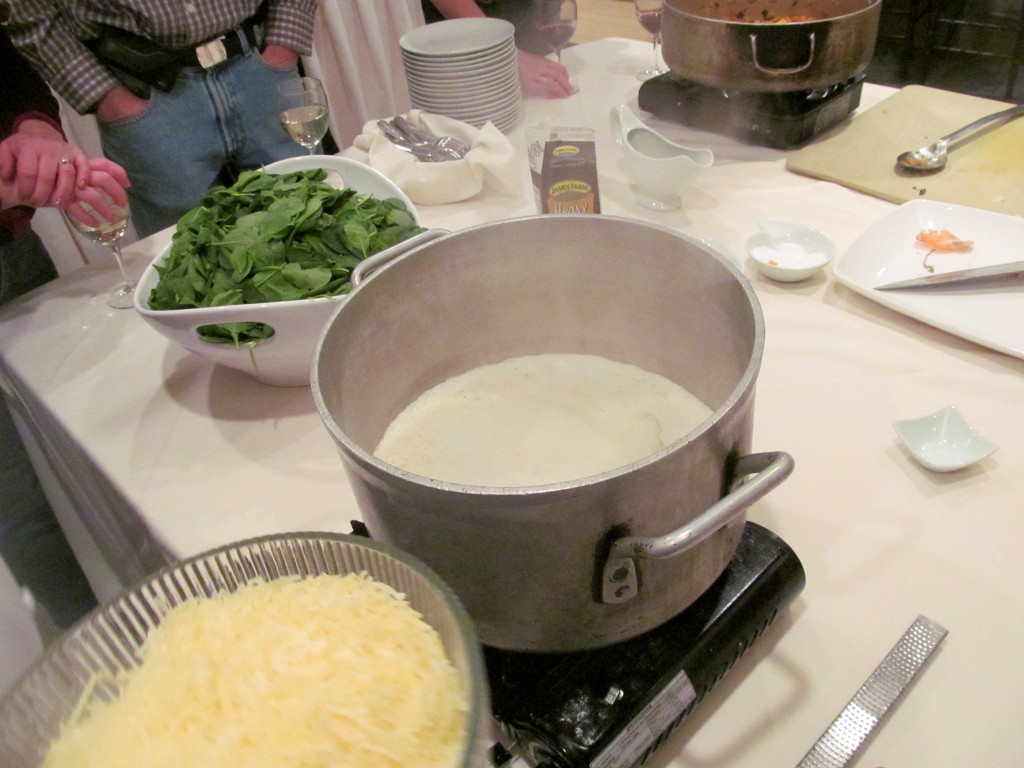 Next up…my favorite dish of the evening…due to one very fantastic ingredient.
The Smoky Bacon Brussels Sprouts stole the show, and I'm not being biased toward my love for these little green balls of veg. Jordan ended up having to ask the kitchen to make a second batch separately because we ran out right away once it was time to eat!
I admire Jordan's commitment to high-quality ingredients, right down to the butter, which was from Cabot. Some chefs would just use any kind of butter but he makes sure every single ingredient is special. The bacon wasn't just any old bacon either…in fact in the recipe book we all received to take home, the ingredient list calls for "really good bacon". Jordan suggests going to the meat counter and asking for slab bacon.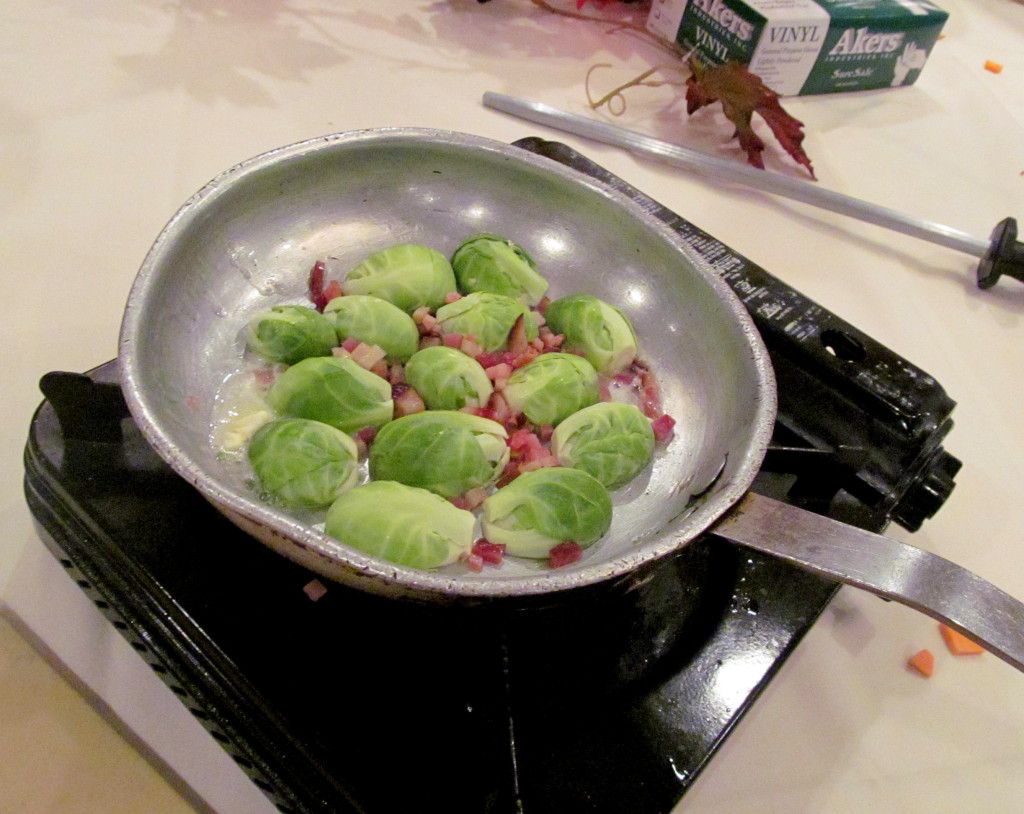 This was another easy dish. The Brussels were put face-down into a cold pan, sprinkled with the bacon and a couple small pats of butter, and put on a high heat. I felt a bit wary at first of the butter…I'm used to eating Brussels with EVOO. But the dish came out perfectly and I definitely went for seconds. I don't think it would have tasted as good with olive oil!
Next came a traditional dish with a slight special twist – the Chestnut Cornbread Stuffing! Chestnuts can be pricey, but Jordan thinks they are worth it to add such a fun surprise to stuffing, something everyone thinks he or she knows so well. Though I don't usually prefer the sweeter cornbread that Pond House serves, the onion, celery, and jalapeno added plenty of savory tasting notes.
Back in the kitchen some turkey was roasting for us to eat later, and Jordan used that turkey stock in the stuffing!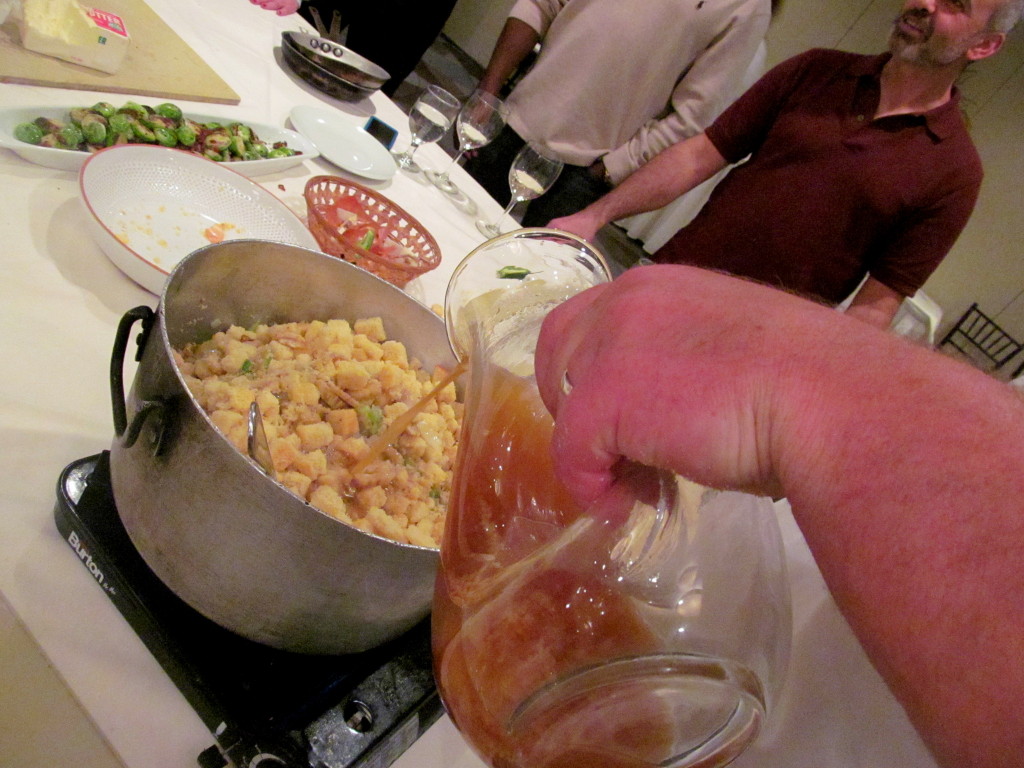 Once all those ingredients were combined and being kept warm on low heat, we moved on to the last side dish – Cranberry Orange Chutney. I'm not a big cranberry sauce person and while I liked it, I just don't know if I will ever warm up to cranberry sauce! It's a little too sweet for me.
Finally it was time to eat! Since the cranberry chutney was done the turkey came on out, and Jordan happily asked us to dive in.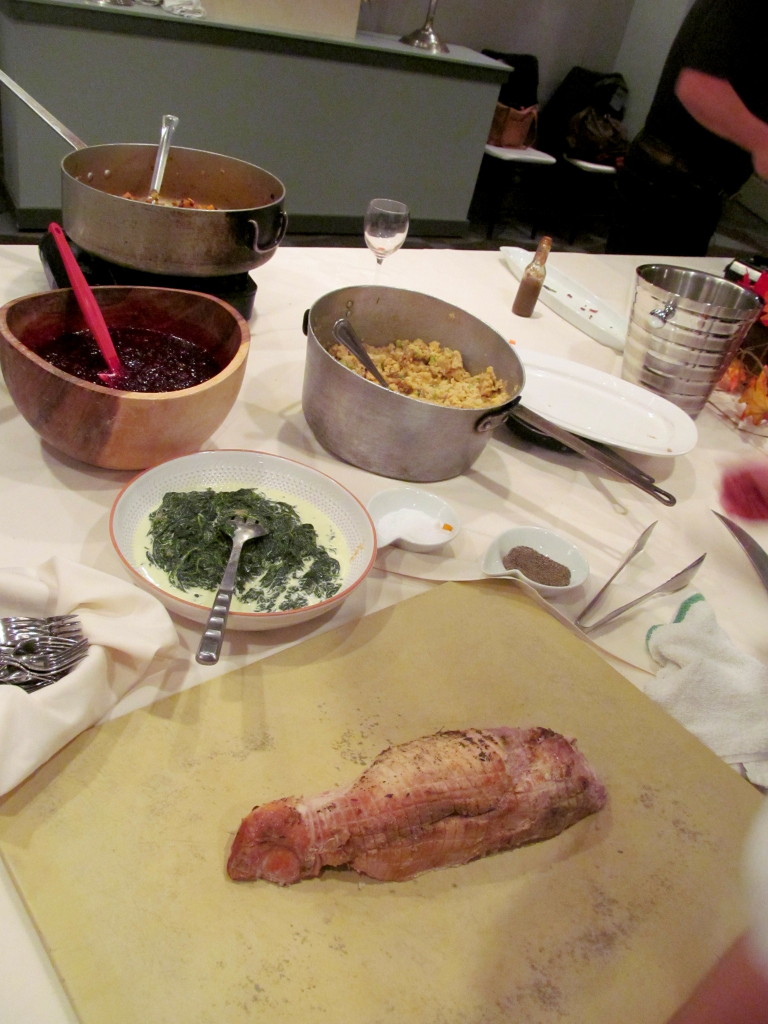 The turkey was cooked very well – not the dry turkey I have unfortunately encountered on several Thanksgivings. But I've never been a big turkey person and I was much more into all those sides! I also liked how if I didn't want too much cream with my spinach, it was easy to make sure mostly-green made its way onto my plate.
Like I said before, I definitely went back for seconds of the Brussels. Plus there were plenty of leftovers to take home! I pretty much have another Thanksgiving meal in my fridge right now.
Though I did not pay for this event, I think the $50/person (INCLUDING tax and gratuity) is a steal. Unlimited wine, a full meal, a fun experience, and plenty of leftovers? I would have definitely gone to this event and paid that price. There was an error during "check-out" and some guests were accidentally charged an incorrect price, but the manager quickly issued refunds or gift cards to correct the issue. All was well!
I had an amazing night and am so excited for my next visit to Pond House Grille! There are still many bar bites on the buy 1, get 1 for a penny happy hour (Tuesday-Saturday 4-7PM!) that I need to try. They've also got more events coming up including a Brunch with Santa and New Year's Eve Celebration.
Thank you so much to Chef Jordan, our helpful assistant Mike, and the rest of Pond House Grille for having me as a guest at this cooking class! I look forward to seeing you all – and my fellow cooking class regulars – again!
Which of these dishes do you think would be your favorite?
What's your favorite side dish ever?
When it comes to Thanksgiving do you tend to focus more on planning preparation of the turkey (or other entree choice), the sides, or dessert?