Father-Daughter NYC Christmas 2013
Cheers from Florida! As per usual I will be behind on my recapping but I first must share with you some pre-Florida festivities…I've been all over the place (again, as per usual).
After some effort my dad, sister, and I figured out that this was our seventh father/daughter NYC Christmas trip.
My sister declared this trip her favorite ever! I'm not sure if that is true for me, but that doesn't mean I didn't have a really good time. I have to admit I let some regret get in the way of enjoying myself but I always managed to rally and live in each moment.
We stayed at a Marriott on Lexington Avenue and aside from a very long check-in process, our experience was great. We had a pretty good view and since our room was handicapped accessible, it was very spacious. We were STARVED upon arrival but thankfully the lunch restaurant I'd picked out – Lexington Brass – was literally next-door to our hotel!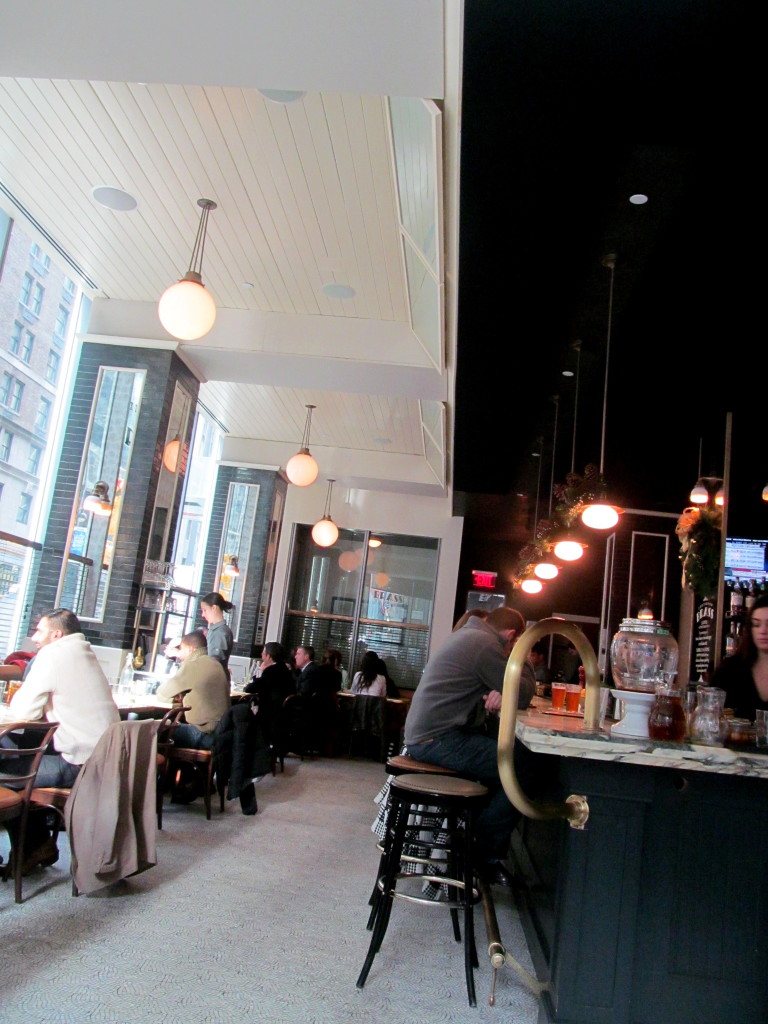 Of course a lunch cocktail was in order. I selected the Lexington Sour – Woodford Reserve, maple bitters, lemon, honey. It was delicious! My sister and I split a Brooklyn Pilsner later in the meal. We all stuck to something light/small since it was about 2PM and we had a 7:30PM dinner reservation.
I was super proud of my dad for ordering a dish that included cous cous! He even ate Brussels sprouts later that night with his dinner. Too bad I didn't get photographic evidence!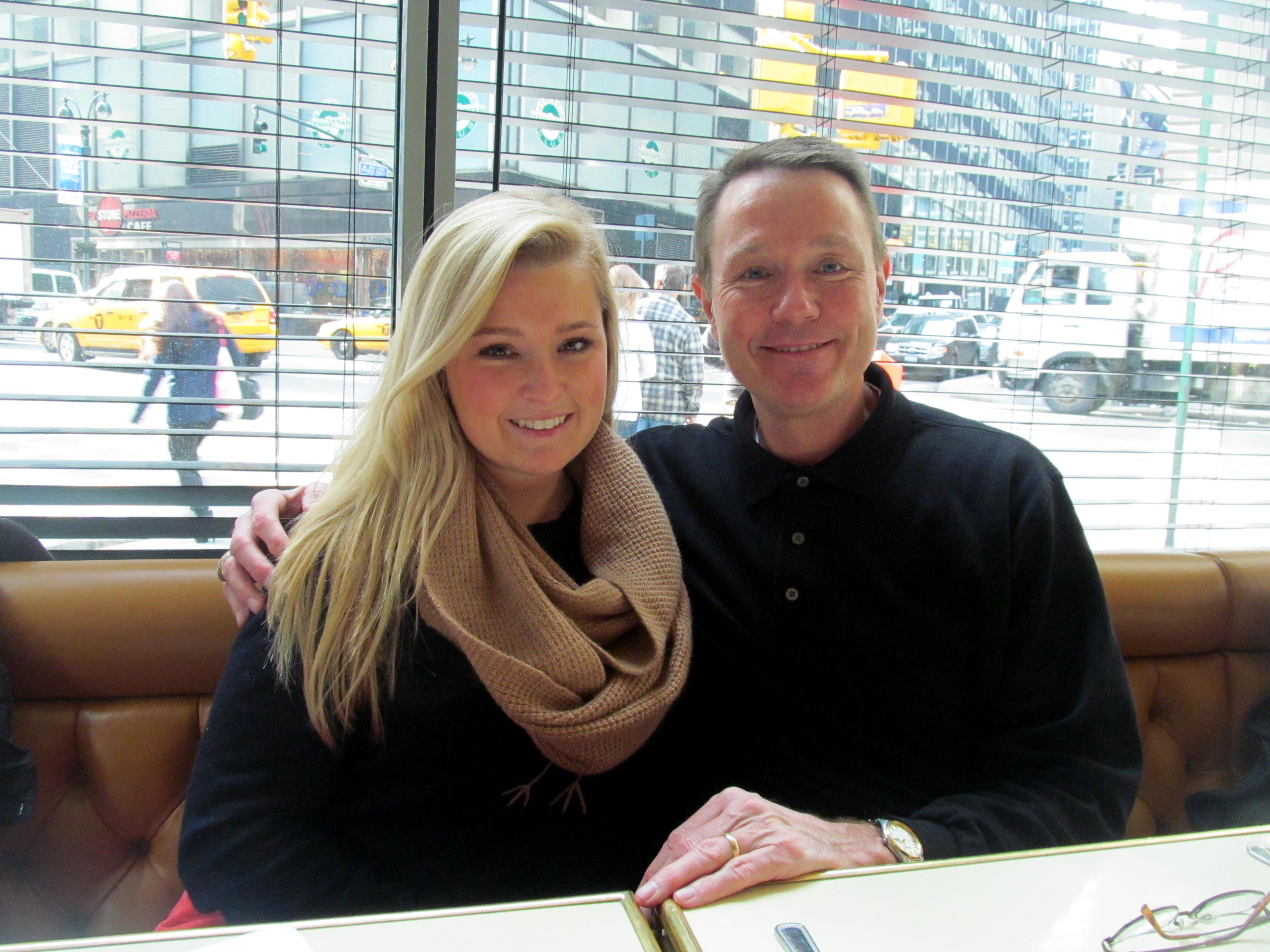 After lunch we set out to do some shopping. This is the first moment when I started feeling down. I was confident I'd eaten a healthy lunch, but not happy with myself for day drinking, which ALWAYS throws me. I started getting tired from the alcohol (it is a depressant after all) and didn't have much energy to walk around. And THAT made me feel guilty because I felt like I "should" be walking all over the city since I'd "only" done thirty minutes of cardio that morning. These are NOT thoughts that should have been messing with my head during my special trip, but they were and made me feel uncomfortable in my own skin. I was in no mood to try anything on and wanted to just get out of my jeggings and into my PJ pants. So I headed back to the hotel room to decompress for a bit.
I kept feeling more and more tired as I sat in the room and knew that I had to rally. By the time my dad and sister got back to the room I had gotten out from under the covers and was ready to go do something. But they weren't…so I headed to our dinner spot solo to scope it out.
I received a recommendation for The Smith from @nycfat and once I saw the incredible drink menu I knew I'd want to try a couple cocktails! It's always easier for me to take food "risks" in a fun environment like a special NYC restaurant and once I stepped into The Smith I felt ready to enjoy myself. The place was packed and had a really fun Friday night vibe. I was glad I'd made a reservation! Despite how busy it was my bartender was very attentive and helped me decide on my drink, which was as amazing as I'd hoped it'd be.
We were seated promptly at our reservation time and I recommended a Tempranillo to Hannah (she usually goes for Pinot Noir). We all were going to have some so we got the "big" carafe. Big indeed!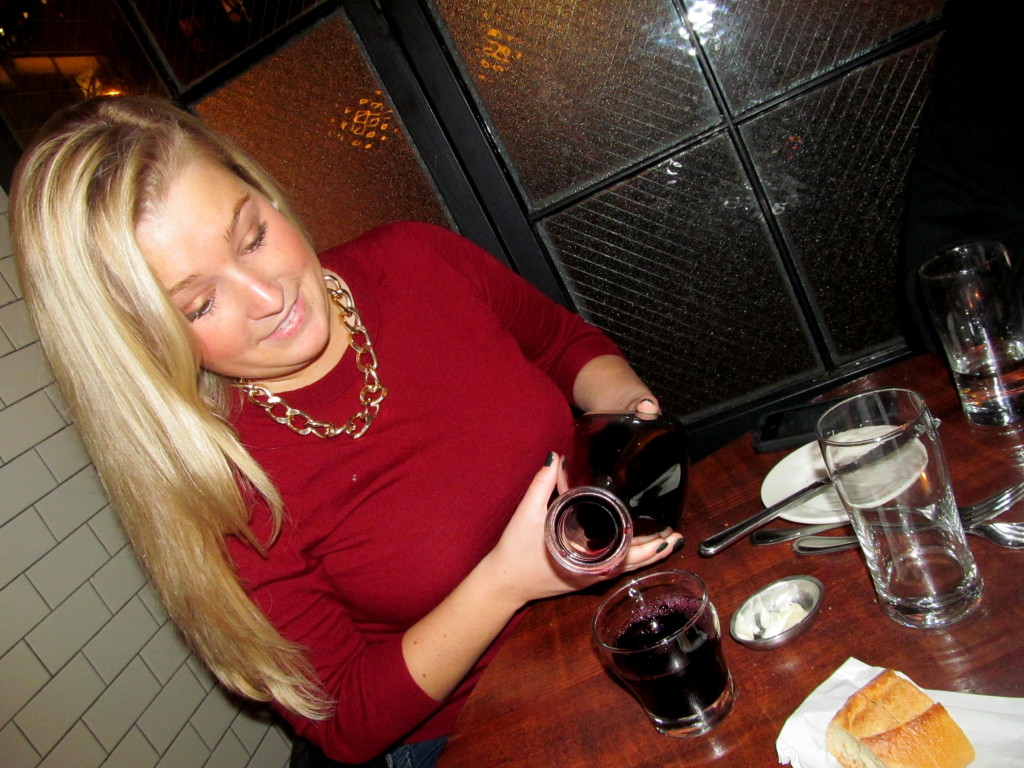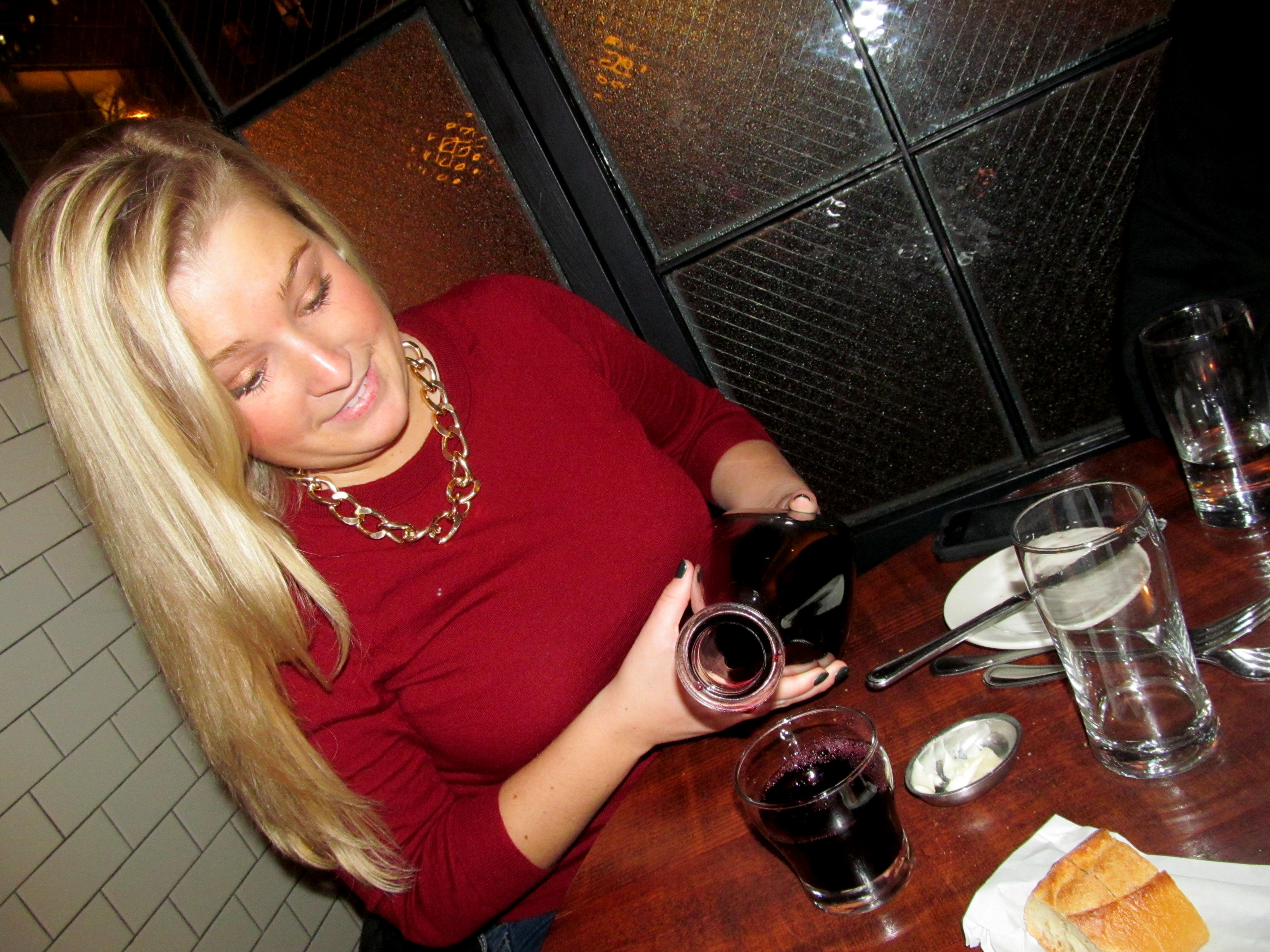 But I was also ready to try the second cocktail that I was really interested in – the Not a Nog (solera-aged rum, Nonino Amero, maple, egg white, grated nutmeg). I'm so glad I went for it. It basically was like a spiked eggnog cocktail minus the heavy eggnog. Perfect for me!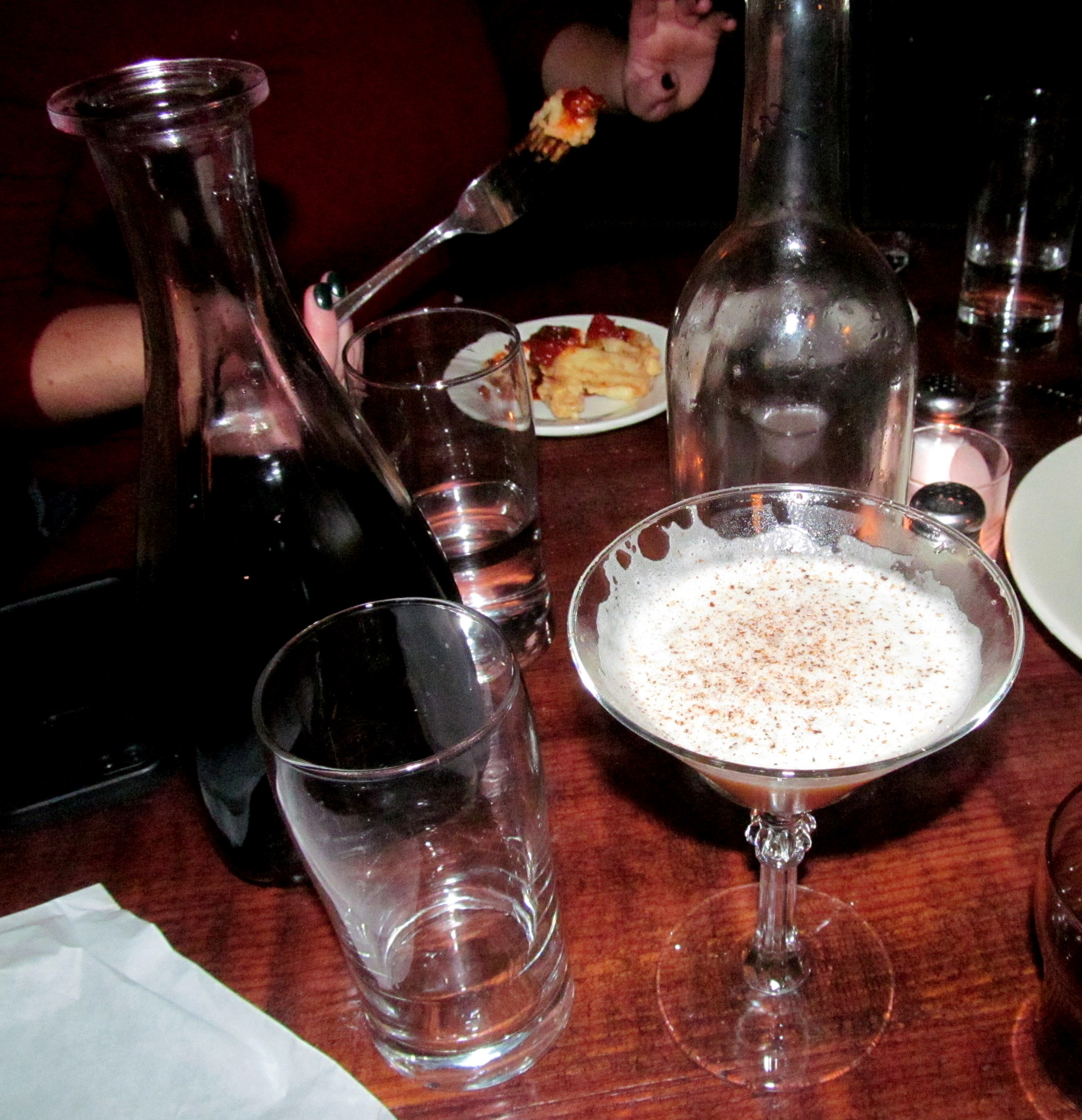 Hannah and Dad ordered calamari and I definitely partook in a few pieces. The sauce was awesome and though it usually came drizzled on top, our waitress recommended getting it on the side since she thought it made the dish soggy. I always appreciate a waiter sharing his or her honest opinion, and we were glad we trusted her judgement.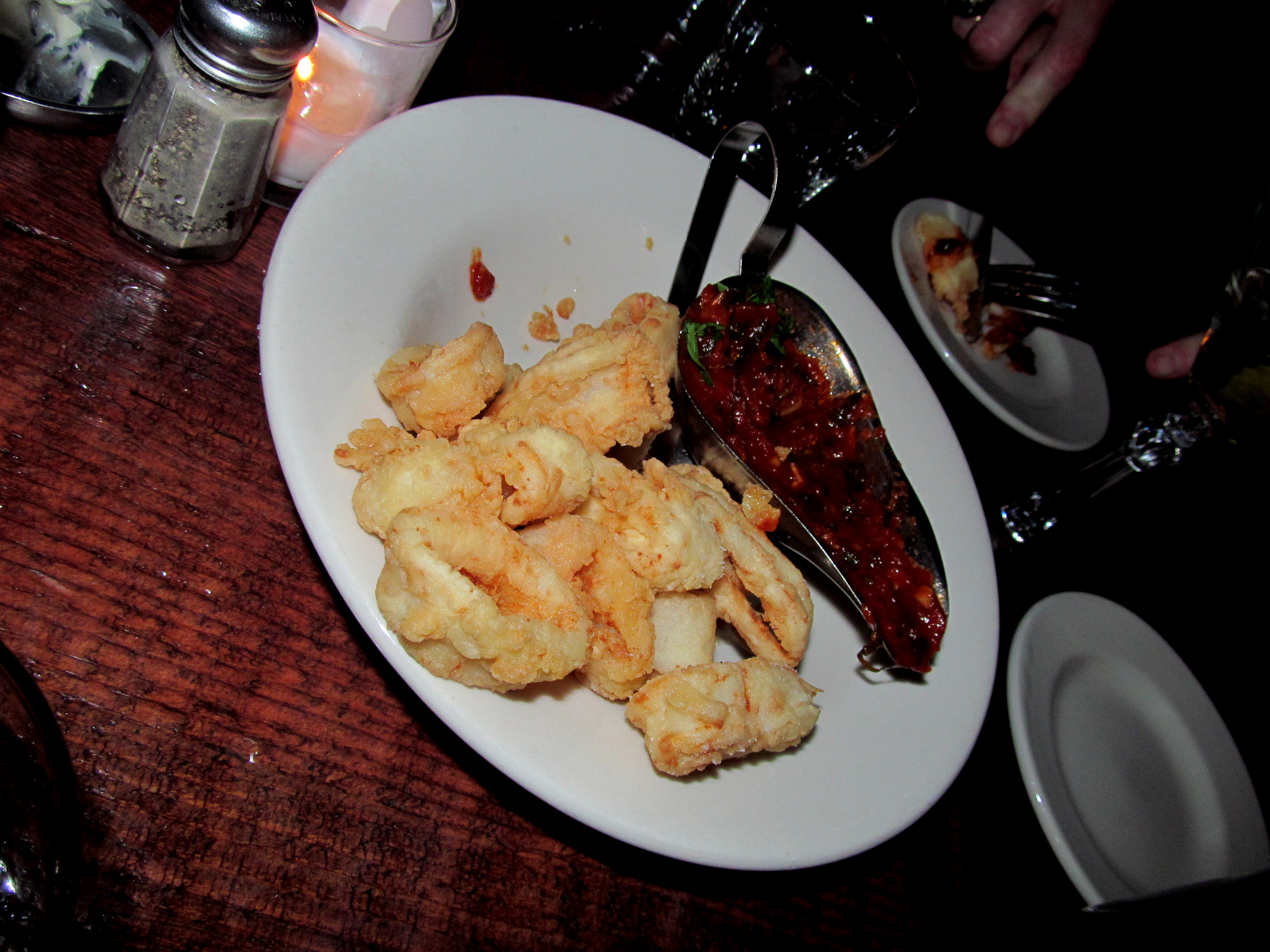 It was hard for me to decide what I wanted…I just knew I was going to get baby cabbages. THEY WERE FANTASTICFABULOUS. So charred, so perfect. The amount that came with my dad's entrée wouldn't have been enough for me so I'm glad I ordered a separate side. I also had the Maine Lobster Salad (with avocado, tomato, french beans, and buttermilk vinaigrette on the side), which was a bit disappointing. I was expecting greens and all the ingredients were lacking. It was hard to find much lobster and I almost thought they'd forgotten the avocado because I only found a few pieces. They definitely did forget the brioche croutons, and though I felt guilty for requesting them, I did because dammit I wanted them. My dad said, "Good for you!" which meant a lot to me.
After dinner we went to Sofia Wine Bar for dessert (the restaurant was another NYC Food & Travel rec). I ordered a sherry and it was just okay. I wish I'd ordered a port but my sister shared some Pinot Noir with me which was more what I was in the mood for. My dad and sister split tiramisu (I tried some…so good) but I went for a cheese plate. I was totally craving it and unfortunately The Smith didn't have one. I always find a way to quench a cheese craving!
I slept very restlessly that night. I woke up multiple times with a headache and a VERY dry mouth, which only reminded me of the alcohol calories I'd consumed. I felt like I was using being in New York as an excuse to drink and eat more than I needed. I kept thinking that I could have been just as satisfied and also would feel better if I had just not had the cheese plate, if I had just stuck to a couple drinks at dinner. I was once again in a situation where I felt like if I did not feel the guilt about the night before, I would do it again and again, and therefore gain weight. Living a life with no regrets felt unfamiliar, scary, and wrong.
I woke up the next morning so that we could make our traditional trek to the Today show and continue our streak of getting on TV. I didn't feel like being happy, to be quite honest. But then I decided to have a good time; I made the conscious choice to forget guilt and enjoy the special trip. I'm so glad I did.
I am a big fan of Lester Holt, one of Today's weekend anchors, and I set a goal to get a selfie with him. At first it didn't appear that we would get on TV, but then Lester set up right in front of us and we did! (For about a couple of seconds.) What really matters though, is I GOT MY SELFIE!
We always leave NYC right after Today so that we can beat holiday travel traffic, so we hit the road. I had my down moments during and post-trip, but still did all I wanted to do and didn't forget how lucky I am to have a father who will take me and my sister on this special outing EVERY year!

What's your favorite thing to do in NYC, if you've been?
Do you have any father/daughter traditions?
What did you do on your last pre-Christmas weekend?