Thinking Out Loud: Shin Happens
My blogging inspiration and drive has really been in high gear the last couple of weeks! Probably has something to do with the fact that I've been trying to give myself the nights in I need to balance the nights out. So that means I have more time to think out loud.
1. My left shin is freaking killing me and I am SO OVER IT. I had originally planned to run a 10K distance on Tuesday after doing spin on Monday, but once I woke up Tuesday and my shin hurt even when walking, I knew that wasn't smart. So I ran 3.4 miles instead, but that was also not smart. My shin was literally throbbing afterward. I went home and utilized the closest thing to an ice pack that I had – frozen broccoli.
Yesterday morning I went to the gym to do some strength stuff and low-impact cardio, and I started with foam rolling. OUCH. THAT HURT. I guess that means it's working? Going to do some more foam rolling at the gym this afternoon (along with a solo spin bike session). As anxious as it makes me to take time off from half marathon training, I'm not going to run again until this weekend – either Saturday, Sunday, or Monday morning (I'm taking Monday off for a mini getaway on Sunday night so I'm considering that part of my weekend). I'm super paranoid about losing the endurance I've built up but thankfully I've got good friends (who are also experienced runners) who have been giving me great pep talks.
Plus I can take comfort in knowing that my first ever pair of calf sleeves are en route! I'll be doing a review/giveaway for PRO Compression soon, once I give my (pink, of course) sleeves a few literal test runs. (Full disclosure – I am receiving this sample pair for free.)
2. I made a fantabulous recipe on Monday that served as an excellent dinner both that night and Tuesday. I tweaked/simplified this recipe and ended up with a delicious and delectable blend of lentils, chopped green apple, garlic asiago chicken sausage, mushrooms, and roasted figs. YUM. I ended up adding BBQ sauce too, because I've had it chillin' (literally) in my fridge since I made Julie's BBQ meatloaf. Perfect example of a situation in which ugly food is delicious.
3. Alyssa instagrammed this tank and now I can't stop thinking about it. But it's $38 plus shipping. The cheapo in me cannot spend that much on a tank top. Then again, it's too perfect. What do you guys think?
4. I was a starvin Marvin at work yesterday, so my coworker gave me some of her Trader Joe's Sesame Seed Honey Almonds for a snack. Ummm, holy crap. Life changing, guys. Get on trying these STAT.
5. Last night I had the chance to attend the 2014 Best of Boston party and it was a blast! 90+ Cellars served as the wine sponsor, but we didn't pour, so I got to go to the event and just be with my co-workers. So much fun.
Before the party some of us stopped at Bastille, a super-brand-new restaurant in Boston's Fort Point neighborhood. I had an epic Manhattan craving and wanted to quench it pre-event so that I wouldn't overdo it on stuff I didn't really want once I got to the event. I also snacked on some unpictured apps, but the whole place was really nice and the food and drink were really enjoyable. I'd definitely like to return to Bastille for a longer visit!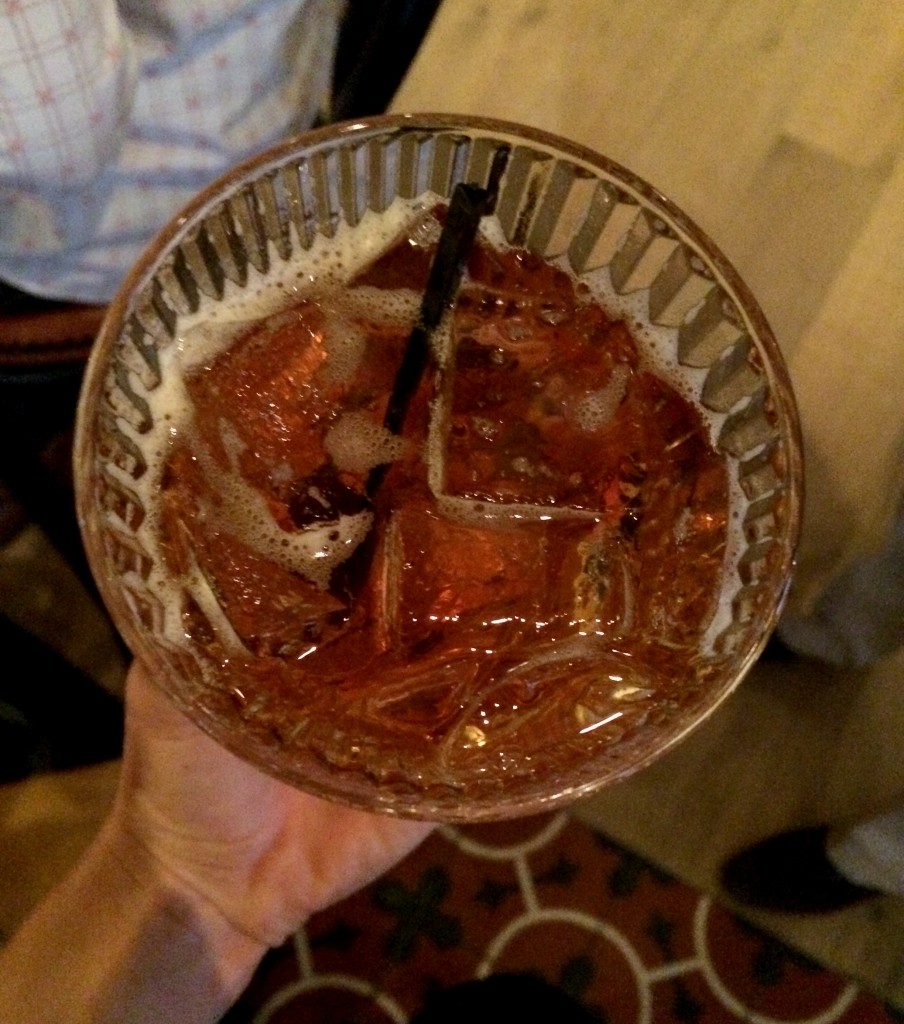 6. I get to see one of my old friends tonight! Kelly (one of the many I know) is in town to take the bar exam (GOOD LUCK, LADY!) and I haven't seen her since New Year's Eve. So needless to say, I was psyched when she texted me asking if I'd be around tonight to meet up after she's kissed that dreaded test goodbye. I'm completely wiped from last night but know that after this afternoon's gym session and a shower, I'll be ready to head out into the city to see her.
But for now I am wiped and need to dive into this workday and make it productive. Maybe then I will wake up. Fakin' it til I'm makin' it.
Did you do anything out of the ordinary or fun last night?
Do you ever worry about losing running endurance when taking time off due to an injury?
What's your latest favorite TJ's find?