MorningStar Farms Meatball Bake
MorningStar Farms products were a staple in my household back when I was still living at home with my parents. My mom often liked to "sneak" the Meal Starter "Crumbles" into family meals (I say sneak because my siblings and dad are not quite as open minded about plant-based protein as my mom and I are!), like her Mexi-Casserole. But I hadn't tried any other products from this brand aside from the crumbles, so I was excited to have the chance to try some new stuff, thanks to this Clever Girls campaign.
I was challenged by MorningStar Farms to pick a theme and build a recipe around it, so I selected 15-minute meals. I am a very busy person and quick is certainly a component I look for in a recipe, as well as "Does it match what I have on hand?" and "Is it healthy?" Luckily I was given the ability to choose which MorningStar Farms goodies I wanted to try, and the decision was tough since the products are so varied and versatile. But I was inspired by this Lightened-Up Meatball Casserole by Julie of PB Fingers, so that made my decision to try the veggie meatballs an easy one. Almost as easy as my recipe 😉
I used MorningStar Farms Veggie Meatballs and was pretty impressed by them. I could tell they weren't real meat, I will be honest…definitely a slightly different texture. However I also think that if I make this again, I will certainly use more moisture-adding ingredients like the sauce and Greek yogurt. Still it turned out delicious and it truly did only take 15 minutes!
MorningStar Farms Veggie Meatball Bake
(serves two kinda hungry people…or one very hungry person) Ingredients:
One box of MorningStar Farms Veggie Meatballs
1/2 jar of spaghetti sauce (I used the Target brand Simply Balanced Arrabbiata Pasta Sauce)
1/3 cup of plain Greek yogurt (I used a store brand, non-fat)
1 tbsp minced garlic (not pictured above)
1 tbsp Italian seasonings medley
shredded Mozzarella cheese, as desired (I used part-skim)
bread crumbs, as desired (I used Trader Joe's Organic Bread Crumbs)
Directions:
1. Preheat oven to 350 degrees (F). Spray a small casserole pan/dish with cooking spray.
2. Place the veggie meatballs in a large bowl and microwave for 2 minutes.
3. In the casserole pan/dish, add the sauce and Greek yogurt. Stir together until blended.
4. Add the meatballs to the dish and stir together until they are well-coated. Make sure they are spread out evenly in the dish. (I had taken a picture of this step but am not going to publish it because there's no possible way it could look appetizing to anyone.)
5. Sprinkle bread crumbs on top of the mixture, then sprinkle the cheese on top.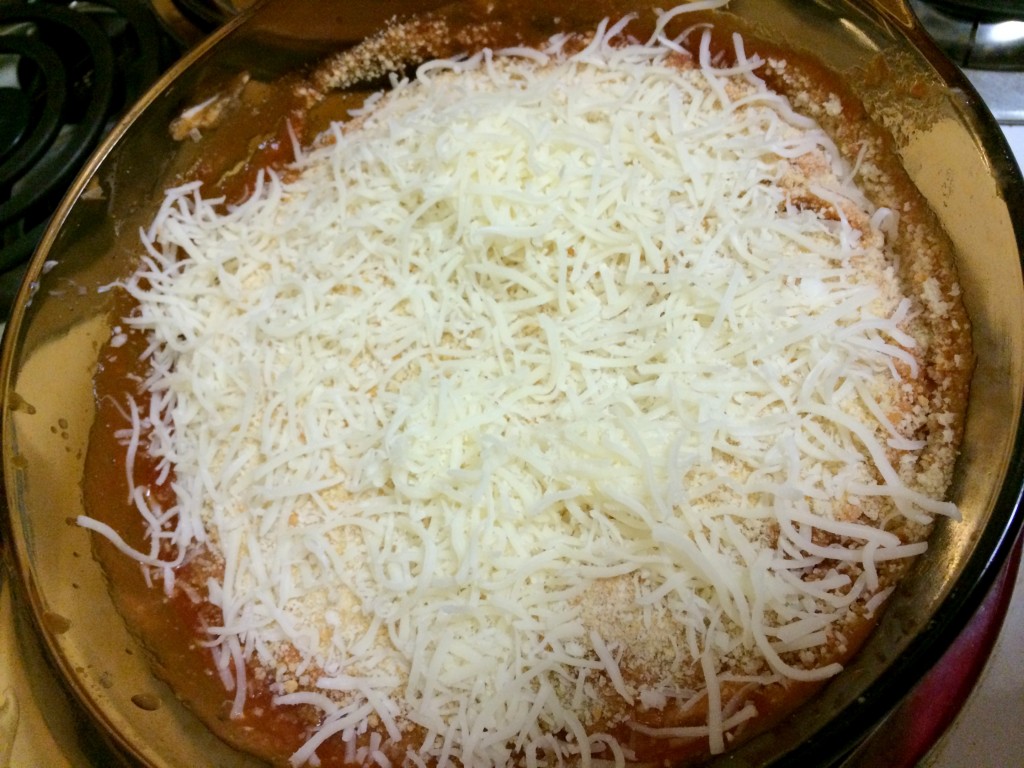 6. Place in oven for 10 minutes, or until crispy and golden brown on top. You're ready to chow!
I had my (first) bowl of this deliciousness served over a bed of broccoli. A nice way to sneak in some green.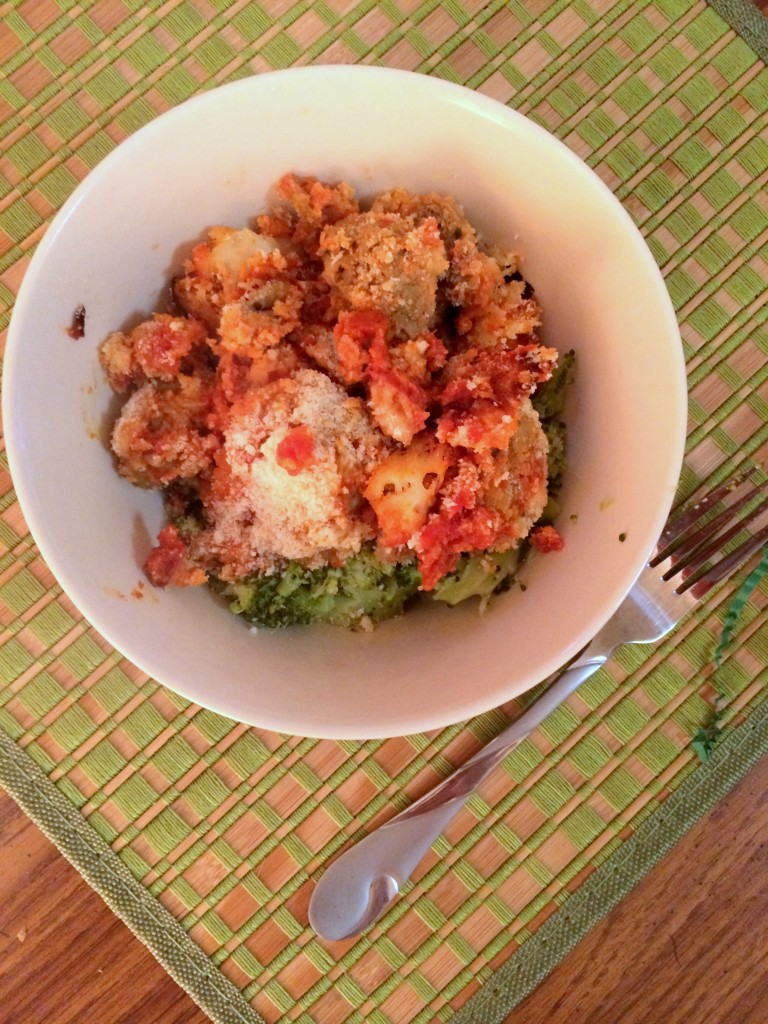 This meal was really so easy to make and I definitely wouldn't mind always having some MorningStar Farms Veggie Meatballs in the freezer for whenever I need to throw together a quick dinner. I also used the coupons Clever Girl provided me to purchase the new Buffalo Chik Patties, which I plan to have with sweet potato and Gorgonzola like I have done previously with chicken. Be sure to check out all the MorningStar Farms products so you can look for them in your local store, and get inspired to cook with the products with my recipe or their recipe collection.
Have you ever cooked with MorningStar Farms products?
I was selected for this opportunity as a member of Clever Girls Collective and the content and opinions expressed here are all my own.