Tuttorosso Tomatoes Giveaway & Stew Recipe!
I received complimentary Tuttorosso Tomatoes to use for this post. This is not a sponsored post and all opinions are my own.
After doing my post for Redpack Tomatoes, I was approached by another brand from the Red Gold family – Tuttorosso Tomatoes, to do something similar. (That includes a GIVEAWAY at the end of this post by the way.)
That means I received another tomatoe-y gift pack – but this one with a nifty tote, which has since then obviously been used to tote around wine.
And an apron, which I admittedly have not yet used, but should probably consider busting out after how messy I got while making the recipe in this post (more on that later).
Oh yeah, and of course I received some awesome and supremely useful products, from Tomato Sauce to Crushed Tomatoes with Basil, from Peeled Plum Italian Style Tomatoes to Tomato Paste.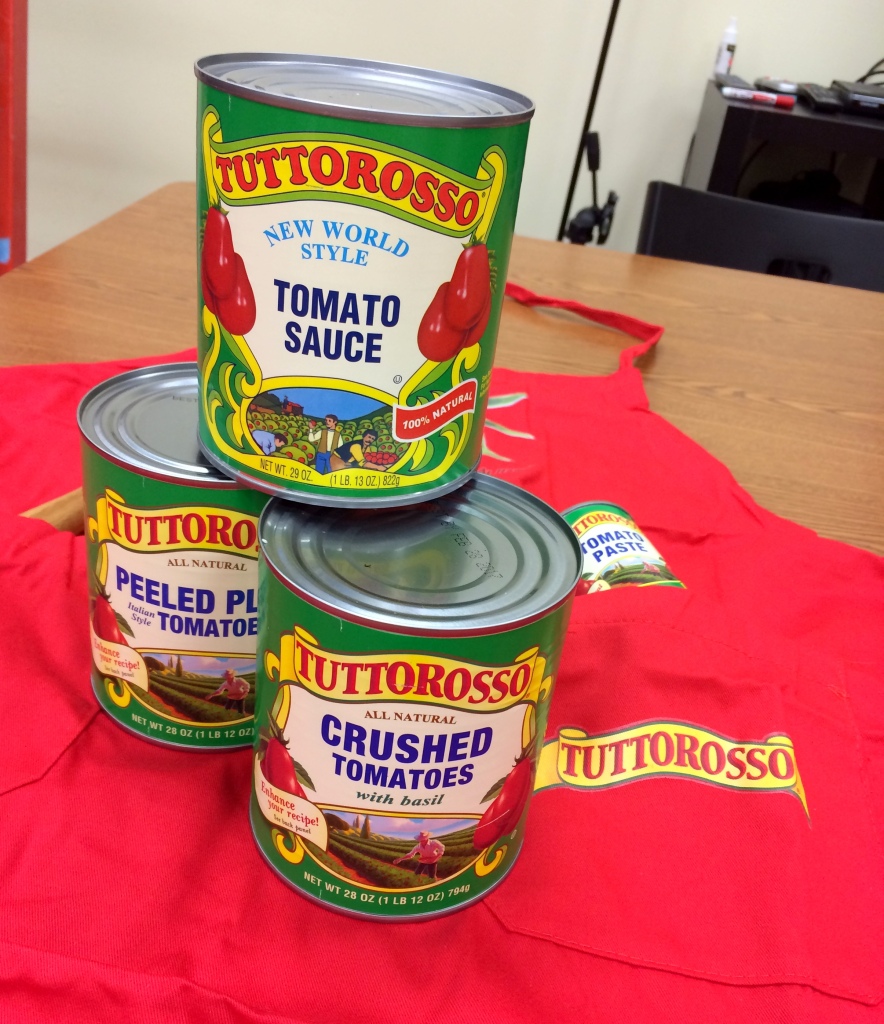 I decided to use the Crushed Tomatoes with Basil to make a stew, because what's better in the winter time than a hearty stew?
Making this stew was certainly adventurous. Did you know that if you add crushed tomatoes to a pot that's set to medium-high heat, said tomatoes will splatter back at you and find their way onto your shirt, arms, and stovetop, albeit at blistering hot temperatures? Well yeah, that is apparently a thing.
Once I jumped back, turned the stovetop, and texted my mom (it sure is great to be able to go to her for advice!), I found out that I needed the pan on low heat, with a lid on. Lessons learned every day!
But all's well that ends well. The stew turned out great, and gave me a way to use my leftover wheat berries too! I had no problem polishing this off in a couple of evenings. The perfect cozy dish to enjoy while catching up on my shows! (Any night I stay in, you can find me eating dinner and watching TV. Because I don't care what every fitness magazine says, watching TV is better with food.)
Hearty Italian Sausage Stew
(Serves 2-3)
Ingredients:
1 can of red kidney beans
1 can of Tuttorosso Tomatoes Crushed Tomatoes with Basil
1 cup of uncooked wheat berries
1 package of uncooked sliced baby bella mushrooms
1 cup of chopped baby carrots
2 cooked chicken sausages (I used an Italian variety with Gruyere), chopped
1 Tablespoon of minced garlic
1-2 Tablespoons of EVOO
Italian seasonings (to taste)
Directions:
Cook wheat berries in water on stove top on medium to high heat. Drain into colander.
Put same pot back on stovetop, turn to medium heat. Add EVOO, mushrooms, carrots, chicken sausage, seasonings, and garlic. Sautee.
Add cooked wheat berries and kidney beans. Continue to sautee.
Turn heat to low (very important!), add crushed tomatoes, and stir together. Then put on lid.
Let simmer until dish hits your desired thickness. Enjoy!
Giveaway Time!
Now for the reason you may be here (I won't be offended if that's the case 😉 )…it's time for a giveaway! Firstly, head to the Tuttorosso Tomatoes Facebook page to enter their Celebrate the Sauce giveaway. Every day someone wins a wooden spoon, every week 1,000 people wear an apron, and one person will win a 12-piece Martha Stewart cookware set. The giveaway is open until 12/23/14.
…And so is mine. Secondly, you can win the same Tuttorosso Tomatoes gift pack that I received. This giveaway is open to US residents only, and entries will be accepted until this Sunday 12/21 at 11:59PM EST. No purchase necessary – winner will have until 72 hours after being contacted to claim his/her prize. There is more than one way to enter, but be sure to leave a comment for each entry if you want multiples to count:
Leave a comment on this post telling me your favorite hearty winter dish.
Tweet "I entered to win @RedGoldTomatoes #TuttorossoTomatoes from @CaitPlusAte! http://caitplusate.com/?p=13544" and comment here with the link to the tweet.
Visit the Instagram photo of my stew, and like it!