New Year, New Trades
Hope you guys found yesterday's sponsored post at least semi-relevant. Living in Boston means a tighter budget, and living in Boston in the winter means taking ALL of the Ubers. So bear with me while I try to fund said Ubers with some paid opportunities.
And here I am today with a "real" post, in the form of Trade Em Up Tuesday. This isn't about what I want to trade or not trade in the New Year. Rather, it's just my first Trade Em Up Tuesday post of the New Year.
I would not trade…some successful recipes cooked at home! I'm continuing my quest to make some delicious dishes from my Pinterest boards and it's mostly going great. A few hiccups here and there as I learn some cooking-related lessons, but that's what living in my first apartment is all about.
I would trade…bills. Bills bills bills and I don't mean the Destiny's Child song. When I first moved to Boston my parents sent me stockpiled with staples like frozen veggies and meats, canned beans, and olive oil. But now I've run out of those things, and have also been seeing my family less. That means less periodic infusions of those staples into my kitchen, and long story short, my grocery bills have shot up. Not only that, but physical therapy cost me a pretty penny, my rent has gone up for 2015, and I just received my not-often-received-but-always-painful semi-annual car insurance bill. I know that spending money is part of life, but it's my blog and I'll bitch if I want to.
I would not trade…introducing a friend to my favorite spin class. Last night I took Annie to my go-to Monday night sweat session with Danielle Dee, at the BSC. As I hoped and expected, she loved it! She also said it was the hardest spin class she'd ever taken, and Annie knows her tough workouts, so I was very pleased.
I would trade…continuing to have a lot of body image struggles. I definitely am doing better than I was before my trip to Florida, but still find trouble feeling the least bit happy with the way I look. I can't help but compare myself to an older version of me. A friend recently posted to Facebook some photos from back in the summertime, and in one of them, I am wearing a bathing suit and look…great! I look awesome and exactly how I want to look RIGHT NOW. I definitely started having some negative thoughts, about why I DON'T look that way right now. But then I realized: that day on the boat, I felt so uncomfortable in my bathing suit. I felt that I was the worst body on the boat. So…it was also a reality check. Because maybe I will look in six months at a photo of me taken from this past weekend, and think I look great, and wonder what the HELL I was thinking at the time. Maybe I don't look as blah as I feel right now.
I would not trade…the fantastic event I attended on Saturday. The Metropolitans, a young professionals performing arts group of the Citi Performing Arts Center, put on the most awesome 1925 Party. I'm so thankful to Emily for a) cluing me in to its existence and b) being my date.
The venue was absolutely perfect for a 1925 party! There were two bars, one by a band playing 1920's tunes, and one by a DJ and THE BEST DANCING.
Though the bartenders' Manhattan making skills were extremely questionable, one cannot be picky with an open bar. The fact that they even had sparkling rose was fantastic.
Moves were busted, cheese was consumed, silly photos were taken, and an after-party was (briefly) attended. A successful Saturday night indeed.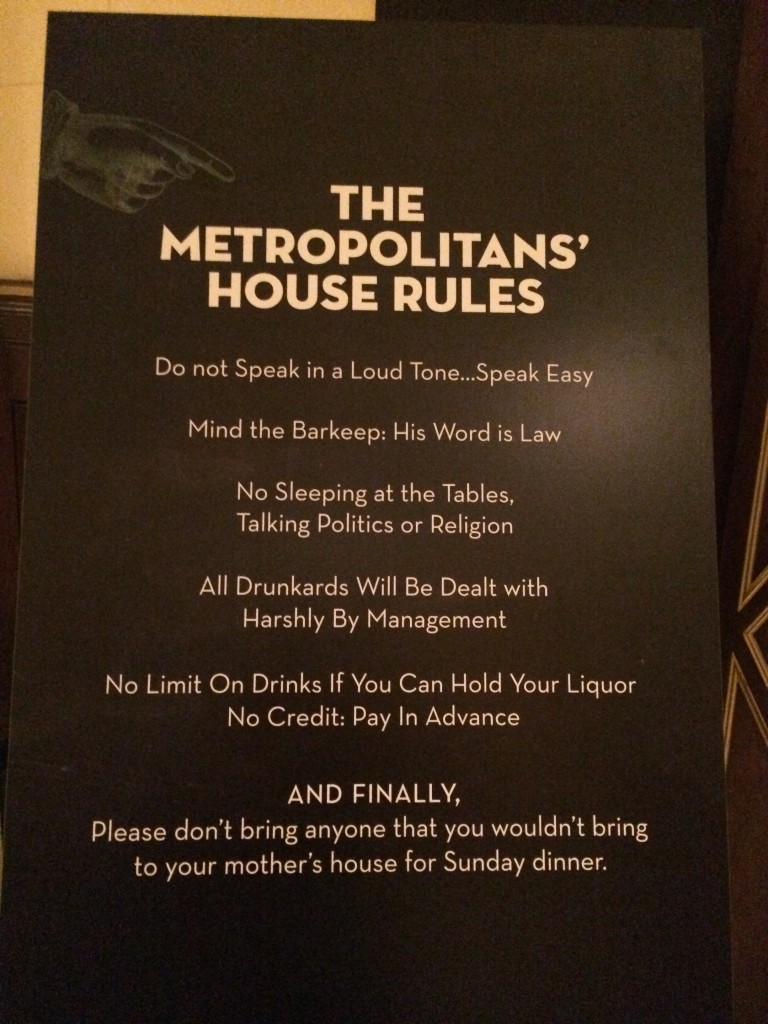 Keeping this short because I'm writing it Monday night at 10PM and hot dang, it is bedtime.
What would you trade and/or not trade lately?
Did you do anything fun this past weekend?
If you struggle with body image, do you tend to compare yourself to others, or to another version of yourself?
What kind of successful recipes have you made lately at home?